Published August 29, 2023 by Bowdoin News
Bowdoin's 222nd Convocation Officially Opens Academic Year
The College held its annual Convocation ceremony in Pickard Theater on August 29, 2023, with a full audience of faculty, staff, and students from the Class of 2027.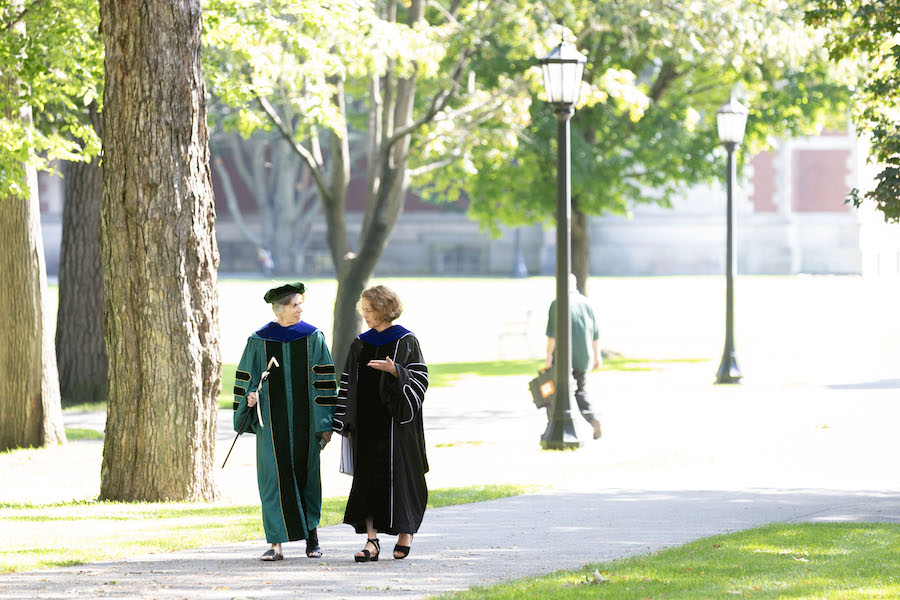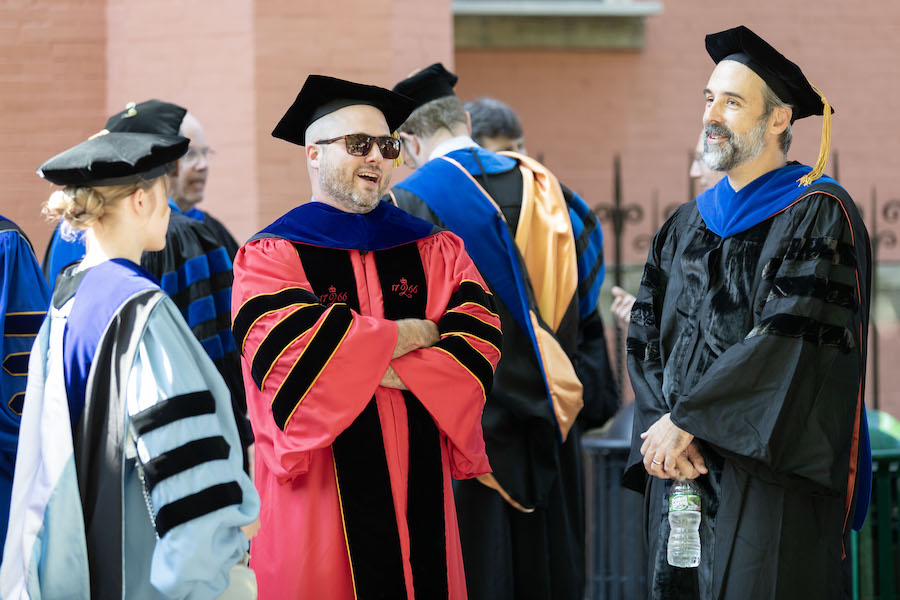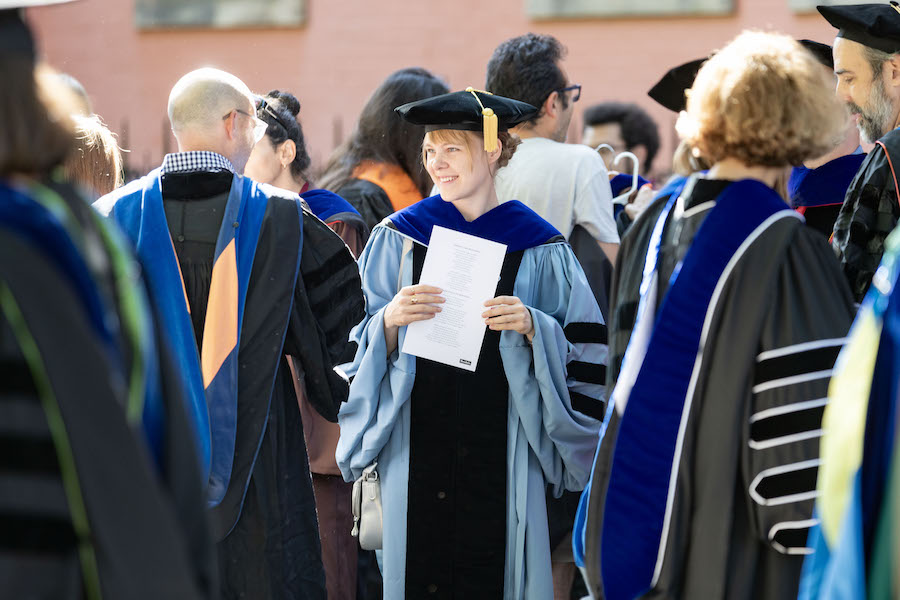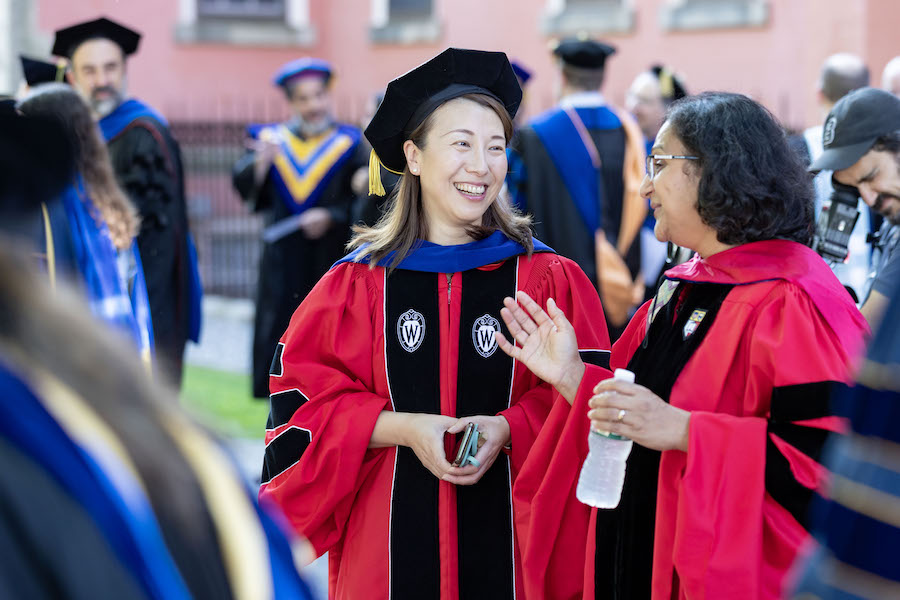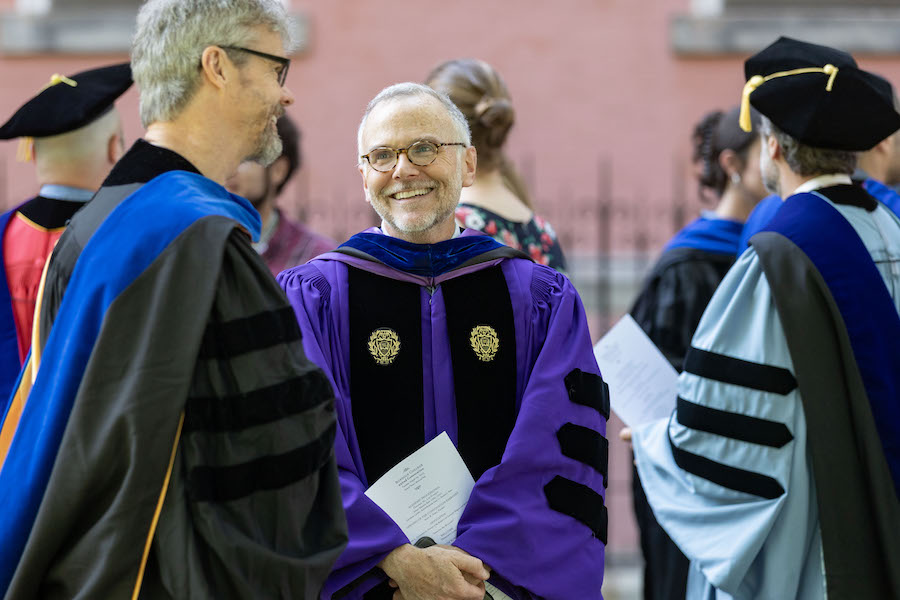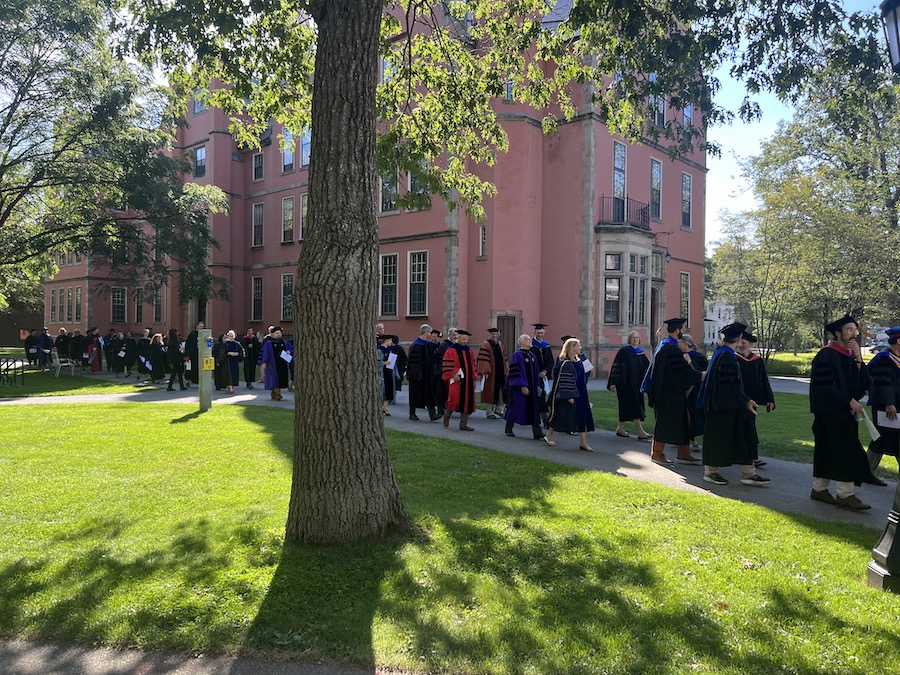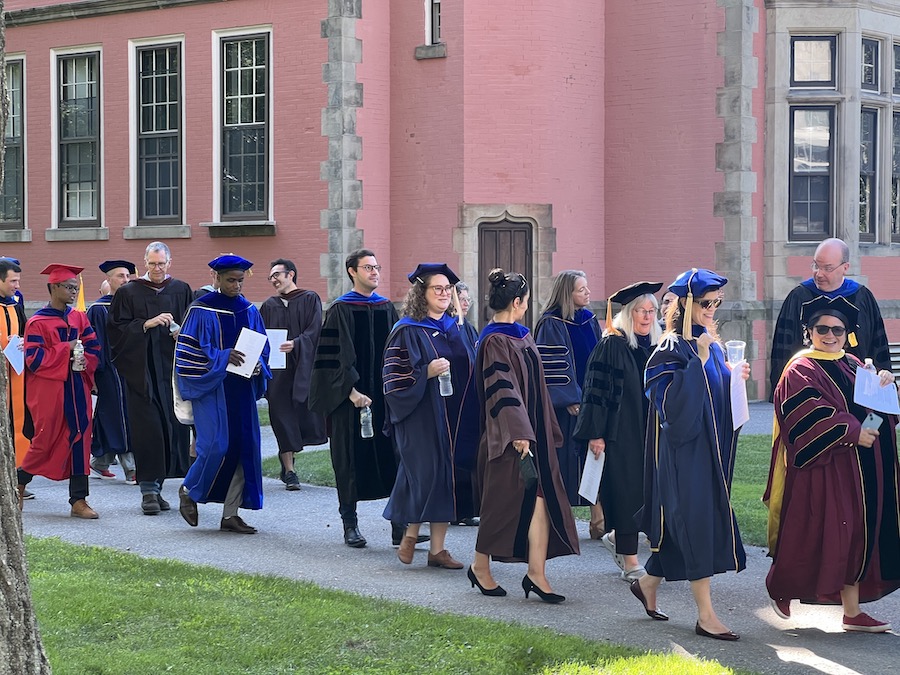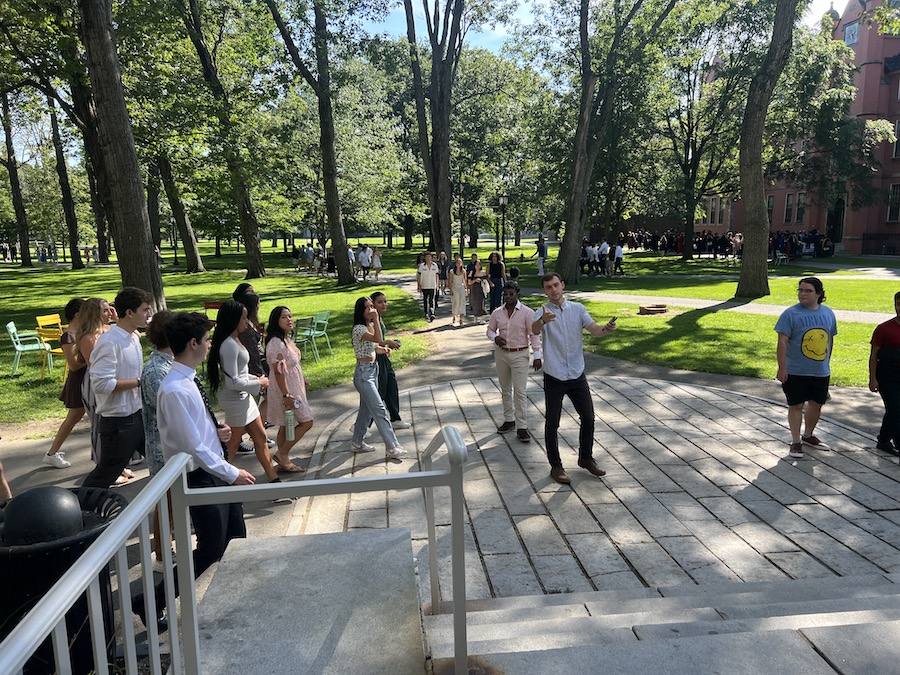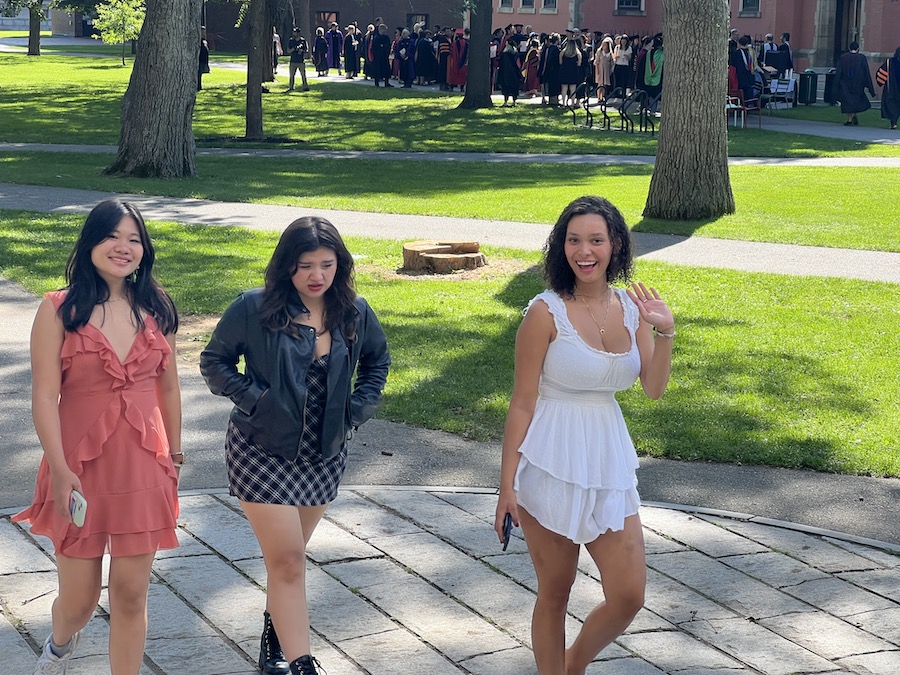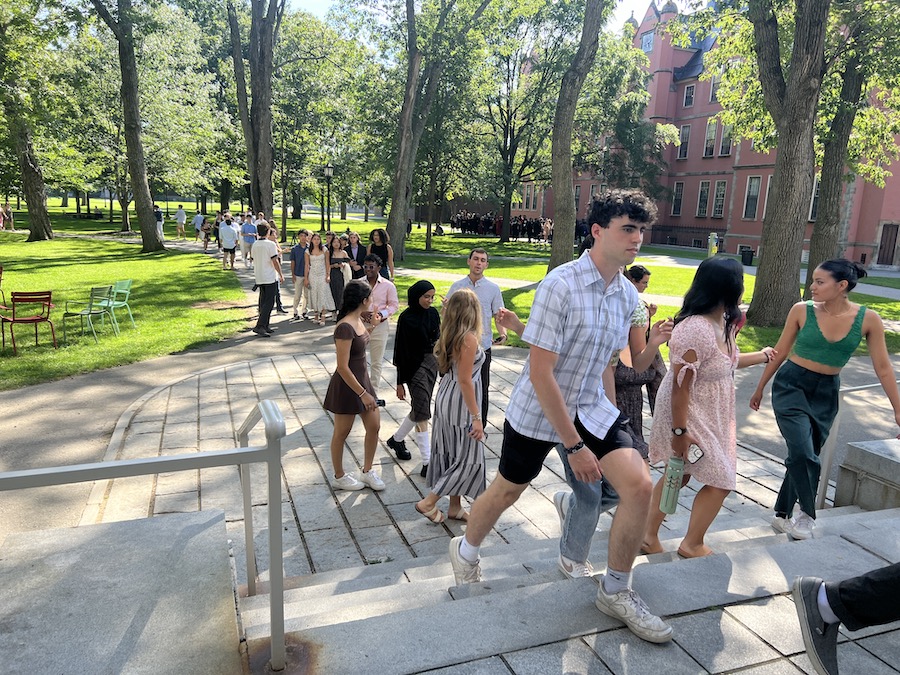 The ceremony, officiated by the president of the College, celebrates the start of the academic year. Classes start Wednesday for all students.
Convocation speakers this year included President Safa Zaki, Director of the Rachel Lord Center for Religious and Spiritual Life Oliver L. Goodrich, Senior Vice President and Dean for Student Affairs Janet Lohmann, and Professor of Government and Asian Studies Henry C. W. Laurence. Per tradition, they each tailored their remarks to offer advice for the College's newest class of students.
Invocation
After asking whether the audience would join him in a spirit of reflection, Goodrich acknowledged the difficulties of the world today.
"We're looking through a season of human existence where the myriad problems we face each day tempt us to despair over the fate of our shared world," he said.
Speaking to the first-year students, he said, "Perhaps some of you chose to pursue your studies at Bowdoin in the hopes of better understanding and finding solutions to the most pressing problems that are facing our age and our land, like climate collapse, wealth inequality, and access to basic supports like food, water, shelter, health care, and education, to name only a few."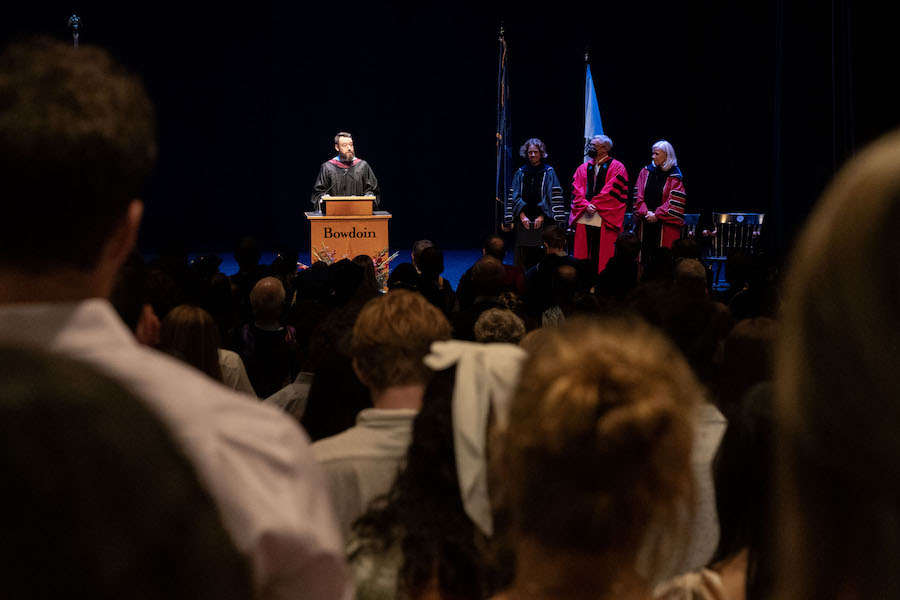 As the Bowdoin students begin their journey toward expertise in their chosen fields, Goodrich said it was his "deepest wish and prayer" that they embrace what Zen Buddhist monk Suzuki-Roshi called "beginners' mind," adopting a childlike wonder and openness as they meet new people, grapple with new ideas, confront their own failures, and explore the world around them.
"As you become acquainted with Maine's woods and waters and people, especially the Wabanaki, who have long stewarded this land, may you become more deeply rooted in who you are, and find your unique place in the vast web of belonging," he said.
"And as you feel tempted to despair at the immensity of the challenges that confront our world today, may you be surprised to discover that the compassion, creativity, and capabilities you already possess are more than sufficient for the task at hand."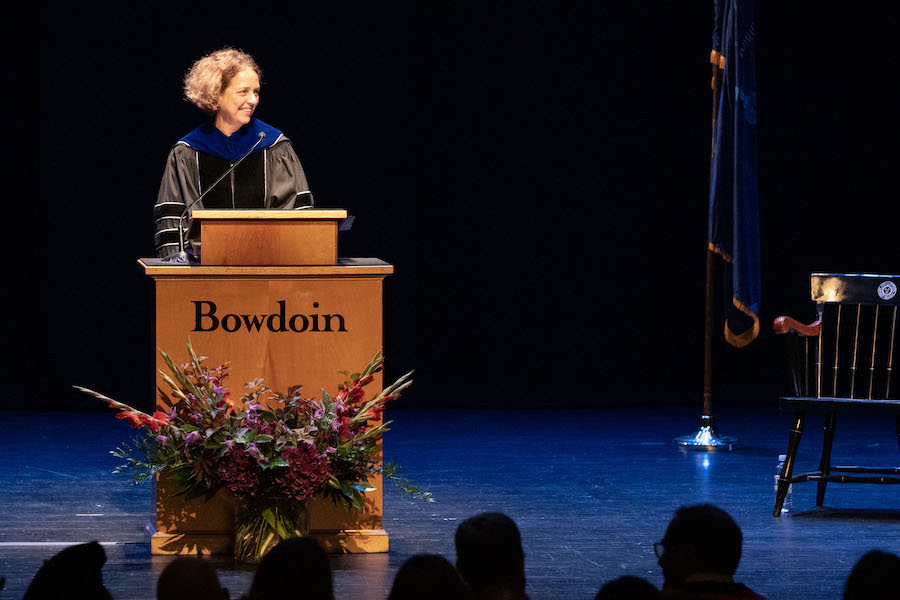 Welcome: Opening of the College
Zaki, who was a faculty member and dean at Williams College before joining Bowdoin, said that while she loves the first days of classes, she understand some students might feel overwhelmed.
"Perhaps the reading and ideas seem unconnected and unfamiliar. Perhaps the assignments seem opaque and impossible. When you enter your first classroom tomorrow, you may not know the other students sitting around you; the professor may seem intimidating because of all they've accomplished," she said.
Yet, in short order, she said those readings and ideas will soon be familiar, and "you will have developed opinions about them—as well as your own ideas. Those assignments will become eminently doable, those students will have become your intellectual interlocutors and friends, and that professor may have become someone you can turn to for help and may even become a mentor."
Further, students will begin to see how their discrete classes add up to something larger. "You will bring ideas and approaches from your history class into your psychology class, from your art history class into your chemistry class, from your Russian class into your government class. Your classmates will be doing the same, and it is in that way that the entire Bowdoin curriculum makes itself audible in every classroom," she said.
"That sound—that sound of different ideas, different perspectives, different ways of knowing, different disciplinary lenses, different life experiences—that sound is the sound of the liberal arts. It is a sound we can only make together."
She shifted her focus to the national spotlight, some of it critical, on institutions of higher education right now. "Some of that attention is useful, some is not. But important questions are being asked about access, equity, cost, and relevance. And I am proud to be leading an institution that is always asking those questions, always evolving, and always committed to its mission," she said.
She then offered specific advice to the Class of 2027.
Zaki noted that she grew up in several different countries, an experience she says led her to develop a comfort "with differences, with people disagreeing with me, and with perspectives other than my own."

"Bowdoin," she continued, "is a community made up of people coming from many different places, having had different life experiences, holding different beliefs, and practicing different traditions. It is one of the great gifts of a place like this, and I hope you will embrace that gift and learn from each other. I hope you will see differences as opportunities to learn."

"Finally," she concluded. "Take a class in a subject you know nothing about. Speak up in class even when you're nervous or uncertain. Try out a new activity. Initiate a conversation with someone you don't know. Taking risks is, of course, risky. Things might go wrong."
"My last piece of advice: when things go wrong, ask for help, share your troubles, know that when things are difficult, this too shall pass."
Voices from Bowdoin's Past: Senator George Mitchell '54, H'83
As she and other deans have done for many years, Lohmann used her address to share a slice of Bowdoin's history with its newest students. This time she spoke about George Mitchell '54, H'83, one of the College's most successful and influential alumni.
Mitchell grew up in a hardscrabble neighborhood in Waterville, Maine. His mother was a Lebanese immigrant who couldn't read or write in English, and his father, the orphaned son of Irish immigrants, left school after the fourth grade and worked as a janitor for Colby College.
Mitchell said that his parents' "central goal in life was the education of their children. They knew the hard life of those who lacked learning. So, they worked long and hard to ensure that we could go to college."

"Even so," Lohmann continued, "George's chance at college nearly slipped away" when his father lost his job. "For a full year, with rising anger and declining self-esteem, he searched in vain for work. For the first few months, there was no talk of college."

But his father's former boss urged him nonetheless to visit Bowdoin, a journey he made by hitchhiking with a kind stranger. Lohmann recounted Mitchell's feelings about that day years later. Though very nervous, Mitchell was reassured by his meeting with the dean of admissions, who told him that, if his parents couldn't afford tuition, the College would figure something out through a combination of part-time work and scholarships.
Lohmann added: "Not only did Mitchell 'get through,' he used his education and the opportunities it produced to achieve one of the most stunning success stories of any Bowdoin graduate." He became a lawyer and a federal judge. He worked as an aide to US Senator Ed Muskie, and then was elected to the US Senate. 
"He would go on to serve for six years as senate majority leader and would later turn down an appointment to the US Supreme Court to pursue and achieve peace in Northern Ireland," Lohmann said.
Mitchell studied history at Bowdoin, "and it is through the lens of history that he sees the world today," Lohmann said. Quoting Mitchell, Lohmann said that the "American democracy...depends upon informed and rational public debate for successful operation and ultimate survival. When public debate is filled with falsehoods, with wild allegations of conspiracies, when the simple assertion of a charge is deemed sufficient to repeat it over and over, all of us need critical reasoning skills to distinguish fiction from reality, fantasy from fact."

"It is only through critical thought, logical reasoning, careful definition, and open debate that citizens can hope to see past the blur of information to the realities on which their choices must be made," she continued.
"Higher education is the only institution in our society which has as its central purpose the continued re-examination of our society's assumptions, the constant review of our past, and the neverending search for a better future."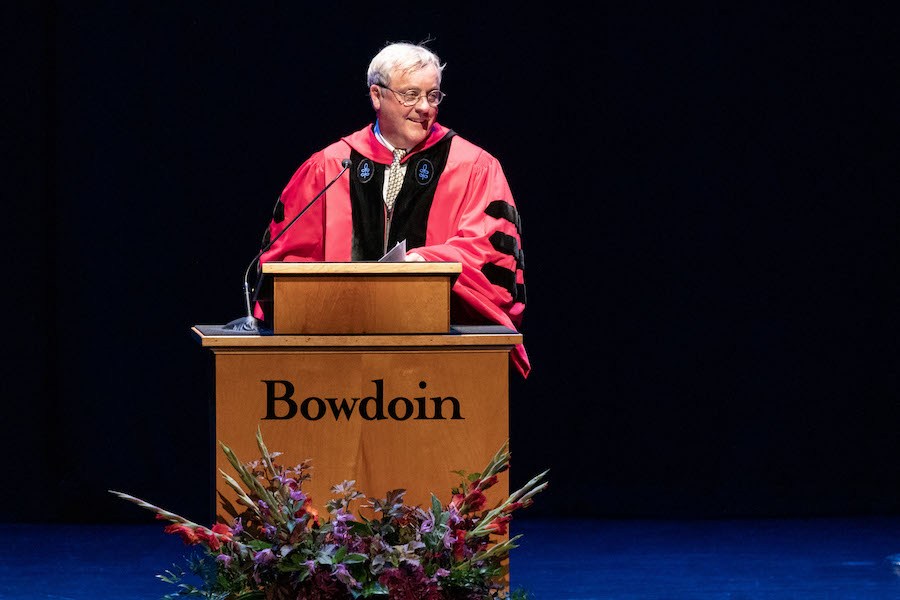 Convocation Address: "Finding Your Porcupine"
Laurence began his talk by describing an encounter with a porcupine in the wilds of Brunswick, an experience that took him on a self-reflective and—based on the amount of laughter his talk elicited—very funny journey. 
During the COVID lockdown, Laurence, who has a long-term medical condition that makes him particularly susceptible to the virus, said he felt miserable and anxious. But he found solace in nature on early-morning walks.
One morning at a nearby preserve, he found himself "face-to-face with a massive, horrible, scary-looking porcupine perched in the branches of a Douglas fir tree. It was covered in thousands of gigantic needles, and it had razor blades instead of feet." And it was staring directly into his eyes.
Laurence, who is from England, the land of hedgehogs, mistakenly thought he was about to be speared with hundreds of deadly quills. "Spoiler alert," he added, "porcupines don't shoot their quills." In fact, they're passive and gentle vegans. (However, he warned, you will be very unhappy if you, or more likely your dog, messes with them.)
Made curious by his meeting, he started to read widely about the animal, an investigation that led eventually to Sigmund Freud, Arthur Schopenhauer, and insights into human nature. (Whenever Laurence seemed to take a new and surprising turn in his talk, he reassured his audience, "We'll get back to that soon.")
So, in early 1900s Austria, "Freud was developing revolutionary ideas about psychoanalysis. And he wanted to bring them to a wider audience than just Vienna," Laurence recounted. Freud opted to present his theories in America, and secured an appointment at Clark University. 
But he worried about telling people his true aim, fearful of looking crass and commercial, and also of failing in his mission. Instead, he told people he was going to the US in the hopes of seeing "a wild porcupine."

"Now, his friends, many of whom were psychoanalysts themselves, saw straight through the subterfuge. And soon in European intellectual circles, the expression 'finding your porcupine' came to refer to anyone who was trying to deflect their own anxieties about their true hopes and fears," Laurence said.
Porcupines as a useful metaphor also appealed to the German philosopher Arthur Schopenhauer, who "had famously used porcupines as an allegory to explain the entire human condition," Laurence continued.
Laurence then quoted Freud quoting Schopenhauer on the "porcupine dilemma," coming around to the psychological argument that "the need for society drives humans together, only to be mutually repelled by the many prickly and disagreeable qualities of their nature."
This parable of porcupines huddling together for warmth, Laurence decided, "was complete malarkey...For one thing," he noted, "it's factually wrong—porcupines don't behave like that." (He added, "While we're at it, it's not a 'company' of porcupines, it's a 'prickle' of porcupines.")
"More importantly, it doesn't make much sense logically." He explained: "If porcupines can't deal with 'a cold day' in winter, why do they live in Maine?" And, "I don't want to be indelicate at this otherwise classy occasion, but if porcupines can't get close to each other because of all the sharp prickles…do you see where I'm headed? How do you think we get more porcupines?"  (Porcupettes.)
Laurence then returned to his original story about the first porcupine he met at Kate Furbish Preserve, drawing lessons from that moment, and his response to it, to share with students. 
"It reminded me of the transformative power of learning for its own sake–not for a grade or for publication, but because the world is endlessly fascinating and none of us knows more than a tiny, tiny fraction about it."
Beyond that, he thought the story served as a reminder to "be skeptical. Ask questions....We all believe a lot of nonsense just because we heard it one time, or because everyone knows something is true. Porcupines shoot their quills. Porcupines huddle together for warmth. You have to double major. Only economists get good jobs. I can't dance. The professor is always right."
He added that "it's all too easy to project what you want to believe onto something that you don't really understand just to fit your narrative, as Freud did with his preposterous porcupine parable."
Third point, he continued: "Be honest with yourself, and with everyone else, about what your true goals are, and what you genuinely want out of college and out of life."
He concluded with his final, and "most important" point: "Don't worry! Things which may seem really intimidating at first—porcupines, a campus full of strangers, or maybe even your professors—usually turn out to be really great once you get to know them a bit."
Music 
For the academic processional, Beckwith Artist-in-Residence George Lopez, a pianist, played Overture No. 3 in D major by Johann Sebastian Bach. For the academic recessional, he played Bach's Italian Concerto, BWV 971 in F major.
In the interlude, Lopez was joined by Timothy Ignacio '26 on violin for a performance of "La fille aux cheveux de lin" by Claude Debussy.
During the ceremony, students singers led the crowd in a rendition of "America the Beautiful" and "Raise Songs to Bowdoin," accompanied by Lopez on piano.