Published May 12, 2023 by Tom Porter
Tributes and Laughter as Colleagues Say Goodbye to President Clayton Rose
"I love having you come and visit," said Clayton Rose's ninety-one-year old mother, Carma, "but don't move back home. You need to get a life."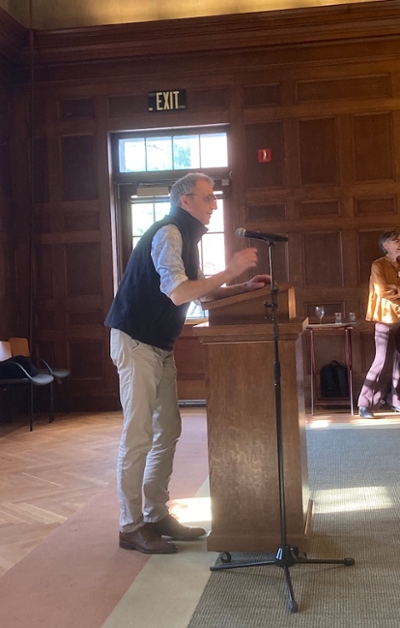 This audio clip was greeted with peals of laughter from the crowd gathered in Moulton Union's Main Lounge recently to pay tribute to Bowdoin's outgoing president. At the podium was William R. Kenan Professor of Physics Thomas Baumgarte. Sporting a sleeveless zipper fleece and a pair of large spectacles, both trademark features of Rose's, Baumgarte was pondering what life after Bowdoin might involve for the president, seeing as his mother has made it clear he can't move back home.
"Perhaps you can go teach somewhere?" The joke, of course, being that after a six-month break Rose is returning to the faculty at Harvard Business School, where he taught before coming to Maine in 2015. "We're so glad you're coming back after that endless stint in Maine," said Rose's former and future colleague at Harvard, Professor of Management Sandra Sucher, in another audio clip gathered by Baumgarte.
There was also banter from the student body, as three seniors took to the podium. Luke Porter, Caleb Adams-Hull, and Joseph Rubsamen all had Rose as their advisor for independent study projects. "When I was a first-year," commented Porter, "I remember President Rose giving a talk to us, saying how students were like ducks: calm on the outside, but paddling frantically beneath the surface," said Porter. "Now, four years later, it is you, Mr. President, who is the lame duck," he said to Rose, who will be succeeded as president by Safa Zaki on July 1.
There was toasting as well as roasting, of course. Baumgarte thanked Rose for his hard work and leadership, "particularly for maneuvering us through the pandemic crisis." Associate Dean for Academic Administration Mike Ranen also offered some words. "It's virtually impossible to run a college during COVID. You have information coming at you so fast from so many different directions and it changes on a daily basis," said Ranen, who was Bowdoin's COVID resource coordinator during the pandemic. "Nevertheless," he added, "Clayton never wavered in his mission to do the best for our students.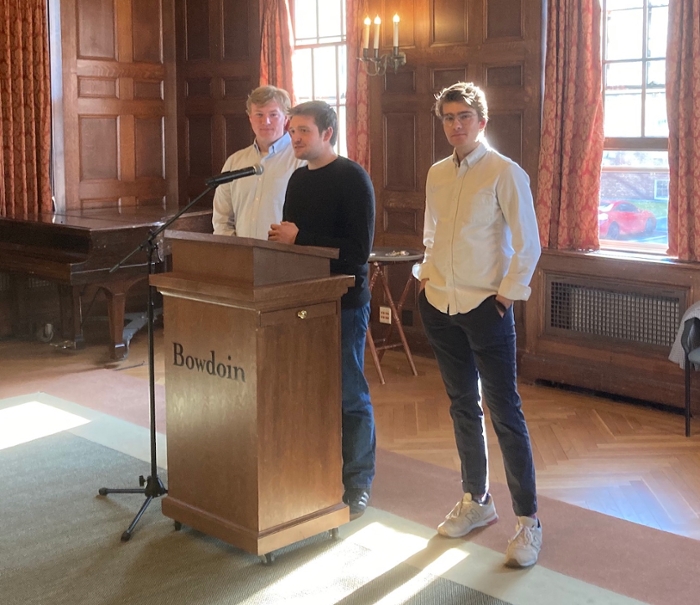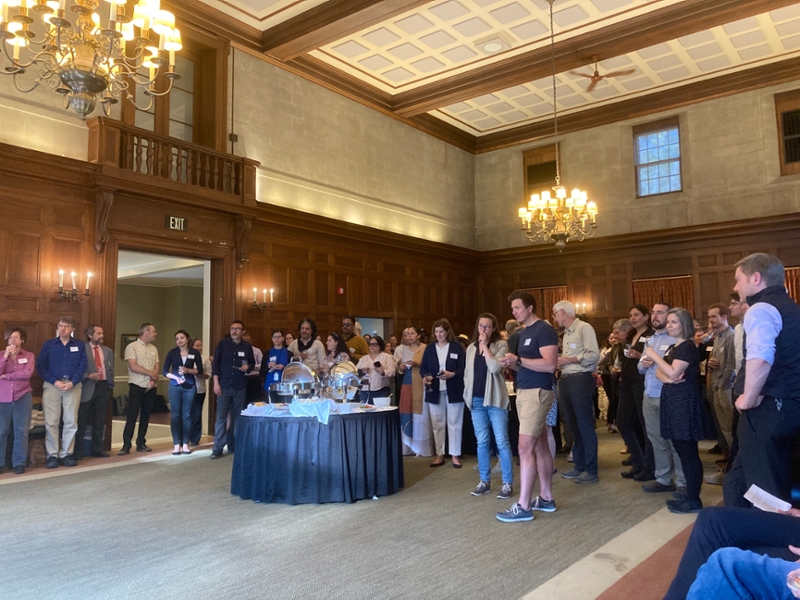 "Clayton Rose also challenged us to reflect on the values of liberal arts education," he continued. "From the K report to the creation of new spaces and programs and an unwavering support for diversity and inclusion, Clayton has uniquely prepared all of us for what it means to be educators in an ever-changing landscape. He urged us to listen to those who we may disagree with while simultaneously upholding the values of our modern education."
Rose himself also addressed the informal gathering, saying it was a bittersweet experience to be leaving Bowdoin. "Leaving was the right decision at the right time, but a very hard one to make. We love being part of this community," said, "and at the end of the day it's always about the people, and I just cannot thank you enough for all that."
Also Honored:
Other Bowdoin employees, too, were honored at the reception, as Dean for Academic Affairs Jennifer Scanlon recognized faculty and academic staff retirees and people who have hit milestone years of service. Special tributes were offered to outgoing Associate Dean for Academic Affairs Elizabeth Pritchard and Marjorie Hassen, who is retiring as director of the Bowdoin College Library.
"Marjorie understood, as she always does, that library resources are never accessories but always central to what we do here at Bowdoin college," said Scanlon of Hassen. "People often say that libraries are the intellectual heart of the college campus," she continued. "Marjorie Hassen believes that, lives it, and makes it possible here at Bowdoin College through careful stewardship [as well as] purposeful and inclusive leadership." Director of Special Collections and Archives Kat Stefko also honored Hassen. "As much as I will miss her personally and professionally," she said, "I'm delighted she's leaving us in good health and has many years ahead to enjoy with her wonderful family."
Praise for Pritchard and her impact came from two of her faculty colleagues in the dean's office. "I got to know Elizabeth several years ago when we were both on a committee together, and at that time I was really struck by her grasp of complicated situations and her kindness," said Stanley F. Druckenmiller Professor of Chemistry and Environmental Studies Dharni Vasudevan, who is also Associate Dean for Faculty Development and Inclusion. She also noted how Pritchard always makes time for colleagues. "She lends an ear even when it's not convenient and always has a nuanced and fresh perspective. Above all she brings this 'we can get it done' attitude when the going gets tough."
"Elizabeth started in the office just before COVID, so she saw us all the way through the pandemic with all the many dozen-hour days," said Professor of History and Associate Dean for Curriculum Dallas Denery. "And somehow when I showed up in July last year she was not exhausted, still committed, and always very helpful and encouraging."
Pritchard will be succeeded as Associate Dean for Academic Affairs by Anne T. and Robert M. Bass Professor of Natural Sciences Rachel Beane.