Teaching Award and Student Accomplishments Recognized on Honors Day 2023
Published by Tom Porter. Photography by Michele Stapleton.
Bowdoin College celebrated its twenty-seventh Honors Day on the evening of May 5, 2023, at a ceremony in Kanbar Auditorium, Studzinski Recital Hall.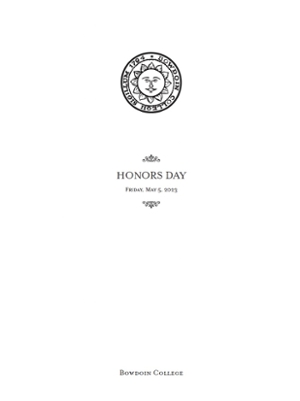 In his opening remarks, President Clayton S. Rose thanked members of the faculty who had taken the time to be here and present the prizes. "We focus specifically tonight on departmental awards and honors," he said. "It gives us an occasion to recognize these high achievements."
Dean for Academic Affairs Jennifer Scanlon introduced the event's keynote speaker. In keeping with Bowdoin tradition, the winner of the previous year's Sydney B. Karofsky Award for Junior Faculty delivered the address—in this case, the speaker was Assistant Professor of Computer Science Sarah Harmon.
Harmon is an interdisciplinary scientist, bringing computer science skills to areas such as biology and psychology as director of the Bowdoin Computational Creativity Lab—a research program exploring how human-computer interaction can enhance our daily lives and help the common good. Her talk was titled "Three Stories (That My Computer Didn't Tell Me)," featuring anecdotes about play and problem-solving.
The stories Harmon told are inspired by computational problems, as well as problem-solving in general. "These stories are also about people," she added, "because computer science, when it comes down to it, is about people." She went on to point out that the first computers were actually humans. "The term 'computer' used to be a job title. A computer was just a capable person who could compute," she explained.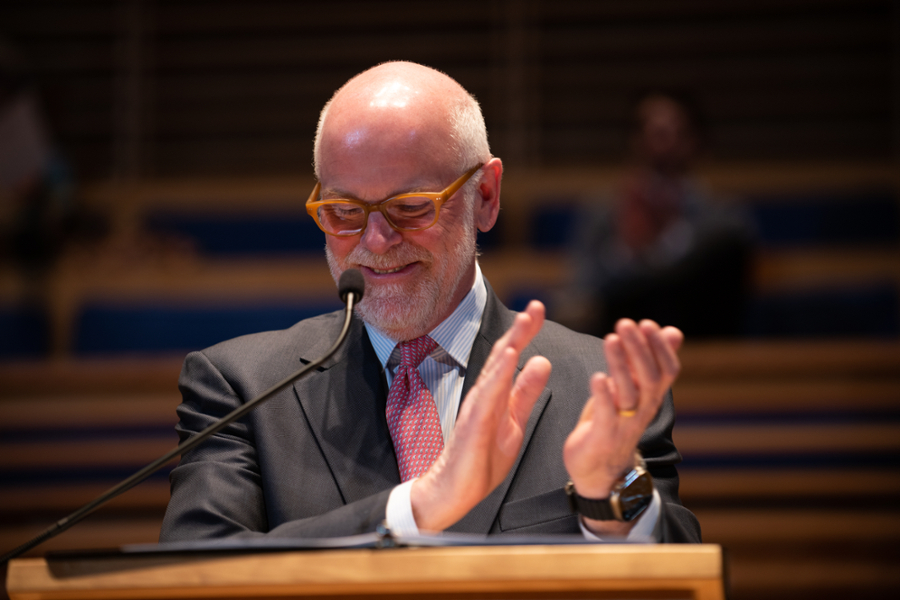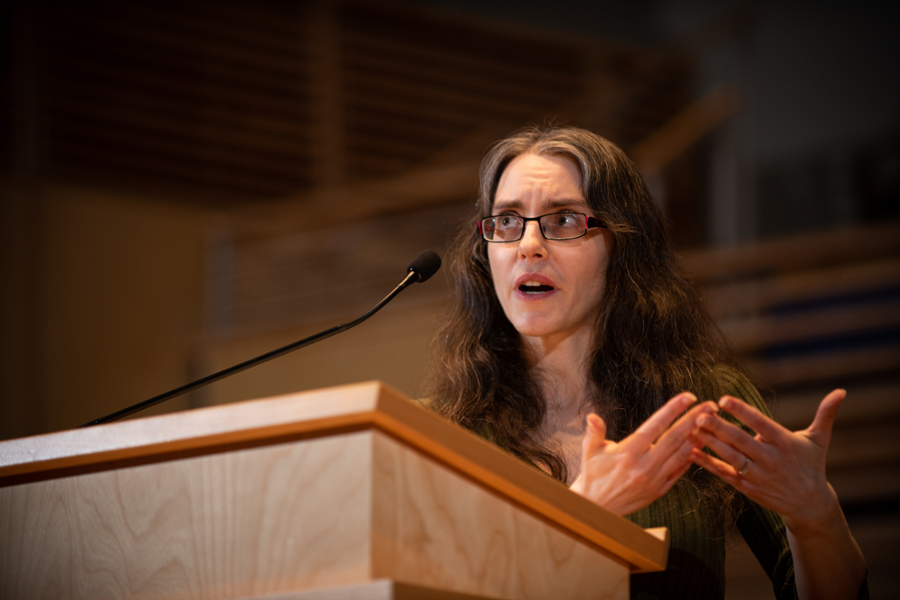 Her first story concerned a student who was using a computer science technique known as recursion to count all the people in the room. "But every time they tried to count everyone, their answer was always one person short. My student was so focused on making sure they were using... this fancy technique, that they forgot to count themselves." The lesson here, said Harmon, is that "sometimes we get so caught up in a core aspect of a problem—stuck in the circuits, tangled in the wires—that we forget the parts that matter most."
Another story underlined the importance of sometimes taking your time and resisting the pressure to do everything as fast as possible. "You will always have demands on your time and space and attention—pressure to optimize," said Harmon. "But this world is how we build it. Sometimes improving our speed can be a helpful goal," she added, "but... sometimes pausing is a necessary part of a good solution." Her third anecdote urged students to make sure they celebrate and appreciate the moment they're in. "There are always going to be problems that you won't expect. You don't have to solve those problems all at once. Finding the humor and the joyful parts of navigating obstacles and uncertainties—and building closer connections with the people in those situations—are all valid approaches to problem-solving.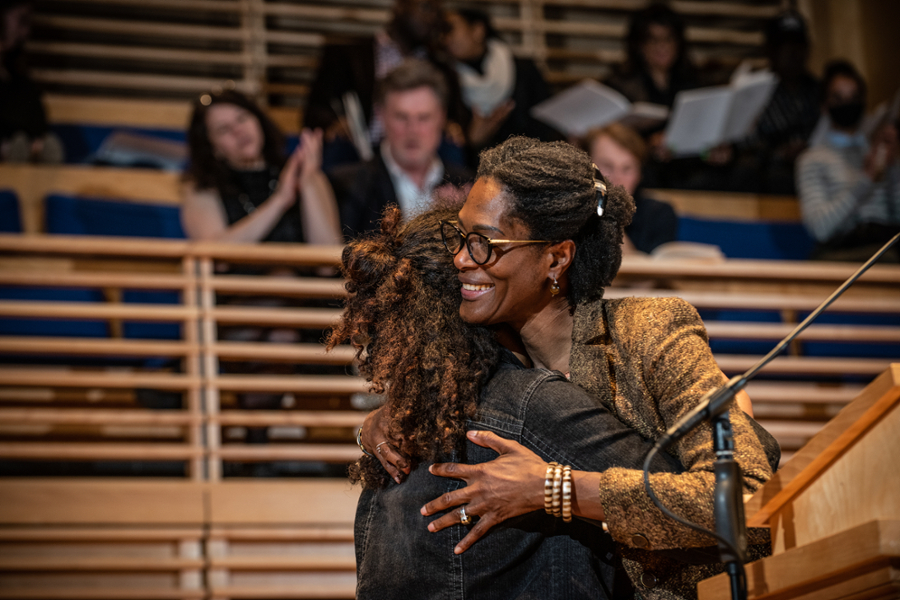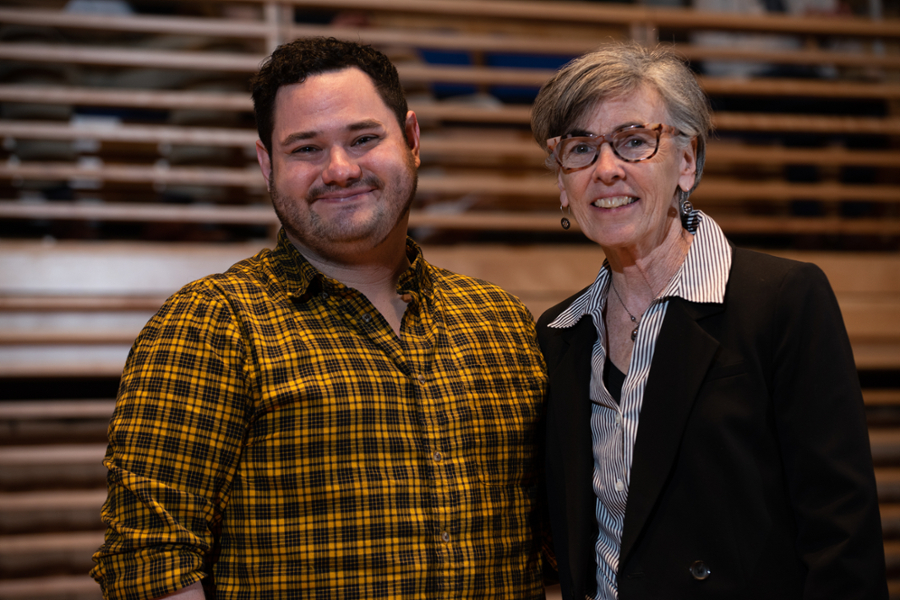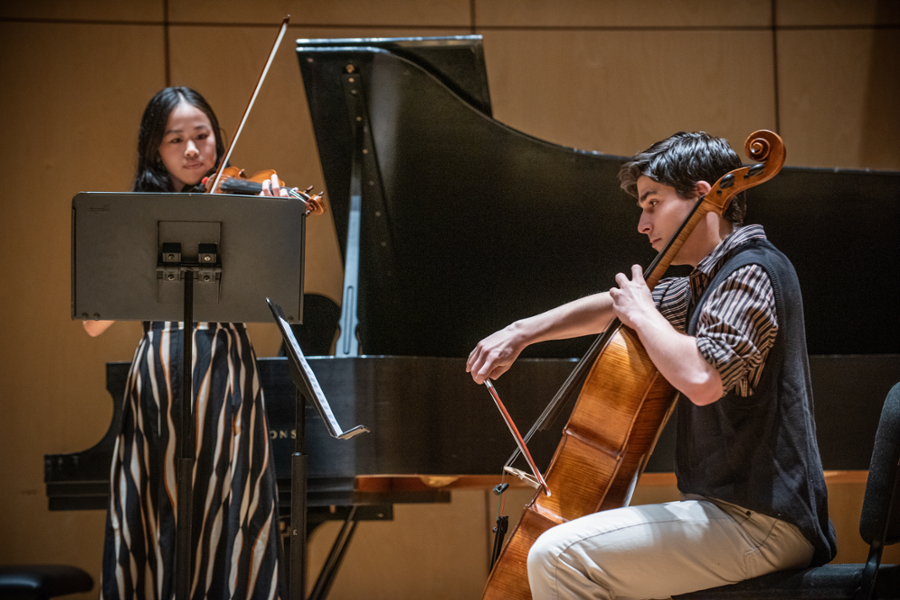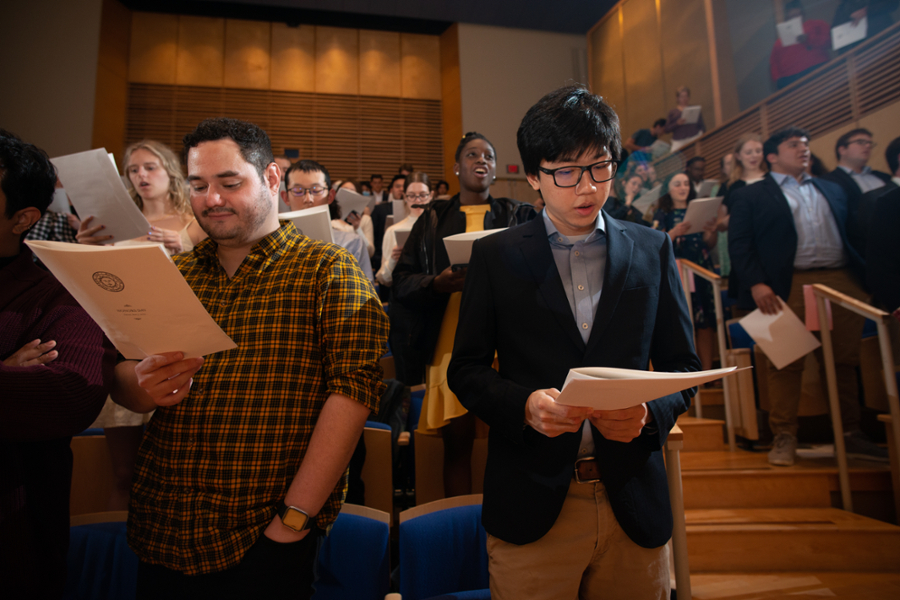 Following Harmon's address, Dean Scanlon went on to announce the winner of the 2023 Karofsky Prize*—awarded to a junior faculty member who demonstrates a great ability to impart knowledge, inspire enthusiasm, and stimulate intellectual curiosity. This year, the award was presented to Assistant Professor of Gender, Sexuality, and Women's Studies Angel Matos.
The musical interlude this year was provided by Ari Geisler '23 on cello with classmate Paris Wilson on violin. They performed the seventh movement—the 'Scherzo'—of Eight Pieces for Violin and Cello, opus 39, by Reinhold Glière (1875–1956).
This was followed by the presentation of departmental prizes to students by academic department and program chairs, after which President Clayton Rose offered a few closing remarks, offering his congratulations to the students and faculty, and remarking upon the collective level of achievement on display.
He ended his remarks addressing the students, saying it should not be forgotten that "you have done all of this in what has been an historically challenging time for which no one was prepared, was not fair, but it was what it was and you overcame and created for yourselves an amazing intellectual and academic journey."
To conclude the evening, Rose invited singers Augie Segger and Logan Gillis, both from the Class of 2023, accompanied by pianist Skyla Hong from the Class of 2026, to the stage to lead the audience in Raise Songs to Bowdoin. 
*The award is generously funded by members of the Karofsky family, including Peter S. Karofsky '62, Paul I. Karofsky '66, and David M. Karofsky '93.