Published May 12, 2023 by Bowdoin
Fulbrights Awarded to Seniors, Alumna to Teach or Study Abroad
Fifteen seniors and two recent alumni have accepted Fulbright grants to spend a year overseas teaching English or pursuing research.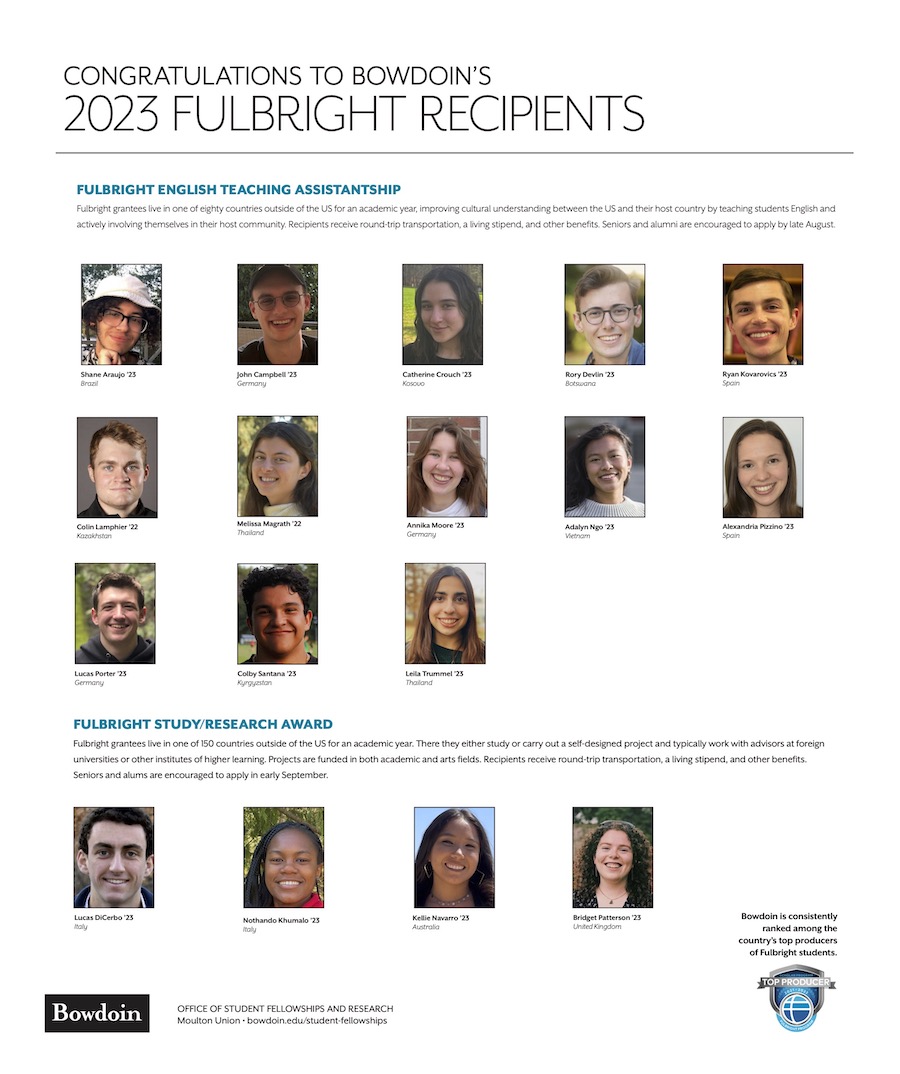 Each year, a number of Bowdoin seniors and recent graduates are granted these highly competitive fellowships from the US Department of State, part of the agency's mission to foster positive international exchanges and "create connections in a complex and changing world."
Bowdoin has a particularly impressive record with the Fulbright program: for the past three years, the College has topped the list for most Fulbright fellows from an undergraduate institution. 
This year, the seventeen fellows are heading to Australia, Botswana, Brazil, Bulgaria, Germany, Italy, Kazakhstan, Kosovo, Kyrgyzstan, Mexico, Spain, Thailand, the United Kingdom, and Vietnam.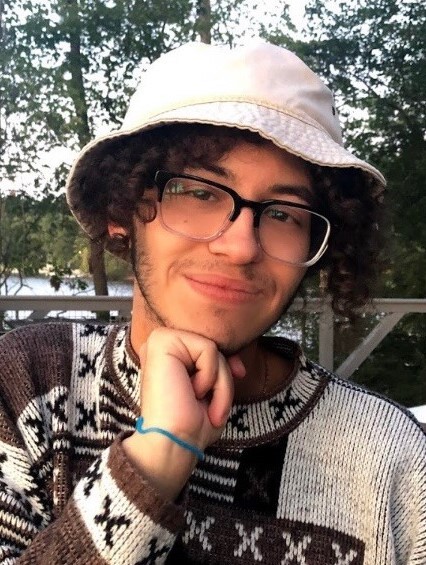 A double major in biology and anthropology, Araujo says he is passionate about human ecology, biodiversity, and cultural studies. He has served as a translator all his life, having grown up in a Portuguese-speaking family. His experience with the language, passion for the arts (Brazilian music and samba in particular), as well as his environmental interests draw him to Brazil's rich culture and deep ties to its natural surroundings. At Bowdoin, he was an anthropology learning assistant and an art instructor with the Craft Center. He also interned at Cafeteria Culture in New York City, an environmental nonprofit that primarily serves low-income communities of color. In Brazil, Araujo hopes to engage with the local community by leading an interdisciplinary art project that highlights environmental inequities.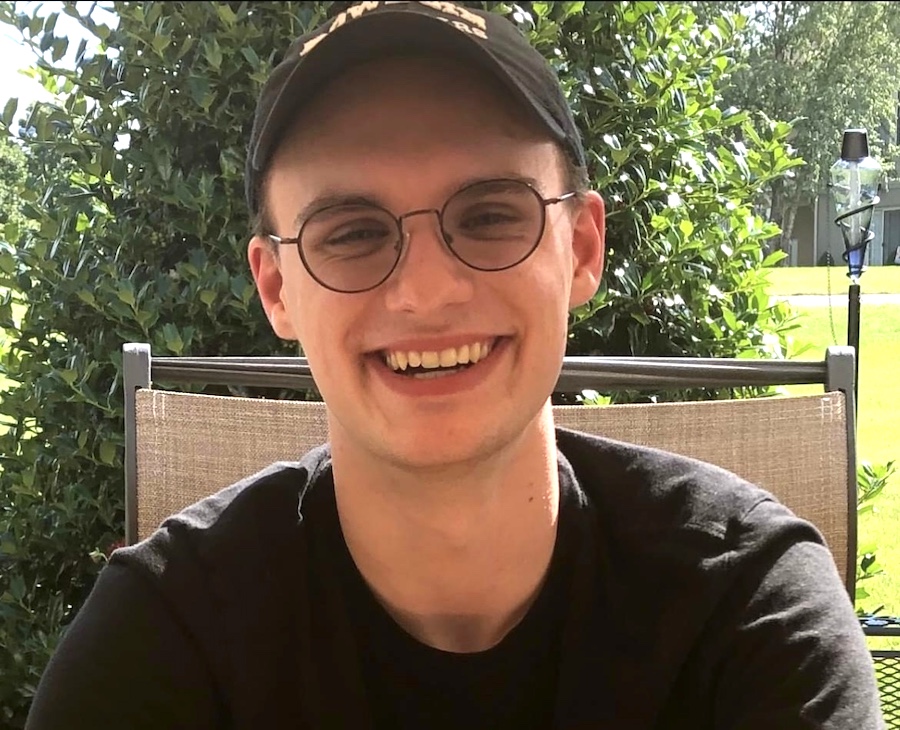 In his Fulbright interview, Campbell said, "Learning German has been transformative for me, giving me access to another culture and new literature." Eager to give others a similarly transformative experience, Campbell's long-term plan is to pursue a PhD in German studies (in literature and/or political history, with a focus on teaching German as a second language). He is graduating from Bowdoin with a major in German. He also worked as a German teaching assistant and studied in Germany for a semester. "Education has always fascinated me, as an inherent element of it is the belief that in every person of every land lies a unique potential that, if properly developed...by an instructor, mentor, or educator, can grow so powerful as to make a noticeable impact on one's own community, nation, and the world as a whole," he wrote in his Fulbright application.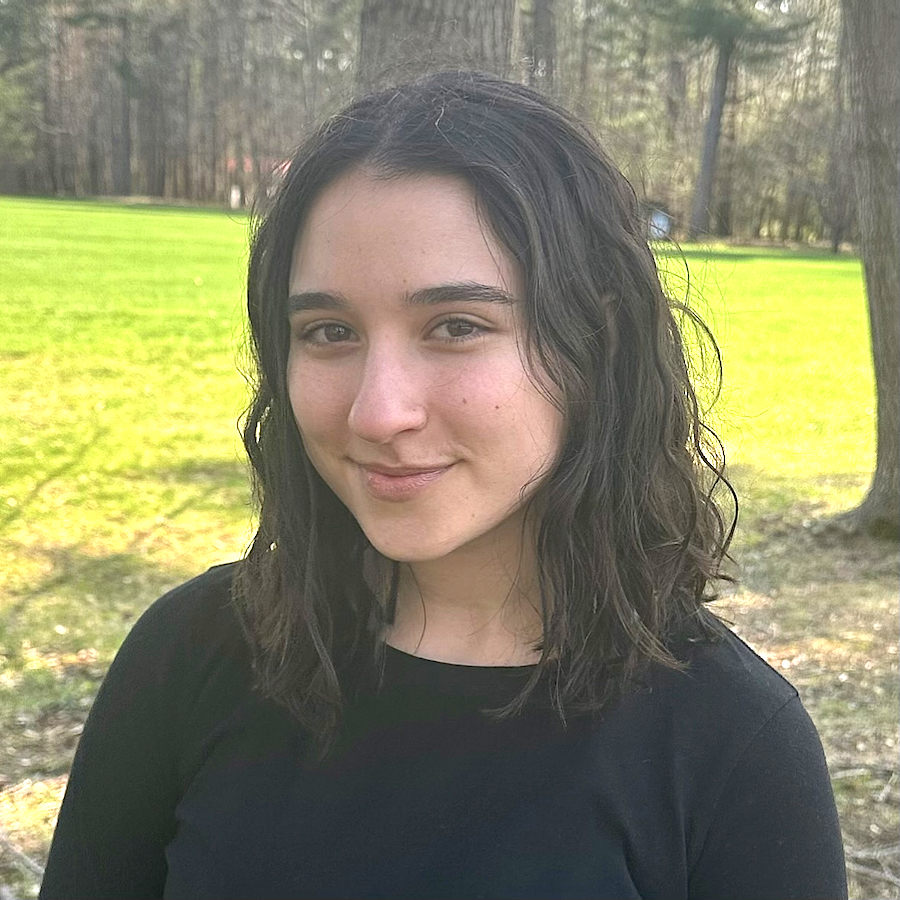 A double major in English and history, Crouch believes in the connective and didactic power of storytelling. After studying Balkan history and serving as a teaching assistant for a Cold War class at Bowdoin, Crouch became eager to further explore Kosovo's history. Aspiring to earn her MFA in creative writing, she says the young country of Kosovo, especially its burgeoning literary and arts community, has piqued her interest. "Where else can you watch a literary tradition blossom?" she said in her Fulbright interview. Beyond academics, Crouch served as head tour guide in Bowdoin's Office of Admissions and helped lead several performing arts clubs on campus. In every endeavor, she strove to create a positive, fun, and engaging environment. Crouch "believes in the unifying power of storytelling, whether through dance, comedy, or written word," said Bowdoin's Fulbright committee, which screens applicants before recommending them to the Fulbright program.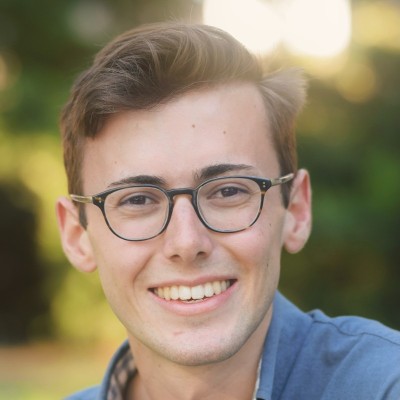 As a Bowdoin student, Devlin mentored ESL students at the local high school and was elected vice president and president of his class. These experiences, said the Bowdoin Fulbright committee, will help him teach language-learners next year and serve as a positive ambassador for the US—a Fulbright requirement. Devlin is drawn to the southern African region because his mother grew up in Cape Town, South Africa, and he says he is excited to broaden his understanding of the culture of Botswana and learn to speak Setswana, the Bantu language spoken there. As a government major and economics minor, he hopes to one day pursue public service in the US-Africa policy space, perhaps with the US State Department, USAID, an NGO, or a think tank.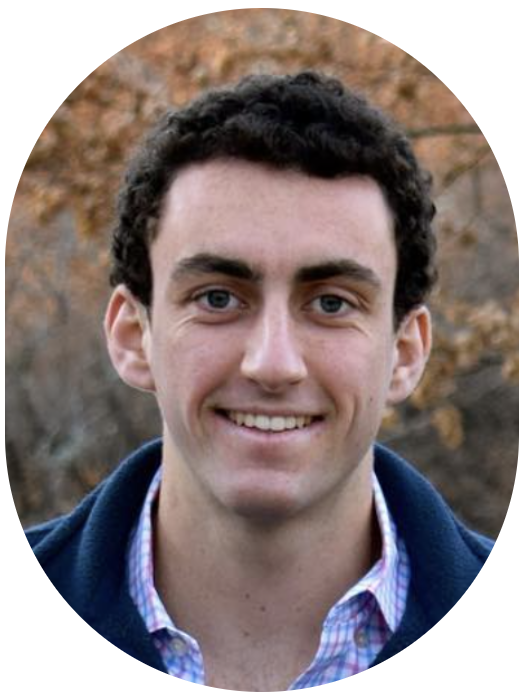 A biochemistry major and Italian studies minor, DiCerbo completed an honors project with Professor of Chemistry and Biochemistry Danielle Dube on antimicrobial resistance to cell-surface sugars in a pathogen linked to cancer. In Italy, he will work with the Silipo Lab at the University of Naples Federico II, continuing a related line of research. DiCerbo speaks Italian after studying the language for seven years, serving as an Italian learning assistant at Bowdoin and working a summer job in Italy in 2022. Next year, he plans to volunteer to teach Italian and English to immigrants, take university courses on Neapolitan history, run the Naples half marathon, connect with Naples's Catholic community, and "sample a margherita from every pizzeria with an official certification from the Associazione Verace Pizza Napoletana."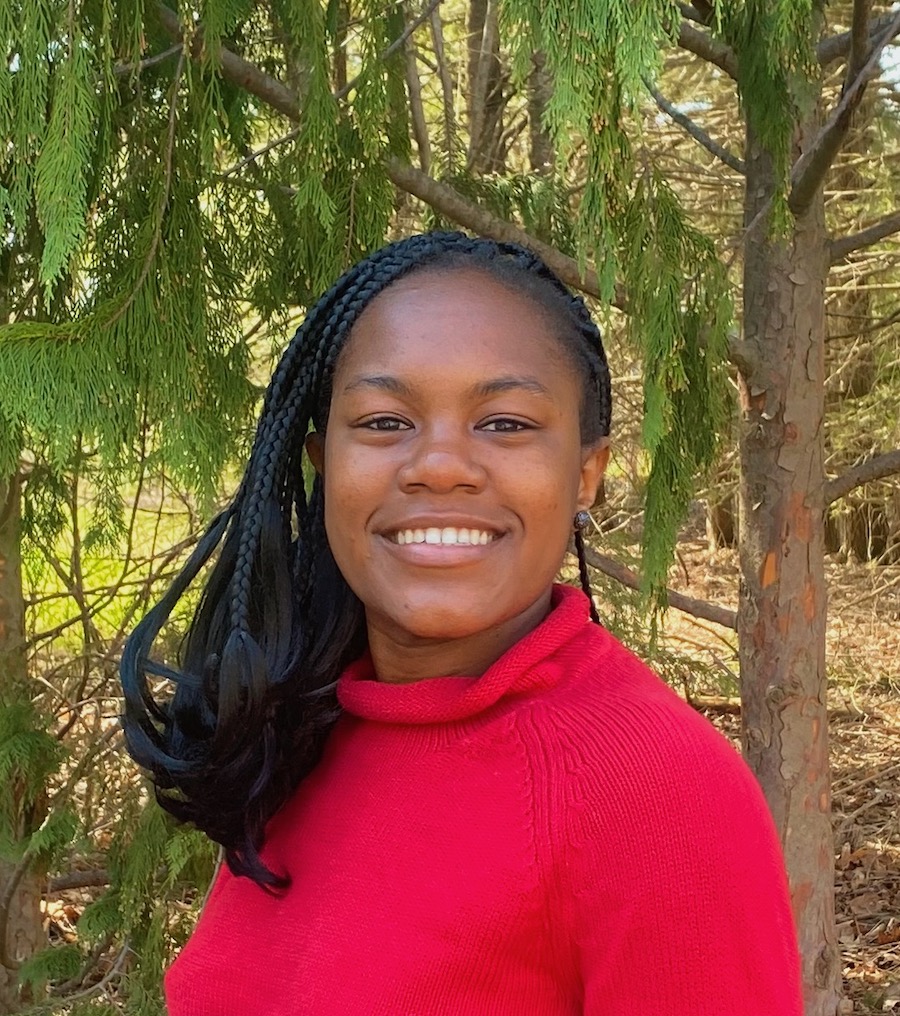 A computer science and Italian studies major and a chemistry minor, Khumalo will study the SARS-CoV-2 virus—part of the coronavirus family—at the University of Padua's Orian Lab. The lab has access to one of the most powerful supercomputers in the world, which is critical to her project. If successful, her collaborative research in the lab will "guide...chemists as they synthesize pharmaceuticals for those who fall ill with COVID-19," Khumalo writes in her Fulbright application. She has had past research experiences at Bowdoin, Brookhaven National Laboratory, and Northeastern University. She began learning Italian at Bowdoin and studied abroad in Padua, Italy, for a semester. "A woman interested in STEM fields who was born to immigrants from Zimbabwe, Thando has spent her life connecting with people who are very different from her," writes the Bowdoin Fulbright committee. After her Fulbright year, she plans to pursue an MD and a PhD in chemistry.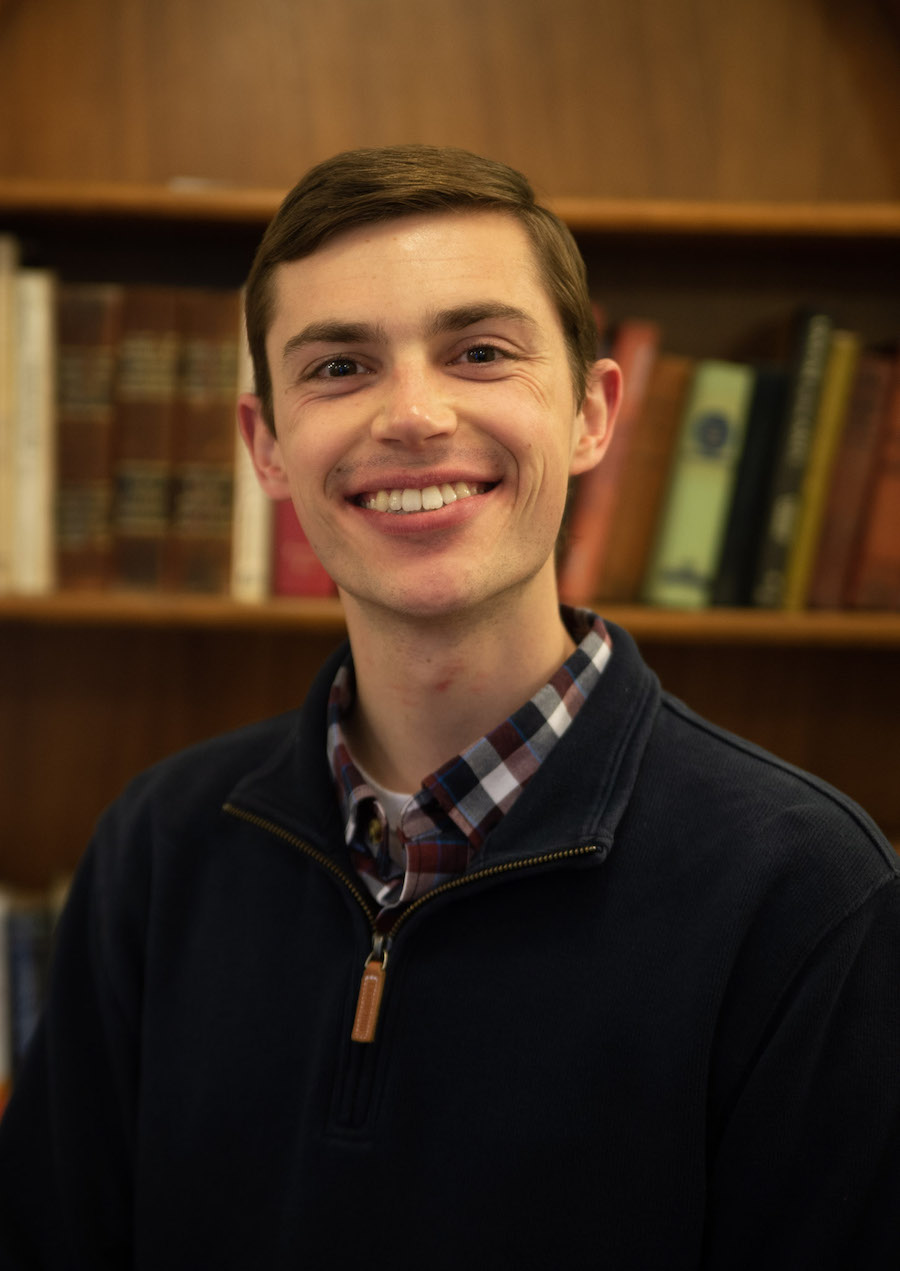 Kovarovics, a government major and Hispanic studies minor, has studied Spanish for nine years. He also studied abroad in Madrid last spring. He has taught outdoor skills to his peers as a leader for the Bowdoin Outing Club and he worked as a peer advisor for the Career Exploration and Development office. In Spain, he will extend his government honors project to research how the concept of liberty, an ideal central to American politics, manifests in Spanish politics. At the end of the year, he hopes to present his findings at a public forum to promote understanding of the parallels and differences between the US and Spain. He also wants to volunteer with a youth outdoors club and get involved in a Catholic church. When he returns to the US, he will look for work on a 2024 political campaign.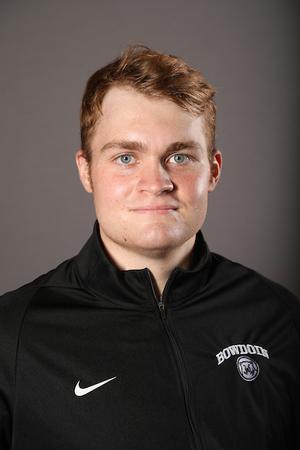 Lamphier, a Russian and government major, studied Russian throughout high school and college, and has taught the language to elementary school students. On a Russian summer immersion program at Middlebury, he expanded his abilities outside the classroom through cooking, playing soccer, and acting in a play.  In his Fulbright application, he said the cross-cultural experiences and education that have resulted from his committment to studying Russian have been among his most rewarding. A varsity football player at Bowdoin, he plans to engage his host community through sports. "...Sports bring people together, but they also force communication to facilitate teamwork. Competition is also a great way to show respect to other groups, and a potential way to earn respect by representing yourself and your team well," he wrote, adding that respect, patience, and listening are all crucial ingredients in cultural exchanges.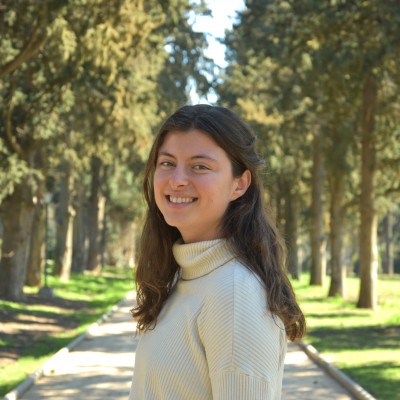 Heading into a year of teaching English in Thailand, Magrath already has had a lot of experience. She is currently teaching English in Greece, and at Bowdoin she was a tutor and curriculum developer for the college-prep program Upward Bound for three years. When she moves to Thailand next year, she's interested in exploring LGBTQ issues in education. It's a "unique cultural moment in Thailand," she writes in her Fulbright application, "following the first celebrated Bangkok pride parade in sixteen years and the recent passage of the Gender Equality Act, the first national legislation in Southeast Asia to specifically protect against gender expression discrimination." Outside of the classroom, she hopes to host community music circles with students, where she'll share her roots in Appalachia by playing guitar and singing Appalachian bluegrass.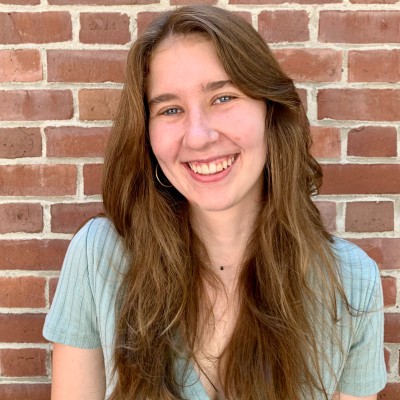 A German and English double major, Moore completed a German honors project, studied abroad in Berlin, and received a Global Citizens Fellowship from Bowdoin to work with In Her Presence, a Maine nonprofit that was founded by and supports immigrant women. She also received a fellowship to work at Preble Street in Portland, which addresses food insecurity, an experience that made her sensitive to the number of people who go hungry, even in wealthy nations like the US and Germany. She plans to volunteer at a food bank or similar organization when she's abroad, using this experience "to better understand how inequalities in the country manifest and are addressed," she writes in her Fulbright application. After her year in Germany, she wants to pursue a degree in social work and one day work in the area of food insecurity as a way to address social inequalities.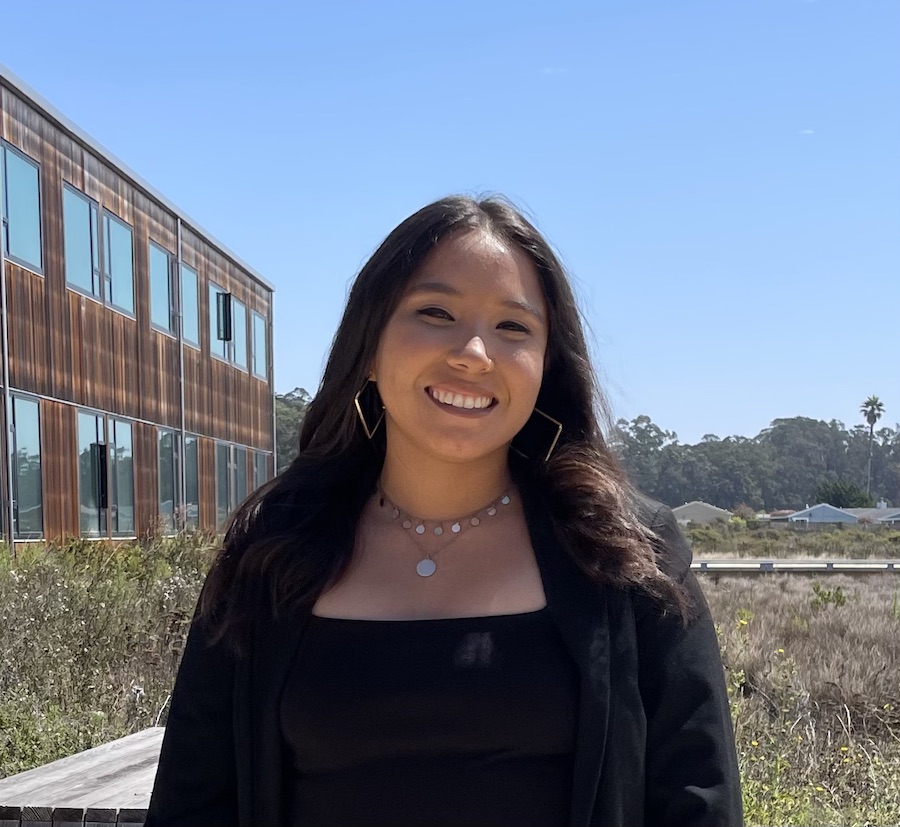 A biology major and an education minor, Navarro will lead an independent research project at the Australian Institute of Marine Science on the genetics behind coral reef adaptation to climate change. Her project builds on research she conducted during the academically intense Bowdoin Coastal Studies Semester and her National Science Foundation Research Experience for Undergraduates, as well as her honors project. In Australia, she will collect samples of coral populations in the Great Barrier Reef and conduct lab experiments, using genetics to identify resilient coral populations. "Identifying heat-tolerant coral populations can help scientists distinguish the mechanisms underlying their survival under stress, the pros and cons of having increased tolerance to heat, and the treatments necessary to help these ecosystems thrive," she writes in her Fulbright application. "This project directly ties into my future goals of exploring resilience to climate change in vulnerable marine ecosystems by using physiology, molecular ecology, and genomics techniques."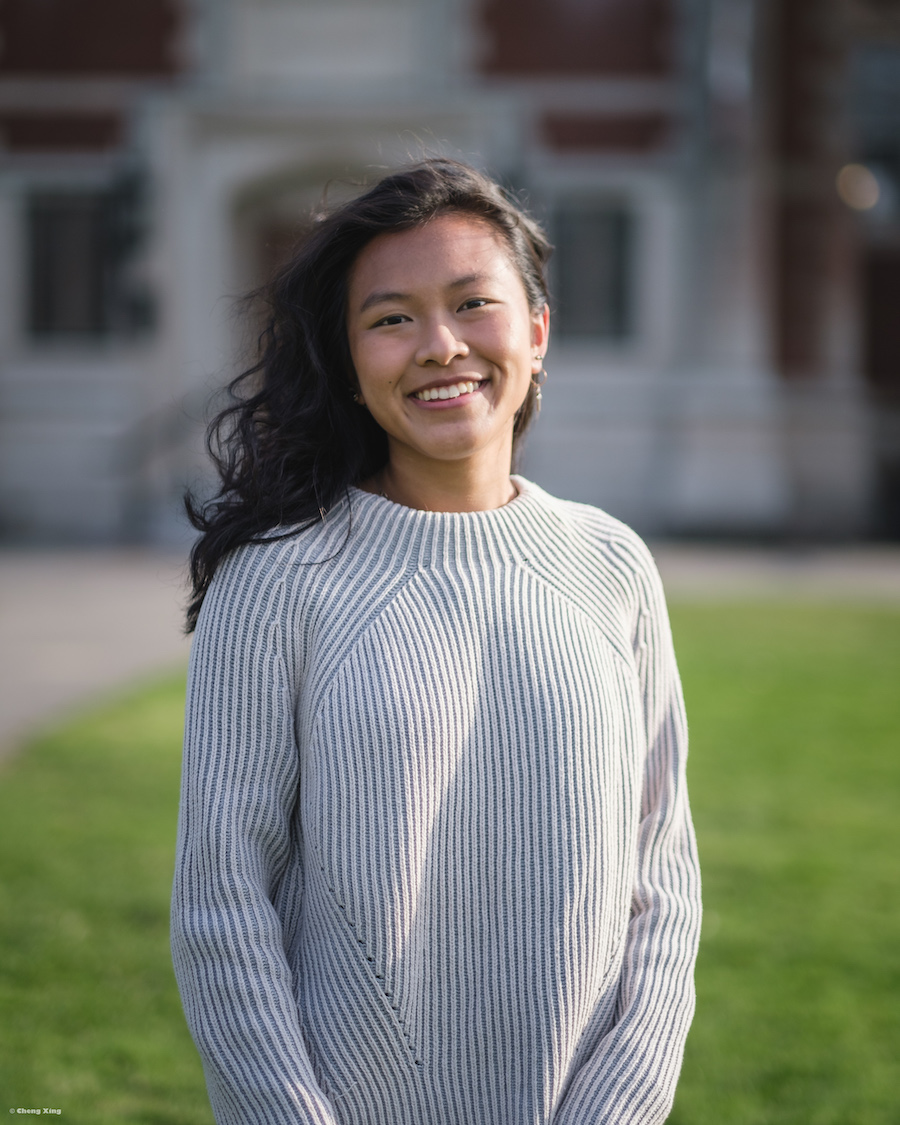 An education major, Ngo worked as a writing assistant for the Baldwin Center for Learning and Teaching, a learning assistant for the education department, and a mentor at Year Up during her time at Bowdoin. She approaches education as a means of fostering equality. "I recognize the significance of English as a lingua franca for the global community, and want to pursue educational equity on a global scale by teaching English to Vietnamese students," she writes in her Fulbright  application. Verbally fluent in Vietnamese, she adds, "Vietnam also holds significant emotional value to me as the daughter of a Vietnamese boat person." At Bowdoin, she's been committed to the common good and has engaged in nearly every program offered by the McKeen Center, including two of its summer fellowship programs, its Common Good Grant program, and its Bowdoin Public Service Initiative. She's also volunteered as an instructor and mentor at the Midcoast Youth Center and Skatepark in Bath.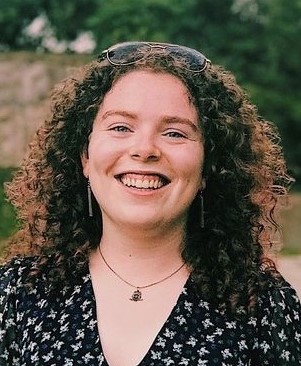 With her Fulbright award, Patterson will enroll at Bangor University in Wales, United Kingdom, to study for a master's degree in marine biology and do research with a nearby eelgrass restoration initiative. She also plans to partner with faculty at the School of Ocean Sciences and connect with regional shell fishermen to foster collaborations between marine researchers and local stakeholders. "This research opportunity will build on my three years of experience in eelgrass, working on both coasts of the United States," she writes in her Fulbright application. During the summer of 2021, she received a summer fellowship from Bowdoin to do independent research on eelgrass and faunal communities. A year later she participated in a National Science Foundation Research Experience for Undergraduates to study eelgrass genetics at University of California–Davis. She completed an honors project this year on the impacts of marine protected areas on eelgrass meadows and how to communicate findings to local stakeholders to encourage preservation efforts.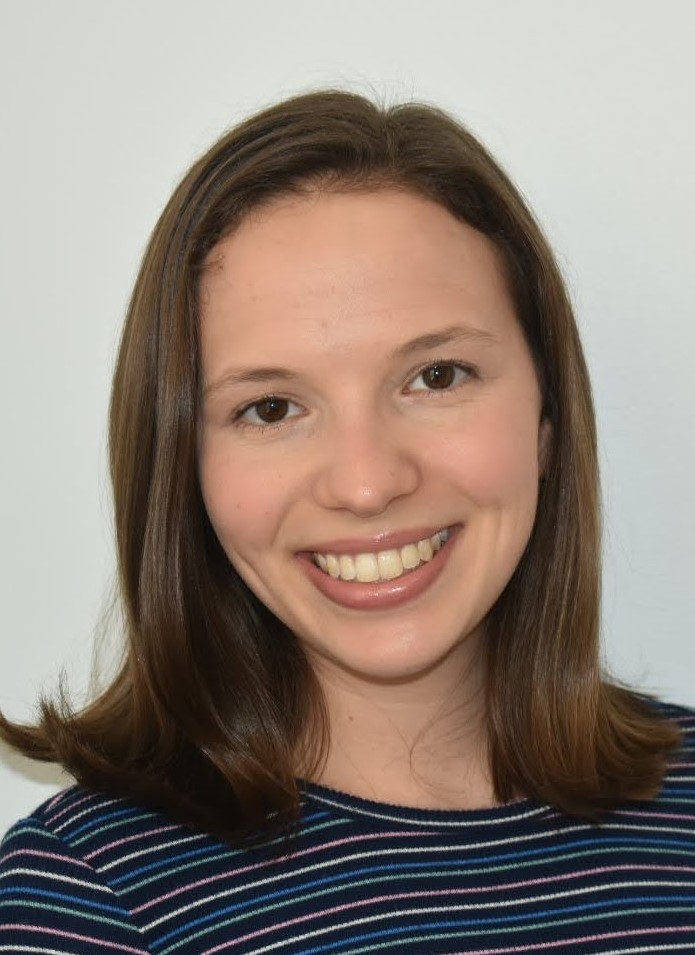 Graduating with a sociology major and Hispanic studies minor, during her time at Bowdoin Pizzino has taught English language learners at Portland Adult Education, SAT prep to local high schoolers, Spanish as a Bowdoin learning assistant, and swing dance as a club co-leader. In 2021, she was awarded a Bowdoin grant for summer language study in Barcelona. She also studied abroad in Chile in the spring of 2022, followed by a summer interning with a Costa Rican educational nonprofit—an experience supported by Bowdoin's competitive Global Citizens Fellowship. Pizzino will draw on the skills gained through these experiences as an English teaching assistant in Galicia next academic year where she is excited to share her love of languages and immerse herself in local culture by attending farmer's markets and the musical Foliadas. Beyond the classroom, Pizzino hopes to create a space for mutual cultural sharing through a multi-style dance group where new styles of dance—like swing Ddance and more—are taught each week.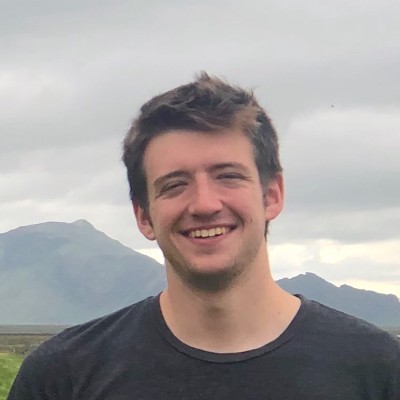 Porter spent a gap year in Berlin between high school and college, which influenced his decision to major in German at Bowdoin. He also majored in government and legal studies. He sees his Fulbright year as a springboard to a career in residential education or law. Porter was a first-year proctor for three years at Bowdoin, a marine biology lab teaching assistant, and a German teaching assistant. Additionally, he has spent hundreds of hours volunteering as a docent at the Seattle aquarium, educating visitors on marine ecosystems. After managing the WBOR radio station at Bowdoin, he hopes to volunteer, perhaps as a DJ, at a similar radio station in Germany next year. If this doesn't work out, he says he'll look for a volunteer position at an aquarium or zoo.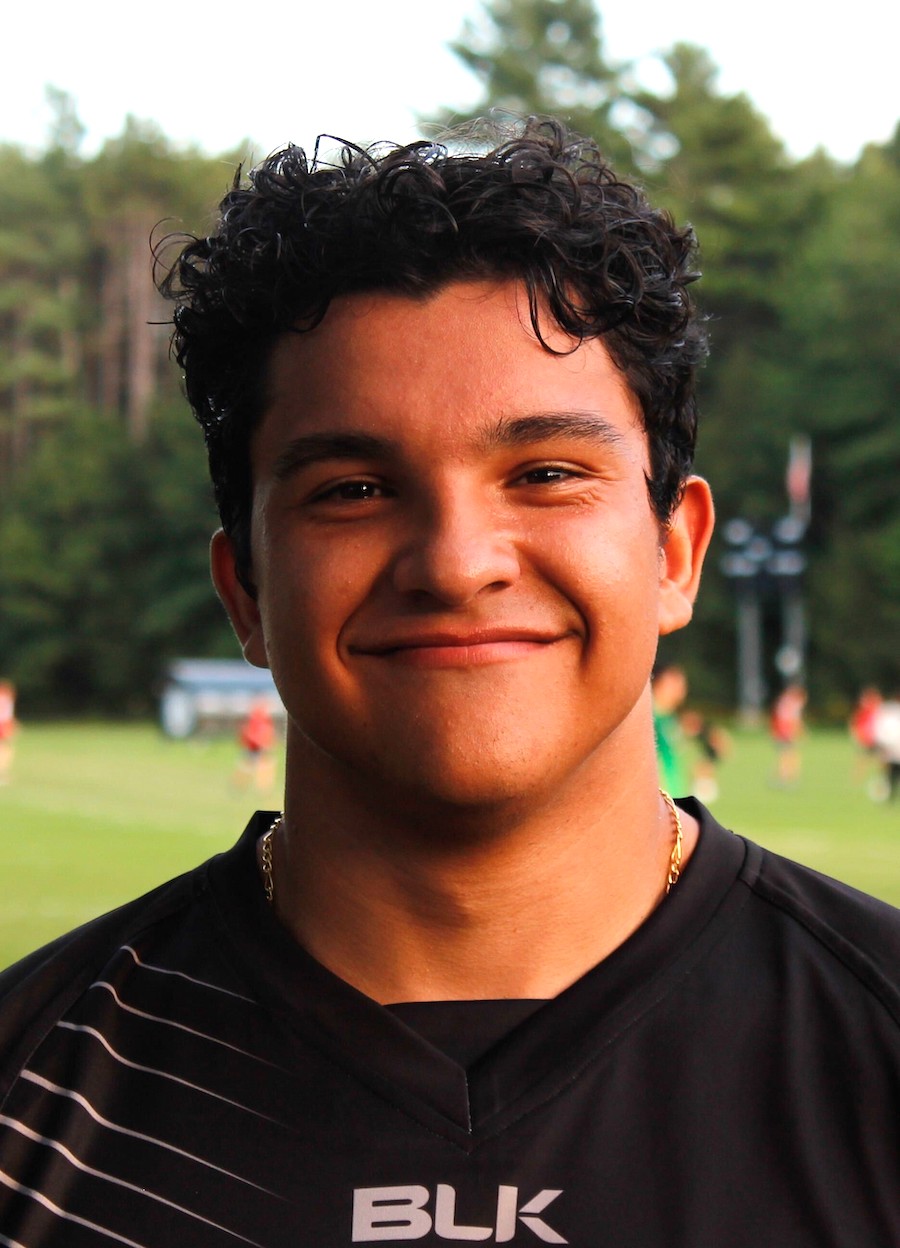 A Russian major and Mellon Mays Undergraduate Fellow, Santana aspires to teach Slavic and Central Asian studies at the university level. On a Critical Language Scholarship to Kyrgyzstan last summer, he fused his Russian knowledge while learning the Kyrgyz language. He is a "world language-learner in the making" as he told the Bowdoin Fulbright committee. Santana "will bring his passion for Russian, music, and storytelling, as well as his teaching experience with Multilingual Mainers, to an English Teaching Assistant position, allowing students to discover, build on, and speak confidently about their own individual interests. Colby is also excited to reunite with the Kyrgyz rugby community and volunteer with rugby youth camps," the committee added in its recommendation to the US Fulbright program.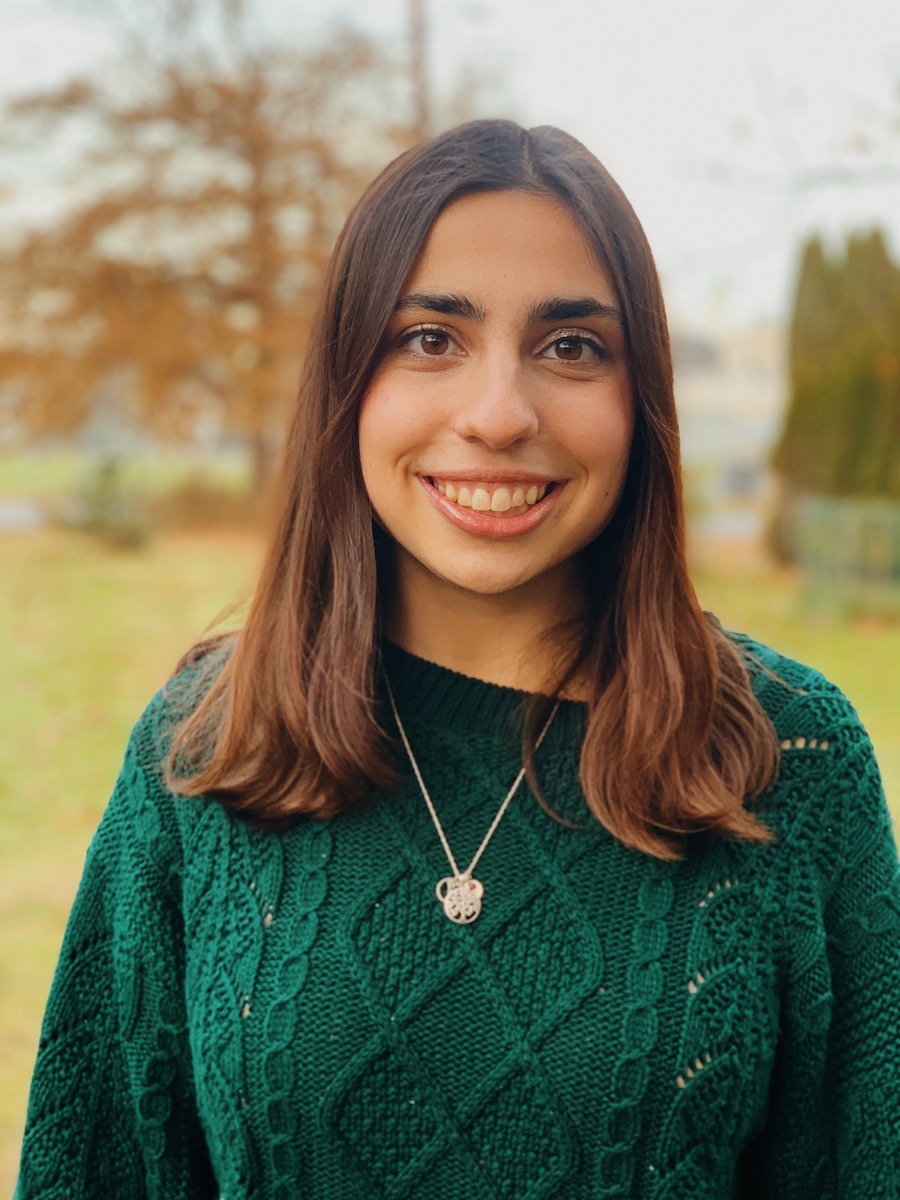 At Bowdoin, Trummel mentored low-income high school students with the college-preparatory program Upward Bound. She also worked for Residential Life and captained the cross-country and track team. As a fellow at the Bowdoin Scientific Station on Kent Island in 2022, she used the research findings by scientists on the island to design a scientific curriculum for local students. An environmental studies and government major, and a biology minor, she plans to eventually earn her teaching license through the Bowdoin Teacher Scholars program. Then she will seek a position teaching high school biology and earth sciences. "In my curriculum, my aim for students is to understand global systems and how science is interconnected globally—a skill I'd gain from being in Thailand," she writes in her Fulbright application. Interested in conservation, she hopes to also understand how Thailand is pursuing the conservation of its abundant biodiversity.