Published May 16, 2023 by Bowdoin
Students Present Gulf of Maine Findings at Major Marine Ecology Conference
Four students recently shared results from their independent research projects at a national conference focused on marine science and coastal ecosystems.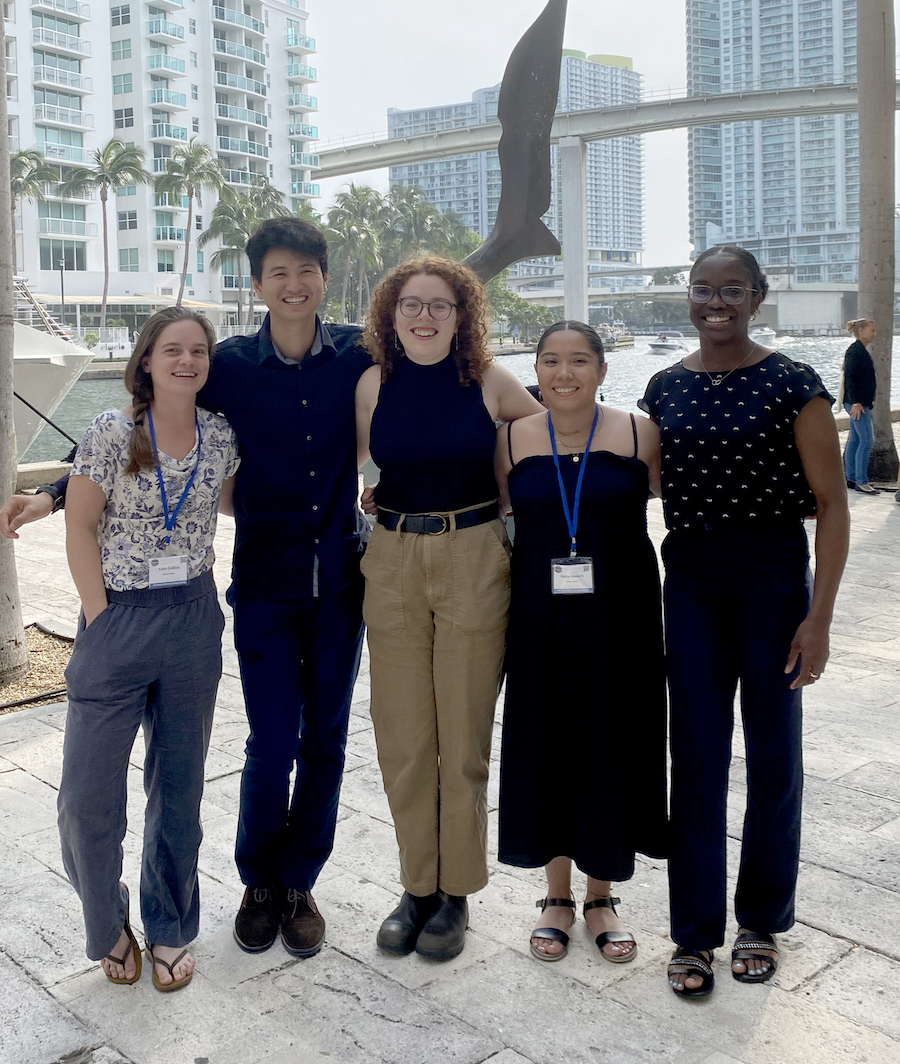 The Benthic Ecology Meeting is an annual conference that brings together scientists and students from around the world to exchange information on benthic ecosystems (e.g. rocky intertidal and coral reefs) and "to foster the next generation of benthic biologists." 
This year the meeting was held April 26-29 in Miami.
The students conducted their experiments and laboratory analyses at the Schiller Coastal Studies Center, with mentorship from faculty and staff.
"Our students are presenting results from in-depth, multi-year projects and are often mistaken for graduate students," said Doherty Marine Biology Postdoctoral Scholar Katie DuBois '11, who accompanied the students to the Miami conference. "Their research is advancing the scientific community's knowledge of marine ecological processes in the Gulf of Maine, and after presenting they were inundated with questions about their research, invited to lunches, and offered graduate positions."
---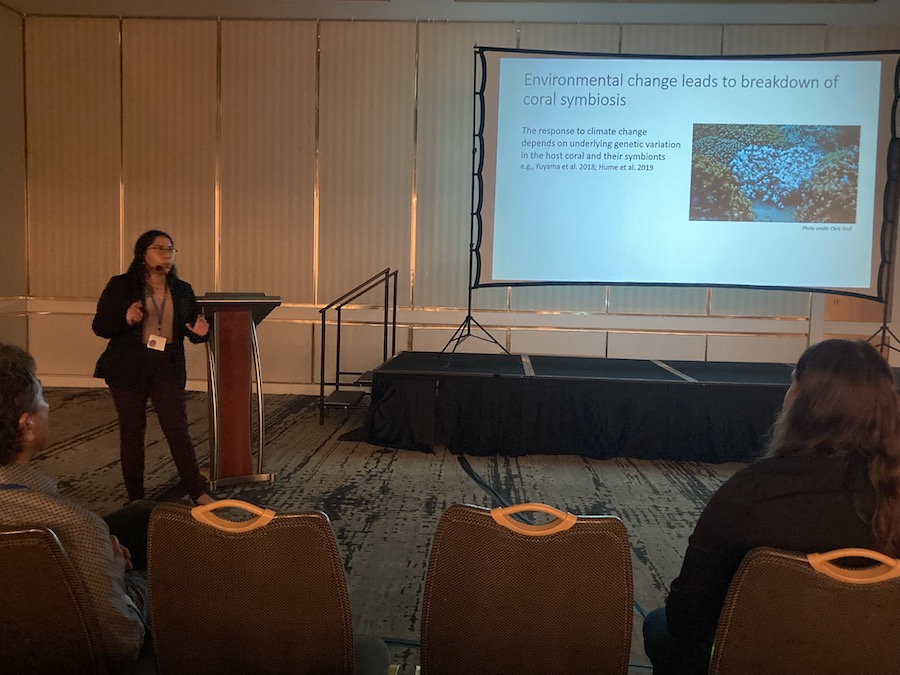 Kellie Navarro '23: biology major, education minor

Navarro gave a talk on the response of Northern Star Coral to cold temperature stress. While many are aware that ocean warming is harming tropical corals, more extreme swings in temperatures, which include periods of extreme cooling, can also stress this species of temperate coral. Navarro's research examines patterns of gene expression of the Northern Star Corals to better understand coral resilience to cold stress.
Next year, Navarrow has a Fulbright fellowship to continue her research into the genetics of coral reef adaptation to climate change at the Australian Institute of Marine Science.
Advisors: David Carlon, professor of biology, and Amy Johnson, Bowdoin's James R. & Helen Lee Billingsley Professor of Marine Biology
---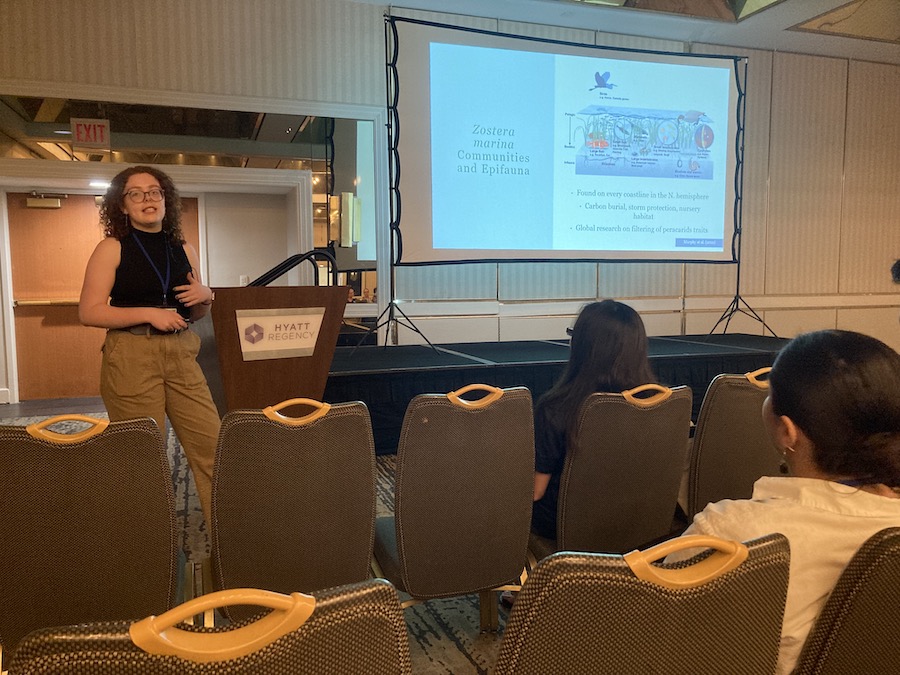 Bridget Patterson '23: biology major, earth and oceanographic science minor

Patterson's research focuses on how characteristics of different species—for example, body size or feeding strategies—relate to the function and resilience of ecosystems. Patterson gave a talk at the Benthic Ecology Meeting on the community of tiny invertebrate species found in eelgrass communities, and how the diversity of species characteristics within these communities can help predict eelgrass ecosystem response to disturbance.
"My honors thesis has shaped the way I look at ecology," Patterson said. "Rather than seeing these subfields as separate and impossible to mesh together into a unifying theory, I've been able to appreciate the plasticity in ecology as a field. This project has allowed me to find universality in ecological processes."
Next year, Patterson has a Fulbright fellowship to continue researching eelgrass at Bangor University in Wales.
Advisor: Katie DuBois, Doherty Marine Biology Postdoctoral Scholar
---
Kianne Benjamin '24: earth and oceanographic science and Francophone studies major, biology minor

Contamination from microplastics—tiny pieces of plastic under five centimeters in length—is an increasing problem for marine organisms that feed by filtering the water column. This includes aquacultured species like oysters, an increasingly important fishery for coastal communities. Benjamin examined the amount of microplastics contained in oysters grown in experimental aquaculture arrays at the Schiller Coastal Studies Center, comparing oysters grown over mudflats with oysters grown over eelgrass meadows. She presented her findings that eelgrass may reduce oyster plastic contamination at the Benthic Ecology Meeting.
Advisor: Katie DuBois, Doherty Marine Biology Postdoctoral Scholar
---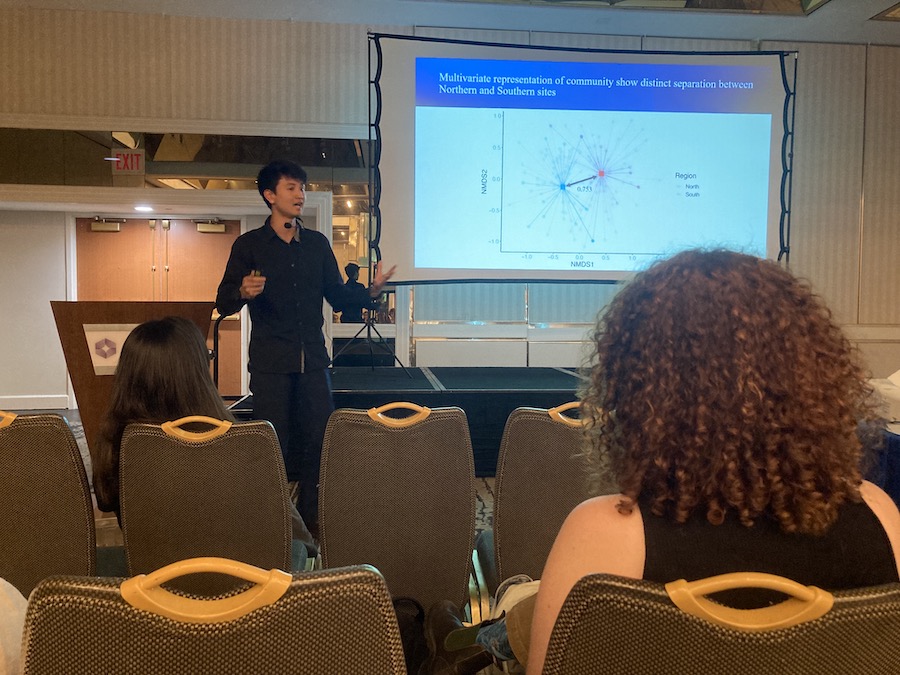 Nicky Yoong '24: biology major, Japanese minor

Yoong gave a talk on the results of extensive surveys he led in Casco Bay and Machias Bay comparing seasonal patterns of eelgrass growth and eelgrass community diversity in southern and Downeast Maine. While eelgrass ecosystems in Casco Bay have declined by 50 percent over the last several years, more eastern eelgrass meadows continue to provide important ecosystem service to coastal communities. Yoong's research provides baseline data for understanding how eelgrass meadows throughout the Gulf of Maine are responding to ocean change.

"My career goal is to become a research professor in marine ecology," he said. "The experience and the connections I gained at this conference helped me get one step closer to this goal. Throughout the conference, I was able to network with scientists, including potential graduate school advisors, allowing me to receive feedback on my research and exposing me to the wider scientific community. I hope to leverage these connections by collaborating with the scientists I met and gaining their insight on future research."
Advisors: Katie DuBois, Doherty Marine Biology Postdoctoral Scholar, and Barry Logan, Samuel S. Butcher Professor in the Natural Sciences