Bowdoin College Celebrates 218th Commencement
Published by Tom Porter. Photography by Michele Stapleton.
Graduating seniors were joined by friends and family as Bowdoin College conferred 478 bachelor of arts degrees on the Class of 2023. The 218th Commencement ceremony was held on the steps of the Walker Art Building on the morning of Saturday, May 27, 2023.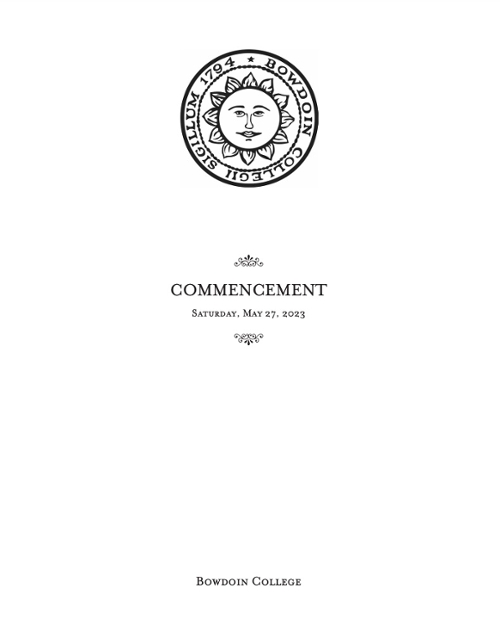 Forty-two states as well as the District of Columbia and Guam are represented, including Massachusetts with eighty-six students, New York with fifty-two, California with forty, and Connecticut with twenty-five. Forty-two graduates are from Maine. Thirty-three graduating seniors hail from outside the US, while twenty-eight countries and territories have citizens graduating from Bowdoin.
College Marshal Jean Yarbrough, who is Bowdoin's Gary M. Pendy Sr. Professor of Social Sciences, officially opened the commencement exercises ceremony. Oliver Goodrich, director of the Rachel Lord Center for Religious and Spiritual Life, then offered the invocation.
"Class of 2023, your time at Bowdoin has been a season of surprises," said Goodrich. "As you commence a new season of life today, I invite you to remember and savor the surprises that shaped your time here and to imagine and prepare yourself for the many possibilities that await you in the future." Read the full text of Goodrich's invocation.
Chair of the Board of Trustees Scott Perper '78 offered some remarks, urging the graduating class to "Go out into the world, work hard, generate new precious memories like today, whether it is through your job, attending graduate school, building a family, having life adventures or wherever your dreams may take you." After paying tribute to outgoing president Clayton Rose, Perper introduced Joan Benoit Samuelson '79, P'12, H'22, who delivered Greetings for the State.
Samuelson, an Olympic gold medal-winning runner, is the most recognizable athlete in Bowdoin's history. A native Mainer, she is a passionate advocate for her home state. "As you launch from here," she told the new graduates, "regardless of where you light, may you feel at home with the experiences, knowledge, memories, and friendships you carry from this special place."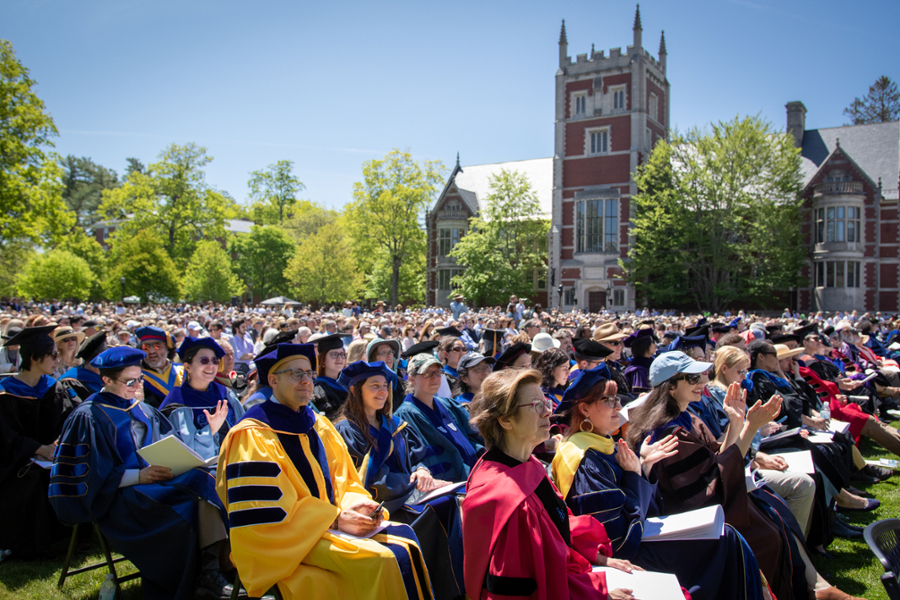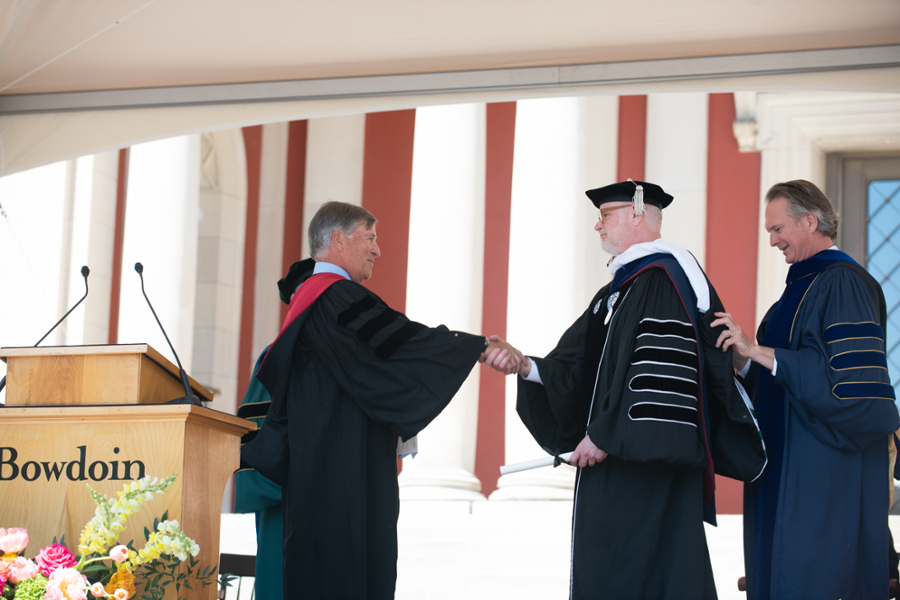 President Clayton Rose, who is soon to retire from Bowdoin after eight years, welcomed the graduating seniors, family, friends, honorands, trustee, and other members of the Bowdoin community. "To our graduates, my classmates, one journey ends today and another begins for you and for me."
On behalf of himself and his wife, Julianne, Rose extended a heartfelt thanks to staff and faculty. "You have been fantastic colleagues and every day in countless ways you make Bowdoin the special place that it is. Thank you for everything you do for the College and for your partnership and friendship over these past eight years."
To the Class of 2023, Rose talked about what it means to be a Bowdoin graduate, with particular reference to two alumni who have been in the news recently, as they pay the price for living "their principles under difficult circumstances, and in one case, surrendering freedom to an oppressive regime in service of these principles." They are Justin Pearson '17, a House representative from Tennessee who was expelled from the state legislature for protesting in favor of gun reform, and Evan Gershkovich '14, the Wall Street Journal correspondent being detained in Moscow on false espionage charges.
"Facing different circumstances," said Rose, "Evan and Justin provide examples of believing in something and staying true to those beliefs, even in the face of intense criticism, threats, and in Evan's case the complete loss of his freedom under terrible circumstances. They are models of dignity, of principle, and of strength in service to the common good," he added.
With Gershkovich still behind bars, Rose said he has been inspired by the outpouring of support from the Bowdoin community, and "by those in the media who are keeping Evan and his situation in full view of the world. Among them are Andy Serwer, class of 1981 and trustee, and Lucy Gilmour, a Bowdoin parent, both here today. Thank you."
Rose went on to address class members about another issue: happiness. "Your happiness," he said, "will have nothing to do with your GPA, or fancy titles you'll have, or the money you might make. It is about your heart and soul. Find and nurture the special relationships that make you whole," he urged. "No amount of money, no material symbols of success, can come close to the satisfaction that comes from these special relationships. Nothing else—nothing—will sustain you in the same way and nothing else will make you or your life as good."
Rose also thanked his wife, Julianne, who, he admitted, does not like being in the spotlight. "The truth is," he said, "that whatever I've accomplished in my time here, and in my life, was only possible and only meaningful because of her." Read the full text of Clayton Rose's remarks.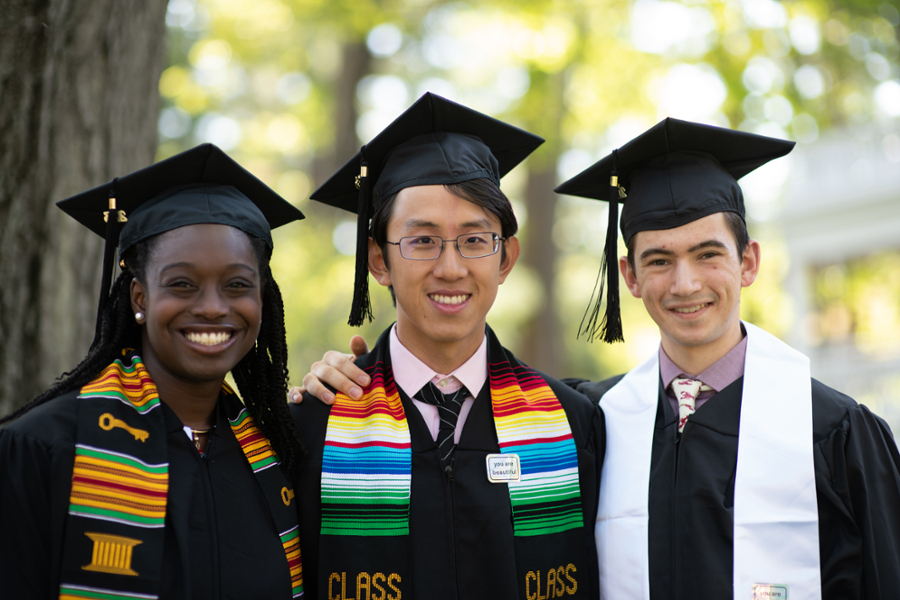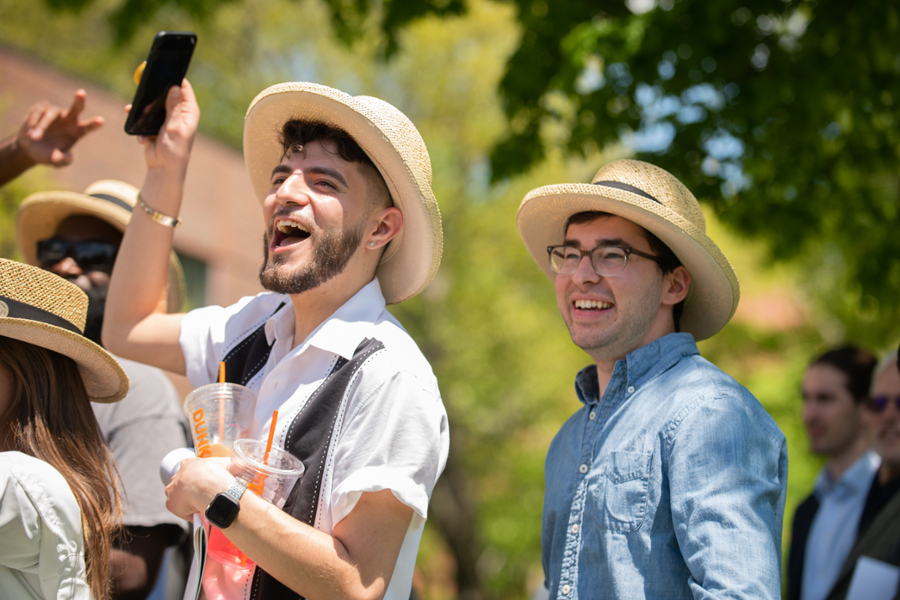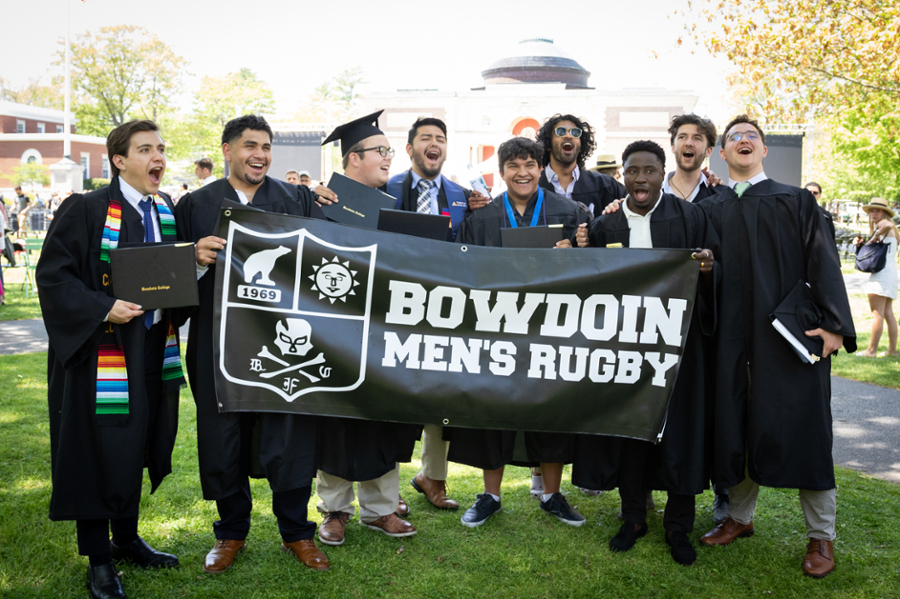 Commencement Speakers
As has been the tradition since Bowdoin's first graduation ceremony in 1806, Commencement addresses were delivered by graduating seniors. This year's speakers, chosen through competition, were Ethan Drake McLear '23 and Ayana Ray Opong-Nyantekyi '23.
Class of 1868 Prize Winner Ethan Drake McLear '23
In his speech, "Let College Change You," McLear reflected on his four years at Bowdoin. As a newly arrived student in 2019, McLear said he sometimes felt overawed by his surroundings and those around him. Then, as he was still navigating this new environment, the pandemic hit, and "we were all sent home in the spring of freshman year to figure out Zoom and Microsoft Teams. Stressing over who the smartest kid in class was became irrelevant, because no one talked in those online classes."
As McLear returned to campus in the spring of his sophomore year, life began, very gradually, to get back to normal after the pandemic. "The twice-weekly walk to Morrell to get tested became my social time," he said.
As he began his junior year, McLear, a religion major, decided to make the most out of his college experience, throwing himself into athletics, music, debating, and other pursuits, as well academics. "Bowdoin offers us a transformative education with abundant support," he said. "But, In return, it demands our active engagement. To make the most of a Bowdoin education, we must extend our trust. We must allow ourselves to be changed." Read the full text of McClear's speech.
Goodwin Commencement Prize Winner Ayana Ray Opong-Nyantekyi '23
Inspired by a quote from writer and activist Maya Angelou, Opong-Nyantekyi titled her talk "The Power of an Open Heart." The Africana studies and economics major talked about how everything she has done at Bowdoin, from application to graduation, she has tried to do with open-heartedness.
It's an attitude that helped Opong-Nyantekyi make the most of her Bowdoin experience, she said, serving, for example as a head proctor, captain of the women's swim and dive team, and a  leader in the Athlete of Color Coalition, Christian Student Association, and Black Student Union—among other groups. The decision to open her heart led her "to form strong relationships," and to "share in the many laughs and conversations that I saw when I first stepped on campus and decided, with an open heart, to make this place a part of my story."
Opong-Nyantekyi reflected on her mother's sacrifices as a single parent and the efforts of her late grandmother, who decided to leave her family in Alabama during the Great Migration and pursue economic opportunities in New York City. "We all have circumstances out of our control that create opportunities for us to open our hearts and be leaders in our own ways." Read the full text of Opong-Nyantekyi's speech.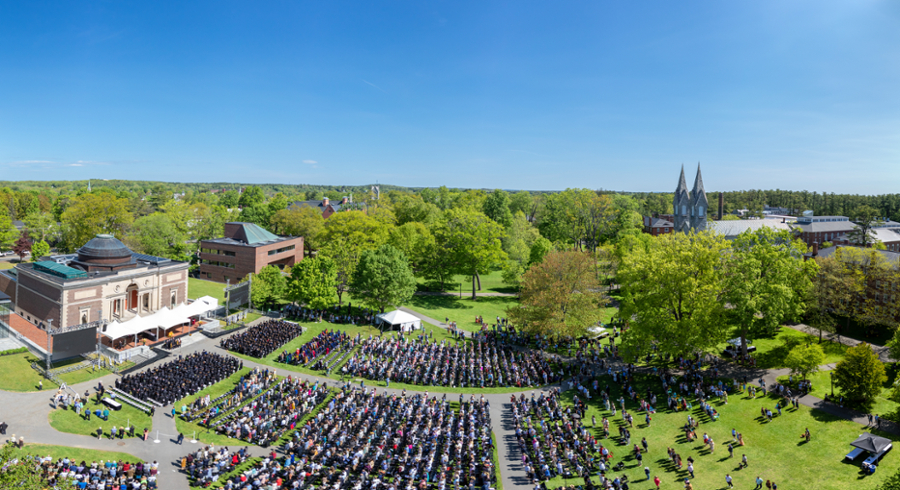 Honorary Degree Recipients
Bowdoin awarded five honorary degrees at the ceremony: 
Former trustee and board chair Stephen F. Gormley '72, P'06, P'09, P'11
Curator and cultural educator Navarana K'avigak' Sørensen
Former trustee and board chair Robert F. White '77, P'15
President of the Academy of Motion Picture Arts and Sciences and an Emmy and Golden Globe award-winning film and television producer Janet Yang
Fifteenth president of Bowdoin College Clayton S. Rose
Senior Class President Cheng Xing '23 also addressed the ceremony. In his remarks, Xing said a Bowdoin education was so much more than an academic journey. "Bowdoin didn't just fill our heads with knowledge; it pushed us, nurtured us, let us fall, and helped us get back up, shaping us into global citizens ready to listen, question, empathize, and actively contribute to our world." Read the full text of Cheng Xing's address.
Commencement Music
Vocalists from the Class of 2023 performed "The Star-Spangled Banner" and "Raise Songs to Bowdoin," while Chandler's Band bookended the ceremony with the Commencement March and the Recessional March.