The Big Migration: Excitement as Arctic Museum's New Quarters Take Shape
Published by Tom Porter
As "Oscar" the walrus completed what was probably his final journey, there was relief and excitement among staff and faculty at Bowdoin's newest facility, the John and Lile Gibbons Center for Arctic Studies, which is due to open its doors in May.
On the Move
A window was removed to enable the taxidermied 600-pound mammal to be hoisted into the building by a professional rigging crew. Oscar was then raised onto a ledge overlooking the second-floor gallery and placed alongside other well-known items of taxidermy from Bowdoin's Arctic collection, including a polar bear, a musk ox, and two caribou. Shortly to follow through the window were a full-sized Inuit kayak constructed more than 130 years ago, and the sledge from Robert Peary's North Pole expedition of 1908–1909.
"The heavy lifting is now complete," said Professor of Anthropology Susan Kaplan, director of the Peary-MacMillan Arctic Museum and Arctic Studies Center. But, she added, there are still close to a hundred artifacts to be removed from storage, brought over to the new building, unpacked, and put in place.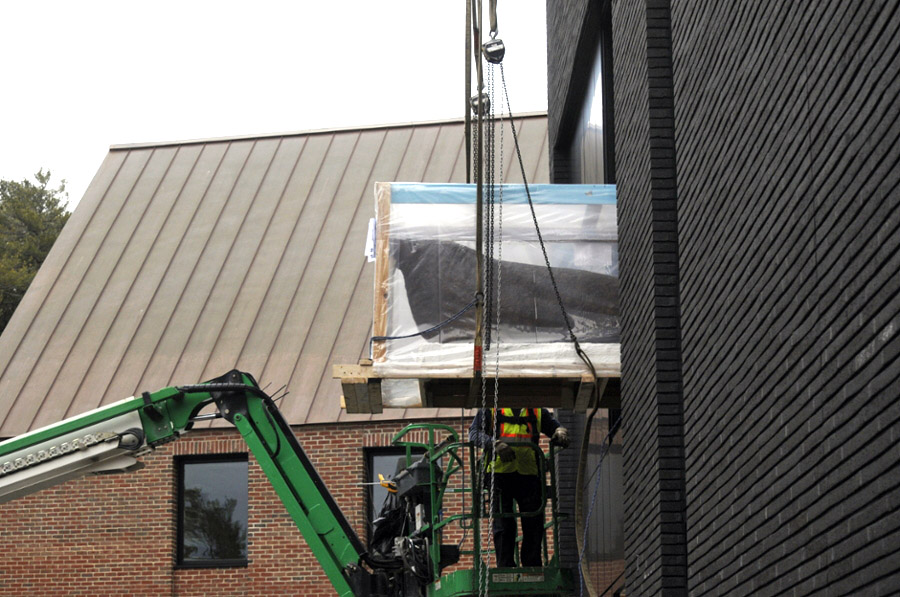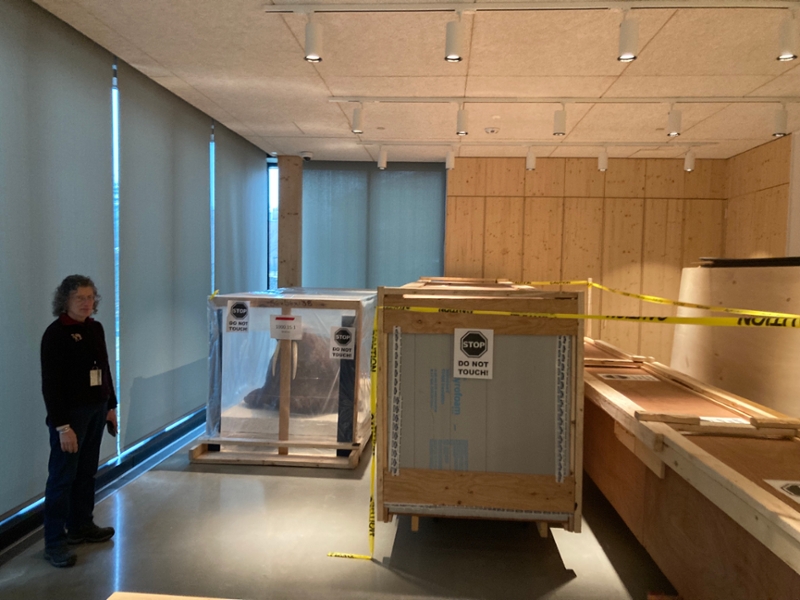 The relocation of the Museum has been a lengthy and complicated process, said Kaplan. It started during the pandemic, when staff began to move artifacts out of Hubbard Hall to an off-campus storage site. In recent months, the larger items (including much of the taxidermy), many of which had been in place for more than fifty years, were painstakingly taken down, wrapped in protective plastic, and crated.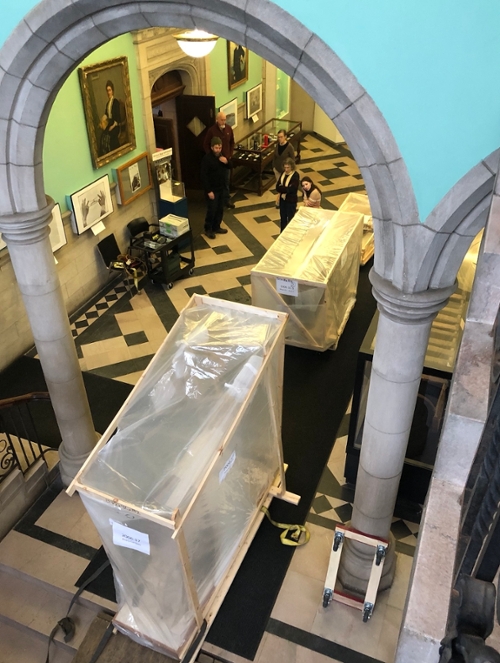 They were then removed from Hubbard ("no easy task with all those interior steps," said Kaplan), and placed in a huge freezer inside an industrial shipping container on the Polar Loop parking lot. "We put them in deep freeze for three to four weeks to mitigate against insects, particularly the dermestid beetle and clothing moths," said Kaplan. "Much of our collection is organic, so it's made from protein, which these insects love to eat," she added.
A New Environment
The John and Lile Gibbons Center for Arctic Studies may lack the Gothic, old world charm (and occasional ghost, say some) of the 120-year old Hubbard Hall, but it is a lot more convenient, said Kaplan. "For one thing, there is a huge elevator—big enough to accommodate a polar bear—giving us easy access to the exhibition spaces," she enthused.
As well as providing a spacious new home for the Peary-MacMillan Arctic Museum, the 16,426-square-foot facility—made using a pioneering, sustainable product called mass timber—includes archeology research and teaching labs, a classroom, an exhibit production workshop, and offices for museum staff.
One game-changing feature of the new building is the climate-controlled environment, said Kaplan. "The consistent humidity and temperature mean even the most sensitive objects in the collection can be kept here under one roof, either on display, in storage, or in one of the classrooms or labs. Previously, we were spread out all over the place. Our workshop, for example, was in Fort Andross."
This new setup makes life a lot simpler for exhibit designer Dave Maschino, said Kaplan. "At Hubbard, Dave had to manually adjust each display case in order to safeguard our objects. Once or twice a week he would open the base of each case to make sure it contained enough water to maintain the correct level of humidity and temperature. Now he doesn't have to!"
Another major advantage of this climate-controlled environment, said Kaplan, is that it enables the Museum to feature works borrowed from other institutions and to host traveling exhibitions.
"The consistent humidity and temperature mean even the most sensitive objects in the collection can be kept here under one roof." Susan Kaplan.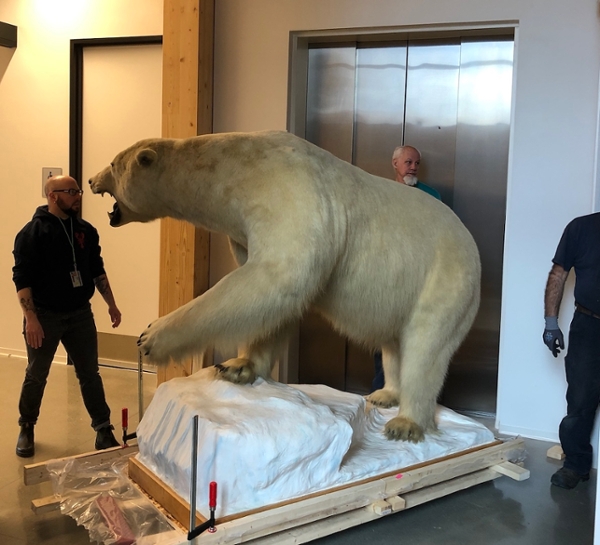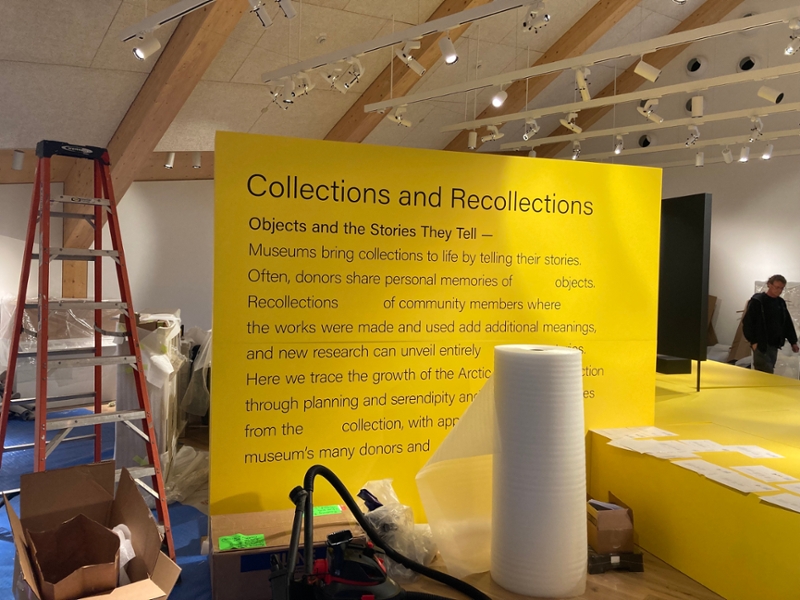 On Display
The John and Lile Gibbons Center for Arctic Studies will house three inaugural exhibits when it opens. The museum galleries are spread over the top two floors of the building, with the second floor dedicated to an ongoing, semipermanent exhibition called "At Home in the North." "It's basically an exploration of Inuit life, with some details about Bowdoin's legacy in the region," said Kaplan. "From a sledge that carried Peary to the North Pole in 1909 to a 'SMARTbuoy' that tells contemporary Inuit travelers if it is safe to travel on the sea ice, this exhibit examines life in the Arctic historically and today." The third-floor gallery runs the entire length of the building, said Kaplan, and will house two related exhibits:
Collections and Recollections features a range of significant objects from the Museum's collection, said Kaplan, and highlights the many stories they tell, from the challenges faced by Arctic explorers to the joys of community life as depicted by contemporary Inuit artists. It also reflects on the growth of the collection through the years. "When I arrived at Bowdoin more than three decades ago, the Museum tended to concentrate on Peary and MacMillan and the places they explored," said Kaplan. "There was very little from Alaska, for example, and I remember thinking we should address this, as Alaska is, after all, the US foothold in the Arctic." Since then, she explained, the Museum has expanded the collection significantly—including the addition of Alaskan material—through acquisition and the generosity of donors.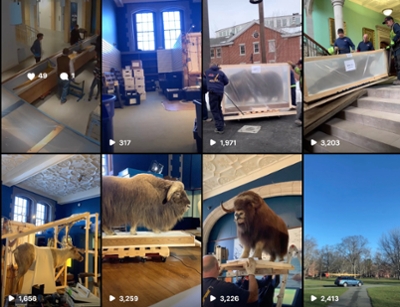 The other exhibit, Iñuit Qiñiġaaŋi: Contemporary Inuit Photography, is curated by Iñupiat photographer Brian Adams from Alaska, with the help of museum staff, and features photographs of the Arctic taken by five Inuit photographers from Alaska, Canada, and Greenland. This show, said Kaplan, builds on a strong tradition at the Museum, which is well known for the depth of its photographic and film archives. "Our collection of photographs goes a long way back, so you can watch families over generations as they grew up in Greenland or Labrador, for example. However," she added, "those photographs were all taken by outsiders visiting the Arctic, whereas this show adds an entirely new Indigenous insider's perspective."
The photography exhibit takes the museum in an exciting new direction, said Kaplan, and it is a fitting way to help launch a new era of Arctic study in this exciting new building. 
Related News: Trouble for the Thebaud. In the summer of 1937, Admiral Donald MacMillan, Bowdoin College Class of 1898, led a seventy-two-day Arctic expedition aboard the schooner Gertrude L. Thebaud. Read more.