From the Lecture Hall to the Concert Hall
By Tom Porter
Professor of Physics Mark Battle has a double life. As well as being distinguished climate scientist, he's also a classically trained musician. "Music has been a part of my life for a very long time," said Battle, as prepares for an upcoming concert.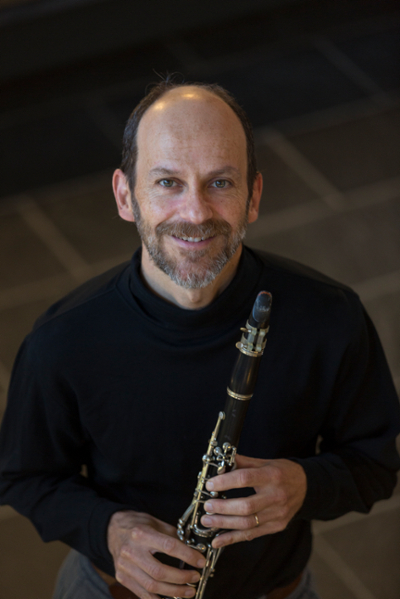 On April 10, Battle will take to the stage alongside Beckwith Artist-in-Residence George Lopez on piano for a concert titled "National Idioms, from Austria to Argentina," featuring works by a range of composers.
"We were originally due to give this concert in Ohio in March 2020 but that was canceled at the last minute because of the pandemic, so I'm really excited to be able to do it, here at Bowdoin," said Battle, who has performed with Lopez several times over the years. "He's a wonderful pianist and I'm really lucky to have the opportunity to play with him," he added.
The only child of music-loving parents ("mostly classical"), Battle first picked up a clarinet in fourth grade and hasn't looked back since. "My one regret is never having learned to play jazz, which I love. There was no jazz program at my high school, so I missed out on that."
At college Battle enrolled in a five-year double degree program, which involved getting bachelor's degrees in both physics (from Tufts) and performance (from the New England Conservatory). "In my fourth year I had a big life choice to make—science or music? Which would I choose to make a career out of?" He leaned toward science, of course, but Battle said music has been a major part of his life and he's performed regularly over the years.
"I have an urge to express that side of my character. What it comes down to is that making music itself is just so pleasurable," said Battle, "and that pleasure is increased manyfold when playing chamber music with, and in front of, other people. It's such a rich, rewarding experience."
Monday's concert featuring Mark Battle on clarinet and George Lopez on piano will include works by Brahms, Bernstein, Piazzolla, Bizet, and Vaughan Williams. Joining them for part of the evening will be Laura del Sol Jiménez on flute and piccolo. The performance gets underway at 7:30 p.m. in Studzinski Recital Hall, Kanbar Auditorium. Admission is free.
Published April 06, 2023