New Spring Break Trip Focuses on the Importance of Self-Care and the Common Good
Published by Rebecca Goldfine
The McKeen Center partnered with three other student life offices this March to offer a new 
Alternative Break trip
that explored how self-awareness and self-care are integrally related to community engagement.
During the first week of March break, fifteen students spent six days on the quiet shores of Damariscotta Lake in Jefferson, Maine, living at a summer camp of rustic cabins and post-and-beam halls. They had acres of woods and a lakeside to themselves.
A commitment to the common good starts with awareness of self, identity, and motivation and must include self-care in order to be fully present with ourselves and others. This Maine-based trip will focus on practicing self-care and how to build reciprocal and ethical community partnerships. Participants will explore self-care practices like yoga, meditation, and journaling, and have opportunities to learn from local community partners about ethical community engagement. Days will be filled with community building and reflection on our own identities, unique journeys, and the many gifts that all of us carry within us. We will have field trips to learn more about the Midcoast area, and there will be plenty of time to rest, read a book, walk, hike, eat yummy food, and learn to recharge. — McKeen Center for the Common Good
Built into their schedule—which included yoga, meditation, journaling, talks with community leaders, and field trips—was plenty of down time. That was on purpose.
On day four of the program, Carolina Weatherall '25 summed up the trip: "For the most part, we're reading, we're building a fire, we're sledding down the hill on cookie trays, we're looking for trolls in the Botanical Garden, we're looking at the ocean at Ocean Point, we're playing games, we're laughing, we're baking."
"And it feels very disconnected from social media or the Spring Gala and 'what should I wear?' Or, 'Oh no, I have a paper due in an hour!'"
She added, "It has felt great."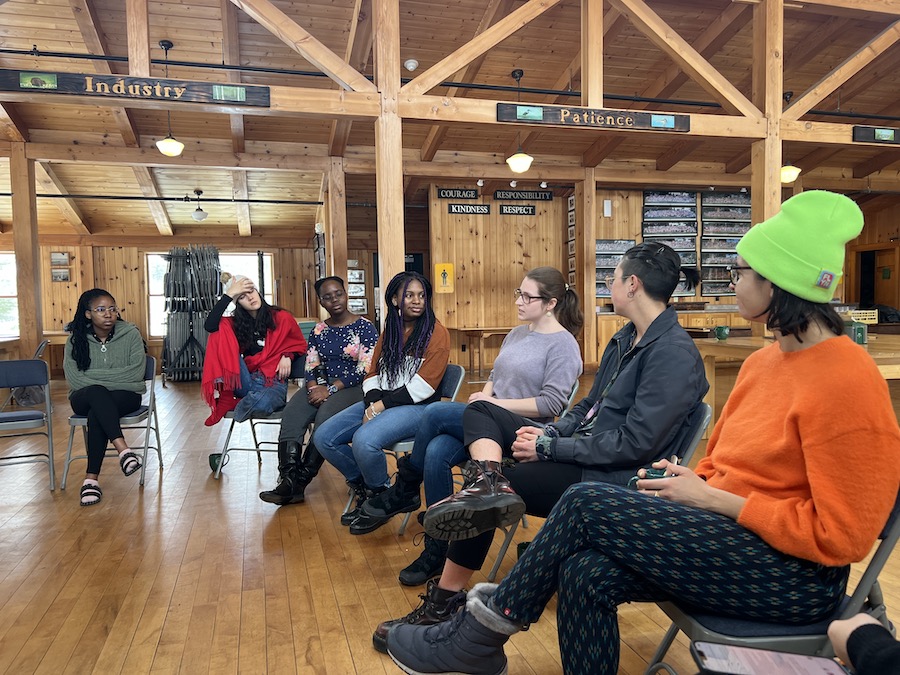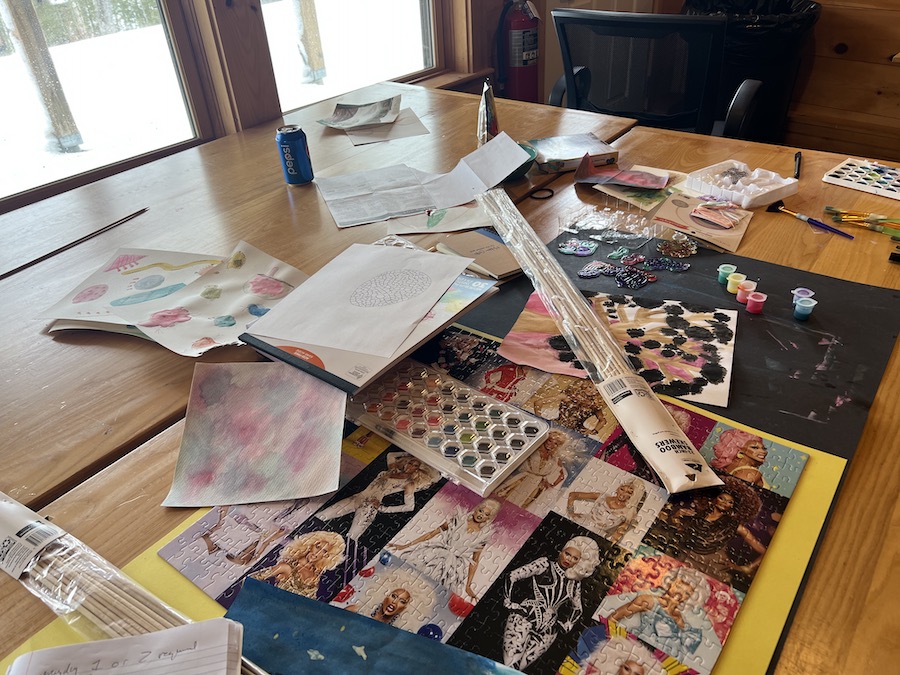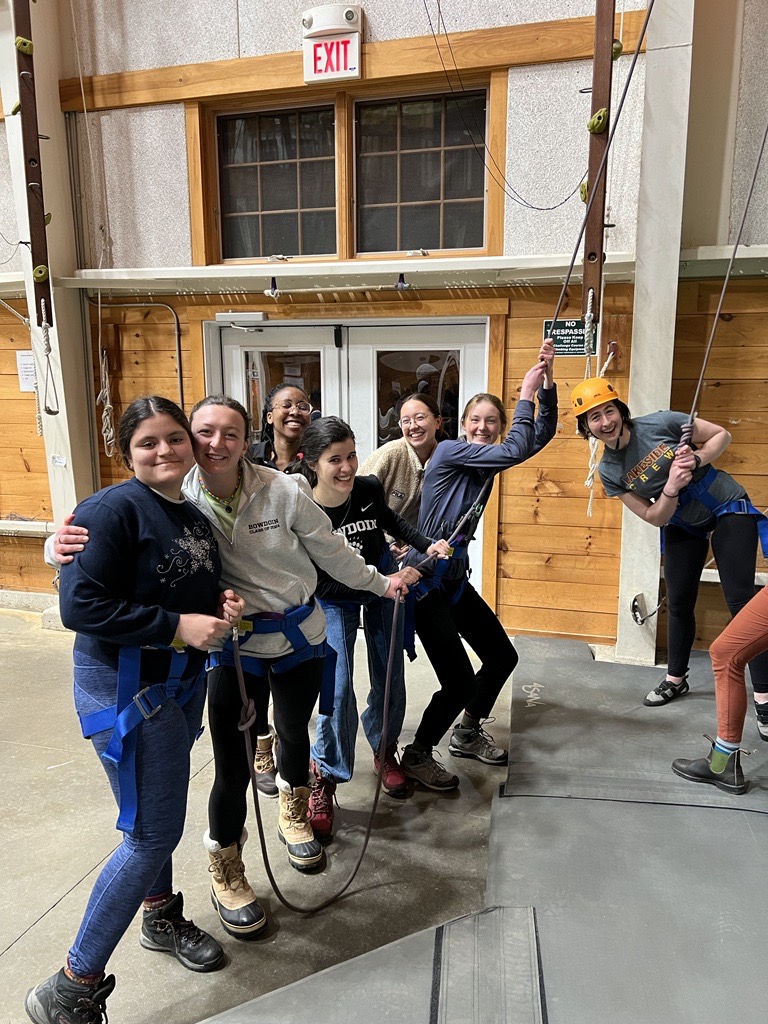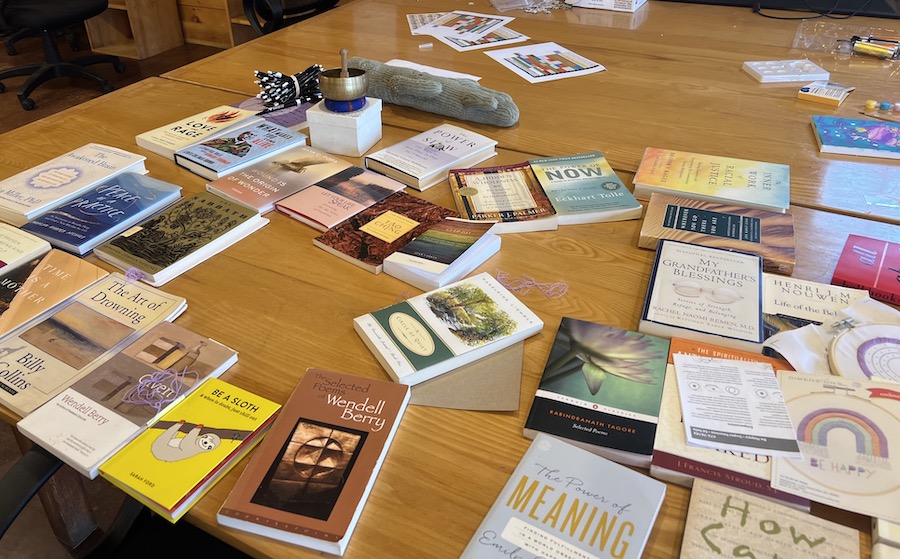 Eduardo Pazos, director of multicultural life and assistant dean of student affairs for inclusion and diversity, first approached his colleagues last fall with the idea of creating a self-care retreat for students. They embraced the idea, and so four other Bowdoin staff helped to plan and lead the inaugural Community Engagement and Self-Care Retreat with Pazos: Sarah Seames, McKeen Center director; Lynn Nguyen, McKeen Center assistant director; Kate Nicholson, assistant director of wellness services; and Oliver Goodrich, director of the Rachel Lord Center for Religious and Spiritual Life.
The retreat was one of five spring break trips offered by the McKeen Center for the Common Good this year. These mostly student-led trips give small groups of students the chance over the March vacation to be immersed in a community unlike Bowdoin and to focus in-depth on one social issue. This year, the topics included narcotics, violence, and migration in Miami; domestic and sexual violence against Black women in Atlanta; the housing crisis in San Francisco; and educational inequity in New York City.
The self-care retreat, conversely, prompted students to look inward, encouraging them to engage in self-reflection and restorative practices as a way to develop the fortitude and resilience to tackle challenging work. These were lessons that Yordana Gerdzhikova '23, a trip participant, said she wanted to absorb before starting her own career. "As a college senior, if you go into the world not knowing yourself, you can do more harm than good," she said.
Seames said that this is an important idea the McKeen Center stresses in much of its programming, that "it is possible to do harm when you're trying to do good, and you have to understand yourself in the context of others. I think the more time we spend in self-care, the better we know ourselves and the better we can relate to others."
Nicholson said retreats can be meaningful learning opportunities, because they "completely reorient us in how we relate to time, our environment, our own minds, and our bodies. Wellness is often regarded as a practice to help us keep up with everything else that we're doing—our work, studies, projects, sport, etc. Whereas a retreat like this situated well-being as the central experience."
The trip's itinerary did not include intensive workshops or elaborate activities demanding a lot of gear—again, on purpose. "One of the aims we had in designing the program was to open up the richness of what self-care can be," Goodrich said. "It strikes me that so much of the self-care industry is market-driven, selling self-care practices and products to people who have enough money to buy them. We wanted to offer something different."
So that meant students spent time meditating, writing in journals, going outside, painting, and reading. A few even took a "polar plunge" in the frozen lake after making a hole in the ice.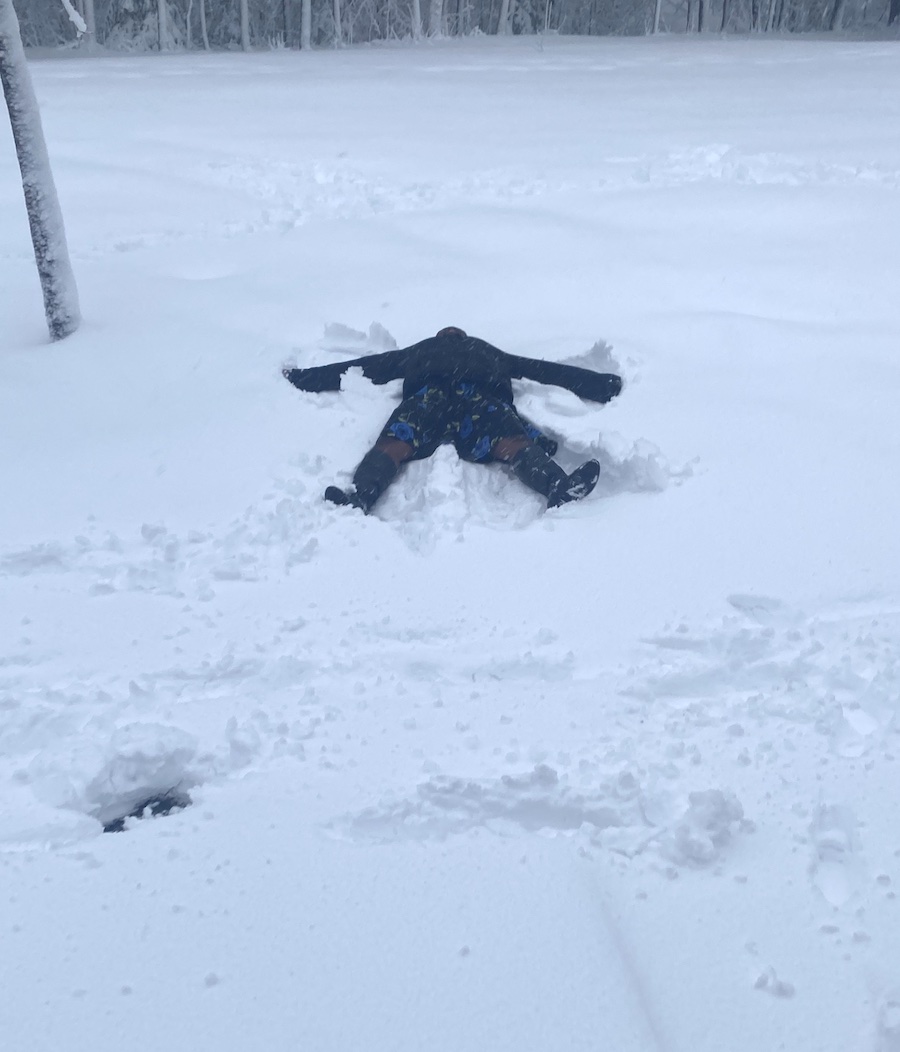 Ruth Olujobi '25 recounted an anecdote about how on one afternoon during the retreat she had been walking back to her cabin to do some class work. Snowflakes were drifting down, and the winter scene was peaceful. Suddenly she had the urge to try something out of character for her, and she lay on the ground and made a snow angel.
"If it had snowed at Bowdoin, I would never have stopped and made an angel because I would be going somewhere in a rush," she said.
One of the the most important lessons she learned on the trip, she added, was that self-care doesn't have to involve a big upset of her routine or huge change to her life. "This trip has reminded me to create time in my busy schedule to take care of myself," she said.
To commit to a life of giving back requires steadiness, strength, and good health. Seames said in her role as McKeen Center director, she's seen the toll that intense work with vulnerable communities can take on people. "People who tend to do this work are drawn to do it and compelled to do it, and it can be hard to set boundaries in a way that helps you preserve some kind of balance in your life so you're not giving everything you have."
She added, "I know how important it is for people to have self-care practices to stay in this work for the long-term."