Bowdoin Comes Out En Masse to Greet Sixteenth President Safa Zaki
Published by Rebecca Goldfine
Just a few hours after the
board of trustees announced
 via a morning email that it had voted to unanimously elect the College's next leader, the Bowdoin community got a chance to meet
Safa Zaki
and hear her first public remarks.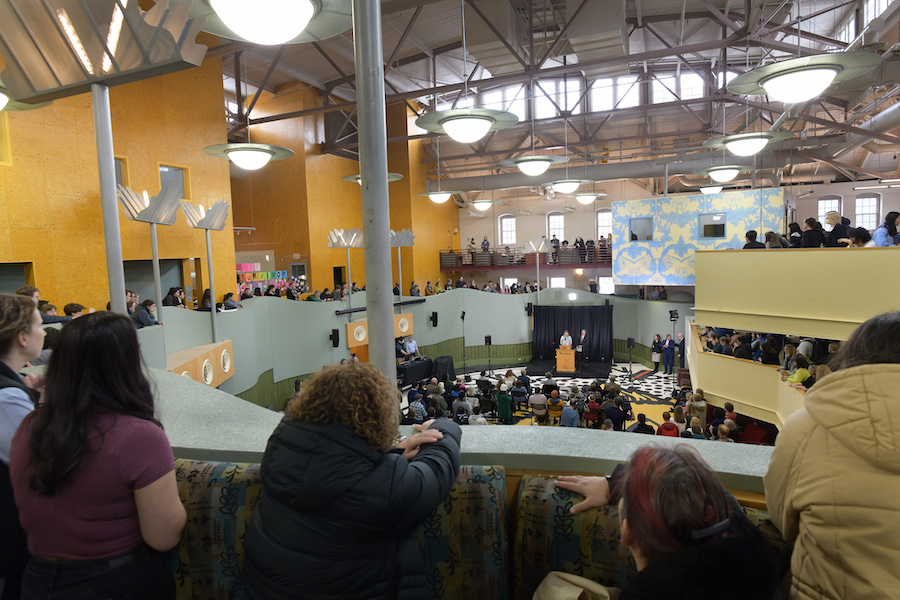 Students, staff, faculty, trustees, and members of the Brunswick community crowded into Smith Union's Morrell Lounge Thursday afternoon to greet President-elect Zaki with loud applause and cheering.
Before Zaki took the stage, introductions and words of thanks were offered by President Clayton Rose, board chair Scott Perper '78, and Presidential Search Committee cochairs Sydney Asbury '03 and Bertrand E. Garcia-Moreno '81, P'17.
"Today is the sixteenth time—only the sixteenth time—in 229 years that we have named a new president," Rose began, before adding, "Today is a particularly historic and amazing occasion." Zaki will become Bowdoin's first woman president in July.
Rose decided last spring he would step down in July 2023, precipitating an intensive search for his replacement by a nineteen-member committee made up of alumni and trustees, faculty, staff, and students.
Continuing his speech, Rose praised Zaki as an accomplished scholar, educator, and member of the academy. She is currently dean of faculty at Williams College in Williamstown, Massachusetts, where she has been a faculty member for nearly two decades. He described her as a person of "deep character and integrity," and as someone who "loves the liberal arts, has traveled the world, and has had an amazing lived experience."
"Our search committee and our board have found exactly the right person to lead Bowdoin College into its next chapter."
—President Clayton Rose
Perper followed Rose to the lectern, saying that the board made its final decision on Wednesday, which just by chance happened to be International Women's Day. March, too, is Women's History Month. "We had a historic vote yesterday, and how appropriate that Bowdoin gets to add some history to women's history," he said.
Safa Zaki
is a psychologist and cognitive scientist whose research focuses on how people divide the world into categories. Born in Egypt, she grew up in Tanzania, Syria, Jordan, and Trinidad and Tobago. She earned her undergraduate degree in psychology at the American University in Cairo, and her master's degree and doctorate in psychology at Arizona State University.
Zaki joined the faculty at Williams College in 2002 as assistant professor of psychology. She was promoted to associate professor in 2005 and to full professor in 2010. She was named Class of 1924 Professor of Psychology in 2021, and named to the John B. McCoy and John T. McCoy Professorship in 2022. She is currently dean of faculty there.
In her remarks, Asbury said the search committee had been impressed very soon after meeting Zaki by her leadership experience and values and knew she would have a profound and positive impact on Bowdoin. "Her authenticity and kindness came through in every step of the process," she added. 
Garcia-Moreno noted that Zaki's successful career as a computational, qualitative scientist in the humanist field of psychology makes her well-suited to lead an interdisciplinary liberal arts college with a strong sense of community and collaboration. "One of the beautiful things she will bring to campus is her ability to transcend traditional borders," he said. 
President-elect Safa Zaki Introduces Herself to Bowdoin
Following these introductions, Zaki thanked the community for its warm welcome, and told Rose and the board how grateful she is for their financial stewardship, which has put Bowdoin in a strong position for her presidency.
She also thanked Rose for his commitment during his eight-year tenure to increasing access and affordability for students. "I strongly believe that talent is more widely and equitably distributed than opportunity, and it is our imperative to keep opening doors," she said.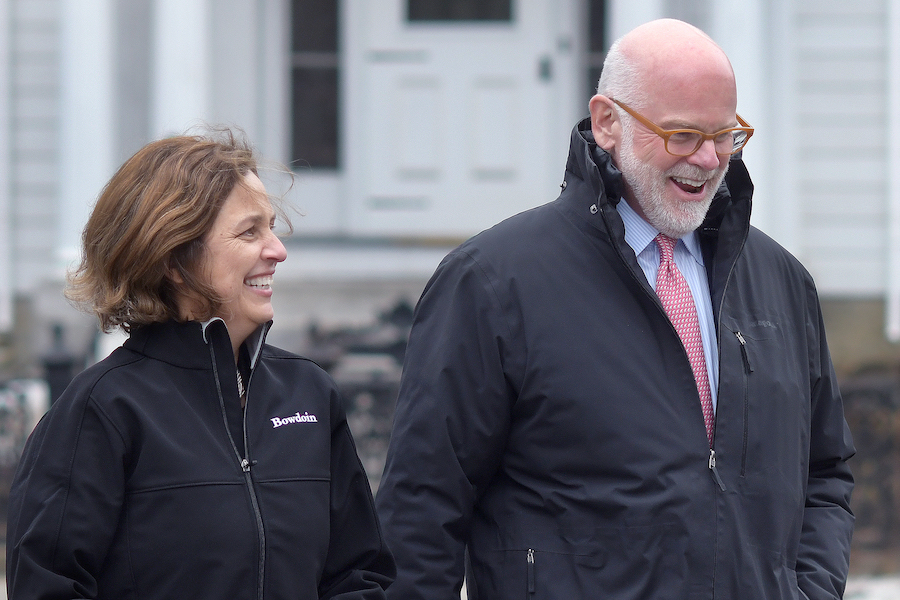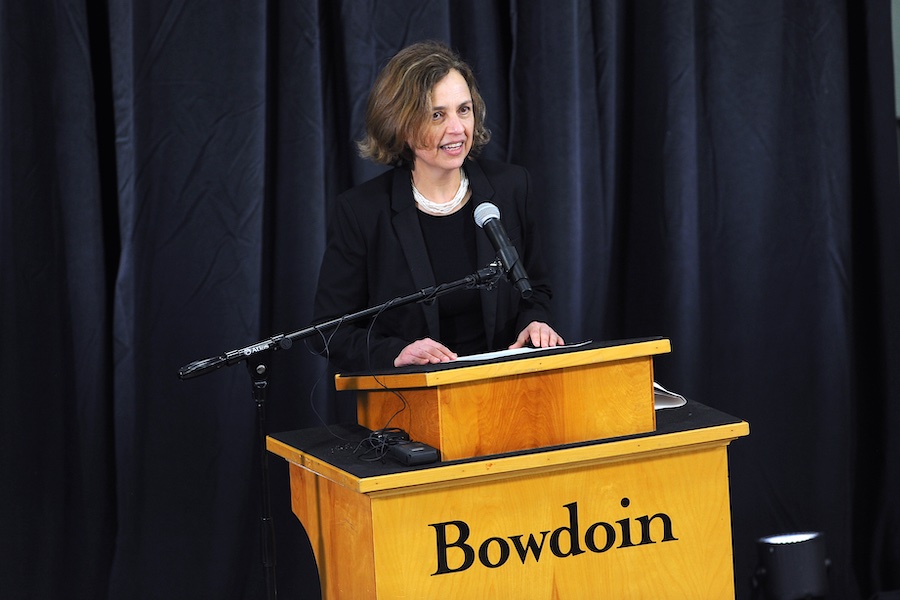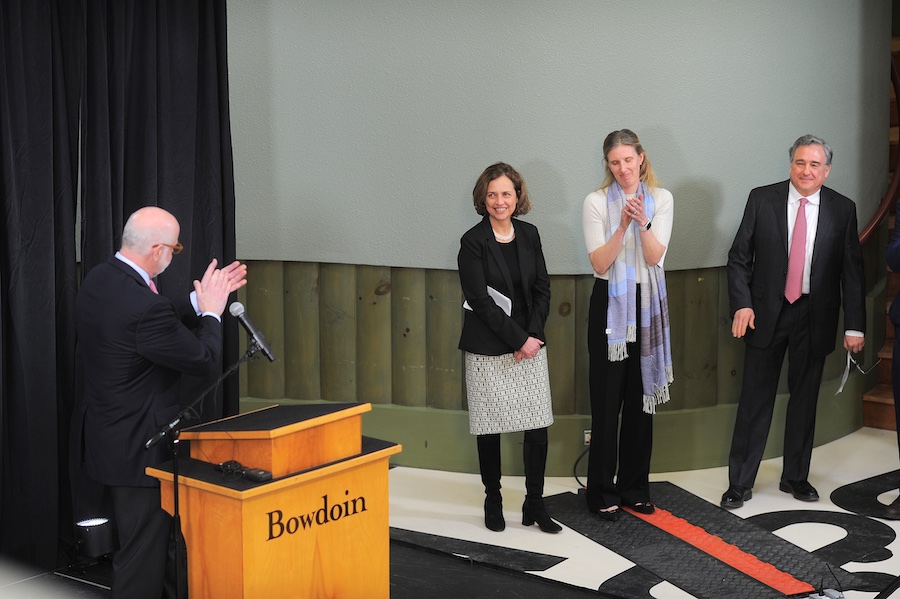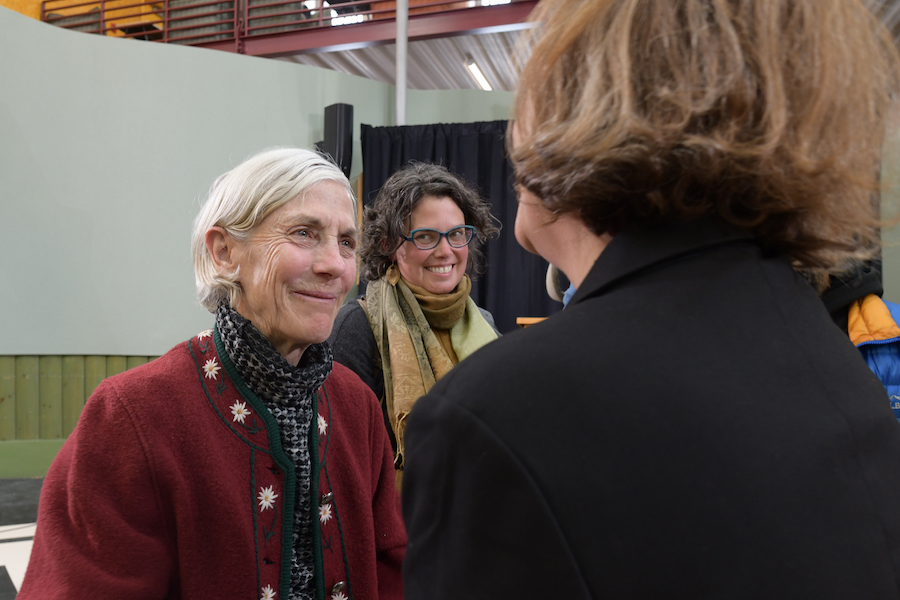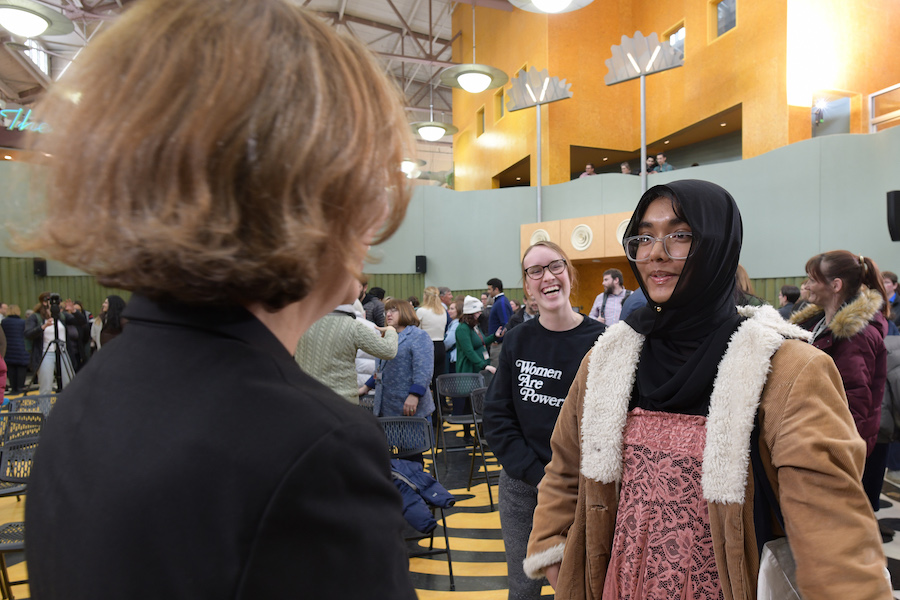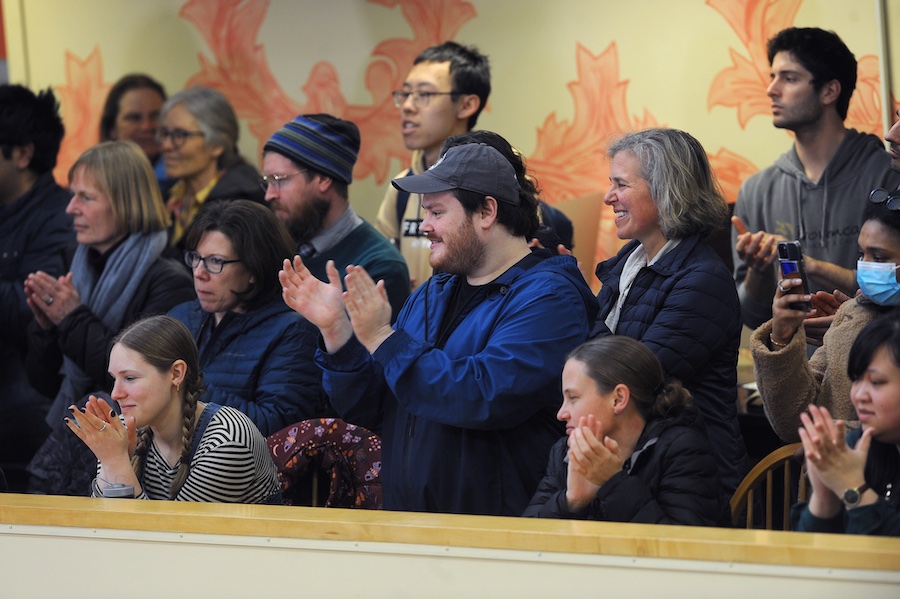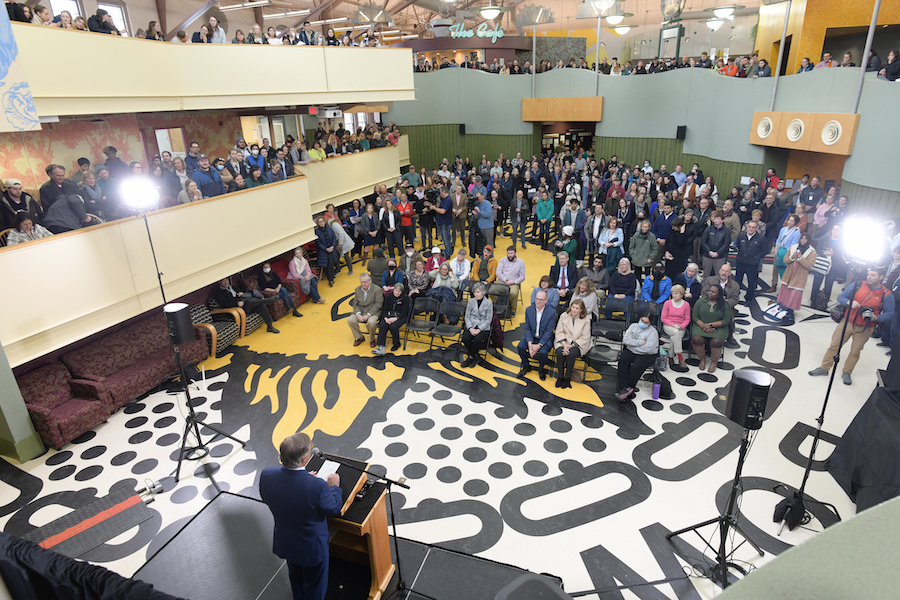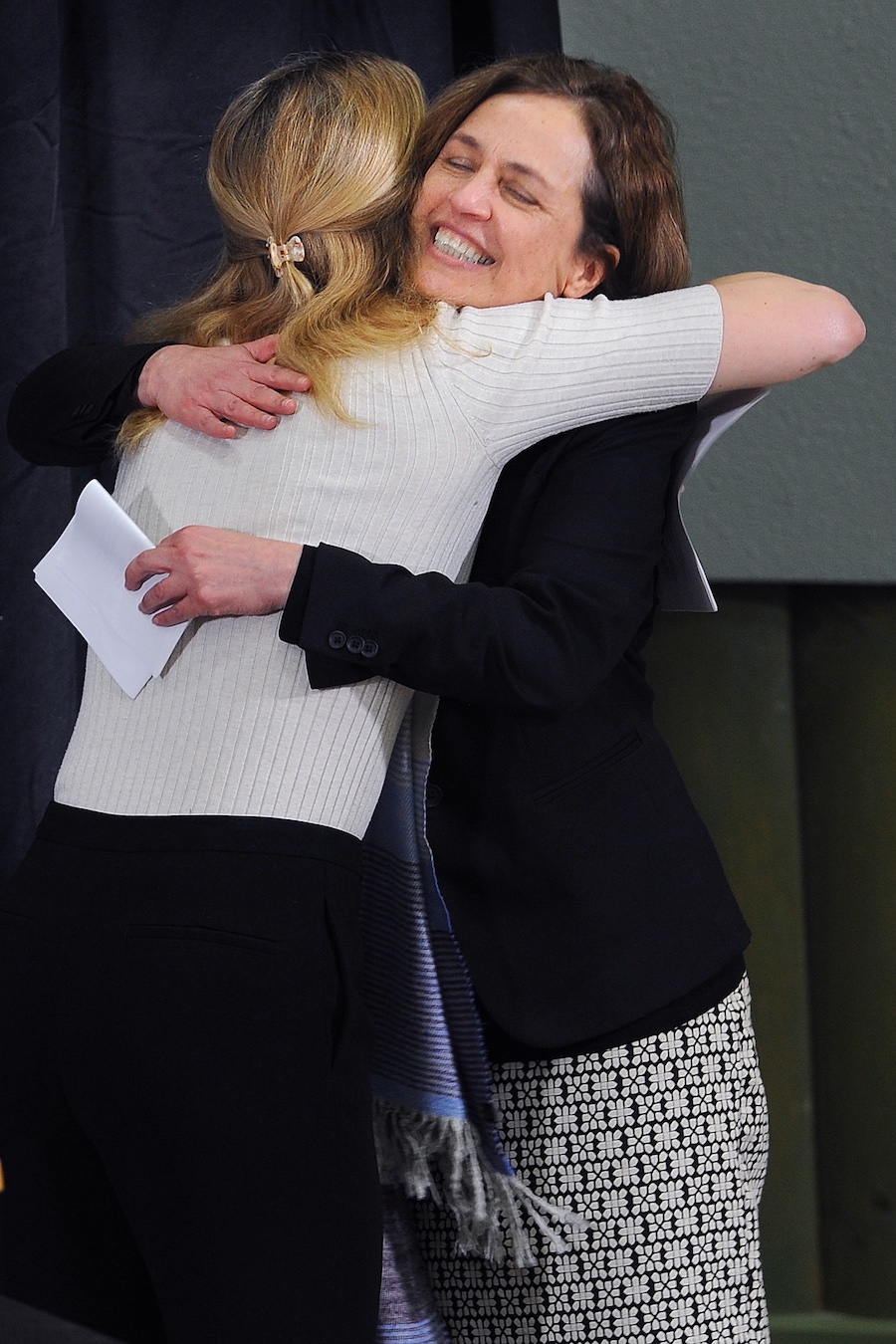 After spending the bulk of her career at a liberal arts college, she said she is deeply committed to this educational model as one that can respond to the pressing challenges of our times: "racism, structural inequality, climate change, and emerging technology that will change how we interact with society and each other."
"True progress on these complex issues and many others isn't going to come from a single discipline but from the varied approaches reflected in our curriculum," she said.
What is laudable about Bowdoin's curriculum, she continued, is that students are introduced to great ideas, texts, and works of art, as well as to difficult problems and creative expression on the stage and sports fields, and in art studios and labs. "Importantly, our students learn to be active creators of knowledge—to develop, test, and own their ideas inside and outside of class," she said.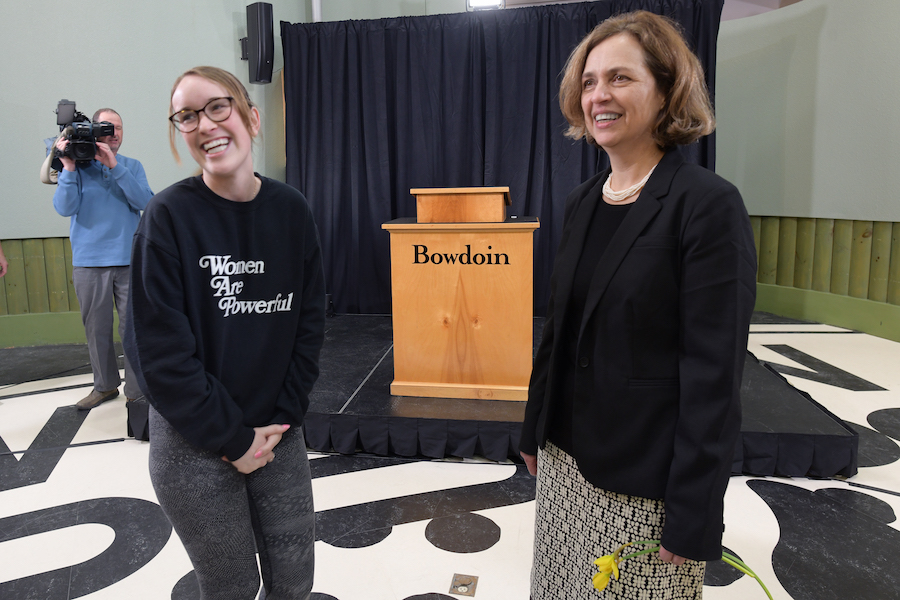 Bowdoin's faculty, she continued, is exceptional for its commitment to undergraduate education and its scholarly profile. "I am deeply committed to supporting the research, scholarship, and creative endeavors, and to teaching in all its forms," she said.
Zaki said that in her visits to campus (including a recent "stealth" stopover in which she tagged along on an admissions tour) she noticed, too, the dedication of Bowdoin's staff to the College, students, and to one another. She gave a shout-out to her guide that day, Siena Harrigan '25, who, with no idea that Zaki was a candidate to become the College's next president, gave a "great tour. I learned so much!" 
Zaki and her husband, Huff Templeton, will move to Brunswick by July. She said she looks forward to getting to know students, staff, and faculty, and to becoming part of the community. "As you heard, I am originally from Egypt and spent my childhood in a number of different countries, nearly always close to the water. So this feels like coming home."
She continued: "One thing I learned from those early experiences was how important it is to move somewhere new with an open mind and a curiosity, to build relationships and to learn about others' life experiences and perspectives. This is a core value of my life, and I can tell that this openness is also core to Bowdoin."
Photos by Fred Field