Published November 10, 2022 by Tom Porter
Linda Kinstler '13 Reports on Rebuilding Efforts in Ukraine as War Rages
Back in September, award-winning journalist Linda Kinstler returned to Ukraine to report on the monumental efforts that are underway to rebuild the city of Irpin, near Kyiv, that was 70 percent destroyed in the early stages of the war.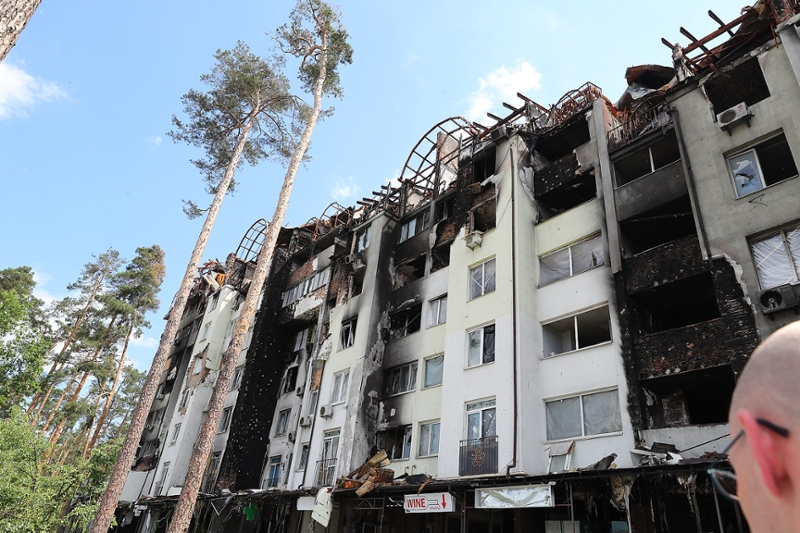 "In the final few days of February, as the Russian Army advanced toward Kyiv, Ukrainian forces blew up the Irpin bridge, ripping open its latticed metal insides so that their edges buckled and curled," writes Kinstler in a feature published this week in The New York Times Magazine. "Irpin," we are told, "was one of the first Ukrainian cities to be destroyed and liberated. Now it's becoming a laboratory for rebuilding."
The destruction of the bridge was regarded as an act of heroic sacrifice, said Kinstler, because it hindered Russian efforts to advance on the nearby capital city. Hundreds of the city's civilians were killed during the month-long Russian occupation, during which Irpin became a symbol of defiance. The city was left in ruins, with buildings shelled, burned, flooded, and in many cases reduced to rubble, with much of the civilian infrastructure obliterated.
In her article, Kinstler writes about meeting some of the architects and urban planners—Ukrainian and foreign—who are spearheading reconstruction efforts in Irpin, even as war still rages in other parts of the country. The city council, she says, has already commissioned ambitious designs for the reconstruction of its landmarks, apartment buildings, schools, and hospitals. Read more.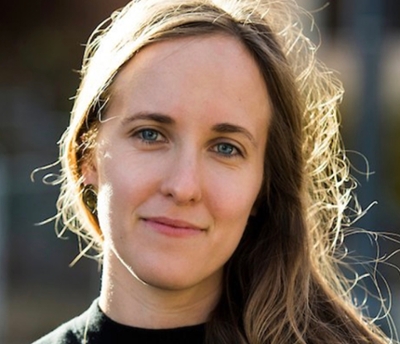 Kinstler, an English major who as a student journalist was editor-in-chief of The Bowdoin Orient, went on to study in the UK under a prestigious Marshall Scholarship and is currently a PhD candidate in Rhetoric at UC Berkeley. She is a contributing writer for The Economist, while her journalism has appeared in The New York Times, The Washington Post, The Atlantic, and elsewhere.
Her first book, Come to This Court and Cry: How the Holocaust Ends, was published by Public Affairs in August 2022 and is being translated into five languages.
On November 17, Kinstler will be on campus to deliver a lecture to the Bowdoin community. The event is being sponsored by Bowdoin's Russian department.