Published March 25, 2015 by Rebeca Goldfine
Linda Kinstler '13 Wins Marshall Scholarship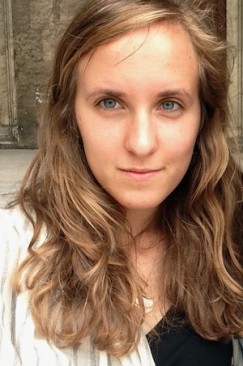 Linda Kinstler '13, a managing editor at The New Republic, has received a prestigious Marshall Scholarship to study at the graduate level in the United Kingdom. She plans to pursue two masters degrees, one in European literature and culture at the University of Cambridge and another in Russian and post-Soviet politics at University College London.
For the past year, Kinstler has been covering the crisis in Ukraine for The New Republic. She has made appearances on CNN, Al Jazeera, MSNBC, CTV, and Bloggingheads to comment on events in Russia and Ukraine.
Kinstler wrote in her Marshall application that one day she would like to work in Eastern Europe to help support the "development of a robust free press…chiefly by training fellow journalists, helping existing new organizations, and by doing some reporting myself." Eventually, she said she would like to enter academia or the government to help teach others about Eastern Europe and to work on countering censorship and propaganda worldwide.
After Kinstler graduated from Bowdoin in 2013, she worked as a reporter-researcher at The New Republic. She received the National Press Foundation Paul Miller Washington Reporting Fellowship in 2013-2014. At Bowdoin, she was editor-in-chief of The Bowdoin Orient and received a Google Journalism Fellowship in 2013. She has been an intern at The New Yorker, New York Daily News and Boston Review.