Published November 21, 2022 by Rebecca Goldfine
Bowdoin Gets a Shout-Out for its Student Voting Efforts
The nonpartisan organization Civic Nation is applauding the McKeen Center for the Common Good's work to inspire students to participate in our democracy and vote.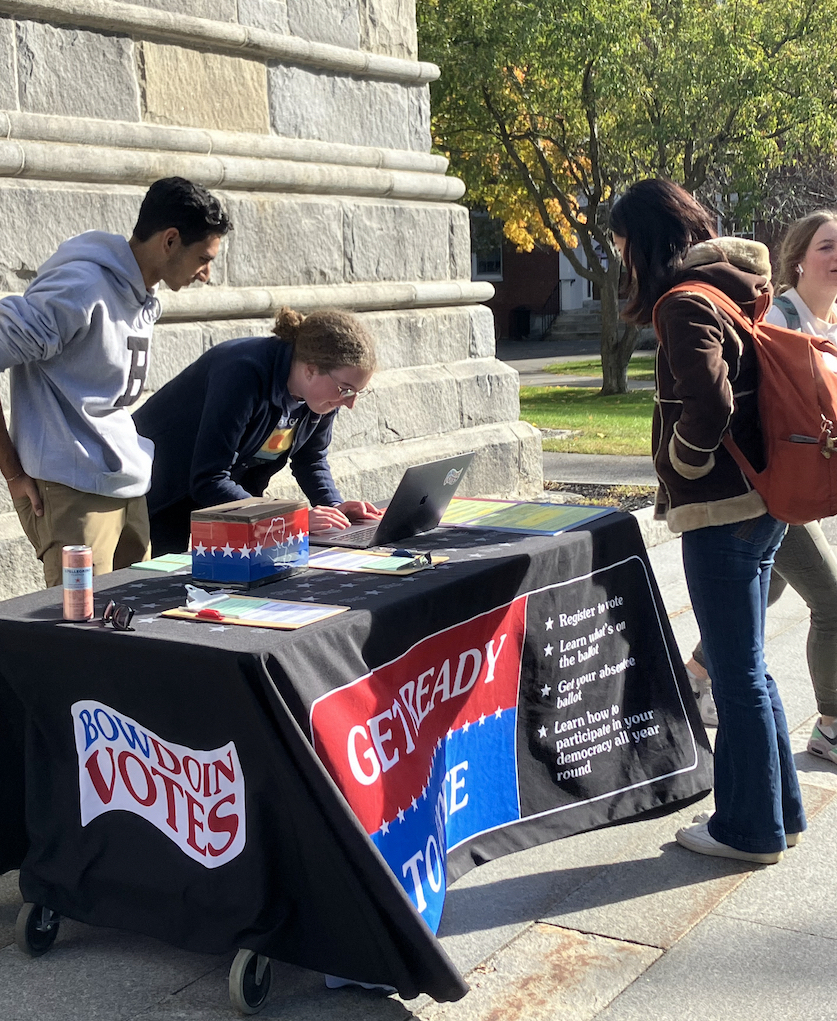 Recently Civic Nation ranked Bowdoin among the top 400 most engaged campuses around the country as part of its ALL IN Campus Democracy Challenge.
The challenge is a national competition designed to encourage colleges and universities to "help students form the habits of active and informed citizenship, make democratic participation a core value on their campus, and cultivate generations of engaged citizens who are essential to a healthy democracy."
To participate, the McKeen Center's Bowdoin Votes—which is the hub for the College's nonpartisan get-out-the-vote efforts—developed a campus-wide voting coalition and an action plan, and participated in a national study of voting and engagement.
"As a grassroots organizer, I have a firm belief that it is through engagement and community on a local level that we can create change and, more importantly, recognize our own political agency...Voting is a privilege and an act of care. It is also just the start."
—Bowdoin Votes McKeen Fellow Samira Iqbal '23
Two McKeen Fellows working with Bowdoin Votes this year, Lucas Johnson '22 and Samira Iqbal '23, said their goal was to reduce the burden for voting—from registration to casting a ballot—for anyone on campus. "That level of attention to detail is immensely important and appreciated as we try to eliminate the relative absence of youth participation in our democratic processes," Johnson said.
In the weeks leading up to Election Day, Johnson, Iqbal, and other Bowdoin Votes volunteers helped students to register to vote, either in Maine or in their home state, and provided them with information about elections and candidates.
On Election Day, shuttles zipped back and forth between the polls and campus from 8:00 a.m. to 8:00 p.m. Volunteers also continued to register students to vote, since Maine allows people to do so on Election Day.
"The election of one individual, regardless at what level of government or what the outward perception of their power is, can fundamentally shape our life and the lives of those we love. Participating in voting is a right that we are immensely fortunate to hold, and if we want to continue to have it, we must participate."
—Bowdoin Votes McKeen Fellow Lucas Johnson '23