Published October 14, 2022 by Tom Porter
Climate Expert Ayana Elizabeth Johnson Appointed Roux Distinguished Scholar
Bowdoin College has appointed climate justice expert Ayana Elizabeth Johnson as the next Roux Distinguished Scholar.
Johnson, who will be affiliated with the Environmental Studies (ES) Program, takes up the three-year position in July 2023 and will be based, as her title suggests, in the Roux Center for the Environment. During her tenure, Johnson will teach courses, give public lectures, and engage in a wide variety of other curricular and extracurricular programming and initiatives throughout the year.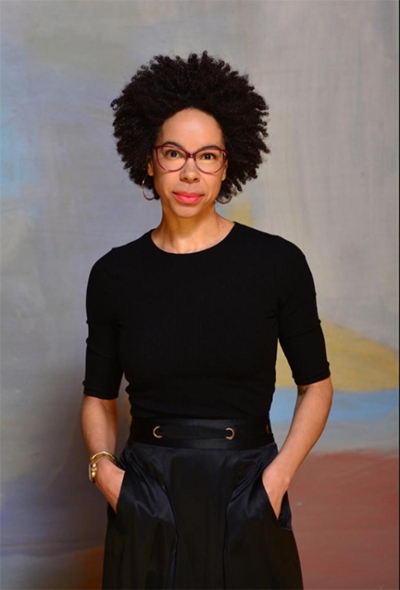 The Roux Center brings together an interdisciplinary cohort of scholars and students to work together to further our understanding of the natural world, including its scientific, social, and humanistic dimensions. In the same spirit, the Roux Distinguished Scholar position enables the College to invite a distinguished outside guest to join the Bowdoin community for a period of time to partner with faculty, staff, and students in the study of the environment through varying and interdisciplinary lenses.
Johnson, a marine biologist, policy expert, and writer, is cofounder of Urban Ocean Lab, a think tank examining the issues facing coastal cities, particularly the poorer populations of those cities, as they struggle with rising sea levels and more severe weather. Recently, Johnson coedited the bestselling climate anthology All We Can Save, cocreated the Spotify/Gimlet climate solutions podcast, How to Save a Planet, and coauthored the Blue New Deal, a climate policy roadmap for addressing the challenges facing the ocean.
Previously, she was executive director of the nonprofit Waitt Institute, developed policy at the EPA and the National Oceanic and Atmospheric Administration, and taught as an adjunct professor at New York University. Johnson earned a BA in environmental science and public policy from Harvard University and a PhD from Scripps Institution of Oceanography in marine biology. Her writing has been published widely, including in The New York Times, Washington Post, and Scientific American.
"Scientist, policy advisor, writer, and truth-teller, Ayana Johnson inspires people around the world to study, advocate for, and love our planet," said Bowdoin's Dean for Academic Affairs Jennifer Scanlon. "It's fitting that she joins us as a Roux Scholar at Bowdoin College, where she will find in students a readiness to pursue joy through discovery, passion through purpose, and climate solutions through inclusive, collaborative, hard work."
"The Environmental Studies Program is thrilled to have Ayana Elizabeth Johnson join the college faculty as a Roux Scholar," said program director Connie Chiang, professor of history and ES. "She brings a rich interdisciplinary perspective to many environmental issues, especially climate justice, and has a wealth of expertise in conservation policy and science communication. Students and faculty have so much to learn from her—I can't wait to begin those conversations."
Johnson is already somewhat known to the Bowdoin community. In March 2021 she delivered the Kibbe Science Lecture, leading a conversation on climate science, justice, and policy.