Published October 31, 2022 by Tom Porter
American Moor: Actor and Playwright Keith Hamilton Cobb Discusses Race, Pays Tribute to Grandfather
On a recent visit to the Bowdoin campus, renowned television and stage actor Keith Hamilton Cobb recalled the epiphanic moment about ten years ago that led to him also finding his voice as a playwright. He was auditioning for the role of the tragic Shakespearian hero Othello ("the moor of Venice").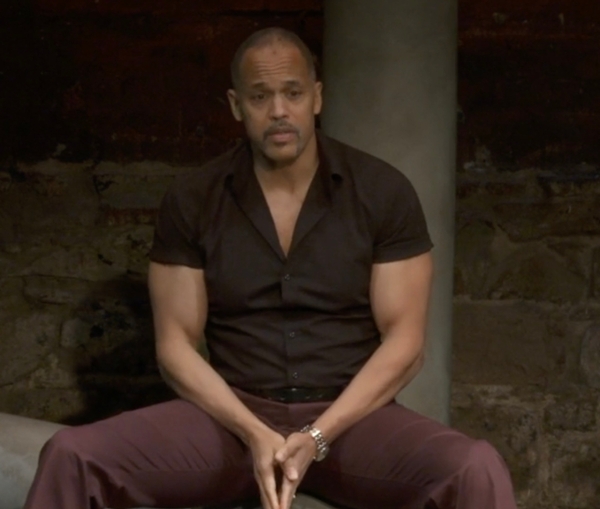 He found himself, a seasoned, fifty-year old African American actor, trying out in front of a young white director who had no interest in discussing what Cobb could bring to the role. "There was no opportunity for conversation. The man behind the table did not want to speak to me. He just wanted me to impress him."
Cobb says he was inconsolable at the absurdity of that situation. "Why does this man not want to have a conversation? To understand? To see the entirety of me so he can make an educated decision about whether or not I have value in his play?"
Frustrated by the experience, Cobb went home, begin writing, and, as he put it, "vomited out this emotional word salad on the page over the course of half a day. And then, as they say, writing is rewriting, so over several years the project began to evolve."
The project is American Moor, a ninety-minute one-man play reflecting on issues of race in America using William Shakespeare's Othello as a metaphor. The central character, played by Cobb, is a fifty-ish Black actor auditioning for the role of Othello in front of a young, unsympathetic, white director. The play, which has garnered great academic acclaim and won numerous awards, explores the experiences of Black actors performing texts as written and directed by white writers and directors.
The play draws clear parallels between the protagonist—an actor of great experience, no longer at the height of his powers but still a force to be reckoned with—and the character of Othello, a battle-hardened military commander of African descent fighting for the Venetian Republic in the sixteenth century, whose life unravels throughout the play as he faces persecution and discrimination.
"The way the actor is treated by the director is the same way Othello is viewed before the Senate. That's the juxtaposition, and it's striking," said Cobb. "It works really well, and audiences get immediately excited." American Moor, he added, also provides audiences with a fresh perspective on the Black male experience in a country still largely dominated by European-descended white culture, where "white is the normative status and … everything else is somewhat invisible."
Furthermore, said Cobb, the feedback he has received from audiences over the years has made him realize that American Moor addresses even wider issues, relevant to anyone who sees themselves as an outsider. "In post-performance discussions, people were standing up and speaking to it who were nothing like me… A little Jewish high school girl, a gay trans postal worker, a sixty-five-year-old woman… talking about her experience with ageism and sexism, and how she identified with the character for those reasons." In this sense, said Cobb, the play goes beyond the Black experience and is about all of humanity: "It's about us seeing one another, hearing one another… [about] recognizing other people's voices."
During his recent visit to Bowdoin, Cobb visited with students, sitting in on English and theater classes. There was also a screening of American Moor, followed by a conversation with faculty and students.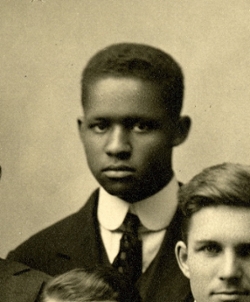 A Bowdoin Connection
Beyond discussing his play, Cobb's trip to Bowdoin (his first visit) had added personal meaning and gave him an opportunity to connect with some of his family's history. "My mother's father was the fifth African American to graduate from this institution and he was the first Black man on the debating team," he said. 
David Alphonso Lane graduated magna cum laude in the Bowdoin Class of 1917, and as well as serving in the military during both world wars enjoyed a distinguished career as an educator and an administrator. Read more. "This is a special visit for me," said Cobb, as he reflected on his grandfather's legacy and his own mission.