Opportunities to Give Back
Published by Tom Porter
A throng of students could be seen congregating on Hyde Plaza Friday afternoon (September 2), basking in the late summer weather and checking out the McKeen Center's fall volunteer fair. 
Some twenty-seven groups were represented, with a further four groups unable to attend, said Sarah Seames, director of the McKeen Center for the Common Good, which sponsored the event. "We love having this in the first week of the semester because there's a lot of energy and excitement around getting involved, especially among the first-years. It's a great place for them to learn about what the McKeen Center is, and what the common good is. It's also a great opportunity for these committed student leaders to talk to people about what they do," she added.
Among the "committed student leaders" is Diego DeSousa '25, who is recruiting volunteers for the Rotaract Club, the youth arm of the Rotary International humanitarian service organization. "Our club," he said, "fulfills a number of community needs." Right now, he explained, they are focused on offering a community art program to local neighborhoods as well as delivering food parcels to low-income families.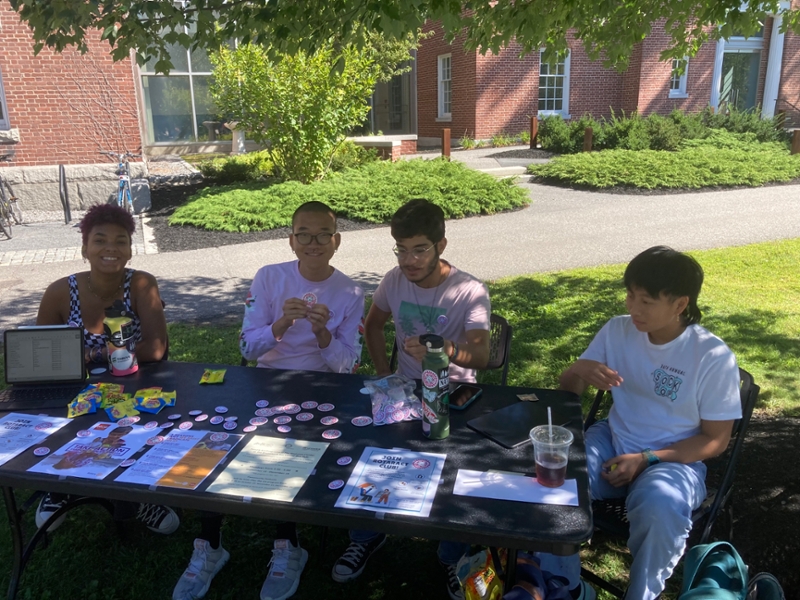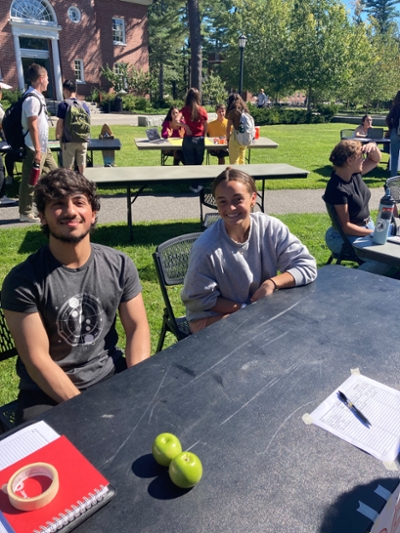 Hannah Cha '25 is manning a desk for the Sunnybrook Village Volunteers, which helps out at a nearby retirement home and assisted living facility. "We go once a week for an hour or two and just hang out with the residents. We play games, we talk, we play music." The program sounded appealing to fellow sophomore Meg Zitzmann, who signed up as a potential volunteer. "I have experience delivering food to older people during the pandemic and I really enjoyed it!" 
Bear Buddies is a group that provides friendship and support to elementary-aged kids with mental, physical, and social disabilities through mentoring. The aim is to create a comfortable space for social interaction, said student leader Madeline Lincoln '25, who, along with Emma Bomfim '22, was on the lookout for volunteers. Both students said they were drawn to Bear Buddies after having taken part in high school sports programs that integrated those with special needs into softball and soccer teams.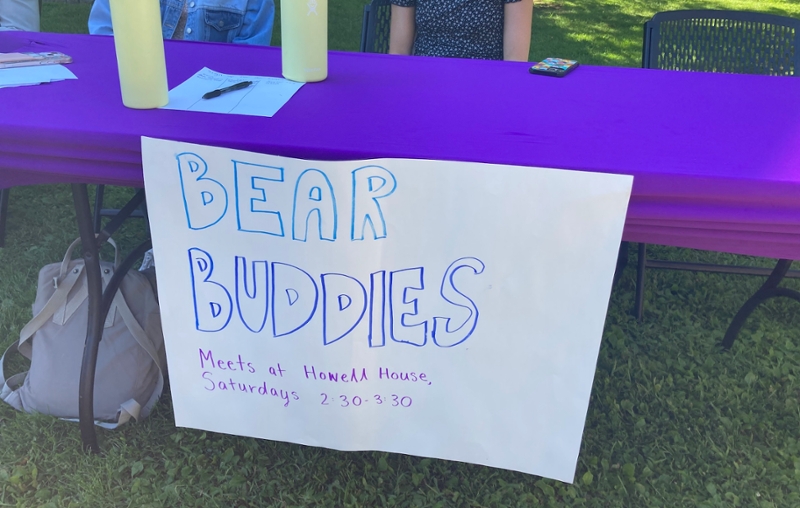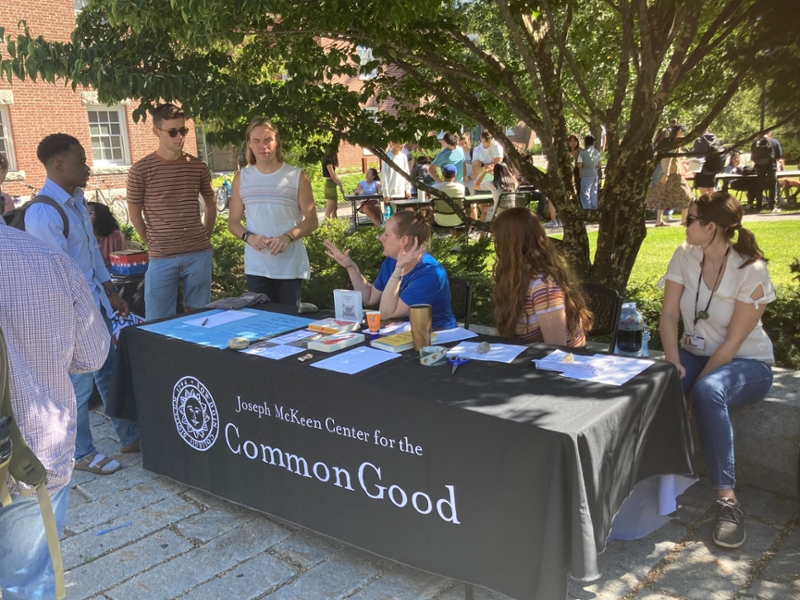 Among the first-year students running the gauntlet of volunteer booths was Annabella Williams, who is considering working with two groups. "I visited one group [Bowdoin Music Mentors] that teaches musical instruments to local youths," said Williams, who plays double bass and electric bass. She also signed up with Bowdoin Women in Science, which encourages women to enter STEM fields.
Hamda Hussein '25, meanwhile, is returning to the fair for a second year. Last year she worked with the Bowdoin Public Health Club and a group that offers teaching support to new Mainers. "I would love to volunteer with these groups again this year," she said.
Click here to learn more about volunteering opportunities at Bowdoin College.