Published August 24, 2022 by Rebecca Goldfine
President and Deans Welcome Families and Guests
Addressing the families of first-year students, President Clayton Rose, Dean for Academic Affairs Jen Scanlon, and Dean for Student Affairs Janet Lohmann shared their perspectives on how the incoming class can have a fulfilling and meaningful experience at Bowdoin.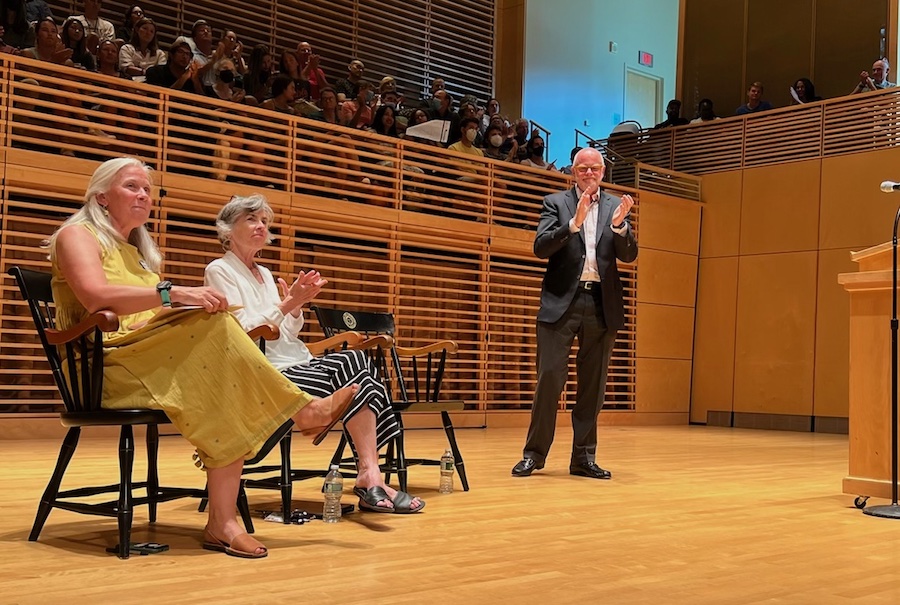 Bowdoin's Day One for Bowdoin's Class of 2026 kicked off Tuesday, August 23, at 8:30 a.m., when the first wave of families pulled up to residential halls to unload packed vehicles and be greeted by throngs of helpful students and staff in purple T-shirts.
In the afternoon, after all the suitcases, boxes, and bags had been deposited in dorm rooms, the College's leadership team of Rose, Scanlon, and Lohmann invited the new students and their relatives to listen to their remarks about the years ahead.
To a full house in Studzinski Hall, Rose first acknowledged how momentous arrival day is for students about to begin their college years.
"Arrival day is the beginning of a transformational, wonderful, life-changing experience," Rose said. "One that is fun, incredibly challenging, filled with friendship, and which offers an endless opportunity to find out who are you are."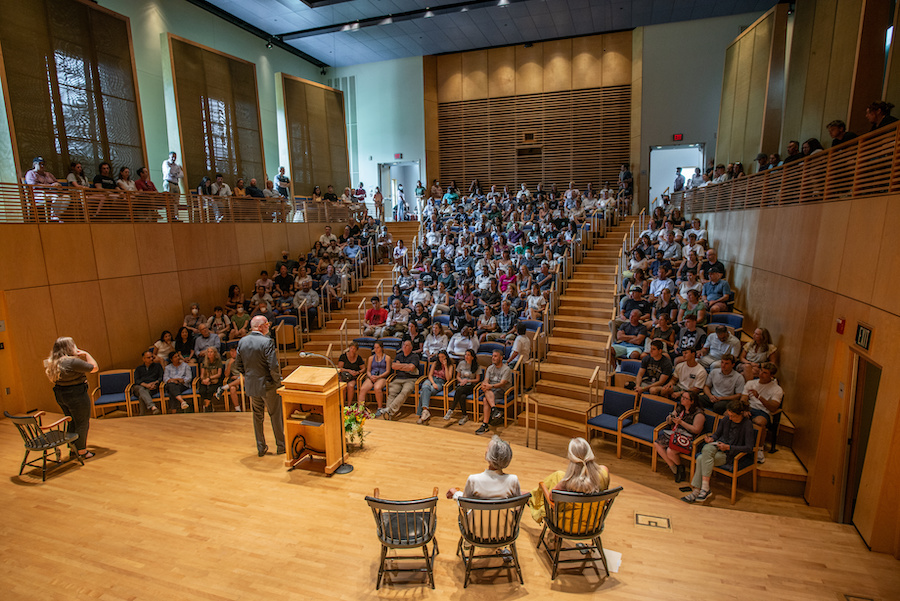 Rose said he is often asked to explain what makes a Bowdoin education so special compared to its many worthy peer institutions. "What makes Bowdoin unique is that our students are very collaborative," he said. They are also kind, he added, and approach their education in a cooperative manner.
When Scanlon spoke, she briefly described Bowdoin's academic program, its distribution requirements (students must take classes across the curriculum in the arts, humanities, social sciences, natural sciences, and interdisciplinary programs), and her own role at the College. "I love this leadership position because I get the opportunity to support the many wonderful faculty and academic staff who make the educational experience so powerful here and so transformative," she said.
She extolled the accomplishments of Bowdoin professors, "who are not only expert teachers and mentors, but also accomplished scholars, artists, and performers." They design curricula, develop college policies, and design new pedagogical approaches to learning—and thus "are very busy people!"
Faculty choose to be here, she continued, because they want to teach undergraduates. They want to share with this particular group their own enthusiasm for their fields, "to engage students with an intellectual life in deep and lasting ways, and to help students shape the questions they ask of the world and the methods they use to find the answers."
As for Bowdoin students, "they learn to do what they already do well, better: write better, read more critically, develop their own questioning, discerning minds, and learn that their education is best when it is shared."
This point reinforced one of her most critical pieces of advice for students: to be intellectually generous. "Learn as much as you can, but view your learning and success...by how you contribute to the learning of those around you. Be intellectually generous by asking questions that deepen a conversation or that challenge you as much as the people around you. Be intellectually generous by seeing learning as shared and as a significant part of the common good."
Lohmann next spoke about the life of students outside the classroom, which on Bowdoin's campus offers another type of enriching education, one that extends into residential and dining halls, onto playing fields and performance spaces, and through student and local organizations.
In this time of exploration and transition, the Division of Student Affairs helps guide students through college, "to help create a holistic experience," Lohmann said.
She listed the many offices that fall within Students Affairs, including athletics; career exploration and development; multicultural life; religious and spiritual life; sexuality, women and gender; Upward Bound, residential life; the McKeen Center for Common Good; student activities; the outing vlub; and health, counseling and wellness. 
Through each of these offices, the College offers opportunities for students "to land, find connection and belonging, and to experience a host of options to compose their own Bowdoin experience," she said.
"From the position of student affairs, we work on helping students practice and foster integrity, respect, inclusivity, honesty, collaboration and compassion, divergent ideas and viewpoints, engagement academically and extracurricularly, thoughtful risk-taking that leads to innovation and development, self-reflection, and a commitment to the common good," she said. "Lofty goals for sure, but aspirational and transformative in the many ways students engage in their day-to-day lives."
While Bowdoin provides a supportive and thoughtful environment, Lohmann reinforced each student's own  accountability and responsibility. "It is important to recognize that students make their own decisions," she said.
To parents and families, she added, "The biggest growth of your child is accepting responsibility in their academic program, living arrangements, social life, and free time. Initiative and independence will shape their experience here. Student affairs is here to help in those travels, questions, successes, challenges, joys, and fulfillment."
Her mantra for students is "grace, growth, and gratitude." And for parents? "Expect the unexpected!"
Bumps lie ahead, she warned, both socially and academically, and some students might not immediately be prepared to leap smoothly over them. "Allow the transition to unfold and reassure your child it is part of the process," she advised.
She also encouraged parents and families to remain present in their child's life, but to let go. "You've done your work, and now let [your child] use their tools," she said.
Following their remarks, Rose opened the floor to questions from the audience.