Funded Internship Grant Recipients Make Waves Across the Country
Published by Jane Godiner '23
This summer, nearly a hundred students received funded internship grants from
Career Exploration and Development
(CXD), which provides students with a $5,000 stipend so they can pursue unpaid internships in their areas of interest.
"We were so pleased to be able to make these awards this summer," said CXD Executive Director Kristin Brennan. "It's always really rewarding to see the range of roles and projects students take on."
This summer, grant recipients ventured into all industries in all corners of the country, from a deep dive into psychiatry at one of the most prestigious hospitals in Boston, to hands-on research on bears in California's Bay Area, to working with writers here in Maine. These awards allowed students to explore their professional aspirations while removing the pressure of having to look only for paid positions.
"For any students reading this—we hope you are as inspired by these internships as we are, and that you come out to hear directly from your classmates who did these projects and work with us to set up one of your own for a grant application next spring," Brennan said.
---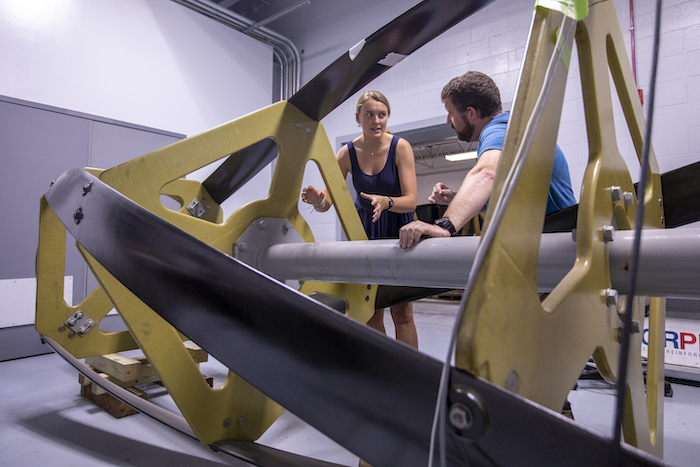 Corinne Lamond '24
This summer, Corinne Lamond '24 interned with Ocean Renewable Power Company (ORPC)—a renewable energy organization based in Portland, Maine, that primarily focuses on marine hydrokinetics.
Lamond's specific internship focus has been the maintenance of an endangered beluga whale population in Alaska's Cook Inlet.
Applying Biology Outside of the Pre-med Track
"Because of the Endangered Species Act, the United States government has a certain consultation process that the company must go through in order to obtain a project's permits," Lamond said. "My work was studying and creating an overall report on the endangered whales, as well as creating and suggesting best practices moving forward so that the company can format their projects in a safe way that promotes the health and overall abundance of the whale population."
While Lamond has always been oriented toward the sciences, she saw this opportunity as a meaningful diversion from a more traditional science career.
"I'm a biology major and have never gone into the renewable energy sector," Lamond said. "I saw this internship last summer and I thought, 'Wow, this is a really cool opportunity to see how I could apply biology outside of pre-med.'"
Because of ORPC's small size, Lamond's days were flexible, action packed, and often unpredictable.
"Research usually took up a big portion of my day, but I also got to be involved in other aspects of the company. For example, our development team would have meetings about what projects were going on, which diversified the areas I was exposed to," said Lamond. "I also had to talk a lot with regulators from the National Oceanic and Atmospheric Administration (NOAA), who are specialists that deal specifically with endangered mammals in Alaska. I've had to go through some consultations with them, as well as people who are involved in conservation groups, to understand and gather as much information as possible."
Through participating in this internship, Lamond has been able to both gain knowledge—and her own voice—on her Alaska-focused efforts, and she looks forward to furthering this exploration beyond the scope of ORPC.
"At Bowdoin, we don't necessarily have to know everything about one thing, but in my internship, having to be the 'expert' on a topic has involved gaining an understanding of how to access information," she Lamond said. "It was a challenge—but I loved it."
---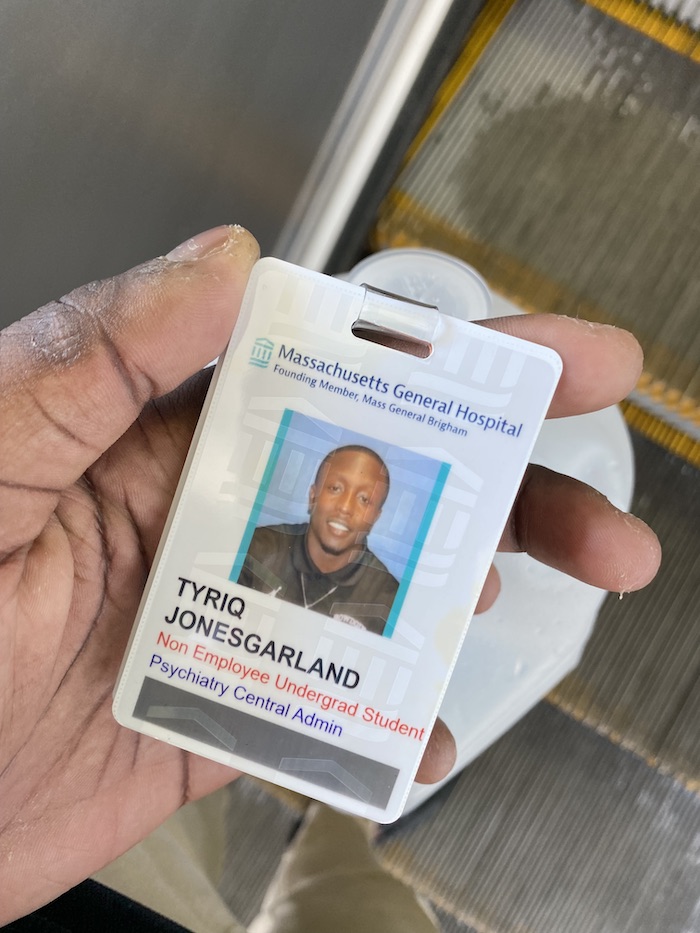 Tyriq Jones-Garland '23
Tyriq, a neuroscience major and psychology minor who plays on the football team, spent his summer as a clinical research intern at the psychiatric department at Massachusetts General Hospital.
A Window into a Possible Future
"The internship was almost completely centered around clinical research—I did not work on my own project, but I helped the rest of the research group as much as possible," Jones-Garland said.
For Jones-Garland, engaging with this internship has only solidified his passion for neuroscience and his desire to continue exploring clinical psychiatric research.
"The biggest highlight of the internship was getting some sort of experience into what I think I want to do post-graduation," Jones-Garland said. "It was a really hands-on experience."
Not only did Jones-Garland find autonomy inside Massachusetts General Hospital, but he also found it living in Boston for the first time as a working professional. He believes that both the professional and personal skills that he learned this summer will continue to be valuable as he plans to graduate in the spring of 2023.
"I used the funded internship grant to live in Boston, navigate public transportation, and buy groceries," said Jones-Garland. "I think my biggest takeaway is that there's nothing wrong with going away to 'figure it out' and to have that autonomous, out-of-school experience."
---
Ezra Berman '23
Ezra kept his work close to home in California this summer, when he interned for the North Bay Bear Collaborative, an organization that maintains and cultivates the growing bear population in the Bay Area.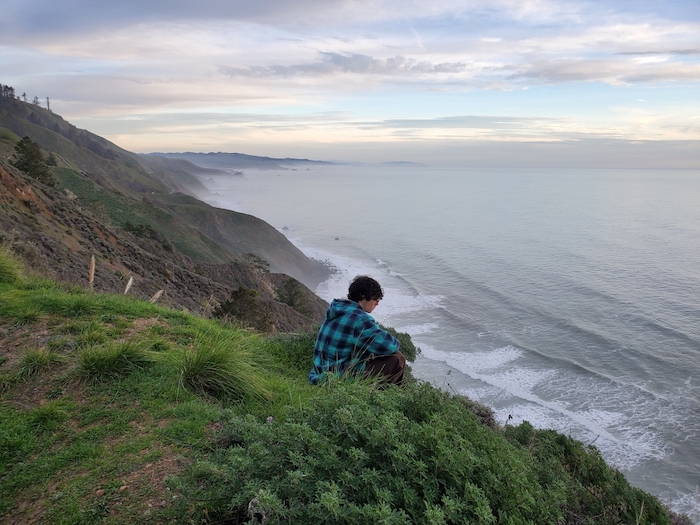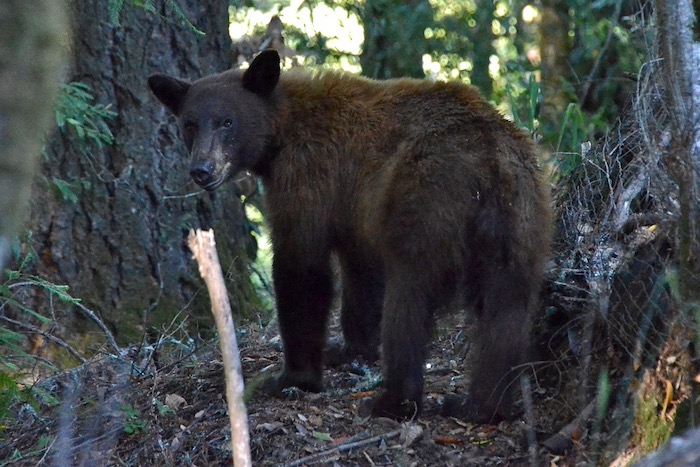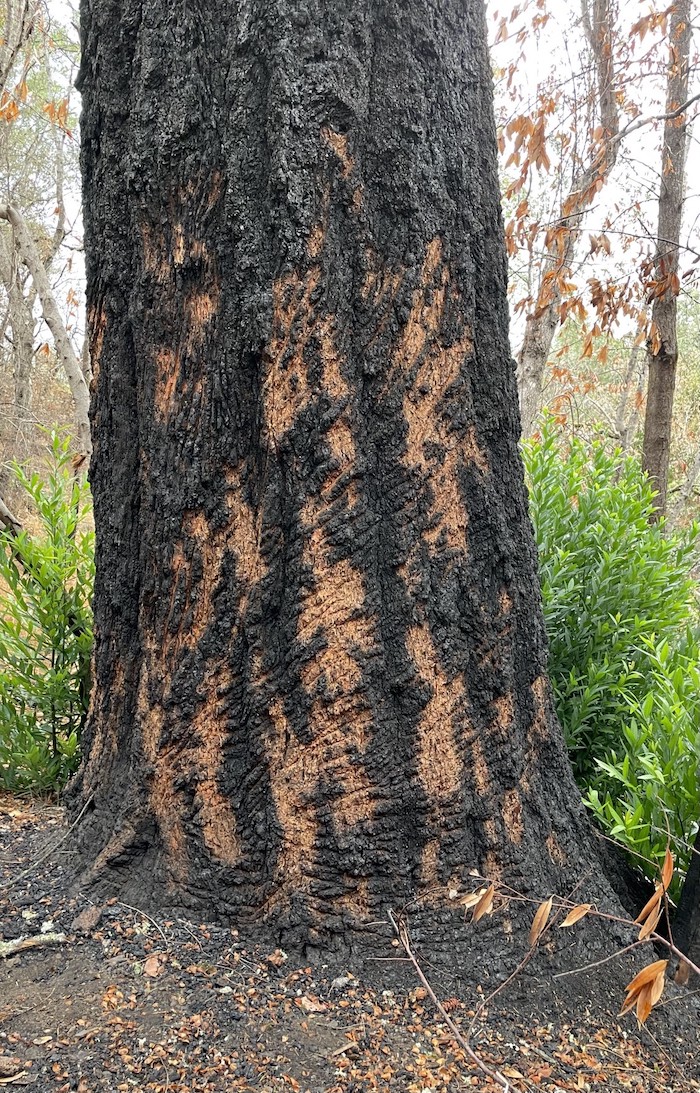 Strengthening Relationships Between Humans and Wildlife
"[The Collaborative's mission] is partially about outreach and trying to educate people about what it means to live with an increasing bear population," Berman said. "It's also to show people that bears aren't super scary and aren't going to attack you—to reduce bear-human conflict and violence against bears."
Berman's work days were a mix of hands-on field work and hands-off calculation.
"First and foremost, there was a lot of data entry in terms of compiling different bear sightings from agencies and people in the area who spot them, which helped us track where the bears are located," said Berman. "We also coordinated about what work we were going to do that day, such as collecting bear scat for DNA analysis."
Berman regards making educational videos and social media posts as one of the most meaningful aspects of his summer—both for his personal understanding of bears and to alter the perception of bears by humans.
"Making the educational materials was really fun, especially when I had to think about how to frame it," Berman said. "On one hand, you can frame it as a responsibility or obligation for the person to handle the interactions in a certain way; however, you can also frame it as an opportunity to rekindle this human relationship with bears that has been neglected, especially in Western culture and since colonization of this land, and to enter into more sustainable and reciprocal relationships with bears."
As he departs from the Collaborative, he hopes to continue to spread a specific, technical, and philosophical message about the need for strengthened relationships between humans, bears, and other wildlife.
"It's really important for people to expand what we think about as intelligence beyond a very human definition of what intelligence looks like," Berman said. "Bears are very similar to humans in a lot of ways—indigenous people all over the world learned what foods to eat by following bears. We have a lot to learn from them."
---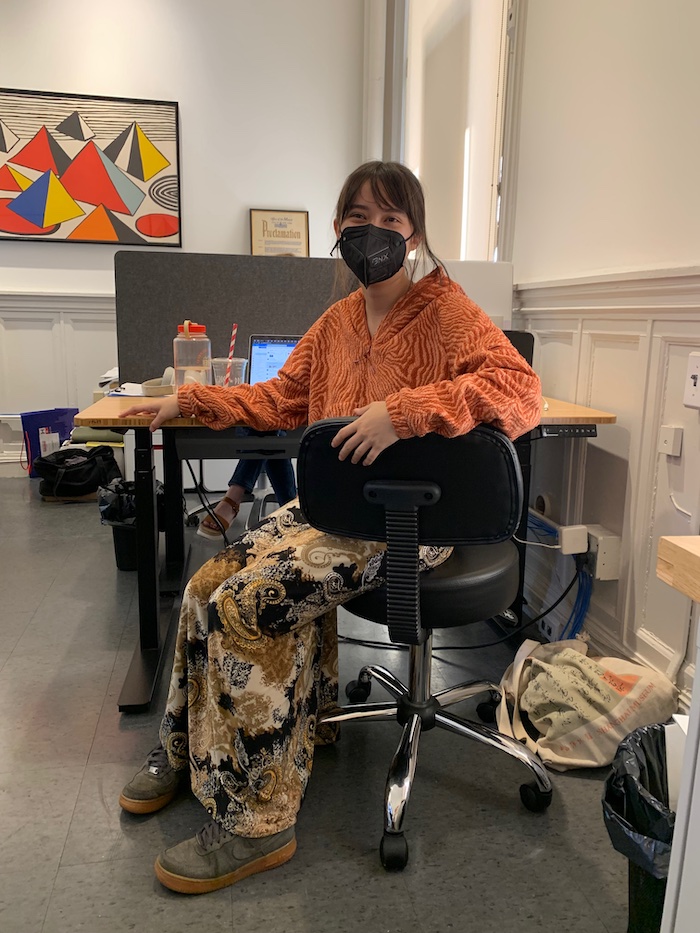 Mei Bock '24
Mei used her grant to intern at the Art Students League in New York City, where she once was an art student. This summer, she taught independent art classes for New Yorkers of all skill levels.
Removing Barriers and Changing Lives
"I started at the Art Students League in high school through a scholarship program allowing students to take a year-long class there," Bock said. "That course was my first experience doing oil painting, which I've come to really love and is one of the main forms of art that I do now. I've been taking classes with them ever since."
As the past summer approached and Bock began considering how she might contribute to the art world in a professional sense, she thought of her memories as a student at the League.
"I knew I wanted to do something related to art, but also I wanted to do something with a nonprofit—something that gives back," Bock said. "I reached out to the director of the community programs, and I told them I'd love to work with them."
One of Bock's primary responsibilities over the summer was leading artist summer camps for children living in the city. In leading the camps, Bock not only continued growing her skills as an artist, but also began growing her skills as an educator.
"It was my first time trying out teaching, which was really special," she said. "I learned a lot about lesson planning—how to come up with an idea for an art activity and then get twenty children to participate in it. A lot of the kids that we served are coming from underserved communities, and they needed role models that look like them and have had similar experiences as them, so the curriculum was very diverse."
While Bock is still deciding how her work this summer fits into her professional aspirations and plan for the future, she believes that the opportunity to further engage with the art community in her home city was immensely valuable.
"I got to see how powerful access can be—just by removing a financial barrier, you can really change people's lives," Bock said. "I want to give more credit to the power of art. It really has the potential to shape where these kids' lives are going to go."
---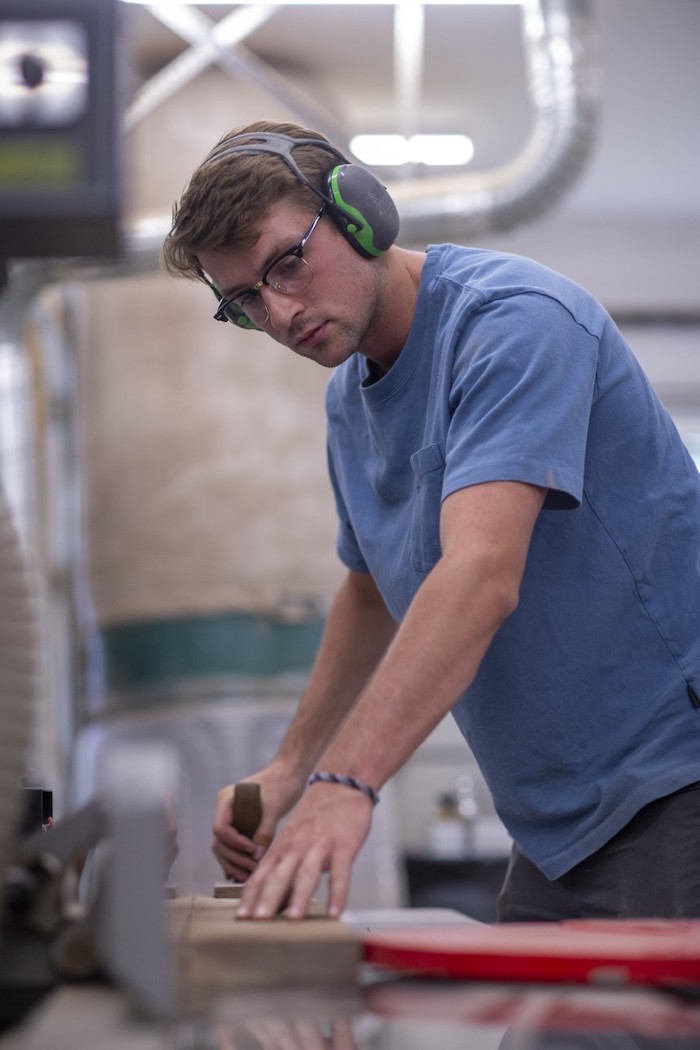 Thomas Nettesheim '24
Thomas, who has been interested in carpentry since his middle school woodshop days, used his grant to work as a full-time employee at Kidwell Fabrications, a furniture company based in Portland, Maine.
The Meditative Practice of Woodworking
During his summer at Kidwell, Nettesheim partnered with his boss, Kyle Kidwell, to craft all types of furniture, from large dining tables to small desks, chairs, and dressers.
"The summer was a good window into what it looks like for an individual to start their own furniture company," Nettesheim said. "Kidwell is obviously passionate about furniture, and he is very practical about it, whereas I had only liked to think about it on the artistic side, in a more relaxed way."
Through Kidwell's instruction, Nettesheim was able to supplement this artistic passion for woodworking with practical skill.
"You need to be very alert and attentive at all times, which, at the beginning of the summer, was a definite challenge—I've worked in shops a lot in the past, but not for eight hours every day," Nettesheim said. "Building up that stamina so that I could focus on my physical safety as well as these pieces of work was something that I valued a lot."
"I really valued the extreme attention to detail that it requires," Nettesheim said. "The attention to detail creates a setting where you're so focused on such small things that it's almost meditative in a sense."
As Nettesheim prepares to return to Bowdoin, he believes that his experience at Kidwell's company has allowed him to further develop and bolster his connection to the arts and to the intricate and nuanced practice of woodworking.
"I now have an increased appreciation for natural materials," Nettesheim said. "Each piece of wood is different, and you are always trying to read the piece and ficure out what it's going to do best. Because the materials are organic, you just have to listen to them."
---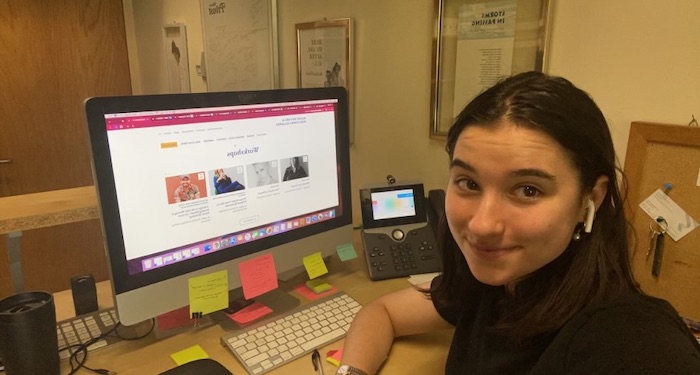 Catherine Crouch '23
Catherine used her grant to pursue a summer position with the Maine Writers and Publishers Alliance (MWPA), where she supported efforts to plan literary events, host writing workshops, and bolster underrepresented voices in the writing world in Maine.
Seeing the Effects of Your Work
"This summer, I knew that I wanted to work in the literary world, but in a sector that I was unfamiliar with: nonprofit work," Crouch said. "I did a bit of research, and with Professor Brock Clarke's guidance, I was led to MWPA."
As MWPA's sole intern, Crouch spent her summer not only tackling administrative tasks and learning grantwriting skills, but also collaborating with the Alliance's employees to schedule large-scale events in the summer and fall.
"Very fortunately I was entrusted with a lot of responsibility to help out on some larger projects," Vrouch said. "A lot of MWPA's attention this summer, and now, is geared toward planning the first-ever Maine Literary Festival in October, so I spent more and more hours each week helping to plan that event."
After spending the summer viewing the nonprofit industry through the lens of her interests in writing and literature, Crouch is grateful for the lessons she learned and for the opportunity to see a professional—and meaningful—application of her passions.
"I knew what nonprofit work would entail, in some respects, but I was also surprised by how different every day has been and how fun, exciting, and nonstop it is," Crouch said. "It was really cool to be doing work where you could, often almost immediately, see its effects. It was a great way to not only be a part of a community here in Maine, but get to interact with other writers."