For the Sake of Honor: Janet Langhart-Cohen
Published by Tasha Graff '07 for Bowdoin Magazine
On May 28, for the first time in 217 Commencement Ceremonies, the College presented all of this year's honorary degrees to women as part of its celebration of fifty years of women at the school.
Accomplished across all different fields, these five women inspire not only with their achievements but also with their graciousness, generosity of spirit, and grit. Accepting challenge after challenge, each called upon in her own way to find courage and determination, they all remained, as writer Kenny Moore once put it, "unharmed by victory."
Janet Langhart-Cohen
Janet Langhart-Cohen made history as a broadcast journalist, but she calls her time as "First Lady of the Pentagon" the most transformative of her life.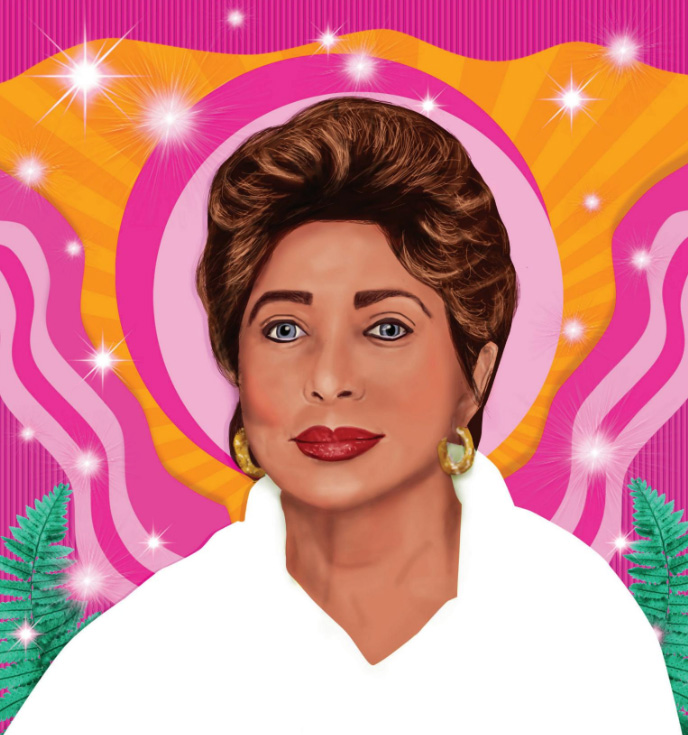 Janet Langhart-Cohen was born on December 22, 1941—at a tumultuous moment in a nation that had just declared war, in a time when being Black in America meant having rights and opportunities that were restricted—and her life has been shaped and changed by politics, race, and social activism. She was raised by her single mother, a domestic worker. "I learned of racism as early as seven years old. My parents had to tell me about it because my life depended on it," Langhart-Cohen said.
Despite these challenges, Langhart-Cohen became first a successful fashion model and then an award-winning television journalist, anchor, commentator, author, and playwright. She is known for her interviewing skills, which she has used with celebrities and politicians ranging from Louis Armstrong and Marian Anderson to George Wallace and David Duke to presidents, foreign leaders, and actors. Throughout her celebrated career, she broke barriers both as a woman and as a person of color.
Growing up in Indianapolis, Langhart-Cohen lived on-site where her mother worked, in different boarding houses, and ultimately in a segregated housing project. She attended Crispus Attucks High School, named for the Black and Indigenous man considered by historians to be the first person to die in the Revolutionary War when he was killed at the Boston Massacre. Crispus Attucks High was the only public high school in Indianapolis designated specifically for Black students when it opened in 1927. Despite the passage of state and federal desegregation laws, the school remained functionally all-Black because of residential segregation, and it was that way when Langhart-Cohen was a student there, playing flute in the band and competing with the debate team.
"At Crispus Attucks, I learned pride from some of the most dedicated, best-educated people I have ever known. These were professional academics who were qualified to teach at the college level but were barred from doing so by the unwritten race rules that governed," she said. When she graduated in 1959, she matriculated at Butler University on a scholarship.
When her scholarship money expired, she left Butler to pursue a "dream" she said she had repressed when she entered college. She enrolled at an agency and school run by Black model Cordie King, and in 1962 she auditioned for and won a spot with the Ebony Fashion Fair, which helped raise funds for Black charitable causes around the country. Modeling the clothes of designers like Oscar de la Renta and Bill Blass on the runway, recognized by people who had seen her photographs in magazines, and meeting people like Joe Louis and Marilyn McCoo along the way was both exciting and, as Langhart-Cohen writes, "hard work."
After a sixty-two-city tour with Ebony, she moved to Chicago, where Cordie King had arranged for her to stay with the famous gospel singer Mahalia Jackson when she arrived in the city. At Jackson's home, she was introduced to people like Jesse Jackson, Andrew Young, and Martin Luther King Jr. "[It seemed that] every prominent Black person in the country either lived in Chicago of visited frequently," said Langhart-Cohen. "It was an amazing place for a wide-eyed, ambitious twenty-four-year-old."
She had steady work, appearing in advertisements and on runways, and she became the first Black woman to be featured as a bride in Marshall Field's bridal fashion show. In 1966, she was crowned Miss Chicagoland.
She was hired as a weather girl first at WCIU in Chicago and then at WBBM, and at the same time hosted an early morning interview program in Indianapolis called "Indy Today," which meant going back and forth between cities every week by Greyhound bus. "I know all the drivers on the run," she said at the time. "They call me the Queen of Interstate 65."
A few years later, she became a morning talk show host for Boston's "Good Day!" which was syndicated across the US. She was the first Black woman to host a nationally syndicated show, and Langhart-Cohen went on to work on shows for all the major TV networks, including ABC, BET, CBS, and NBC, and, over the course of a twenty-five-year career in broadcast journalism, interviewed many of the most influential newsmakers in the world.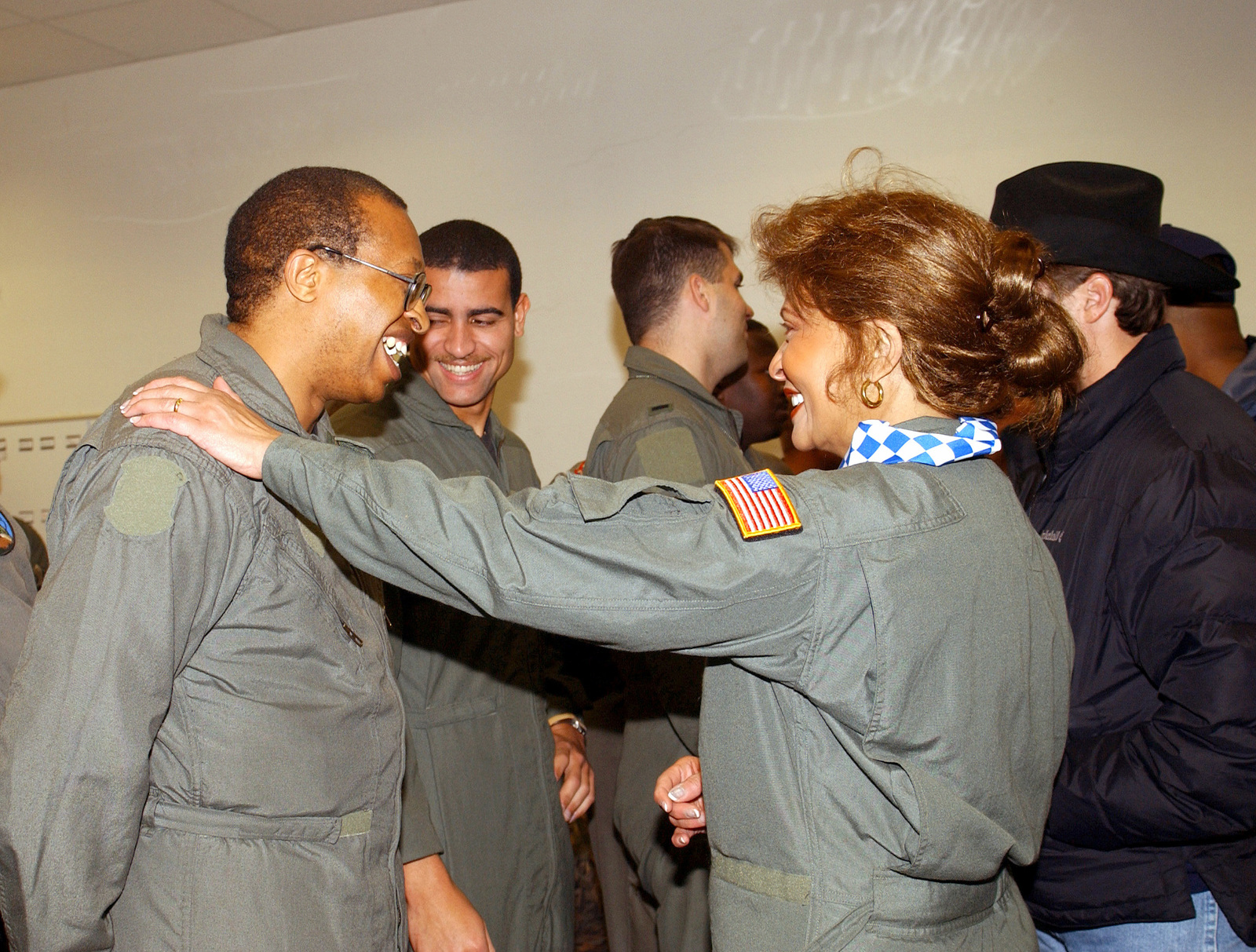 She met William Cohen '62, H'75 when she did a long-distance interview with him when he was a member of the House. The two became friends after they met in person at a later interview, and they married in 1996, just before Cohen, a Republican, was appointed by President Bill Clinton as secretary of defense. She became known as the "First Lady of the Pentagon," and those four years shaped her philanthropic and community service and her view of America.
"The military, with all its diversity, its mission, and its unique culture enabled me to reach past my rage and to embrace my country," she has said. "During the years at the Pentagon, I journeyed all over the world and discovered the soul of America—the courage, strength, hope, and integrity of its people."
She and Cohen cowrote a memoir about romance, race, and religion in 2007 called Love in Black and White, followed by a book they edited together, Race and Reconciliation in America.
Langhart-Cohen has also written a lauded one-act play, Anne and Emmett, in which she imagines a conversation between Anne Frank and Emmett Till, teens who were both murdered as the victims of discrimination and hatred. Langhart-Cohen's play, which premiered in 2009 and has been produced at schools and theaters around the country, is an extension of her life's work to raise awareness around issues of race and reconciliation and to spur thoughtful conversation that can lead to a new national dialogue about race and equality in America.
Langhart-Cohen describes a combination of anger and hope about race relations in the United States. In her 2004 memoir, From Rage to Reason, she writes, "I have known a country of profound prejudice, but one of equal promise. While I continue to burn whenever I see evidence of bigotry and injustice, I also know that America is the only country that is willing to expose and openly confront its failures and seek to overcome them."
The title of the book comes from something one of her mentors, Boston community activist Melnea Cass, said to her when Langhart-Cohen was criticized for speaking out about the school busing crisis in Boston in 1974, when Boston public schools were ordered to desegregate. Cass said to her, "You have to move from rage to reason."
Langhart-Cohen credits various mentors for helping her throughout her career, providing both counsel and opportunity. She recounts arriving at the Chicago Freedom Movement Rally excited at the chance to meet Sidney Poitier and accidentally spilling soda on Martin Luther King Jr. instead. "Little did I know that Dr. King would become one of the key mentors of my life. It seemed that destiny was conspiring to have me learn at his feet." She spent time with him throughout the last two years of his life and learned from him "that outrage is not the same as rage, and that strategy is important in getting what you want in life."
More than fifty years later, Langhart-Cohen's optimism and hope for a better, more just world remain strong. She reflected on her own mentorship as well as what she has been able to achieve in her lifetime: "Dr. King predicted that one day I would claim my throne. His prophecy has proved true. I have claimed a throne—not as a queen or a princess, but as a patriot. Each day there is a new barrier broken, a new beginning made, and the frontiers of the human heart expanded. I truly believe that the two Americas that I have known will soon become one."
---
NEXT: Joan Benoit Samuelson »
---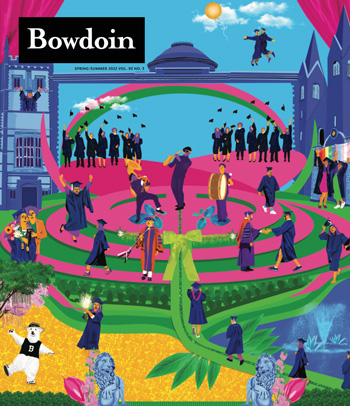 This story first appeared in the Spring/Summer '22 issue of Bowdoin Magazine. Manage your subscription and see other stories from the magazine on the Bowdoin Magazine website.