For the Sake of Honor: Laurie Gagnon Lachance
By Tasha Graff '07 for Bowdoin Magazine
On May 28, for the first time in 217 Commencement Ceremonies, the College presented all of this year's honorary degrees to women as part of its celebration of fifty years of women at the school.
Accomplished across all different fields, these five women inspire not only with their achievements but also with their graciousness, generosity of spirit, and grit. Accepting challenge after challenge, each called upon in her own way to find courage and determination, they all remained, as writer Kenny Moore once put it, "unharmed by victory."
Laurie Gagnon Lachance
A leading economist for decades, Laurie Lachance caps a career serving the home state she loves with a Maine college presidency.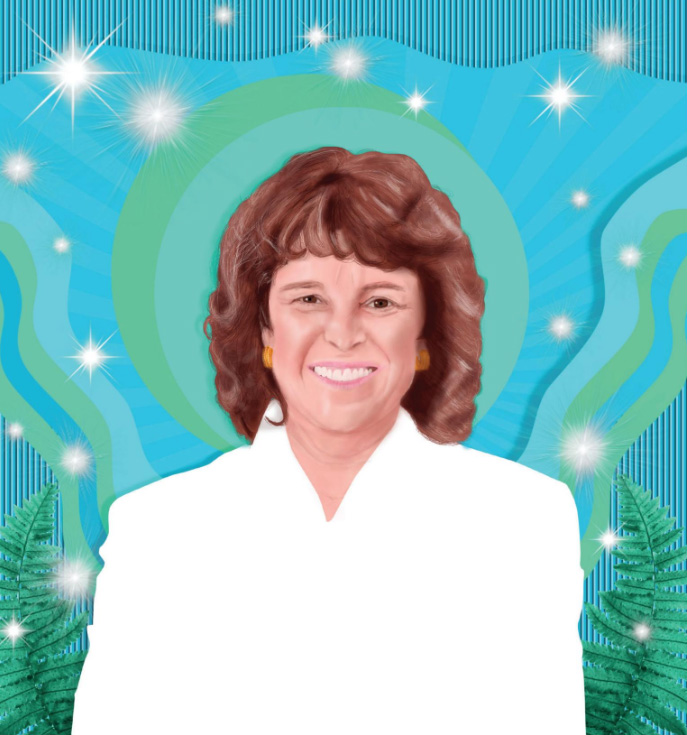 Laurie Gagnon Lachance '83, P'13 grew up in rural Maine in the town of Dover-Foxcroft, which has a population of about 4,000 people and is bisected by the Piscataquis River.
Dover-Foxcroft might seem like an unlikely starting point to produce a future state economist, the first woman to hold that position, but maybe there was something in the water. Just over one hundred years before Lachance graduated from high school, a local named Mary Mitchell Birchall (1840–1898) left Dover to become the first woman to earn a bachelor's degree in New England, graduating from Bates in 1869.
Lachance too has gone on to make history, becoming the first woman to hold not only the position of state economist but other positions of power in Maine, from head of the Maine Development Foundation to president of Thomas College, a role she still holds today. She has never forgotten her rural roots and has spent the latter half of her career championing first-generation Maine college students like her.
Lachance was the youngest of the three daughters of George and Mattie Gagnon. Her father was a grocery store manager, and her mother a registered nurse. While neither of her parents went to college themselves, they wanted a different future for their daughters. Lachance remembers her mother managing the family's budget by distributing cash from her father's paycheck into nine labeled boxes to pay bills. One box was for her daughters' college fund. "There were times growing up that she'd only put in a quarter or whatever they had, but money went into that little box every time a paycheck came in. Then she'd deposit it in the bank for us. We didn't have much saved, but it was very intentional, and it was an expectation. All of us went to college."
She describes her father as "hard-driving," insisting that his daughters have goals. He was sick for a time when she was a child and had to miss work. In an interview, she described what stood out to her from that time: "It put the family in financial peril. If my mother had not been working, our story might have been different. As a young woman, I always felt that I needed to make sure I could contribute to my future family, always felt that drive for safety for the family I hoped someday to have, and to be a true partner in the financial part of that." Lachance channeled her drive into academics, athletics, and extracurriculars in high school, serving as class president, playing three sports, and being inducted into the National Honor Society. Yet, like many first-generation college students, she didn't know what to expect from college.
"When I think back to how I ended up at the college I did, it seems like a miracle to me," Lachance said, describing visiting her then-boyfriend's family in Brunswick during her senior year of high school. "I had a chance to walk around Bowdoin. I thought it was a pretty place, so I applied there and was accepted, having absolutely no concept of what this was all about or what it would offer to my future."
Lachance remembers the culture shock she experienced when she arrived at Bowdoin in 1979, feeling out of place and somehow not good enough to be there. But she knew she wanted to make the most out of her experience as she "quickly realized the power of higher education." She got involved in campus activities, playing women's basketball for three years and joining and later directing the swing band. Along the way she decided to become an economics major, a subject she hadn't heard of before Bowdoin: "I just fell in love with economics, which seemed to apply to everything."
She remembers her time at Bowdoin fondly and with pride, but she also carries with her a memory of that feeling that she didn't belong, and it fuels her current passion for helping students succeed at Thomas, where nearly two-thirds of students are the first in their families to attend college.
After graduating from Bowdoin in 1983, Lachance took a job as an economist for Central Maine Power (CMP). She enrolled in graduate school at Thomas to pursue an MBA while working full-time. At CMP, Lachance met her husband, David Lachance, and the couple married in 1989 and later had two children. She finished her MBA in 1992 and, just a year later, was tapped to be the Maine state economist.
In that role, Lachance had the distinction of working for three governors from three different political parties over her eleven years—Republican John McKernan, Independent Angus King, and Democrat John Baldacci. During her work, Lachance became interested in policy and its impact on the people of Maine. Known for restoring trust in economic forecasting, she also focused on human capital and advocated for the potential of innovation that resides within each individual as an added value to the economy.
This heightened focus on the people of Maine served her well when she became president and CEO of the Maine Development Foundation (MDF), where she worked from 2004 to 2012. Again the first woman to hold the job, Lachance saw it more as an opportunity to expand the belief that had grown inside her since her time at Bowdoin that higher education can unlock human potential. Throughout her career, Lachance had always given back to Maine, winning awards for her community service and serving on boards. During her time at MDF, Lachance joined two boards in the University of Maine system and another at Thomas College.
Her name came up as a reference check during the search for a new president at Thomas, and the search committee asked her to consider applying. She was surprised—"There is nothing in my résumé that says, 'That woman should be a college president,'" she has said—but very interested. In 2012, she became the college's first alumna and, for the third time in her career, the first woman to be selected for the post. At the helm of Thomas, Lachance successfully completed a $12 million capital campaign a year ahead of schedule. "When it comes to positively influencing students and inspiring our faculty and staff, I believe in a down-to-earth, welcoming approach. I treat every person I meet with dignity, respect, and optimism."
Lachance's optimism is a trait that those who know and work with her recognize. In her nomination letter for the Maine Women's Hall of Fame in 2014, former governor of Maine and current US Senator Angus King H'07 wrote, "To each opportunity she brings the same abundant enthusiasm and unflagging optimism." Cheryl Miller of MDF added, "For those who know her, she is consistently one who inspires, empowers, and affirms all those she touches." 
Reflecting on her career, Lachance acknowledges that her journey may not have been straight or predictable, and she remains humble in the face of so many accolades and milestones. "It's been a wonderful path," she says, "but it wasn't anything like my father tried to teach me, which was to set a goal and go for it." Lachance did not set out to overcome barriers, but through her sense of purpose, hard work, and trademark optimism, she forged new paths, allowing other women to follow in her footsteps and inspiring all those around her in the process.
When Lachance has time to take a deep breath, it is usually at her family camp on Sebec Lake in her hometown. "I can find a path through anything as long as I have that chance to nurture my soul," she says. "That's where I read all my books and dream the dreams for the college and work everything out on the dirt roads."
---
NEXT: Janet Langhart-Cohen »
---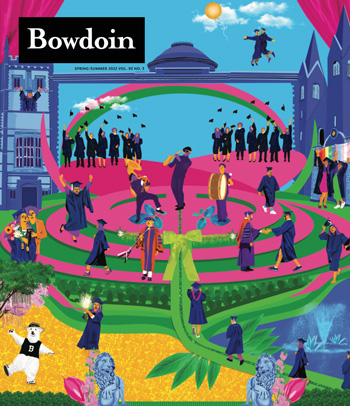 This story first appeared in the Spring/Summer '22 issue of Bowdoin Magazine. Manage your subscription and see other stories from the magazine on the Bowdoin Magazine website.