Published June 17, 2022 by Rebecca Goldfine
Why Bowdoin's New Policy on Transfer Credits Matters
Five students from community colleges will start at Bowdoin in the fall. They will be the first cohort of transfer students from associate degree institutions since the College updated an important rule.
The incoming group, who come from across the country, "adds to the diversity of the incoming class—which is already the most diverse in the College's history," Dean of Admissions and Student Aid Claudia Marroquin said.
The students are able to attend Bowdoin with established credits due to new policies passed by an overwhelming majority of faculty (76-2) last spring. All students now can transfer credits from associate degree colleges, whereas it was an exception before.
One of the reasons this came up is that we've determined to look at all of our policies through the lens of DEI—diversity, equity, and inclusion," Dean for Academic Affairs Jen Scanlon said. "When do that, you discover things you may have overlooked in the past."
The previous policy, to formally allow credit only from four-year institutions, was rooted in the notion that earning a bachelor of arts degree from Bowdoin requires a high level of academic rigor. But it had the effect of disadvantaging students and closing Bowdoin off from a diverse pool of gifted students whose academic efforts have been marked by significant rigor.
In addition to the change affecting transfer students, the faculty voted to give current Bowdoin students the option, if they are on leave, to take community college classes off campus. Faculty also adjusted the College's credit equivalency rules so a semester-long class credit elsewhere was equivalent to credits from a semester-long class here.
"While the ramifications in the change of policy allows us in admissions to admit students from a broader pool," Marroquin said, "it also means that current students, if they take a medical leave for example, can enroll in community college." For some, these institutions are not only a more affordable option, they are sometimes the only option if they live in a rural area, she added.
The move to accept credits from associate degree programs has become more common by four-year colleges and universities. Scanlon said the change at Bowdoin is exciting and should make the community proud. "We might not always be the leader in DEI work, but if we're purposeful in examining policies and fostering better practices, we'll make the College a better place," she said. 

Back to School
"I am worth educating. Just because I am older doesn't mean I am not worth educating." — Berenice Flores '25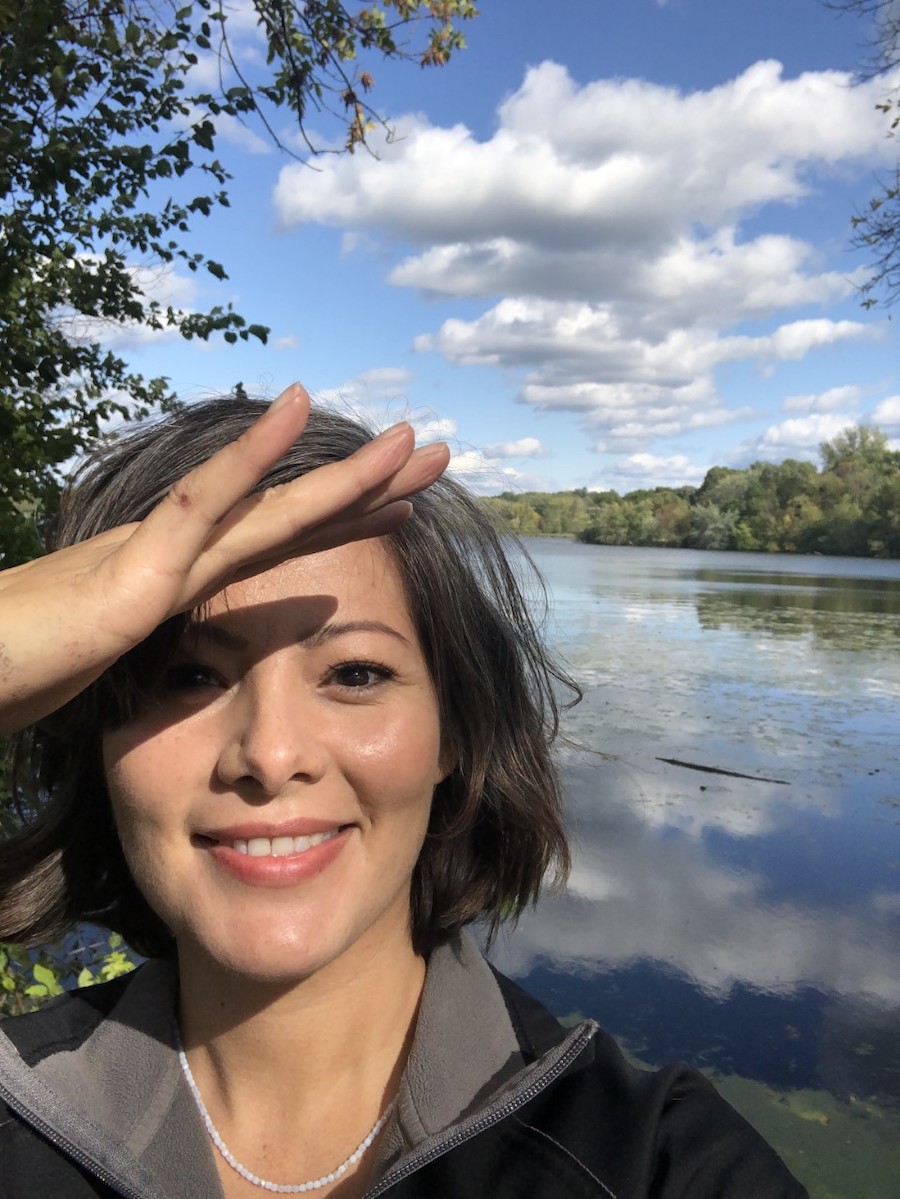 As the number of transfer students from community colleges grows at Bowdoin, some will not fall into the traditional age bracket of undergraduates—between eighteen and twenty-three years old. This aligns well with Bowdoin's philosophy and mission, Marroquin said.
"A liberal arts education celebrates diversity and difference of thought, and so it is important to have students represented from all sorts of other identities and backgrounds," she said.
One of the new transfer students is Berenice Flores, who grew up in Los Angeles and now lives in Minneapolis, Minnesota. She began her college journey in her late thirties at Normandale Community College in Bloomington, Minnesota. Initially, she signed up for college courses to become a dental hygienist.
Quickly, however, the professor of her freshman composition class noticed she had a knack for writing. While at first she dismissed his words as empty flattery, she started to dream of a different future for herself. "I thought, I am going to go to school for writing" and work on novels and screenplays. She had, after all, been doing stand-up comedy since she was eighteen, successfully making people laugh with her scripted jokes.
The registrar's office works on a case-by-case basis with each transfer student to determine how their previous academic experience at college or university matches up with Bowdoin's curriculum.
Classes taken off-campus must fulfill certain requirements to receive Bowdoin credit: they must be in one of the liberal arts disciplines, meet Bowdoin's credit hours, and be rigorous. Associate Registrar Julie Grossi also evaluates which of Bowdoin's distribution or division requirements are met with previous coursework.
"Once a student commits to Bowdoin, we do an official credit assessment, apply credits to the students' records, and give them the appropriate class standing," Registrar Martina Duncan said. "We also will be asking each of the incoming transfer students to provide details on what they plan to study so we can get prerequisite overrides and equivalencies set up."
So she began researching "great schools" and also, more critically for her, "how do you go to college for free?"
"I found this whole list of need-blind schools," including Bowdoin, meaning they accept students no matter their ability to pay—and often make it possible to attend with generous financial aid. "I applied to eighteen schools, but Bowdoin was always my number one," she said.
It was Bowdoin's Offer of the College that clinched her decision. "The Offer as a whole resonated with me," she said. "I felt so much joy in those statements, to be at home in all lands and ages. For me, it was a sign."
With good grades, strong references from her professors, and a well-crafted application essay, Flores—at age forty—was admitted with a full scholarship. She's looking forward to taking courses in English, cinema studies, and digital media. While her class standing is not yet finalized, she thinks she'll come in as a junior or second-semester sophomore. She plans to move to Maine this summer with her partner, who works remotely in IT, and live in an off-campus apartment.
The registrar's office works with each transfer student to determine their class standing at Bowdoin. Though it was up to the faculty to make the ultimate decision regarding transfer credits, Registrar Martina Duncan '97 advocated for the change.
"Making sure students have access to a wide variety of opportunities is important," Duncan said. "Because our faculty ultimately approve or deny each course for transfer credit, they still have the ability to make the assessment of each [non-Bowdoin] course through the lens of our policies, but also allow students a wider variety from which to choose." 
Going forward, Bowdoin's admissions team, particularly Senior Associate Dean of Admissions Anne Springer, will continue to strengthen the College's partnerships with community colleges across the country. This encourages faculty from those colleges to identify students who might thrive at a liberal arts college, and helps raise awareness among students that places like Bowdoin are financially and academically within their reach.
Flores jokes that when she arrives at Bowdoin, she'll be like Rodney Dangerfield in the 1986 movie Back to School. But after attending community college for three years, she said not only is she accustomed to learning and studying with younger people, she enjoys it and appreciates their perspectives. Plus, it's true to life. "The real world is made up of people with different backgrounds, ages, races, and upbringings," she said. 
"Also, in my application essay—I wasn't indirect about it—I explained I've never been anyone who fits in, but that doesn't mean I am left out. I have been nontraditional and weird my whole life—in high school I would practice with my punk rock band and then go off to compete with the debate team!"