Published June 22, 2022 by Rebecca Goldfine
Bowdoin Specials: Limited-edition Abe Morell Prints Benefit Scholarship Fund
Renowned artist Abelardo Morell '71, H'97, visited Bowdoin's campus twice this spring seeking inspiration for two special artworks in advance of his fifty-year reunion. Sales from the resulting limited-edition prints are being donated to the Bowdoin College Scholarship Fund.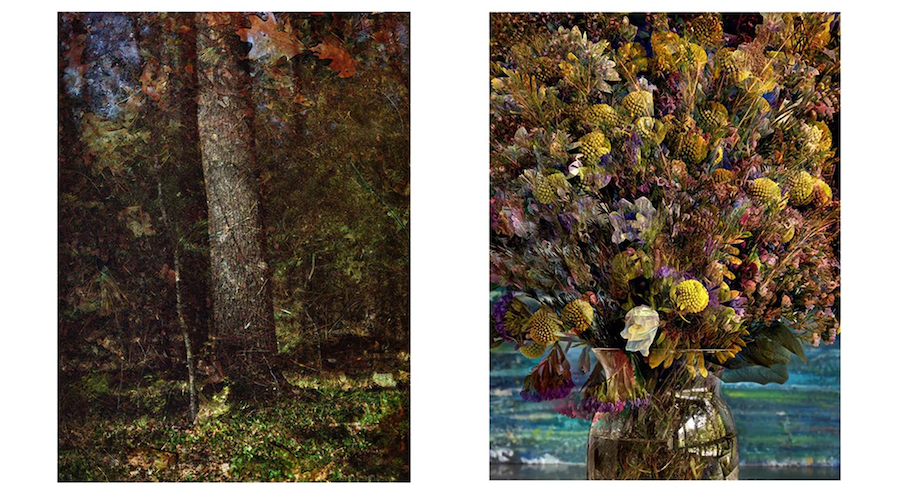 Prints of both are limited to an edition size of 150. They can be purchased from the Bowdoin Bookstore website. 
To aid his search, Morell and his wife, Lisa McElaney '77, made an initial visit to Bowdoin in April. They explored the College's Special Collections and Archives and wandered through Massachusetts Hall, Hubbard Hall, and other familiar places on campus.  
But when Morell and McElaney returned for a second time in May, Morell settled on a subject off their original itinerary. He was drawn to the Bowdoin Pines, a preserved old-growth forest behind Federal Street. The small patch of forest contains many towering white pines, a tree species that is struggling as the climate changes.
The idea of asking Morell to create two original pieces to benefit the Scholarship Fund was Jill Shaw Ruddock's. Ruddock, Class of 1977, also celebrated a reunion this June. An admirer of Morell's, she asked him if he would consider donating work to benefit financial aid at Bowdoin. Read Ruddock's address here.
"When Jill had the good idea of asking if I would be interested in making new photographs to be offered for raising money for scholarship funds at Bowdoin, I did not hesitate," Morell said. "It was at Bowdoin where I found myself and where I became an artist in 1969, and all thanks to the support of many teachers, friends, and staff. Without the scholarship that Bowdoin offered me, I would not be where I am now."
Morell was not the only generous artist attending reunion this year. Along with Morell, six artists from the Classes of 1976 and 1977 exhibited their work in a Lamarche Gallery show, The Art of Reuniting: Riley Brewster '77, Hank Bristol '76, Kinney Frelinghuysen '76, Peter Garrison '77, Anne Ireland '76, and Anne Fernald Niles '77, P'15. Half the sales benefited the Scholarship Fund.
One of Morell's two prints, "Tent Camera: Tree Trunk in the Bowdoin Pines," depicts one of these stately pines.
To make his images, Morell used a "tent/camera," a device he invented. "With this light-proof tent I can manage to project nearby scenes via a periscope onto the ground underneath inside the tent," he explained.
"I like the way my picture has the feel of paintings made by French artists in the Barbizon School in the nineteenth century," he continued. "The photograph also has contemporary artistic qualities and it is in that blending of the old and the new that I find visual pleasure. In a sense it is an image of Bowdoin in 2022 with echoes of an earlier time."
Morell's other new work, "Flowers for Bowdoin," is reminiscent of his extraordinary series, Flowers for Lisa. 
"For this piece I used a technique that...involves making several exposures of shifting flower arrangements. When put together, these disparate views form wonderful explosions of color, texture, and painterly abstraction. I think that this photograph contains feelings of celebration and exuberance—not unlike the sort of joy surrounding many reunions," Morell said.
Currently, you can see works by Abelardo Morell in the Bowdoin College Museum of Art's 2022 show, At First Light, from June 5 to November 6.
Abelardo Morell was born in Havana, Cuba, in 1948. He and his family left the country in 1962 and settled in New York City. After graduating from Bowdoin, he earned an MFA from Yale University School of Art. He also received honorary degrees from Bowdoin and Lesley University. For twenty-seven years, he led the photography program at the Massachusetts College of Art, making it one the most respected programs in the country.
Morell is well-known for his camera obscura technique, and his work has been shown around the world, including at the Museum of Modern Art, The Whitney Museum of American Art, the Metropolitan Art Museum in New York, The Chicago Art Institute, and many other art centers in the United States and abroad. He has received a number of awards and grants, including a Guggenheim fellowship, an Infinity Award in Art from the International Center of Photography, and a Lucie Award for achievement in fine art.