Bowdoin Hosts First Black Alumni Association Reunion
Published by Rebecca Goldfine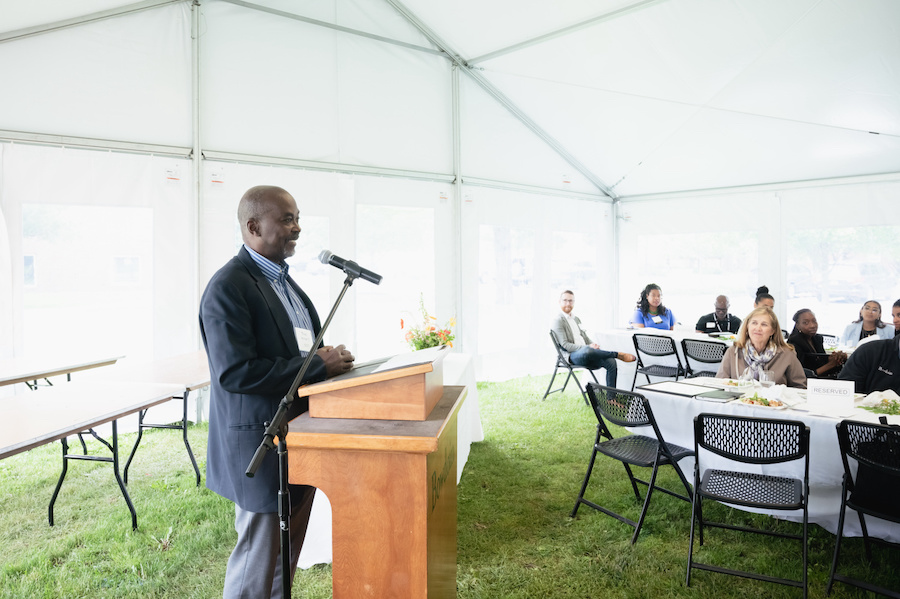 Eighty-five alumni from the classes of 1968 to 2023 attended the event, which kicked off with a celebratory luncheon under a tent outdoors and wrapped up with a "Wakanda Forever Party" in the John Brown Russwurm African American Center.
BCBAA president Michael Owens '73, P'15, opened the luncheon with a poem by Paul Laurence Dunbar called "We Wear the Mask."
Owens said he wanted to share the poem because it "embodies the mindset people, especially Black people, have to embody to succeed, including at Bowdoin College. Because we are here today, we no longer need to wear this mask in our Bowdoin community."
By Paul Laurence Dunbar
We wear the mask that grins and lies,
It hides our cheeks and shades our eyes,—
This debt we pay to human guile;
With torn and bleeding hearts we smile,
And mouth with myriad subtleties.

Why should the world be over-wise,
In counting all our tears and sighs?
Nay, let them only see us, while
We wear the mask.

We smile, but, O great Christ, our cries
To thee from tortured souls arise.
We sing, but oh the clay is vile
Beneath our feet, and long the mile;
But let the world dream otherwise,
We wear the mask!
President Clayton Rose then gave remarks, thanking each graduate "for returning and keeping Bowdoin close to your hearts."
He added: "I know we've been on Zoom a few times in the last eighteen months, and it's great to finally connect with you in person. I'm inspired by your mission and your energy to advance that mission."
Committee members outlined their goals for future work. David Dickson '76, P'13, chair of the diversity, equity, and inclusion (DEI) committee, said the BCBAA will be collaborative partners as Bowdoin continues its DEI work.
Crystal Welch '04, chair of the committee on BCBAA's role in society, which directs community service, said the alumni association will strive to serve current Bowdoin students first.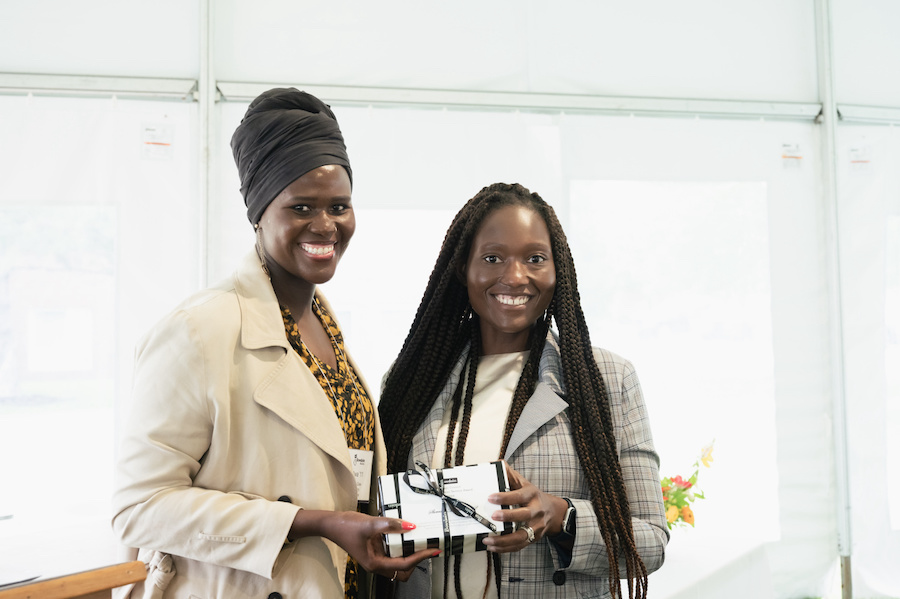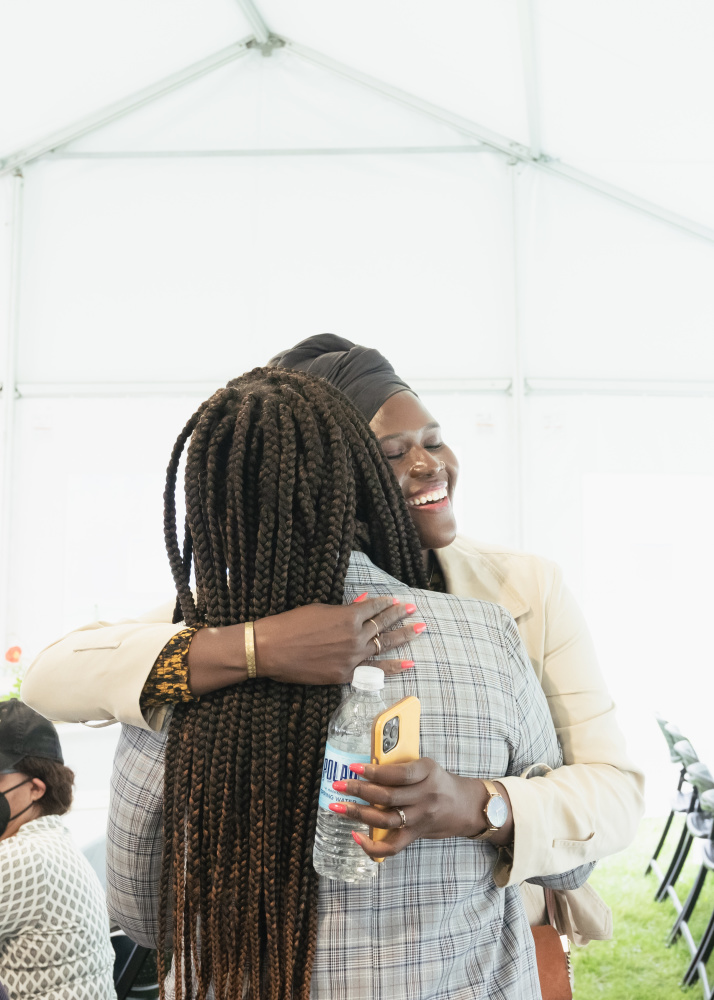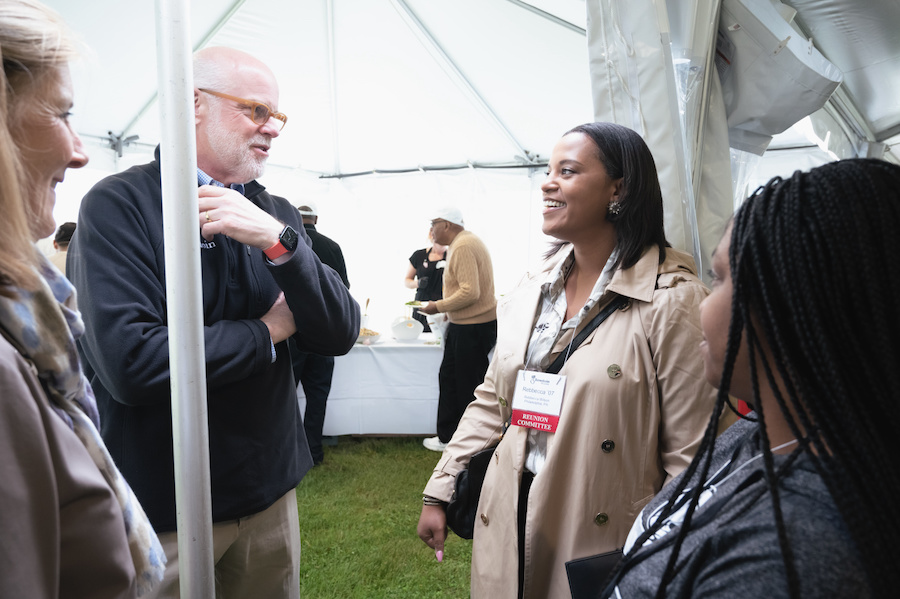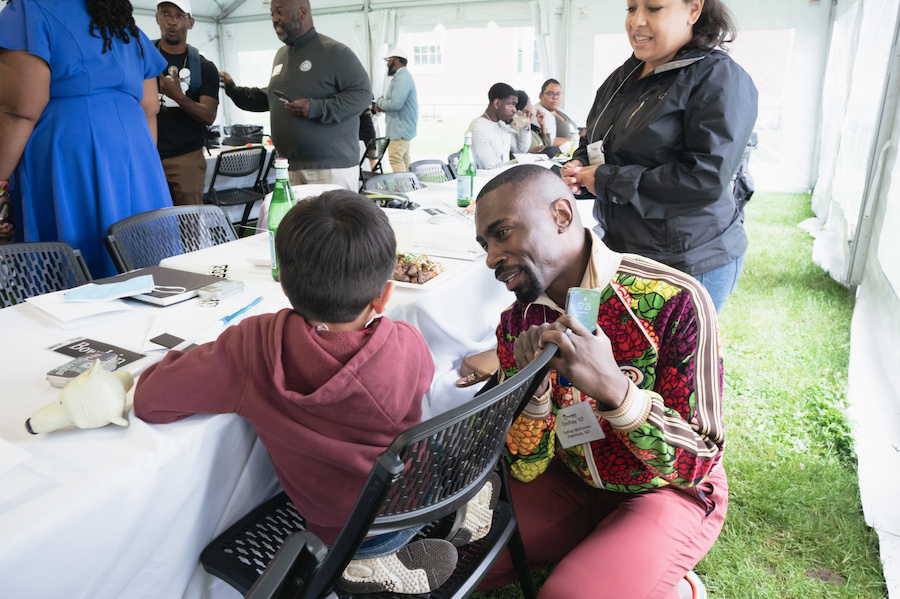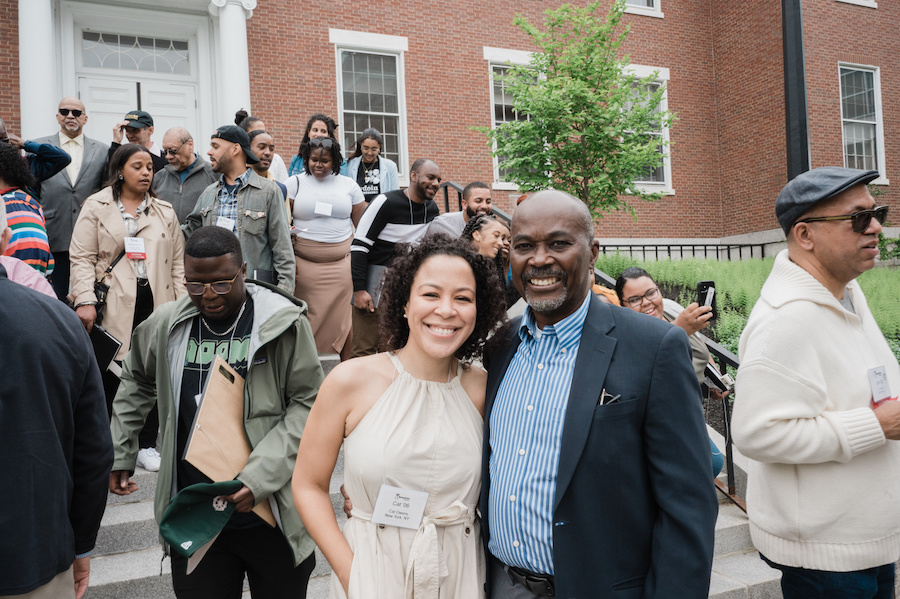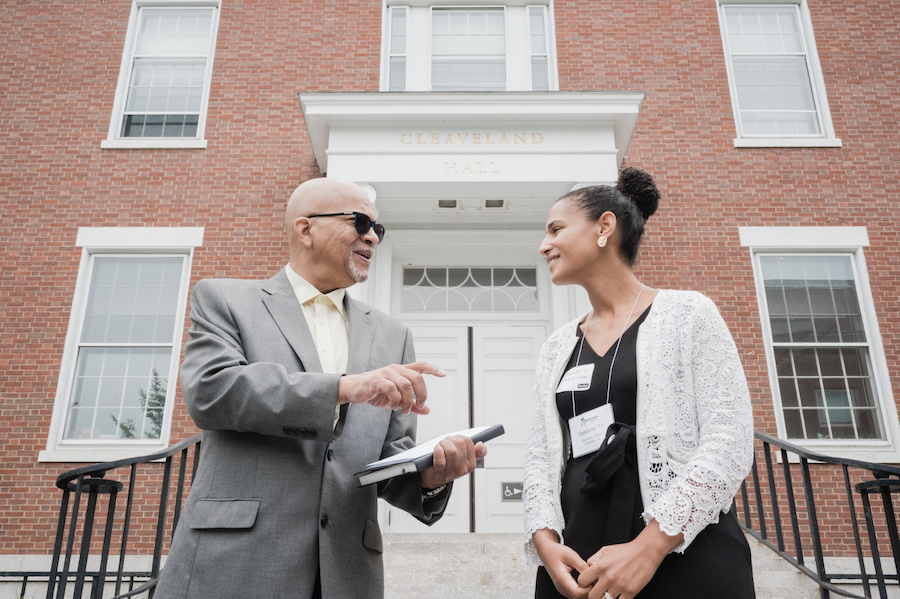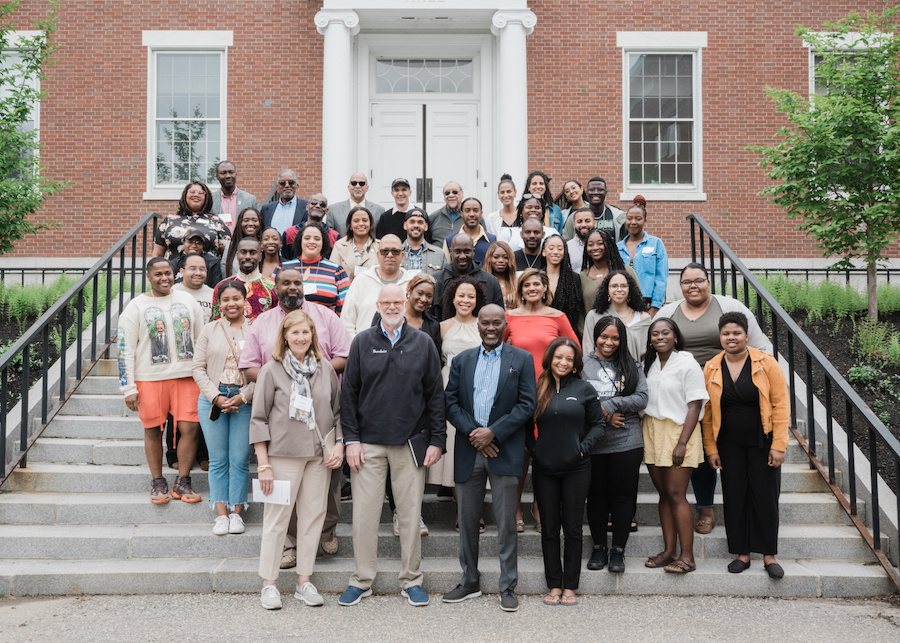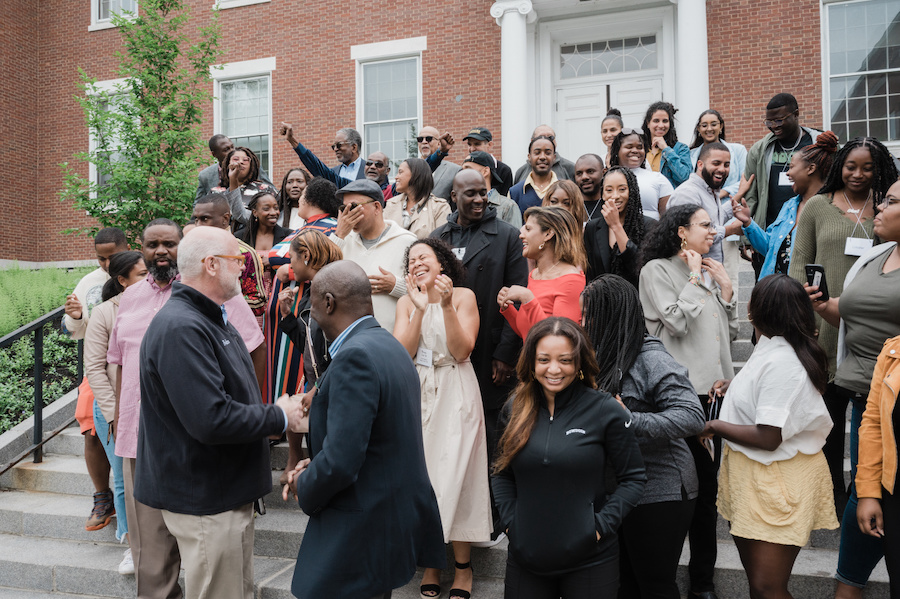 Carroy Ferguson '68 leads the committee on co-sponsorship to form partnerships with other alumni groups. He said the committee is "looking to ensure connections with partners that are authentic to the voice and mission of the BCBAA."
Additionally, Rose presented members of the alumni group's Coordinating Council with a certificate—"a token of appreciation," he said.

President Clayton Rose presented 2022-2024 coordinating council members with "a token of appreciation," a framed certificate of part of the BCBAA's constitution.
Pictured here: Rose with DeRay Mckesson '07, H'21; David A. Dickson II '76, P'13; Tawana Cook Purnell '75; Richard Adams '73; Eric Bell '93; Crystal Welch '04; Mamadou Diaw '20; and Lyne Lucien '13.


The Bowdoin College Black Alumni Association's constitution reads, in part: "The Bowdoin College Black Alumni Association is founded in recognition of the impact that Bowdoin College and its faculty, students, and staff have had upon our personal lives and those of our children, nation, and world. We also recognize the pioneering social justice work of the first Black graduate of Bowdoin, John Brown Russwurm."
The association's vision statement is "to champion the flourishing of African diaspora via engagement in social justice, cultural preservation and artistic expression, economic empowerment and viability, and ecological responsibility and leadership in association with all persons and entities earnestly so pre-dispositioned."
And its mission statement, the association strives "to correct the historic wrongs against and obviate the inequities experienced by the Black community of Bowdoin College. We will provide and promote effective leadership regarding the well-being of the Association's members, as well as the students, faculty, and staff of Bowdoin College and the greater common good of African diaspora. This endeavor will be accomplished through education, mentoring, advocating, pro bono initiatives, business development, and community building."
President Dr. Michael Owens '73, P'15
Vice-president Sherrone Torres '12
Secretary Praise Hall '20
Richard Adams '73
Eric Bell '93
Ronald Brady '89, P'19
Heldana Daniel '24
Mamadou Diaw '20
David A. Dickson II '76, P'13
Carroy Ferguson '68
Kevin Fleshman '25
Adriennie Hatten '90
Symone Howard '15
Stacey Jones Lee '00
Lyne Lucien '13
DeRay Mckesson '07, H'21
Charles Patton '81
Tawana Cook Purnell '75
Diamond Walker '17
Nina Ward '08
Crystal Welch '04
Eric Hollister Williams '99
Terri Young '81
Staff liaison Joycelyn Blizzard, director of multicultural alumni engagement
The reunion also included two campus talks. The first was called "Continuing the Work Ahead: An Update on Racial Justice and DEI Work at Bowdoin," with Benje Douglas, vice president and interim chief diversity officer, and Mai Le Libman '00, chair of the Alumni Council's committee on diversity, equity, inclusion, and access. The second featured Beth Kowitt '07 moderating a discussion with Rose.
The BCBAA will convene again in person during Homecoming Weekend, September 30 to October 1, on Bowdoin's campus.
Photos by Tristan Spinski.