Black Alumni Association

Upcoming Events:
Black History Month 2023
BCBAA Presents: A Conversation with Communications & Public Affairs Strategist Eric Hollister Williams '99
Monday, February 6, 2023
12:00 p.m. EST
Virtual Event
Eric Hollister Williams '99, corporate PR at Apple, is a communications and public affairs strategist with over 20 years of experience working for corporations, foundations, and non-profit organizations.
He's spent time with global organizations including, the U.S. House of Representatives as staff director for the House Subcommittee on Africa, Global Health, Global Human Rights and International Organizations and was a foreign policy aid; Washington, D.C.-based Precision Strategies; Bill & Melinda Gates Foundation; and most recently director of communications at Patagonia overseeing external and internal communications for the outdoor brand.
Join us as Eric speaks to the Bowdoin community about today's world of communications and how he's navigated with Black Resilience since his first days as a Bowdoin student.
The conversation will be moderated by Diamond Walker '17, BCBAA Coordinated Council and Selina Asante Poku '07, Alumni Council. Q&A to follow.
Black History Month Mountain Take Over
Saturday, February, 23
The Office of Multicultural Alumni Engagement invites you to celebrate Black History Month at the second annual Mountain Takeover on Saturday, February 11, 2023. You'll be joined by students from the Office of Multicultural Student Life for a day of skiing at Mt Abram Ski Area & Bike Park in Greenwood, ME, 8:30 a.m. to 4:00 p.m. It'll be an excellent opportunity to connect with current students and fellow alumni alike, from beginner to advance skiers. All are welcome. Registration will be $25 and open until February 6. If you have questions before then please email multiculturalalumni@bowdoin.edu.
BCBAA Presents: A Conversation with Pediatric Ophthalmologist and Clinician-Scientist Dr. Terri Young '81
Thursday, February 23 at 12:00 p.m. EST
Virtual Event
Dr. Terri Young '81, chairwoman of the Department of Ophthalmology and Visual Sciences at the University of Wisconsin, Madison, is a pediatric ophthalmologist and clinician-scientist with expertise in ophthalmic genetics and genomics in the areas of refractive error, ocular development, and childhood glaucoma.
Terri has directed a basic science research laboratory in gene hunting of ophthalmic diseases for 25 years and has authored over 220 peer-reviewed scientific publications, as well as multiple book chapters, articles, reviews and media materials – many have garnered national/international acclaim. She also serves on the editorial boards of the journals Experimental Eye Research and Investigative Ophthalmology and Visual Science.
Throughout her career Terri has participated in service to several industry associations, significantly to the Association for Research in Vision and Ophthalmology (ARVO) and was appointed a Gold Fellow in 2015 and now serves on the ARVO Foundation Board of Trustees.
Join us as Terri speaks to the Bowdoin community about her journey in medicine and how she's navigated with the industry with Black Resilience since her first days as a Bowdoin student. Q&A to follow.
Recent Events: 
Black Panther Alumni Movie, November 2022
BCBAA Homecoming Celebrations, October 2022 
Athletes of Color Coalition Gathering, October 2022

BCBAA Quarterly Mtg, September 2022 – Minutes
BCBAA Quarterly Mtg, May 2022 – Minutes
Bowdoin Hosts First Black alumni Association Reunion, June 2022
BCBAA Quarterly Mtg, March 2022 – Minutes 
Black Alumni & Students Ski, February 2022
In celebration of Black History Month 2022, Black Alumni Olivia Orr '12, Naomi Kordak '07, and Fhiwa Ndou '13 joined students from the Center for Multicultural Life and the Bowdoin Outing Club to ski at Mt. Abrams in Greenwood, ME.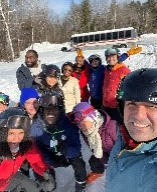 AF/AM/50 
Bowdoin's AF/AM/50 Celebration (Nov. 8-10, 2019) drew more than 500 members of our community to campus to learn, reflect, honor, and reunite around this special milestone. Read more about the weekend on the AF/AM/50 webpage.