Published June 07, 2022 by Tom Porter
Book Honors for Government Scholar Rudalevige Continues Impressive Bowdoin Record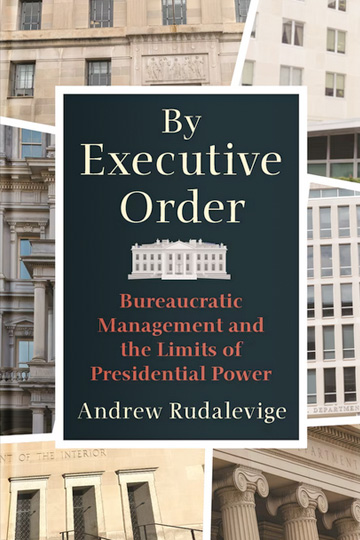 In fact, argues Thomas Brackett Reed Professor of Government Andrew Rudalevige, the vast majority of such orders are proposed by federal agencies and shaped by negotiations that span the executive branch.
By Executive Order is the first book to comprehensively examine how presidential directives are written—and by whom. This is a fact clearly appreciated by scholars at the American Political Science Association (ASPA), who have awarded Rudalevige this year's Richard E. Neustadt Book Award for research and scholarship in the field of the American presidency.
"Like many of the executive orders it analyzes, this project took a long time to see the light!" said Rudalevige, who is also chair of Bowdoin's government and legal studies department. "So," he added, "it's very gratifying to have one's scholarly peers conclude that the effort led to something worthwhile. And it's a wonderful affirmation of the multi-methods research I've tried to champion: that is, unearthing thousands of archival files that both shed light on a given bureaucratic process and help build a database that can be analyzed quantitatively as well."
Rudalevige is the third Bowdoin scholar to win this award, with Gary M. Pendy Sr. Professor of Social Sciences Jean Yarbrough winning in 2013 for Theodore Roosevelt and the American Political Tradition (University of Kansas Press) and Professor of Government Janet Martin achieving success in 2004 for The Presidency and Women: Promise, Performance, and Illusion (Texas A&M University Press). Rudalevige himself won the prize for the first time in 2003, when he held a position at Dickinson College, for Managing the President's Program: Presidential Leadership and Legislative Policy Formation (Princeton University Press). See list of previous award winners. 
"The fact that three different scholars in government have won this award over time is testament to the quality of the department, and to the College's commitment to a strong, nationally-recognized standard of research," said Rudalevige. "What makes Bowdoin really special of course," he continued, "is the way that the research endeavor then translates into the classroom. And then student inquiries inevitably prompt new ideas for research—it's a truly rewarding virtuous cycle."  
Rudalevige will officially receive his award later this year at APSA's annual meeting in mid-September.