Published February 22, 2022 by Tom Porter
Professor Sarah McMahon to Receive 2022 Alumni Award for Faculty and Staff
Associate Professor of History Sarah McMahon is one of two people receiving this year's Alumni Award for Faculty and Staff, presented annually for service and devotion to Bowdoin, its students, and its alumni.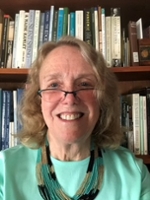 In her forty years on the Bowdoin faculty, McMahon has challenged, inspired, and engaged students in the exploration of colonial and early national US social history, focusing on family, community, women, and environmental history, among many other topics. But, as one of her former students stated, her "devotion to Bowdoin did not begin and end with… students and the classroom."
Since she began teaching at Bowdoin in 1982, McMahon has been an integral participant in all aspects of the life of the College. She played a pivotal role in the transition from fraternities to a new residential model in the 1990s, serving on the Commission on Residential Life, a special committee of the Board of Trustees. One member called her "an empathetic listener and strong mind for the group."
McMahon has served as a College House advisor every year since 1998, when the College House system began. She has continued to volunteer her time and thoughtful input for the betterment of the College in other ways as well, currently serving as the faculty representative on the Alumni Council, as faculty liaison to the women's field hockey team for the last seventeen years, and as liaison to the men's and women's tennis teams for the last sixteen years.
While her scholarly interests are wide-ranging, McMahon frequently incorporates Maine— more specifically, midcoast Maine, Harpswell, Brunswick, and even Bowdoin—into her teaching, offering courses such as Community in America, Maine, and at Bowdoin; Maine: A Community and Environmental History; and A History of Harpswell and the Coast of Maine. In so doing, she has made the campus and surrounding area come alive for students, giving them a true sense of and appreciation for the place in which they spend four years. Generations of alumni consider her not only an influential teacher but also a mentor for their studies and work after graduation.
In particular, McMahon has provided support, community, and advocacy for many women on campus, including students, faculty, and staff. In her first two years at Bowdoin, McMahon introduced two new courses to the curriculum—Women in American History and A History of Women's Voices in America—which she has taught regularly ever since. Additionally, as one of a small group of women faculty when she arrived, McMahon helped create a path for women to succeed at Bowdoin. In 1986, for example, she was one of the first professors to give birth while serving as a member of the faculty. Her experience led directly to the creation of the College's first maternity leave policy and, two years later, the opening of the Bowdoin Children's Center.