Published February 02, 2022 by Tom Porter
Kevin Chi '21: On the Front Lines of Vaccine Research
One day he could be working on plans to expand access to COVID-19 vaccines in parts of Africa, the next he might be trying to figure out trends in drug resistance in bacteria. Such is the routine of Kevin Chi '21 at the International Vaccine Institute.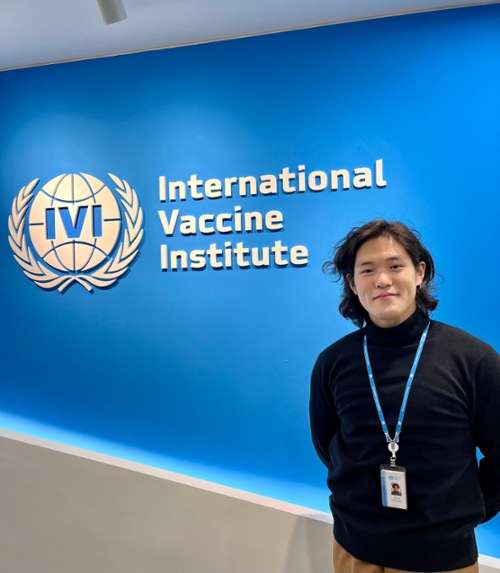 The ink was barely dry on Chi's diploma when he headed to Seoul, South Korea. He was one of nine Bowdoin graduates taking up an internship at the International Vaccine Institute (IVI), a nonprofit dedicated to fighting infectious diseases in developing countries.
Last spring, amid concerns about the uncertain economy due to the COVID-19 pandemic, President Rose put out an appeal to the Bowdoin community asking for help in providing employment or internship opportunities for graduating seniors. Among those who responded was Dr. Jerome Kim P'24, Director General of IVI. "As an intern at the institute, I began working on a project called CAPTURA, which captures data on AMR [antimicrobial resistance] trends in twelve different Asian and South Asian countries," said Chi. "The project involves developing effective feedback to help learn more about which bacteria develop a resistance to which drugs." This kind of work, he explained, plays an important role in the development of effective prescription guidelines against a variety of diseases and highlights the importance of vaccines.
Following the completion of his internship, Chi was hired as a research assistant at IVI, where he continues to work on CAPTURA as well as on a number of other projects, including two clinical studies exploring ways to expand access to COVID-19 vaccines in Africa. "I'm working on similar projects in Madagascar and Mozambique. We're not distributing and administering the vaccine—that's being done by the local governments—but we are involved in testing the effectiveness and the safety of the drug, which was developed by a Chinese company called CNBG. This, again, involves a lot of data analysis and operational management."
Chi was not always set on a public health path. "During my initial job search,  I was looking at a career in business, consulting, or finance, because that's what everyone else seemed to be doing," he said. "Then I decided I wanted to do something related to medicine but wasn't sure what until this opportunity came along." IVI is an exciting place to be right now, he said, because there's so much funding available for public health research. "We've expanded a lot over the last couple of years and opened additional offices in Europe and Africa," he explained.
Chi, who minored in English, feels his Bowdoin education has stood him in good stead for his current job responsibilities. "I took a course in biostatistics, which was obviously useful for the data-capturing project." Beyond these "hard skills," however, Chi said his writing and communication abilities have been put to very good use. "When it comes to producing implementation plans or operational documents, the work ethic and attention to detail instilled in me at Bowdoin has been invaluable."