Published December 16, 2021 by Bowdoin News
Style and Substance: A Look at the Mills Hall-Gibbons Center Construction Project
Construction is underway on Barry Mills Hall and the John and Lile Gibbons Center for Arctic Studies, innovative buildings for both their style and building materials.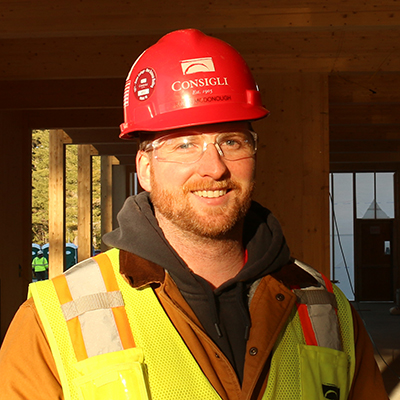 With drone photography from Senior Producer for Academic Media David Israel and additional videography from Social Media and Multimedia Specialist Adam Bovie and Director of Capital Projects John Simoneau, Doug Cook, director of college and media relations, offers a look inside this unique project.

Kevin McDonough '14 is working on the Mills Hall-Gibbons Center project as an assistant superintendent with Consigli Construction.
Check out Bowdoin Pioneers Maine's First Pure Mass Timber Commercial Structure, Signals Continued Commitment to Sustainability for more about the Mills Hall-Gibbons Center project.
Bowdoin is one of ten institutions to receive funding from the US Forest Service in partnership with the US Endowment for Forestry and Communities, Inc., a nonprofit corporation that works collaboratively with partners in the public and private sectors to advance systemic, transformative and sustainable change for the health and vitality of the nation's working forests and forest-reliant communities.