Published November 16, 2021 by Kyubin Kim '22
What Matters? High Schools, for One.
Bowdoin students gathered with younger teenagers and older community members recently in Moulton Union's Main Lounge to discuss a formative time in most of our lives—high school.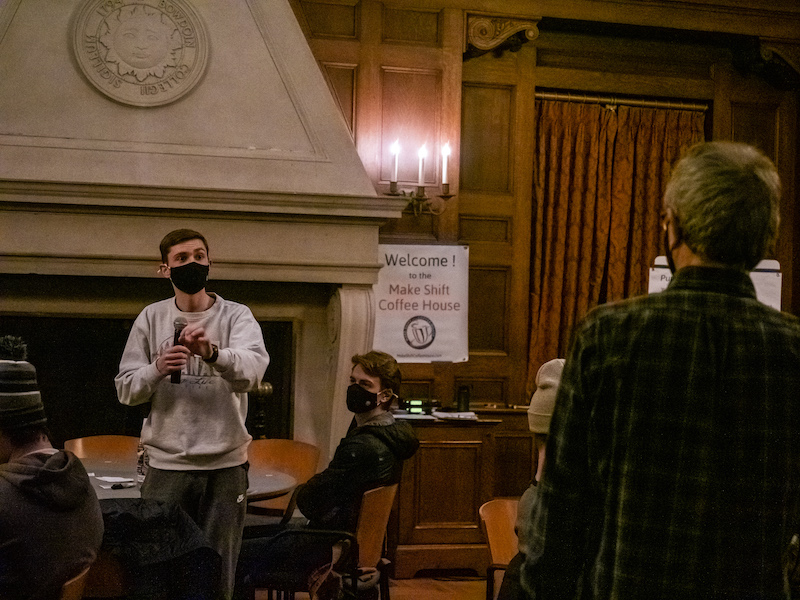 Photo album:
By Lily Poppen '22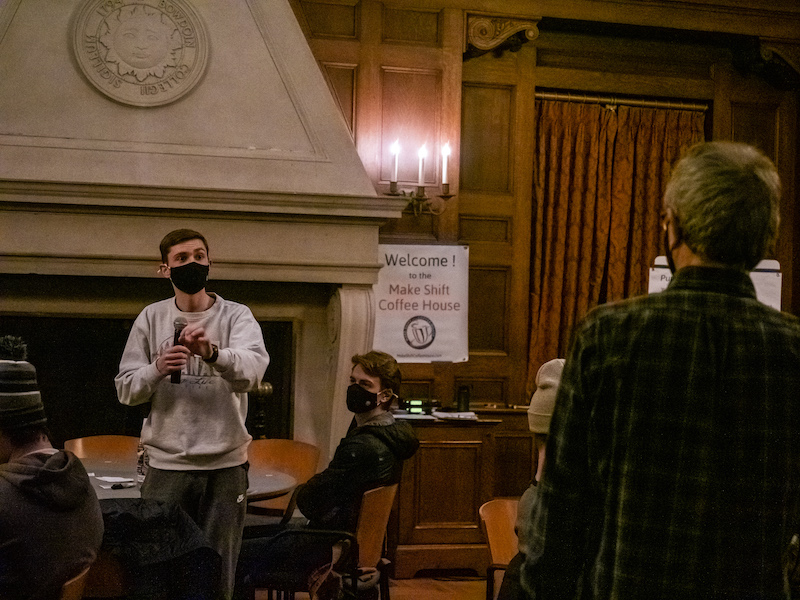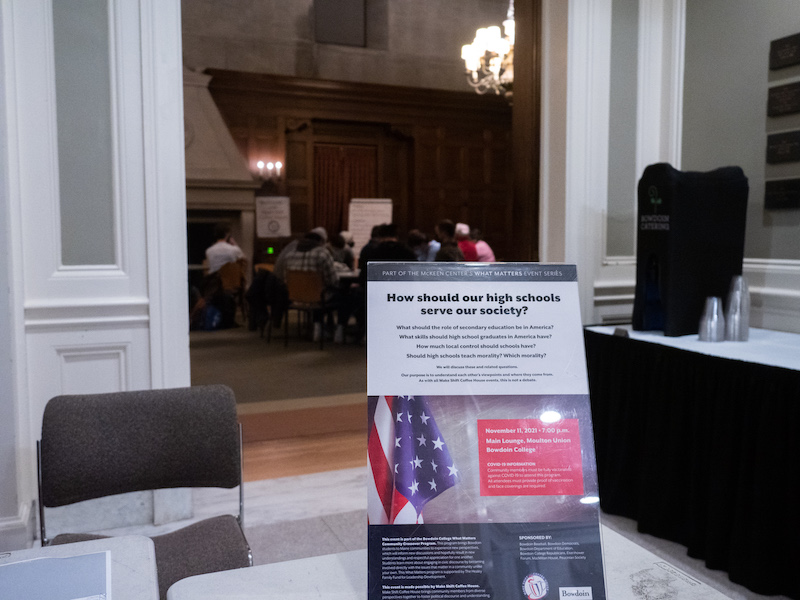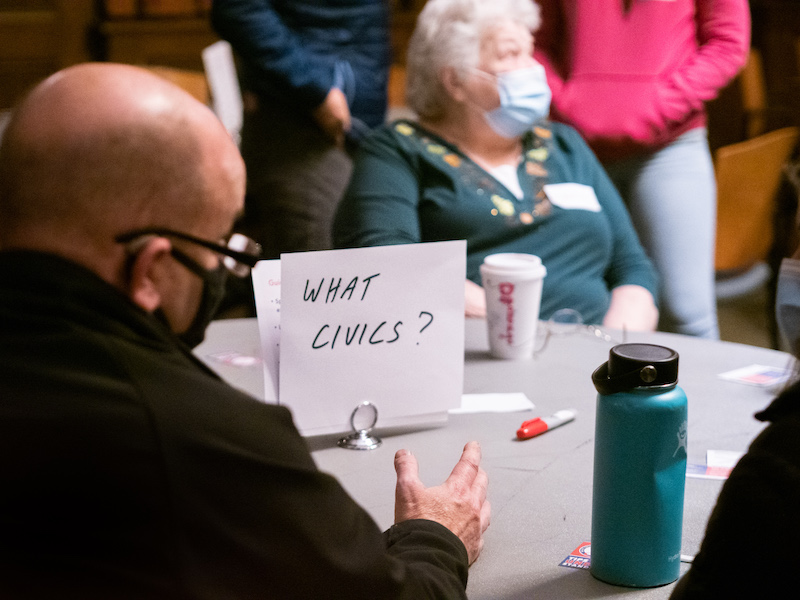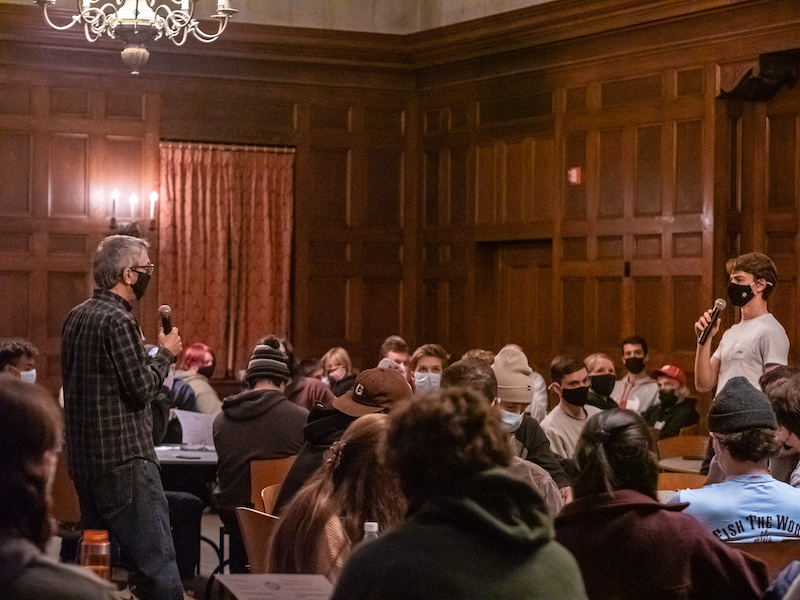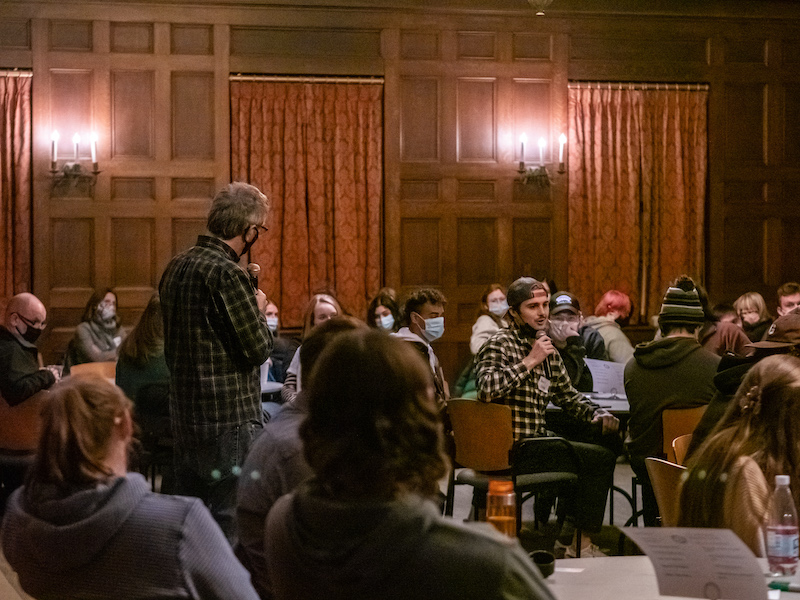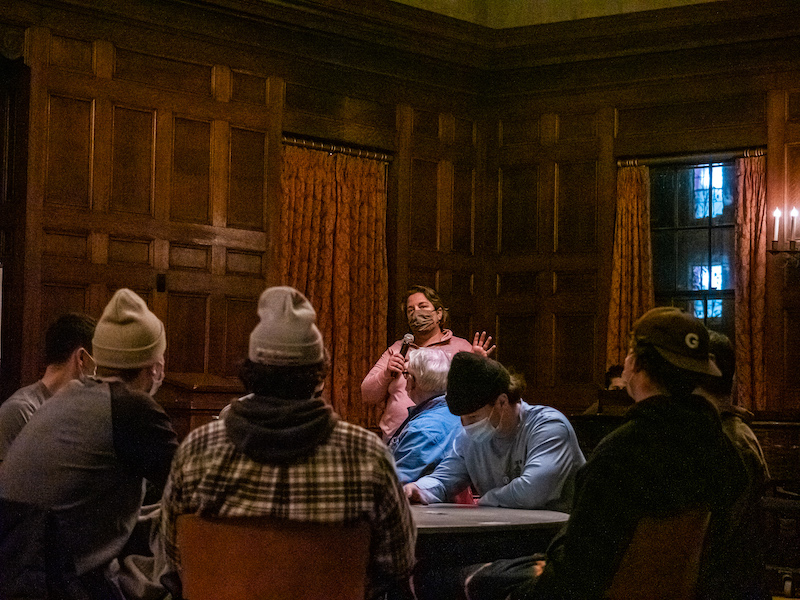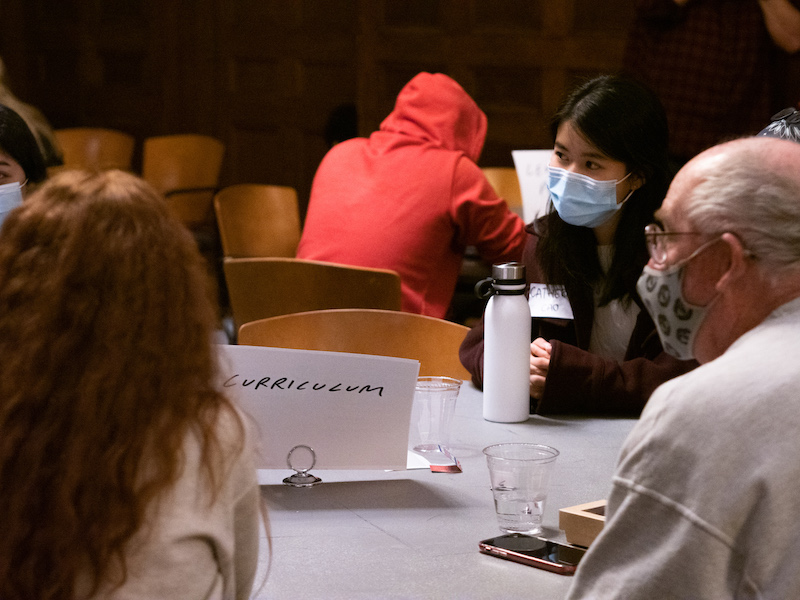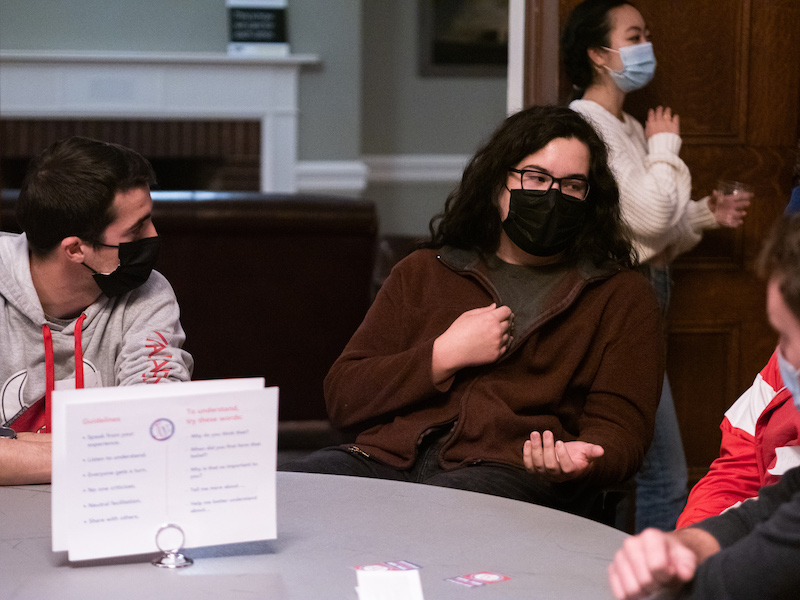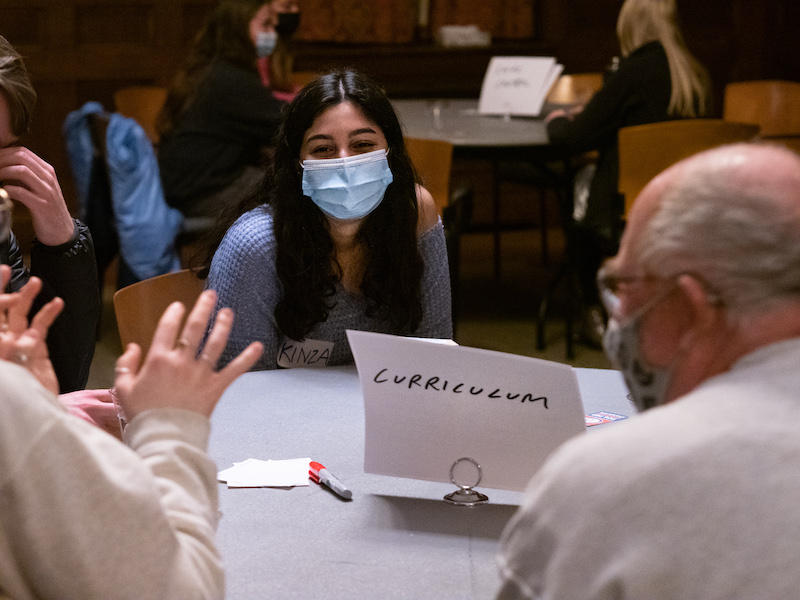 The event was part of the What Matters Community Crossover series, a program the McKeen Center runs with Make Shift Coffee House. These events give Bowdoin students the chance to learn the key skills of civil discourse in facilitated conversations examining critical issues of political and social importance.
On November 11, the conversation opened with the following questions: How should our high schools serve our society? What should the role of secondary education be in America? What skills should high school graduates in America have? How much local control should schools have? Should high schools teach morality? Which morality?
This event marks the fifth year of collaboration with Make Shift Coffee House, founded by Craig Freshley, with the goals "to get diverse groups of people together, speak across differences, and understand each other better." Freshley founded the forum when he noticed the growing political divide in the country and the loss of productive dialogue in the face of disagreement.
Like previous What Matters programs, the evening featured live music, refreshments, and desserts, and was organized by Assistant Director of the McKeen Center Tom Ancona. Participants, who sat at round tables, included Bowdoin students, high school students from the island of Vinalhaven, and community members from Richmond, Maine, as well as teachers and school administrators.
Among the viewpoints shared:
One Bowdoin student argued that high schools should prepare students to get a job that pays a living wage, as well as some basics about civics. Another student disagreed, believing that high school is meant to inspire students to discover what they want to do in the long run.
A Bowdoin first-year student pointed out that high schools should be a safe haven that provides social service resources. School is a place where kids in unsupportive home environments can go five days a week and get fed, he said.
Freshley called for the high school teachers in the room to speak out about their experiences. A teacher at Vinalhaven said, "As a math teacher, I'm teaching a subject steeped in history, looking at concepts a thousand years old and important to many areas. But there's a question out there—is learning calculus or statistics necessary, especially versus what you need to learn to live?"
Another educator pointed out that every student who wants to learn calculus should be able to learn calculus. If circumstances prevent access to curriculum, she said, it would be perpetuating the cycle of inequity.
Freshley paused to pivot the conversation to who or what should be providing these resources if schools didn't. A man who lives in Southport referred to the town's Community Resources Council and pointed out that schools may be overburdened if they are expected to provide basic necessities.
The conversation shifted to the question of local control—how much, or how little, should state or federal government have a say on the administration of high schools and their curricula? A superintendent in Maine of seven years commented that countries with education systems based on greater central control had greater consistency and better education systems. With a revolving door of volunteer school board members, she argued, Maine's local control does more harm than good. 
As participants discussed the issue of local control and whether high school curricula should be standardized, current high school students chimed in. A senior at Vinalhaven remarked that her high school teaches local history, among other courses, and offers apprenticeships with the fishing and lobstering industry. While appreciating these offerings, the student cautioned that religious and political biases could slip into the histories that are being taught. 
The debate of local control was even more exigent as it came to the issue of mask mandates in schools. Ancona, whose sister-in-law teaches in Austin, Texas, advocated for greater local control because the city of Austin would have been able to set safer COVID protocols than those ordered by the state. He also wondered, if state and federal agencies had more say, could the power tilt too much in that direction? 
The Thursday conversation was thought-provoking and enriching, full of diverse perspectives and experiences. Relishing in the beauty of not being able to come to definite answers, the room buzzed with active participation. One community member remarked, "I've been watching [moderator Craig Freshley] for twenty years. Every time he comes to campus, you'd be smart to show up." 
​​The event was sponsored by the Bowdoin baseball team, Bowdoin Democrats, Bowdoin's Department of Education, Bowdoin College Republicans, the Eisenhower Forum, MacMillan House, and the Peucinian Society.