Published November 08, 2021 by Rebecca Goldfine
Bowdoin Receives Awards for Student Voter Turnout
Bowdoin College has tied for the Champion Award for Highest Undergraduate Voting Rate in a nationwide democratic engagement challenge.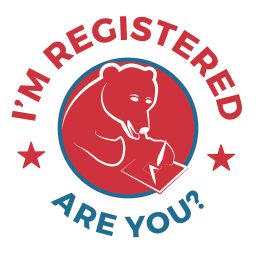 The ALL IN Campus Democracy Challenge is a nonpartisan competition among colleges and universities to turn out the largest number of student voters. In 2020—the year for which data was compiled—843 institutions participated.
Last year, 85.4 percent of Bowdoin students voted in the November election, an increase of approximately 9.5 percentage points from 2016. This number was substantially higher than the 66 percent average rate seen across all private institutions tracked by Tufts University's National Study of Learning, Voting, and Engagement. 
Additionally, ALL IN honored Bowdoin with awards for the highest voter registration and highest voter turnout among Maine campuses participating in the challenge. And the College received a platinum seal, just one level below the highest diamond level, for having between 80 percent and 90 percent of its student body vote.
Bowdoin tied with the College of the Atlantic, which is in Bar Harbor, Maine, and the University of Puget Sound in Washington.
Each year leading up to election day, the McKeen Center for the Common Good activates its nonpartisan get-out-the-vote effort. Bowdoin Votes provides information to students about how to register to vote and find information about ballots in Maine and other states. It also supplies vans to the Brunswick polling station on election day.
McKeen Center Director Sarah Seames said the high number of student voters last year is doubly impressive because it occurred during the pandemic. "We were so concerned about having students spread out across the country and how that would affect their ability and awareness to vote," she said, adding that the achievement was a testament to Andrew Lardie's oversight and all of Bowdoin Votes' student organizers.
Lardie, a former associate director of the McKeen Center, coordinated Bowdoin Votes up until this year. He helped the College acquire a $15,000 grant in 2020 to hire student workers to spread the word about the value of voting.
Seames said that even this year, with no big national or state elections, students turned out in large numbers. "We had students going to the polls all day long," she said. "There's a broader awareness about the importance of being engaged every year and paying attention to what is happening in local and state government, as well as what is happening nationally."
Whether someone voted or not is part of the public record even while ballots themselves are private. Tufts' Institute for Democracy & Higher Education analyzes student voting data and provides the aggregate results to colleges; Bowdoin is not provided individual student voting records.