Celebrating Fifty Years of Women at Bowdoin
Published by Bowdoin News
In the fall of 1971, Bowdoin matriculated its first class of female students. To honor the anniversary, Bowdoin held a two-day program that brought alumnae together to share stories and reflect. The event was an opportunity not just to look back, but to also look forward.
Leaders in All Walks of Life: 50 Years of Women at Bowdoin, on September 24–25, was the outcome of one hundred alumnae working together over the past months. (Originally planned to be in person on campus, the event was moved online to protect participants from COVID-19 due to the spread of the new variant.)
"When we started planning this over a year and a half ago, the way we wanted to approach the weekend was have it entirely alumnae designed," Sarah Cameron, senior associate director of alumni relations, said. "This wasn't just the College's idea of a way to mark the milestone, but totally the vision and the voice of the alumnae, the people we are celebrating."
This group was led by a committee of, according to Cameron, "absolutely incredible, absolutely wonderful, tireless" co-chairs: Callie Boardman Curtis '72, Cheryl Coffin '75, Linda Nelson '83, Alexa Fitzpatrick '94, Jenny Wong Adu '07, Zully Bosques Hatch '11, and Praise Hall '20. 
The online program consisted of four main events, all quite different. "The diverse format they've come up with is so reflective of this group of alumnae," Cameron said. The four sessions included a keynote address with Vanessa L. Vidal Castellanos '08 and Dora Anne Mills '82; a performance-driven event by women of color; an interactive discussion inviting audience participation; and finally, a panel with six women on the theme of mastering adaptability.
In the end, the program reflected a desire by alumnae not just "to come together to remember and reminiscence in a way that a traditional reunion might be," Cameron said. "We have to use the history to build and look forward; this event is really about the present and the future."
---
Keynote "Speaking for El Bien Común," with Vanessa L. Vidal Castellanos '08 and Dora Anne Mills '82, P'24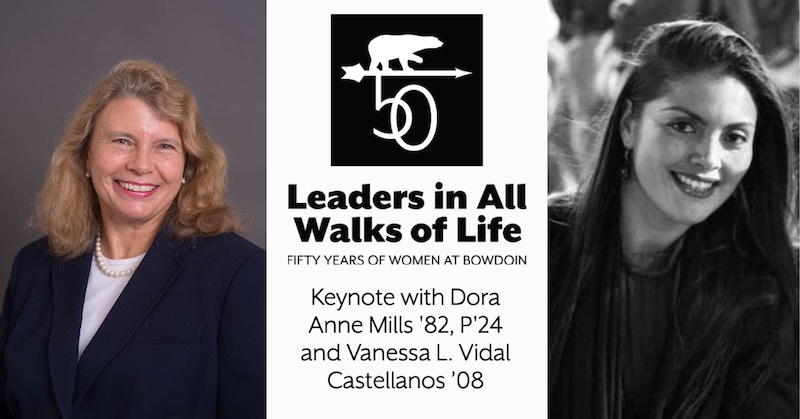 Moderated by Praise Hall '20, the keynote conversation between two graduates twenty-six years apart focused on exploring how a Bowdoin education had impacted their lives and careers. 
"The title of the talk reflects the dual impact of the common good at Bowdoin and beyond as we hear from Vanessa and Dora about their lived experiences as they have pursued the common good," Hall said.
A physician, Mills is currently chief health improvement officer for MaineHealth, Maine's largest health system. Previously she was Maine's CDC director for fifteen years. Castellanos is a foreign service officer with the US Department of State. At the moment, she's the communications advisor to the US Special Envoy for Yemen, and in the past she's been posted to Saudi Arabia, Zambia, Switzerland, and Tunisia.
In the hour-long conversation, Mills described being one of the first classes of women at Bowdoin, and how she believes this shaped her trajectory. "When I look back at our generation of women in the late '70s and early '80s, we were hardy, we weren't afraid to swim against the tide and attend a mostly male school trying to become coed." Attending Bowdoin helped equip her with self-condifence, she added and, more importantly, with lifelong female friends. "Friendships with women helped me the most," she said.
Castellanos agreed. "Going through my Rolodex in my head, most of my Bowdoin friends are female. How have those friendships shaped me? They gave me strength." 
"Don't let yourself be defined by gender, race, or whatever category is out there. Define you by yourself, and chart your own path forward. "
—Vanessa L. Vidal Castellanos '08
Using Our Voices: The Bowdoin Experience of Women of Color
The virtual celebration kicked off Friday afternoon with a livestream of monologues featuring five decades of Bowdoin alumnae.
Centering the experiences of women of color, the event began with the first class of women admitted to Bowdoin. Tawana Cook Purnell '75 remembered feeling unprepared and voiceless as an African American woman, but she found her place among a group of theater students. Gwendolyn Stretch '75 spoke about how her connection to the Black community inspired her to provide health care to underserved communities. Broadening the ways we "use our voices," the event included performances by Golden Owens '15, who sang Beyoncé's "Freedom," and from singer-songwriter Coretta King '12, who performed an original song, "Power in the Shades." Krista Sahrbeck '98 also spoke about her anxieties about belonging at Bowdoin as a Korean adoptee and a recruited Division III athlete. Sahrbeck, now a dean of students, reflected, "I very much belonged," and said her time at Bowdoin "empowered me to seek my truth."
The multiplicity of these women's experiences also document the generational changes in the College. Shanique Brown '04 chronicled the growing pains of attending Bowdoin during the largest influx of students of color in history. She celebrated the strength and confidence she cultivated at Bowdoin, including "the worth of my voice, the strength of my voice, and the strength of my spirit."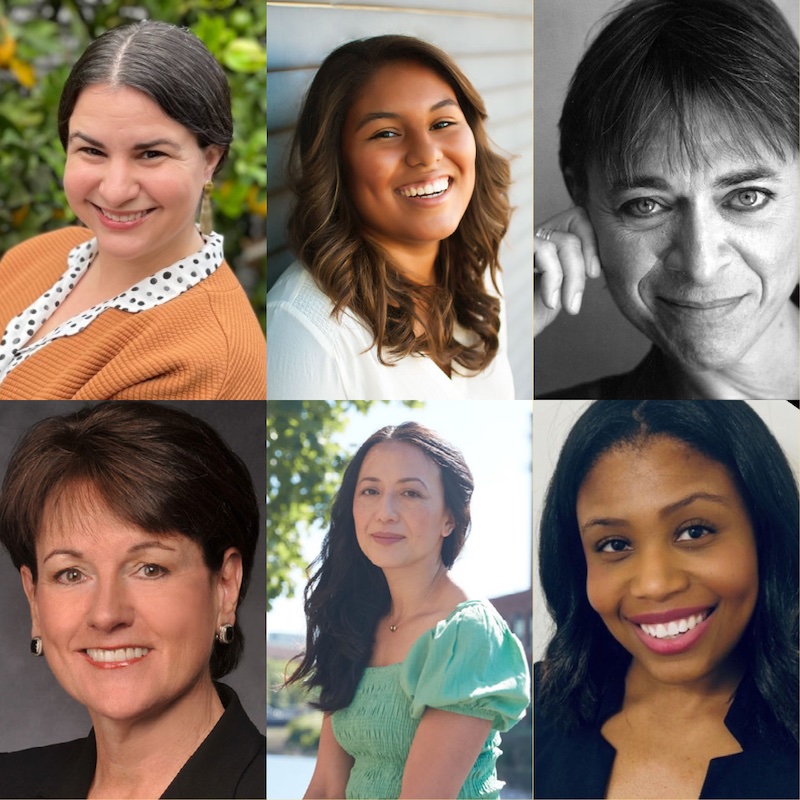 A Look Forward with Bowdoin Women Leaders: Mastering Adaptability
Harrison King McCann Professor of English Marilyn Reizbaum, who is also director of the Gender, Sexuality, and Women's Studies Program, moderated this panel event. "The aim is to take stock of the future, to examine the strategies for growth and achievement that make leaders," she said. 
In their discussion, the six panelists—Charlotte Carnevale Willner '06, Raquel Santizo '19, Laurie Hawkes '77, Mai Le Libman '00, and Emily Hubbard '07—spoke about how they have overcome obstacles, some of them self-induced, to become leaders in their fields. But many of the challenges stem, they said, from stubborn bias in workplaces.
Hubbard, who has worked as an employment litigator, said, "What is striking in the top attributes that are given to women—versus men, particularly white men—is that women are often noted as being good workers and being good at what they do—both of which are incredibly limiting, whereas men are described as having great leadership potential." Because of this tendency of managers, Hubbard urged women to be their own best advocates and to let their personal vision for self-success drive them.
The women also spoke about battling imposter syndrome—the feeling of not belonging despite being qualified—and some of the "accidental choices," as Wilner called them, that have steered the zigs and zags of careers.
"In the space of being a woman professional, you have to be selfish and you have to prioritize you, even if that means leaving a job that is not treating you well, valuing you, or setting up growth potential for you in the long term," Santizo said.
"My work as a scientist, mentor, and educator stems directly from my education at Bowdoin, where I majored in biochemistry and gender and women's studies. Through my courses and experiences, I developed and strengthened my voice and the critical thinking skills needed to make the sciences more inclusive."
—Camila Lopez-Anido '09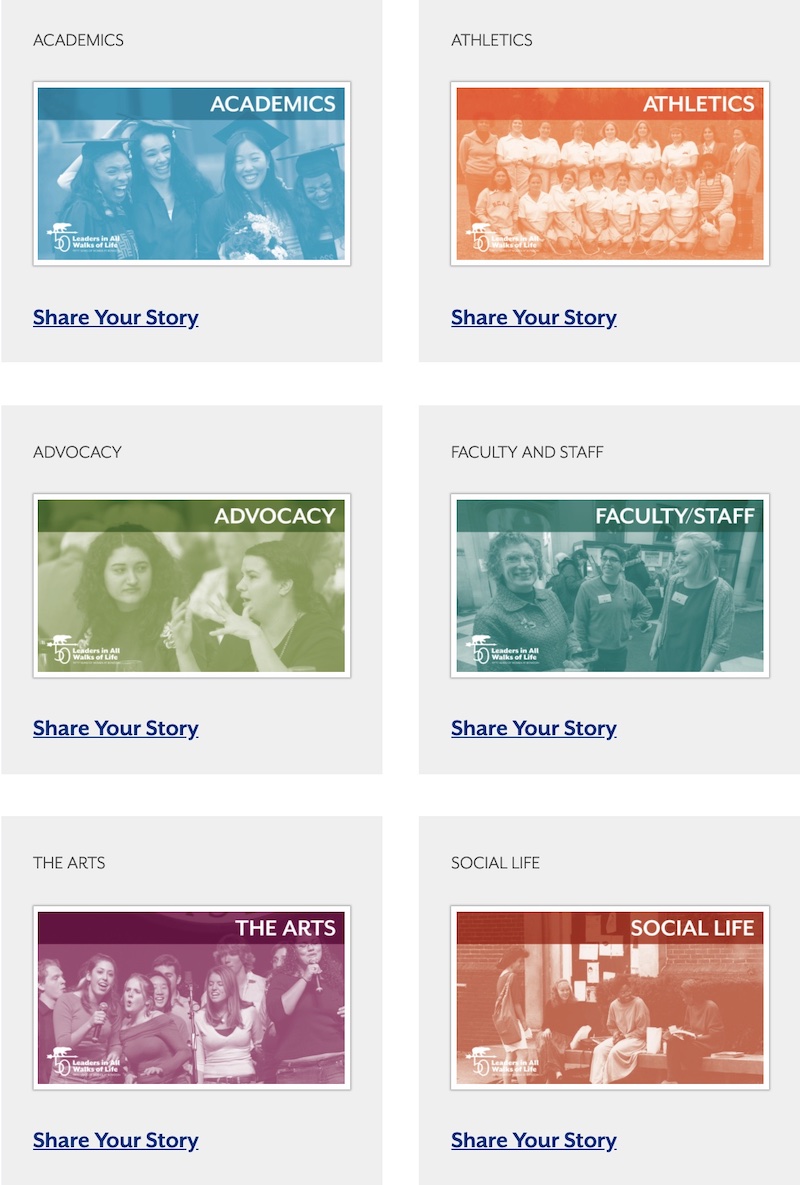 The Impact of Bowdoin Women on the College, and the College on Women

This unique Saturday morning program gave student, faculty, and alumni participants the opportunity to not only engage with the history of women at Bowdoin, but with one another as well. Guests were able to freely circulate between different online rooms set up to examine six spheres of Bowdoin life: academics, advocacy, the arts, athletics, faculty and staff, and social life.
Marilyn Reizbaum, Harrison King McKann Professor of English and Director of the Gender, Sexuality and Women's Studies Program, participated in the event. She said revisiting Bowdoin's recent past can be surprising, and educational, for today's students. "It's important for younger students who take certain things for granted, especially if they think of themselves in a post-feminist age," she said. "Despite the fact that the landscape appears so different, systemic gender inequity at Bowdoin wasn't that long ago."
Slideshow presentations in each breakout room featured timelines, news clips, photographs, and quotes that chronicle the experience of women at Bowdoin.
"Not all of the professors were on board with coeducation, so I did feel that I needed to represent women's perspectives, intelligence, and creativity in every class," said Callie Curtis '72 in the academics room. "This was hard, but it prepared me for professional life in the 1970s. It was well worth the effort—both for me personally and for coeducation on campus."
Reizbaum also said the event commemorated the female students, faculty, and staff who paved the way for future generations of Bowdoin women.
"One of the things that was great was to see people that I recognized," she said. "When the years go by and you have these different celebrations, sometimes you forget the people who were at the beginnings of things and who really made it all happen."
"I'd like it to be more innate for women to view themselves as able to lead for the variety of qualities and attributes they bring to the table...like empathy, intuition, and emotional intelligence."
—Emily Hubbard '07