Olympian Joan Benoit Samuelson '79 Reflects on Championship, Mental Health, and Balance
By Rebecca Goldfine
Thirty-seven years ago, on Aug. 5, 1984, Bowdoin trustee 
Joan Benoit Samuelson
 '79, P'12, won the first-ever women's Olympic marathon. With the Tokyo 2020 marathon days away, we caught up with her to reflect on a few matters running-, and non-running, related.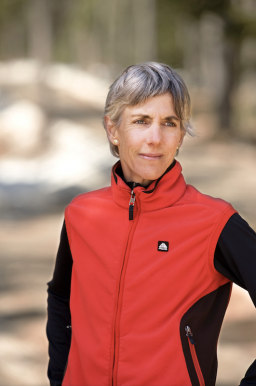 This year, Bowdoin has another Olympian, Emilie Grand'Pierre '23, who competed in the 100-meter breaststroke for Haiti. Samuelson said she reached out to Grand'Pierre after watching her win her heat and break the national record.
"I saw her race and sent her an email to congratulate her," Samuelson said. "I hope to be able to meet her when she returns in the fall."
The following is a lightly edited transcript of a recent conversation with Samuelson.
Rebecca Goldfine: As we celebrate the summer Olympics, thirty-seven years after your historic run, I am wondering what you make of the current slate of elite runners at this year's Olympics? Who's your favorite? 
Joan Benoit Samuelson: I think it is anybody's race to win, as opposed to a race to lose. And I think most of the female American marathoners were surprise qualifiers. So I think it'll be very exciting to see how they stack up with other women around the world who have earned a spot on their respective teams. I think anybody who makes it to the world stage, or the Olympic stage, is obviously a deserving athlete. I think that it takes a lot of hard work, dedication, passion, and desire.
And I have been listening to a lot of interviews with athletes who have struggled with mental health issues, and I am glad that is being brought up, because there is a great deal of pressure put on athletes. It is easier for athletes who aren't recognized as the one to beat. For me in LA., I was an underdog coming back after arthroscopic knee surgery. And all the pressure was on the late great Grete Waitz, so I felt very little pressure. People had counted me out because of the knee injury and Grete's prowess. I totally get what athletes are saying when they say the mental taxation can get too much.
RG: I'm glad you brought that up. People are still reeling from the decision of Simone Biles—and before her, tennis player Naomi Osaka—to drop out of competition. What do you think about the emergence of the issue of mental health in top-tier athletics?
JBS: Everybody looks up to Olympic athletes—young people do—and, while mental health is an issue in any age demographic, I think parents who in many cases push kids athletically need to realize that there are pressures associated with that. What kind of an effect can that have on a person's mental health? Some of the pressure comes from within, some comes from coaches, and some is parental. Like I say to people all the time, if you don't have the passion, you don't have fire, and if you don't have fire, you can't ignite anything. If the pressure comes from within it's a lot easier to deal with than if it comes from social media, or the expectations of coaches, parents, and teammates. 
RG: Should things change? Can they change? 
JBS: If you're good and you're the favorite, then people are going to pounce. Somebody at that level, and I hate to single her out, but Simone Biles—she's expected to win, yet she can fall. And people have to understand we're humans with emotions and feelings and not machines powered by technology. I think it is great that she reached out to thank people for support through social media, and I think it is great that she and Michael Phelps have both spoken out. Nobody knew he was struggling so much. I am hoping that things will improve, and the expectations and the pressure that the press builds for these athletes is knocked down a bit. 
RG: This year, the TD Beach to Beacon 10K (an annual race Samuelson founded in Maine in 1998 that attracts athletes from around the world, including top runners) is being held virtually. Runners anywhere can post their times for a 10-kilometer route between July 23 and August 8, the timeframe of the summer Olympic games. Do you expect to see races from around the world? 
JBS: It'll be very interesting to see all the different locations when participants post their times. We normally have a good global representation in the in-person event, but we may have a little bit greater representation because people can join in from far-away places who couldn't get to the starting line in person. We'll know on the closing day of the Olympics!
[On another note,] we made our agonizing decision to do a virtual event the morning of the day the governor of Maine lifted the mask mandate. We were wondering whether we had done the right thing, but now with the surging Delta variant, I think we did make the right decision. It was a hard decision, and I feel for the people who really wanted to run in person, but we have always taken runners' safety as a top priority. Because we didn't know how the virus would react and we didn't know what percentage of people would get vaccinated. There is very close contact in a race like that and a lot of waiting around. The decision was made, and I think it was the right decision this year. Hopefully we'll be in person next year and bigger and better than ever before.
Not knowing in life is the most difficult thing to deal with, and I am surprised more of the Olympic athletes haven't come forward saying they've been dealing with mental health issues, because they didn't know if they would be able to participate in the games, or if their coaches would be able to travel, or if their families would be coming—they've been pulled this way and that for so long.
RG: How is your own training going? What are your current athletic goals?
JBS: I had a partial knee replacement last February and I am just starting to run again. I worried about what would happen if I could never return to the level of running I enjoyed and maintained during the greater part of my life. I've turned my energy and my focus to a lot of other things. Having our first grandchild, Charlotte, in our midst this summer has been a real gift and has kept me running. I worried a lot about my mental health going into the surgery, that if it didn't work out as I hoped, what would happen. That is why balance in one's life is so important; sports cannot be all consuming. You have to balance the mind, body, and spirit. My upbringing, the community I grew up with, and a Bowdoin education taught me how to do that.
Almost fifty years after starting my career in high school the passion still burns.  
Published August 03, 2021