Published July 19, 2021 by Niña Ramores '24
Swimmer Emilie Grand'Pierre '23 Competes in Olympics for Team Haiti
On an afternoon in March 2021, Emilie Grand'Pierre '23 was walking back to her dorm room after swim practice when she received a phone call from her mom in Atlanta, Georgia. She answered, thinking it would just be a regular check-in.
But her mom had a big announcement: She told her daughter she would likely be competing at the Tokyo Olympics. The insertion of this incredible piece of news into her quiet Bowdoin routine was a bit startling.
"Oh my goodness. It was just so crazy to be walking back from swimming practice and hear this news," Grand'Pierre recalled.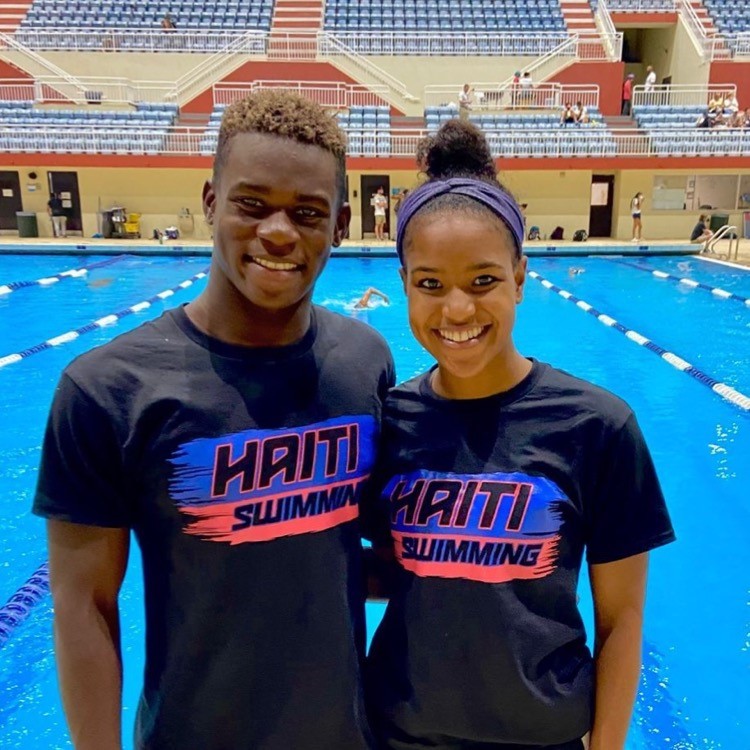 Grand'Pierre says it's still hard for her to register that she will be competing in Tokyo with other world-class athletes. To keep her grounded in the days leading up to her departure for Japan, she focused on accomplishing mundane tasks. "I was like, 'Okay there is a checklist of things for me to do, so I'm just going to focus on those things,'" she said. "I don't think it will sink in until I'm behind the blocks about to race."
How does it feel representing Haiti in the Tokyo Olympics? 
It's truly one of the biggest honors of my life. My parents are both immigrants from Haiti and because of all the unrest, we haven't been able to go back. But being able to wear my flag on my cap and show others that there is more to Haiti than the terrible news headlines that often surrounds it is one of the biggest joys of my life. My sister was the first one to swim for Haiti in our family. She went to the Rio Olympics back in 2016. 
Grand'Pierre made a huge splash at the Summer Olympic Games, winning her first-ever Olympic heat in the women's breaststroke 100m race. Unfortunately, her time was a few seconds shy of qualifying for the semifinals.
I just really want to be a role model for other Haitian girls. I have been given so many opportunities, I get to go to Bowdoin College, which is an amazing school, through my athletics. Swimming has given me so much and to just be on this platform and to show others that this sport has given me so much and so much purpose....it's such an honor that I pinch myself everyday. Right now, there are only two girls on the Haitian international team and seven boys so I just want to show other girls that they can do it and this is a pipeline to success and really a world of opportunity.
But more than just through her athletics, Grand'Pierre has proven to be a role model in and out of the pool. Brad Burnham, head coach for the Bowdoin men and women's swimming teams, described Grand'Pierre as someone who "fits so well with the Bowdoin mentality." He added, "Emilie embodies this idea that she is much more and her identity is not wrapped in athletics. She can have a rough day in the training pool and leaves it and gets back to her room to take on her academics and is able to go back the next day in the pool and try again."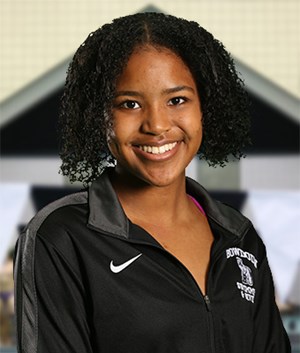 I had the opportunity to speak to your coach here at Bowdoin, Brad Burnham, about you as an athlete and a student. He mentioned how well-rounded you are as a person and how you are aware there is much more to you than just athletics. Would you say that's true? How did you grow into the mindset of separating athletics with other aspects of your life? 

I think that's definitely something I've grown into. In high school, swimming was the biggest part of my life, everyone knew I was a swimmer. That was my fun fact—everything about me was being a swimmer. But I just realized there's so much more to me than literally the two minutes or less I spend racing. I try to remind myself that there is so much more to me at Bowdoin and even beyond Bowdoin. There's so much more to me than the work I put in the pool, and honestly remembering that puts everything in perspective and makes it more fun. Remembering that there are parts of me beyond the pool also keeps me grounded.
What do you hope to gain from your experience in the Olympics?
This is an opportunity for me to be exposed to some elite swimmers and to be a part of that group. I'm just hoping to soak it all in. I'm hoping to make the A-cup for the Panamerican Championship. It's going to be crazy so I hope to let it sink in, and not put too much pressure on myself and enjoy the moment.  
Grand'Pierre wrapped up the interview by expressing her gratitude to the people who have supported her through her journey.
I just want to say a big thank you to the Haitian federation, my swim coaches Brad and Morgan at Bowdoin, my club coaches back home for training with me and Bowdoin college in general for helping me get through this past semester and setting me up for that.