Published July 23, 2021 by Tom Porter
Student Interns Work in Food and Agriculture
The Office of Career Exploration and Development (CXD) has secured funding for more than ninety students this summer, enabling them pursue internships or career-related projects of their choice by providing them with a generous stipend to live on.
These students are pursuing internships in a number of areas during the summer months, including law, politics, health care, social justice, ecology, and conservation. Several of them have undertaken internships in the field of food and sustainable agriculture. Here we profile four of them.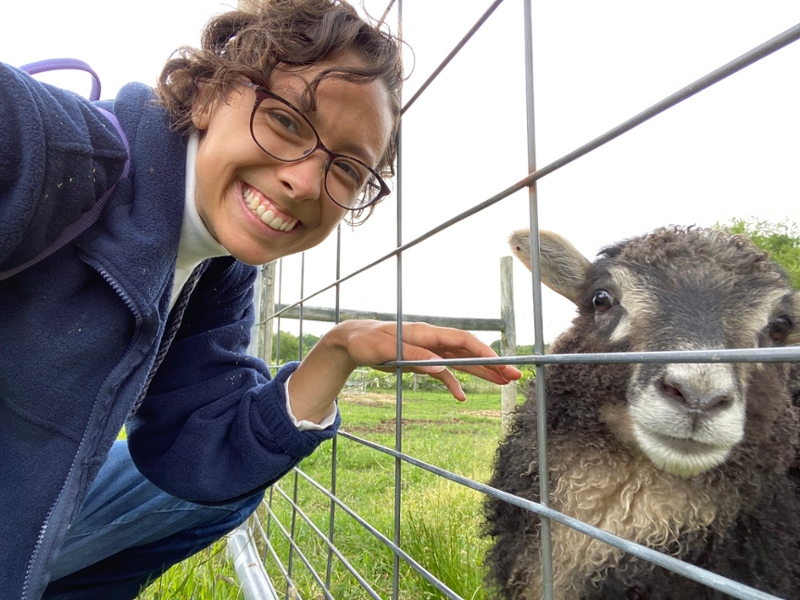 Victoria Gravel '24
Environmental Studies, Earth and Oceanographic Studies Major, Francophone Studies Minor.
Working with the Taunton Agricultural Commission, Taunton, MA.
"I'm helping to promote Taunton's farms, community gardens, and agriculture-related businesses by conducting farm site tours and producing articles, interviews, and fact sheets for the local community. I'm helping put together a comprehensive local guide to all food- and farm-related services in the city. The guide will include everything from farms to local food pantries and delivery services to community gardens, blurbs about various food security resources available to community members, and local agricultural history.
"Among other things, the pandemic highlighted the systemic injustice of food insecurity and the immense privileges I was (and continue to be) afforded as a Bowdoin student in regard to food access. The fact that a significant number of my own hometown community members struggled to access nourishing, sufficient meals for themselves and their families swiftly became unacceptable to me. My time on campus last fall allowed me to cultivate my ever-growing passion for environmentalism, earth science, and agriculture (among innumerable other subjects—the beauty of the liberal arts!). And how lucky I was to have the Bowdoin Organic Garden right in my backyard over at 52 Harpswell! The infectious passion, vast expanses of knowledge, and seemingly endless resources available to me at Bowdoin naturally dovetailed into this internship."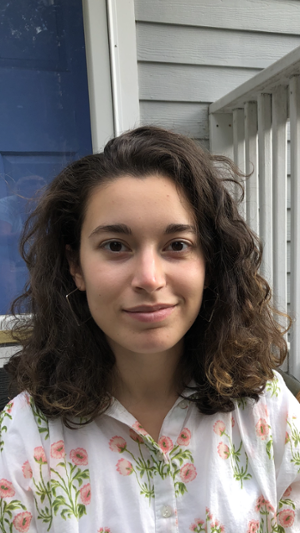 Olivia Groell '22
Mathematics Major, Visual Arts Minor.
Working with The Farmlink Project, which provides farm produce that would otherwise go to waste to food pantries across the nation.
"I first joined The Farmlink Project team back in June 2020 because I was immediately drawn to their mission to fight food insecurity and reduce food waste. The nonprofit is conscious of both social and environmental issues in the US and I was excited to join a team that was so driven to make a difference. This summer I am continuing to gain new understanding of the problem of food waste and the economic and agricultural systems that lead to such drastic inequity. I do so mainly through research.
"Since I began volunteering at Farmlink, I have been in charge of calculating our environmental impact. I use the EPA Waste Reduction Model (WARM) Excel tool to do so, calculating the pounds of carbon dioxide emissions we prevent by redirecting food from the landfill to feed Americans in need. This directly corresponds to my learning in courses at Bowdoin such as Statistics in the Sciences (MATH 1400) and Biomathematics (MATH 1808). Read more about Olivia Groell's work with The Farmlink Project.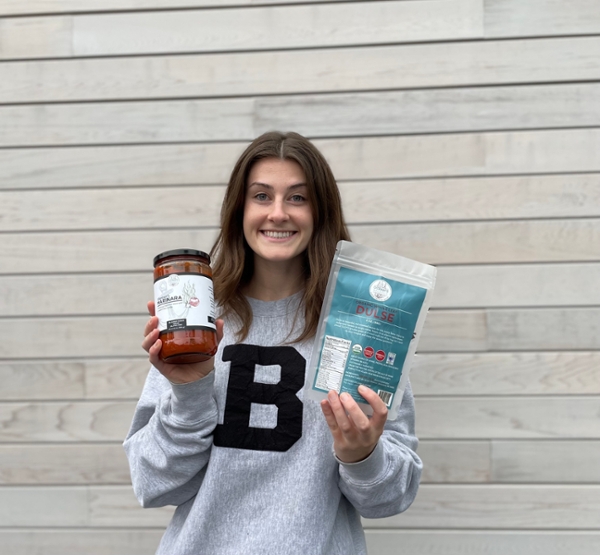 Meg Janes '22
Psychology Major.
Working at Ocean's Balance Inc., a Maine-based supplier of seaweed products.
"I'm the social media marketing intern at Ocean's Balance, meaning I get to create visually appealing, meaningful, educational, and entertaining posts related to the brand's product line and promoting the concept of seaweed aquaculture. I focus on content development for our Instagram feed and stories and take a deep dive into hashtags and engagement with hashtag followers. I also work on the website, take product photos, and measure the success of certain posts. 
"I had past internships where I ran social media accounts, and I wanted to build off those skills and grow from them in a more official internship setting. The idea of working at a start-up  appeals to me because I am being exposed to the entire company and gaining real hands-on experience. Also, I want to spend my summer on the East Coast and what better place to do that than Maine?"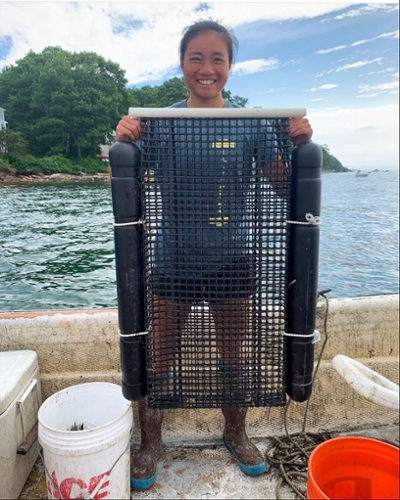 Jamie Lau '22
Biology, English Major
Working at Wolfe Neck Oyster Farm in Casco Bay
"Wolfe Neck is a small employee-owned aquaculture operation in Casco Bay, about ten miles south of the Bowdoin campus. The work that I'm doing here is measuring the growth rates of oysters as the farm transitions their growing methods from sunken cages to floating bags. The hope with the transition to floating bags is that the oysters will grow faster because they will not be affected by fouling organisms such as barnacles, which can hinder the growth of the oysters and make them harder to clean. Additionally, the water at the surface is warmer, which helps growth rates. I am also getting the opportunity to work at the upweller, which is like an incubator where they grow the smallest oysters (one millimeter) before bringing them out to the farm.
"Working with Wolfe Neck Oysters has given me the chance to learn more about sustainable aquaculture and see every part of the process, from the tiny oyster seed to harvesting, processing, and selling them to restaurants and customers all over the coast of Maine and beyond—all of which makes eating the final product so much more fulfilling and has allowed me to apply my biology major in a unique way.