Published June 17, 2021 by Bowdoin Magazine
Positive Influencer
Scott Fujimoto '00, a residency program director at Loma Linda University, has more than 13,500 followers on Instagram (@docfuji), where he mixes educational content and a little bit of fun. "I found that my followers really appreciate authenticity and vulnerability," he said. "It makes you more relatable, and that's what I want to be."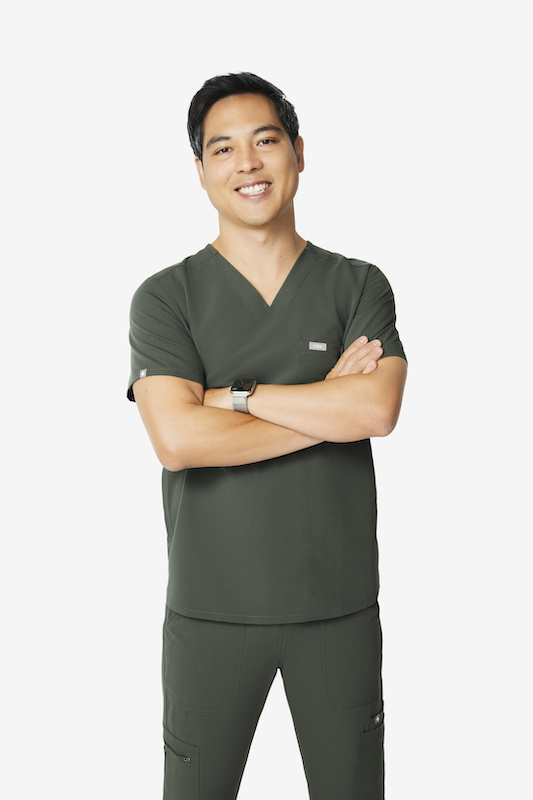 As your social media content supports the well-being of medical practitioners, how do you also address the burnout many people feel as users of social media itself?
Isolation often leads to burnout, and many health care professionals will tell you they started their social media presence in an effort to combat burnout in their professional lives—there is comfort in sharing stories and struggles with peers over social media. However, I often tell others to take a social media hiatus as a form of self-care. Disconnecting from our phones and the constant pressure of being "accessible" can be quite therapeutic. 
What are your goals/objectives for your Instagram posts? You've used your platform to address racism and to promote vaccination for COVID-19. How important are those sorts of messages to what you do?
My original goal was to use social media to educate the public—and, to a lesser extent, other health care professionals—about my often misunderstood specialty of interventional radiology. However, I saw early on that social media was a great way to connect with medical students and premed students, and it allowed me to expand my mentorship platform well beyond the proverbial walls of my own institution. 
During this pandemic, there has been so much conflicting information being spread. It became clear to me early on that I should share vetted and accurate information regarding COVID-19 and the COVID-19 vaccines. Racial inequality is a public health concern as well; however, everyone should be vocal against racism, not just those with a certain number of followers or degrees in medicine or sociology. 
What did mentorship mean to you when you were an undergrad/med student? What makes for a good, meaningful mentor?
I had great mentors at Bowdoin, namely men's swimming coach and legend Charlie Butt. A great mentor does not just teach you the material or coach x's and o's; they invest themselves in their students. They take personal interest in their lives, walk alongside them on their journey, and celebrate their students' successes as their own. Charlie had that mindset, and that's the kind of mentor I strive to be.
Has your recent social media fame changed your perspective on how influencers can use their influence for good?
It's funny because I never thought of myself as an advocate. But I've realized with everything going on in the world that I've been given this platform, so I might as well use it to make a difference. Whether that comes in the form of combating vaccine misinformation or raising awareness of anti-Asian racism, I want to be a positive influence, especially when it revolves around issues that I am particularly passionate about.
Do you see any common mistakes in social media content production with respect to catching and keeping users' attention?
It's a misconception that people want to see perfectly curated lives and photos. I found that my followers really appreciated authenticity and vulnerability. It makes you more relatable, and that's what I want to be. I want to catch students' attention and show them that their dreams are achievable with a plan and a solid work ethic. Afterward, I try to keep my followers engaged by having educational content mixed with a little bit of fun—giveaways, quizzes, and contests.
Social media can be a slippery slope—a source of good and evil. In your opinion, how might social media positively evolve in the interest of weeding out some of that evil?
That's so, so true. Social media can be detrimental by having negative effects on self-esteem and, in all honesty, it can be a huge time waster. I'm not sure how social media will evolve to change that—the large companies that own these platforms are designed to get users to spend as much time as possible on their sites. 
My advice is to have awareness of the evils of social media and have a low threshold for unfollowing or blocking. It's your space, and nobody has a right to it except you. 
What is the most satisfying aspect of your work?
I am lucky to have great job satisfaction, with the best parts of my day being when I can share good news with my patients or their families, whether it be after stopping life-threatening bleeding or treating cancer. I love working with my team to make these miracles happen, because patient care is a true team effort and we all deserve the credit when things go well.
Among your many accomplishments, what are you most proud of?
I would say that I am most proud of the fact that I have succeeded as an osteopathic physician (DO) in a specialty dominated by MDs, and that I am in a position as a program director to increase diversity and inclusivity in my field.  
What pursuits do you enjoy in your spare time?
I was on the water polo and swim teams at Bowdoin, and I have tried to maintain my fitness since those days. Because of the pandemic, gyms and pools were closed, so I purchased a Peloton and it's been the best thing ever for my health. 
Is there anything else you'd like to share?
I would just like to tell all the students out there that they should realize that life doesn't stop just because you have an exam, or because you have long hours in residency. Work hard, but every now and then look around. Cherish and live in the moment.
---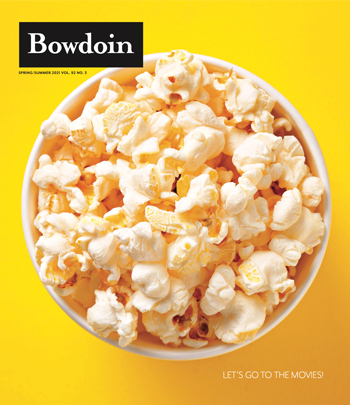 This story first appeared in the Spring/Summer 2021 issue of Bowdoin Magazine. Manage your subscription and see other stories from the magazine on the Bowdoin Magazine website.