Published June 17, 2021 by Bowdoin Magazine
Called to the Wild
Early in their careers, national park rangers like Kai Wise '18 work short stints and move park to park. "It's a great way to meet friends and see new parks, but it's hard to pack up your life into a car every six months," he said. Kai was most recently stationed at Grand Canyon National Park, and in May, shortly after this interview, he moved to Virginia to begin working at Shenandoah National Park.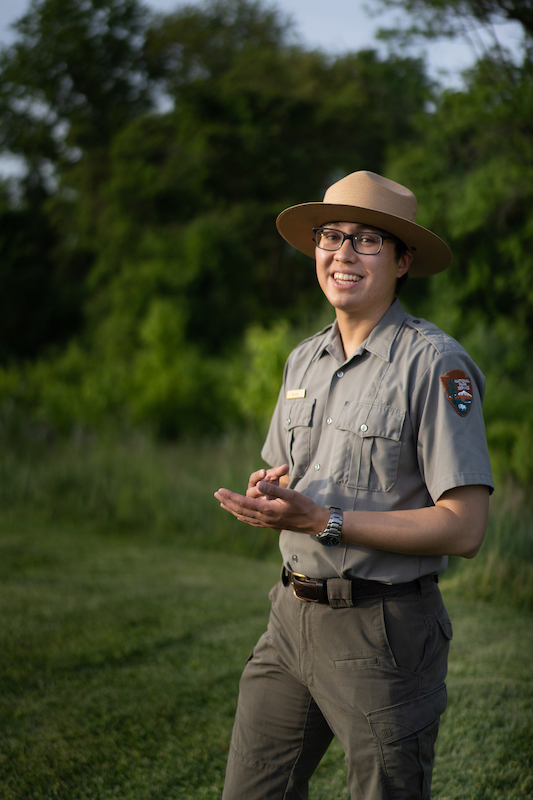 Explain what a preventive search and rescue park ranger does. What set you on this path?
As a preventive search and rescue (PSAR) ranger, my main role is to educate visitors about safe hiking practices at Grand Canyon and respond to any emergencies that might occur. The canyon's beautiful desert landscape can also be dangerously hot in the summer. Heat illness is the most common contributing factor to hikers needing rescue. Grand Canyon has the highest number of search and rescues of any national park in the US, with 328 major rescues in 2019 and another 722 hikers requiring assistance. PSAR's goal is to reduce the need for rescues by talking with visitors and helping them find a hike that will be safe and enjoyable based on their abilities and equipment. 
I started down this path while going to high school in Portland, Oregon, where I was a member of a county search and rescue team. I've always enjoyed helping people, and search and rescue has been a natural extension of that. 
Has any of your academic work and/or extracurricular activities while at Bowdoin informed what you're doing now? How and why?
Being a ranger has been a natural fit for my environmental studies and history coordinate major, and my time at Bowdoin prepared me well for my work with the National Park System (NPS). My environmental studies courses have given me a solid interdisciplinary background in its history and rationale, and also an understanding of the challenges surrounding national parks. With my Bowdoin education, I feel like I can talk to a visitor about the historic architecture of the park lodges, explain the canyon's rock formations and habitats to a passing hiker, discuss how the Grand Canyon is still home to native people such as the Havasupai, and create detailed maps for updating park signs or for tracking rescue missions. 
Bowdoin's support also helped me obtain my first internship in my field. In summer 2015, the Delta Sigma Arts Fellowship funded an internship with the US Forest Service. I was able to conduct research on historic preservation and give tours on the architecture and history of Timberline Lodge, a 1930s rustic lodge on Mt. Hood built by the Works Progress Administration as part of the New Deal. Interning with the Forest Service gave me exposure to how a federal land management agency operates and provided the experience giving information and assistance to the public in a park setting that helped me land my first position with the NPS as a backcountry ranger in Alaska. 
What sort of skillsets did you need to have to be hired?
Being a PSAR ranger requires a broad background in backcountry travel and emergency response. Most PSAR rangers have prior NPS experience—my colleagues came from jobs at Yosemite, Yellowstone, Zion, Arches, and Canyonlands. I would say that the most important skills to have are being comfortable traveling in the backcountry alone, with limited resources, and the ability to remain calm and make good decisions under stress. PSAR rangers are also required to be EMTs, and experience treating patients in a wilderness setting is very desirable.  
What does the on-the-job training process look like or entail? What sorts of things are you required to learn?
When I arrived at Grand Canyon in April 2020, the park was closed to the public due to COVID. That left a lot of time for training, and it was surreal to train on empty trails and overlooks that normally see thousands of visitors a day. 
A lot of my training was focused on emergency medicine, especially on treating the heat-related illnesses that make up the majority of our search and rescue cases. I also spent time learning how to drive the park ambulance. The South Rim of Grand Canyon is a community with around 2,000 residents, and I had to know how to navigate to any street in the park.  
One of my most intensive areas of training was in technical rope rescue. We spent four days learning how to tie knots, set up anchors, and raise or lower rescuers and patients hundreds of feet into the canyon. The training culminated in a simulated night rescue for a fall at a popular viewpoint. 
One of the highlights of my training was the four days the PSAR team spent hiking from the North Rim of the park back to the South Rim. Along the way, we familiarized ourselves with the landmarks, rescue caches, and ranger stations in the canyon, and ran through scenarios for potential emergencies, all while bonding as a team. 
What does a typical day look like?
Every day as a ranger is different. A day could start at 5:30 in the morning with a medical call for someone having difficulty breathing in the campground, or end at midnight with a litter carry for a runner with a broken ankle. 
The majority of my time is spent in the field hiking and contacting visitors. I'll usually hike on one of two of Grand Canyon's most popular trails—The Bright Angel and South Kaibab trails. On a busy day, I'll see over 400 hikers on a four-hour patrol. 
I also help staff the ambulance at least one day a week. On those days, I'll clean and inventory the ambulance, check equipment, and work with a paramedic to respond to medical calls. Of course, emergencies don't always happen during the day—rangers take turns signing up for night callouts, where we'll keep our radios with us at home while we sleep. 
Each PSAR ranger also has a part of the program that's their special project. My area was statistics and mapping. By tracking the location and patient history of each of our rescues and hiker assists, the PSAR program can know the places and times that lead to the most hikers needing help, and have rangers patrol those areas more frequently. 
What is your favorite aspect about your job now?
Being able to live and work in a national park is an incredible privilege. Being able to have the trails of Grand Canyon in your backyard is a different experience than just visiting for a few days, and I really felt like I was in the heart of the park. I'd often look outside my door and see elk herds passing through, or be able to go outside and see the stars visible because of Grand Canyon's dark skies. 
A highlight of my time at Grand Canyon was getting to reconnect with a Bowdoin friend, Tessa Peterson '19, as she and her family rafted down the Colorado River! I was able to spend a few days stationed down at the ranger station along the river, Phantom Ranch, and greet them with popsicles.  
One of the challenges of being a ranger is that for the first few years of your career, you're typically a seasonal ranger, working six months at a time and moving from park to park. It's a great way to meet lots of friends and see new parks, but it's hard to pack up your life into a car every six months. The winter off-season provides lots of time for travel and learning new skills, though. This past winter, I attended NPS training in visitor and resource protection, learning how to enforce laws and investigate crimes that occur in national parks. In May, I moved to Virginia to start work at Shenandoah National Park.  
Can you describe a rescue that you've been involved in that was particularly harrowing or memorable and your role in it?
A small, single-engine plane crashed on the main entrance road to the park this summer, and I was the EMT on duty that day. We initially thought there might have been multiple people in the plane—a situation we train for called a multiple casualty incident. As we sped down the road with our lights and siren on, other rescuers were heading to the station to staff the park's two other ambulances if needed. The plane had flipped upside down after hitting a streetlight while attempting an emergency landing. Thankfully, the only occupant of the plane was the pilot, who managed to crawl out before we arrived on scene. We called in a helicopter to meet us at the nearby airport, which took our patient to the hospital in Flagstaff, about eighty miles away. 
What do you miss about the Maine woods in comparison to where you're currently stationed? 
When it's 115 degrees at the bottom of the canyon, the forests and coast of Maine sound really appealing! I think of Maine fondly and often. There's a scale and vastness to Grand Canyon that makes me pause every time I see it, but there are times I miss the intimacy of the coves and farmland around Brunswick. It's a goal of mine to make it back to Maine someday, possibly as a ranger at Acadia National Park. 
In looking forward to the summer, what would you encourage our readers to think about as they prepare to visit and explore our national parks?
National parks belong to all of us, and we have a mutual responsibility to take care of them for future generations. I want everyone to be able to visit a park, learn from and be inspired by what they see there, and leave feeling some of that sense of responsibility. 
I'd also encourage everyone to look beyond the big-name parks like Grand Canyon, Yosemite, or Yellowstone. There are sixty-three national parks in the country, but over 400 sites managed by the National Park Service. I believe there's a park out there, large or small, that speaks in its special way to each person reading this. 
---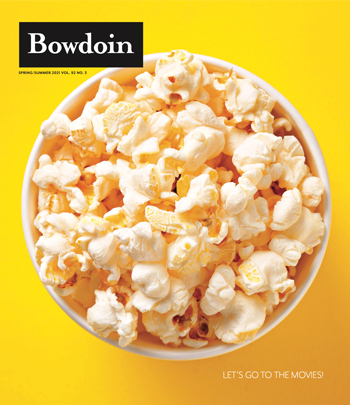 This story first appeared in the Spring/Summer 2021 issue of Bowdoin Magazine. Manage your subscription and see other stories from the magazine on the Bowdoin Magazine website.