Honors Day 2021: Inching Back to Normality
By Tom Porter. Photography by Michele Stapleton
Bowdoin College celebrated its twenty-fifth Honors Day at a ceremony on May 14, 2021. This year's event took place in front a limited number of people on Whittier Field, due to restrictions imposed by the COVID-19 pandemic. Nevertheless, this was the first in-person event on campus since the pandemic struck early last year. The ceremony was also streamed live for those unable to attend.
In addition to recognizing the academic accomplishments of Bowdoin students, the winner of the 2021 Karofsky Prize was announced. The Karofsky Prize is awarded annually at Bowdoin to an outstanding junior faculty member who demonstrates a great ability to impart knowledge, inspire enthusiasm, and stimulate intellectual curiosity. This year's Karofsky Prize was presented to Marvin H. Green Jr. Assistant Professor of Government Chryl Laird by Dean for Academic Affairs Jennifer Scanlon.
Typically, the previous year's recipient of the Sydney B. Karofsky Prize gives a talk at Honors Day. This year, however, we heard from the previous two years' winners because no actual ceremony was held last year due to the COVID-19 pandemic.
First to speak was Assistant Professor of Romance Languages and Literatures Meryem Belkaïd, recipient of the 2019 Karofsky Prize. Belkaïd, who earned her PhD at the New Sorbonne University in Paris, came to Bowdoin in 2015. She teaches courses in French and North African literature, cinema studies, and history. With a background in both political science and literature, Belkaïd focuses her current research on North African culture and history, showing how the tremendous political and social upheaval in that region over the past decade is reflected in the works of North African writers, film directors, and artists.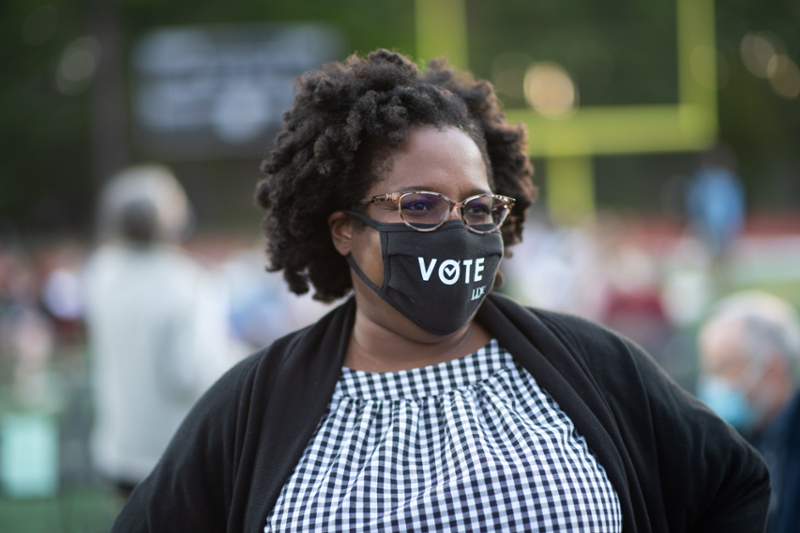 Her talk was titled "Voice Lessons," in which she talked of the importance of looking after her physical voice as a teacher—advice initially given to her by her parents, who were also both teachers. "This past year and half, I fondly remembered this advice, when I heard myself several times literally screaming during my Zoom classes; as if my voice could travel more efficiently through the screen," said Belkaïd. Beyond the purely physical aspects of preserving one's voice, she also addressed the political importance of making one's voice heard, particularly when confronted with fear.
Belkaïd told the audience how she left her native Algeria in fear aged eighteen, "when a civil war started between Islamist groups and the Algerian military regime. I had the luxury to choose exile; I spent many years in France trying to cope with sadness, anger, and the guilt of abandoning my country to an authoritarian regime and a violent Islamist opposition."
In time, Belkaïd said she realized the best way to overcome the fear was to speak out: "by peacefully protesting, going to political gatherings, by writing and publishing essays and opinions, by blogging and more recently by podcasting."
She also described how her role as an educator in the US has given her the opportunity to give voice to "authors who are not always considered canonical: Algerian, Tunisian, and Moroccan writers and filmmakers whose names were unknown to many of my students, whose names can seem hard to pronounce and even harder to remember," said Belkaïd. "It's not always an easy task for Mohammed Dib, Assia Djebar, Malek Haddad, and Maïssa Bey to have to compete with names like Victor Hugo, Albert Camus, and Simone de Beauvoir."
Belkaïd described how her position affords her the opportunity to keep alive her Algerian voice and to remain useful to her country and her region. "I am constantly humbled and empowered by activists, journalists, intellectuals, who still live in North Africa and risk everything to fight for democracy and freedom." She shared the names of a number of individuals in North Africa who are being persecuted due to their efforts to fight for democracy and freedom. Belkaïd concluded her address with the following exhortation to students: "So please, keep up the fight, speak up and take care of your voice."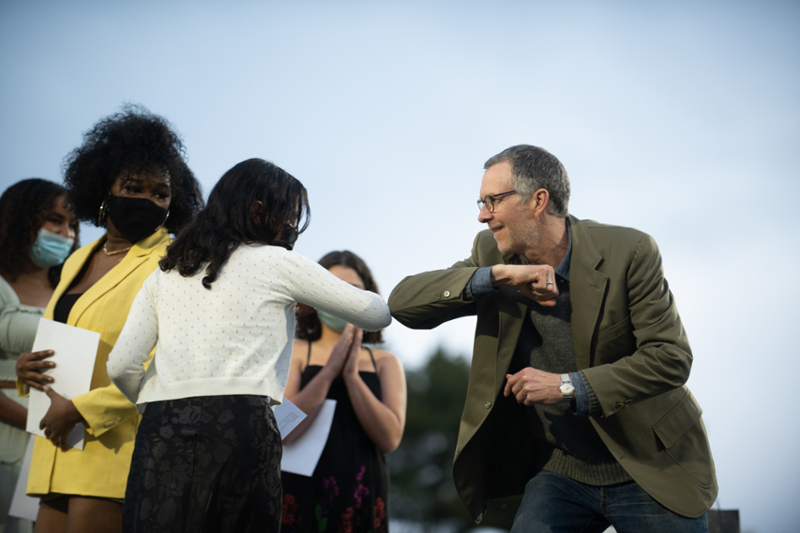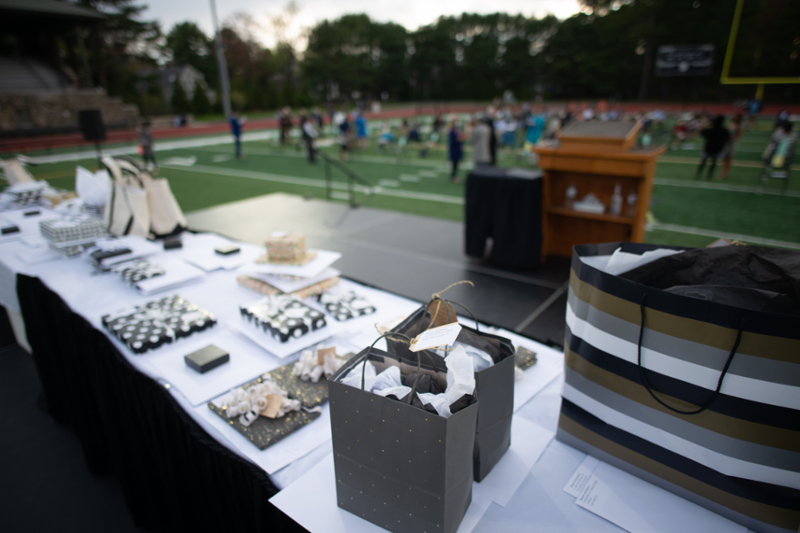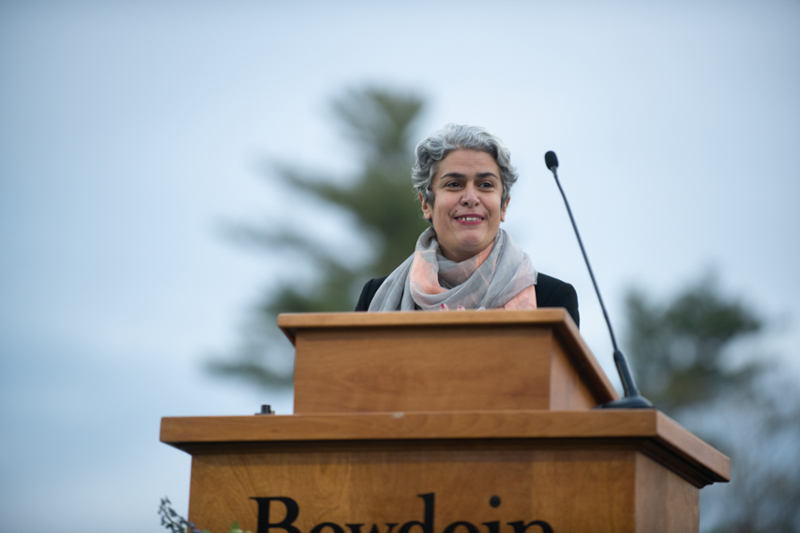 The recipient of the 2020 Karofsky Prize is Assistant Professor of Sociology Theo Greene, whose lecture was called "Knowing Your Place (and Owning It!)." Greene, who earned his PhD at Northwestern University, also came to Bowdoin in 2015. His teaching and research interests lie at the intersections of gender, sexuality, urbanism, and culture. Greene's current book project, titled Not in MY Gayborhood: Gay Neighborhoods and the Rise of the Vicarious Citizen, explores the persistence of iconic gay neighborhoods in Washington, DC, through ephemeral acts of placemaking by nonresidential community actors, or vicarious citizens.
Greene's talk began with a childhood recollection of how his grandmother used to remind him to know his place when, as a curious and outspoken little boy, he would insert his opinions into adult conversations. "Children were meant to be seen and not heard," she would tell him. This attitude that certain people should "know their place" caused Greene to reflect on what his grandmother would have gone through growing up Black in the South during the era of Jim Crow and the Great Depression. "To her, knowing your place meant the difference between life and death," he said.  
Sadly, Greene continued, this is a fear many Black families still live with today, and he went on to list the names of some of the Black people who have died at the hands of the police in recent years. "Too many parents must warn their children to know their place when they are confronted by the police, or someone who tells them that they can't sit in a Starbucks, swim in a pool, barbecue in a public park, or even go birdwatching because they don't fit someone else's perceptions of who belongs there."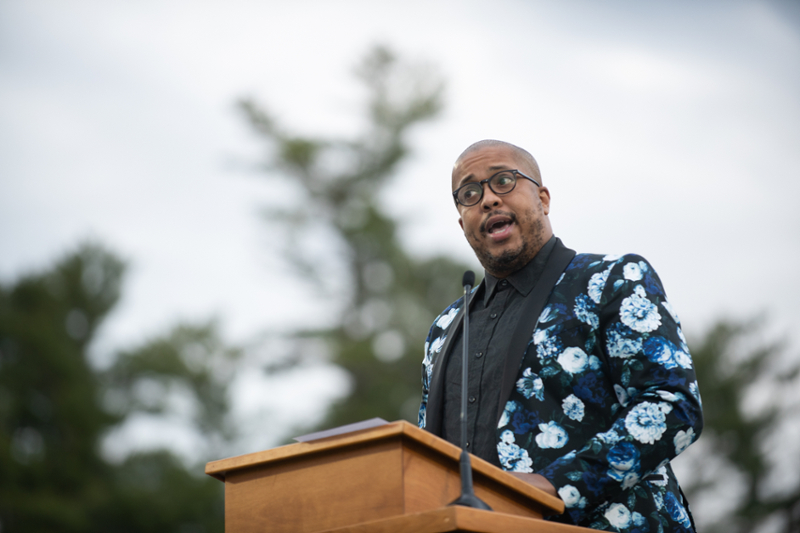 From there, Greene decided to think again about the phrase "know your place" and view it in a more positive light. Those words, he told the listening students, are a "call to each of you to recognize what you're doing right here, right now. The moment you stepped foot on this campus in your first year, you transformed it. What is Bowdoin without the people who live out the routines of their everyday lives here?" Knowing your place (or your  space), said Greene, can be a liberating experience, rather than an oppressive one. "It is acknowledging that you have a vision that can be shared with others. When a same-sex couple walks through the Quad holding hands, a person of color stands in front of a classroom, or a group of students share a conversation in Smith Union in their native tongue, you highlight the potential of what this space can be."
Greene concluded his talk by reminding students that, no matter their background, "you are Bowdoin. Bowdoin belongs to you—not as a collection of buildings and spaces, but rather as the places you create out of them. And because of that, this place is all the better for it."   
Following the Karofsky addresses and the presentation of the 2021 award, departmental prizes were then presented. They were handed to students by academic department and program chairs, after which President Clayton Rose offered a few closing remarks. He thanked the Karofsky Prize winners and paid tribute to faculty colleagues as they honored their students, including some they were only meeting in person for the first time due to the remote teaching demands imposed by the pandemic. "I'm not sure I've been filled with this much joy in a really long time," said Rose, who addressed his final words to the students themselves: "To listen to our faculty describe your amazing accomplishments in what is a historically difficult year, I cannot congratulate you enough."