Bowdoin Honors Four Exceptional Students
Published by Rebecca Goldfine
Each year, a handful of students are celebrated for their achievements outside of the classroom. (Academic accomplishments are recognized at the annual Honors Day ceremony.)
Inaugurated in 1997 by Bowdoin President Robert H. Edwards, the President's Award recognizes a student's exceptional personal achievements and uncommon contributions to the College. The student's actions demonstrate particular courage, imagination, and generosity of spirit; and they benefit the atmosphere, program, or general effectiveness of the College.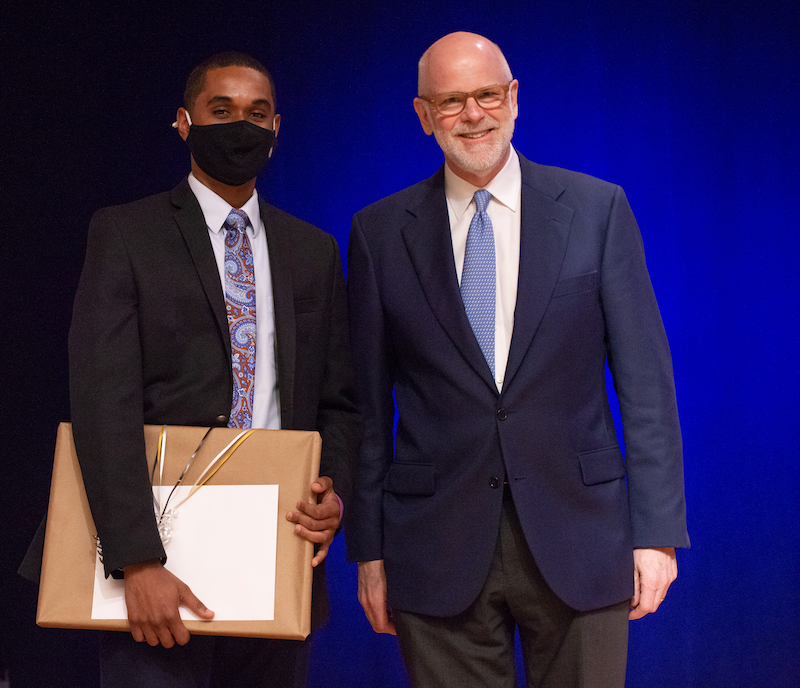 From Morristown, New Jersey, Kendall Rogers is a religion major and a government and legal studies minor and was for three years a leading men's lacrosse player.
Rogers is known to his religion professors as an intellectually sophisticated student who is able, without putting himself at the center of a conversation, to bring personal experiences and insights to bear in his analysis, and to "see things that others don't."
His list of accomplishments outside the classroom is long, beginning with his efforts to build diversity and to promote equity and inclusion among Bowdoin's athletes and as Bowdoin's representative to the NESCAC Coalition of Student Athletes of Color.
As president of the Athletes of Color Coalition, Rogers fostered genuine community engagement at a time when that could not be more critical on this campus and in our country, and the connections he helped to create between our men's lacrosse team and Harlem Lacrosse will have lasting benefits.
Through events he planned and led in response to the murder of George Floyd and violence against Asians and Pacific Islanders, Rogers has connected people and built bridges in the work to build diversity, equity, and inclusion at Bowdoin.
He has been called "a leader among leaders" in the way he represents Bowdoin on campus and in his service to NESCAC, and he has made a lasting impact on our athletes and our college.
Furnished by the Bowdoin chapter of Alpha Delta Phi Society, this cup is awarded to a non-senior whose vision, humanity, and courage most contribute to making Bowdoin a better college.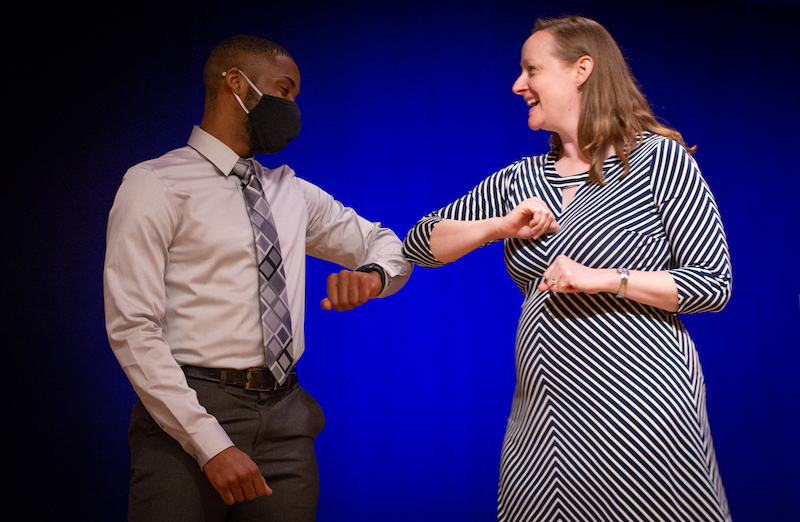 Love Avril is pursuing a biochemistry major with a minor in sociology. The disproportionate impact of COVID-19 on disadvantaged populations drove him to co-found Bowdoin Underrepresented in Medical Professions, also known as BUMP, a student organization that strives to foster a community of pre-health students who identify as BIPOC, low-income, or first-generation, with the goal of diversifying healthcare.
In addition to providing workshops, advising, and academic and professional resources and opportunities, one of the key areas of focus for BUMP in the past months has been helping to connect club members with the opportunity to volunteer at Mid Coast Hospital's vaccination clinic and coordinating their shift times, transportation, t-shirts, and other logistics.
Avril has served as a THRIVE peer mentor, the head Bowdoin Science Experience mentor and orientation trip leader, a Bowdoin Advising in Support of Excellence mentor, and a tutor for local elementary school students through the organization, America Reads and Counts.
A peer nominator wrote: "Love is able to continually foster community and help mitigate students' obstacles in transitioning to STEM studies at Bowdoin…he utilizes his knowledge and experiences to affect intentional change at Bowdoin for the better. Ultimately, he seeks to increase equity and inclusion for all students, and his activities and accomplishments are testament to his dedication." He went on to share the sentiments of one of Avril's BUMP cofounders: "she appreciates his mission to help students overcome and hopefully avoid the challenges he's faced during college."
After Bowdoin, Avril hopes to attend graduate school and earn a master's degree in public health. His goal is to address the social and political conditions that create health disparities and to use public health as a tool to create healthy and loving communities.
The Michael F. Micciche III Award is given annually to that individual who embodies the entire Bowdoin experience; who engages the College community, achieves academic excellence, and earns the respect of his or her peers and professors. This individual must plan on broadening his or her education following graduation, either through enrollment at a graduate school or through a structured travel or volunteer program.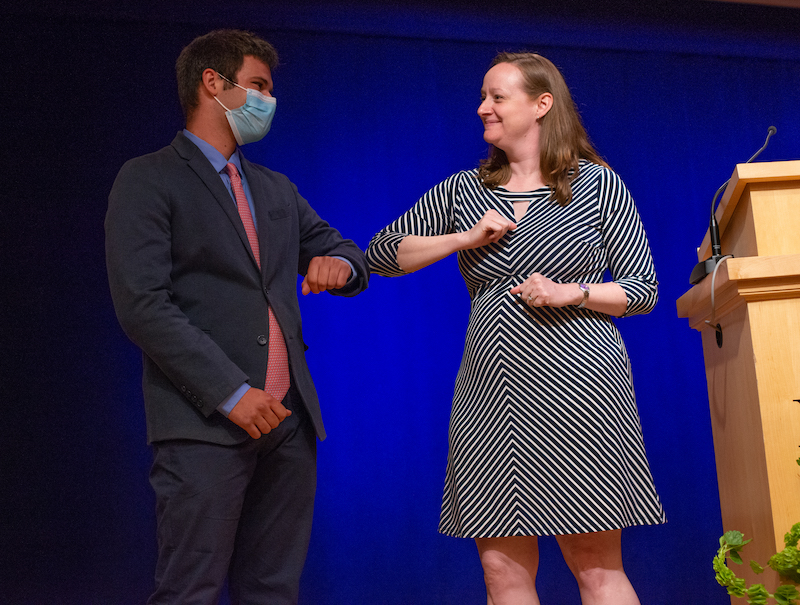 Ryan Telingator is a government and legal studies and education coordinate major. He has been a significant force of good and change at Bowdoin and in the Brunswick community throughout his four years.
In Brunswick, Telingator led the Creating Compassionate Leadership in Maine Boys mentoring program at Bath Middle School for several years and helped shape the curriculum to include important social-emotional learning for boys. Additionally, he is a mentor for Big Brothers Big Sisters of Bath Brunswick.
On campus, Telingator is a head facilitator for Real Talks on Race and helped to develop the curriculum for Exploring Racial Justice: An Intragroup Dialogue for White-Identified Students through the Office of Diversity and Inclusion.
Additionally, he is a McKeen Center Fellow and serves as a coleader this year for the McKeen Center Common Good Grant program. For this year's program, Telingator has worked especially hard to teach participants about organizations in Maine doing racial justice work.
He connects on a personal level easily with peers and children and is dedicated to educational reform that includes social emotional learning.
A peer nominator wrote: "Clearly, Ryan is a natural leader, but he doesn't let it overwhelm you. There are people who lead by sheer volume and presence, and while Telingator has a commanding presence, he is not off-putting or intimidating.
"In the Dialogues I have participated in as well as the ones I have facilitated with him, I am always astonished at the way thatTelingator can quietly sit and listen to the conversations and then casually ask a question that gets the conversation going again, and usually more deeply than it had been before."
And, Eduardo Pazos, assistant dean of student affairs for inclusion and diversity and director of the Rachel Lord Center of Religious and Spiritual Life, wrote in his nomination: "Ryan has had an enormous impact in advancing the conversation around race and racism, the role of white-identified students in anti-racism, and around healthy masculinity and social emotional development at Bowdoin…The impact he has had in our community will be long-lasting."
Telingator will be joining Jumpstart in Boston as an FAO Schwarz Fellow after graduation.
The Andrew Allison Haldane Cup, given by fellow officers in the Pacific in memory of Captain Andrew Allison Haldane, United States Marine Corps Reserves, of the Class of 1941, is awarded to a member of the senior class who has outstanding qualities of leadership and character.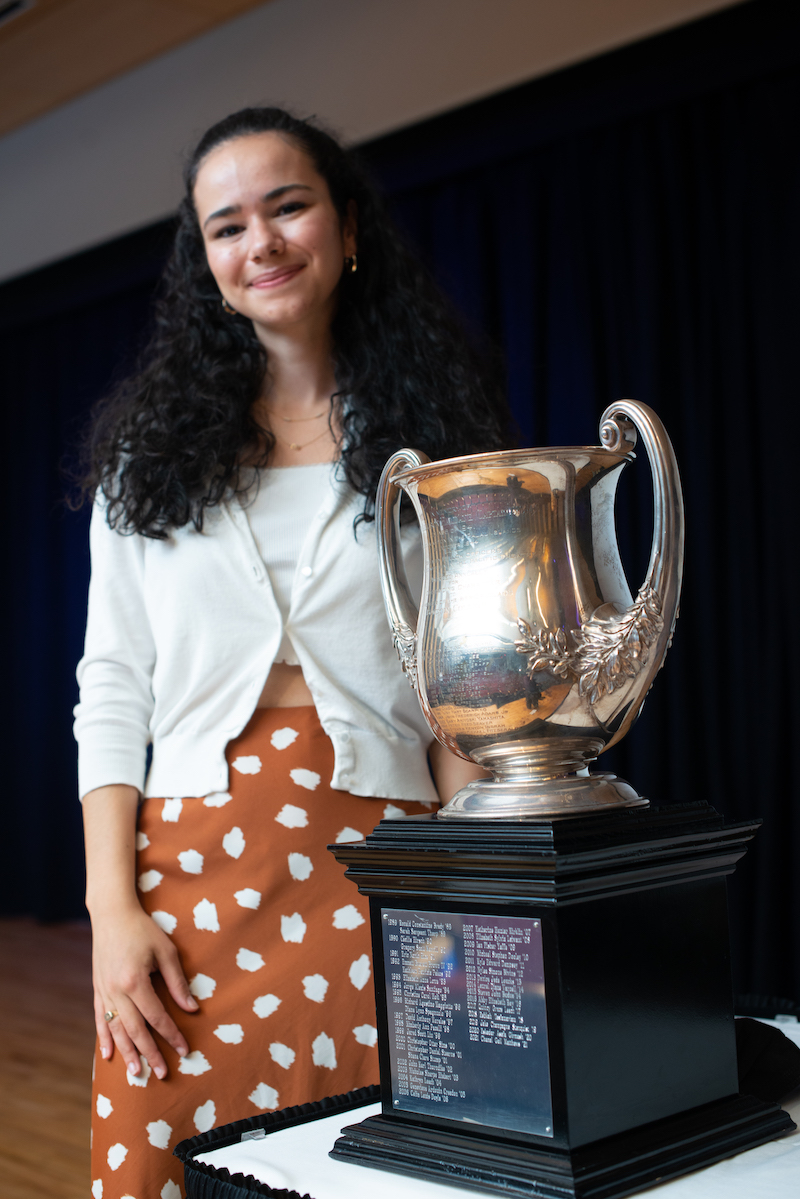 Chanel Matthews is a Sarah and James Bowdoin scholar and an Africana Studies major with a sociology minor.
Matthews's commitment to public service is inspiring. While at Bowdoin, she has served as a writing assistant for the Baldwin Center for Teaching and Learning, a mentor for the "Fostering Female Leadership in Youth" group at Bath Middle School, a Geoffrey Canada Scholars mentor, a member of the Common Good Grant Program committee, and the student representative to the "Meeting Basic Needs Fund Distribution Committee" for the United Way of Mid Coast Maine.
Matthews has also been an exceptional student leader for the McKeen Center for the Common Good.
This year she is a student co-leader and McKeen Fellow for both the Common Good Grant Program and Bowdoin Public Service Initiative.
Matthews helped to transition the Common Good Grant program to a virtual format this year and worked to adapt presentations to be more inclusive of traditionally marginalized groups.
She also helped to create a new program, Polar Bears in Public Service, as a way for first-year students to maintain their connection to Bowdoin while studying remotely.
A peer nominator wrote, "She is driven to be her best in everything she does. Matthews is intellectually curious, constantly pushing herself to understand her community and world better."
Sarah Chingos, the McKeen's Center for the Common Good's associate director for public service says of Matthews, "There is so much that is impressive about Chanel—her lovely calming presence, her journalistic curiosity, her strength, her listening skills, her disciplined work ethic and her mature approach to life and balance…She is one of the strongest, kindest, and most competent students I have had the pleasure of knowing in my twenty-two years at Bowdoin College."
Upon graduating from Bowdoin, Matthews hopes to pursue an international teaching fellowship or work in journalism.