Published May 21, 2021 by Bowdoin News
Bowdoin to Award 467 Degrees at 216th Commencement May 29
Bowdoin will hold its 216th Commencement ceremony at 10:00 a.m., Saturday, May 29, 2021, and confer bachelor of arts degrees on 467 graduates.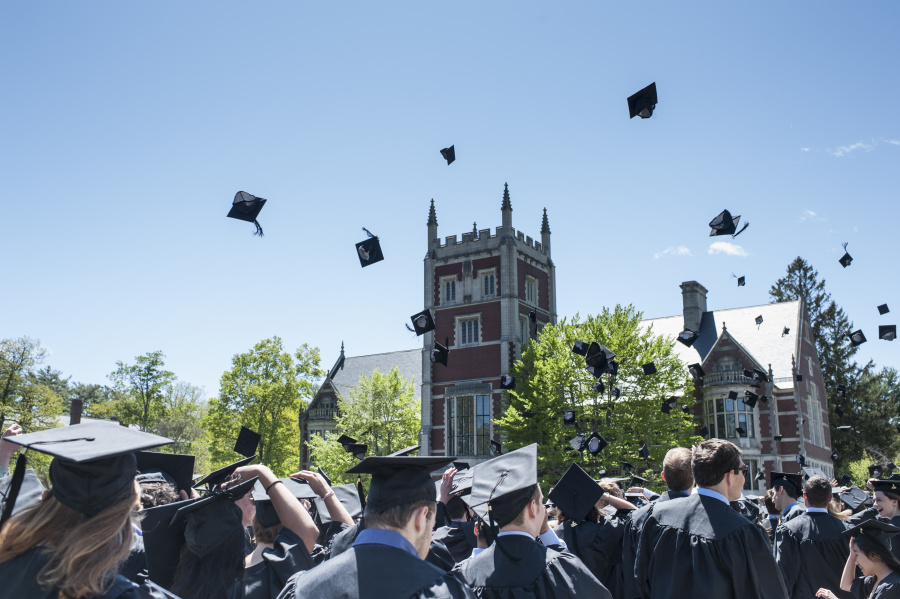 President Clayton S. Rose will preside over Commencement and award degrees on the terrace of the Bowdoin College Museum of Art on the Quad.

In the event of very severe weather, Commencement will be held in Sidney J. Watson Arena.
Of the 467 graduates, forty-seven are from Maine. 

Forty-one states are represented, including Massachusetts with seventy-five students, New York with forty-eight, California with thirty-eight, and Connecticut with twenty-nine. 

Thirty-four graduating seniors hail from outside the US; twenty-two countries and territories have citizens graduating from Bowdoin. 
Commencement Speakers
Since 1806, Bowdoin has given the honor of speaking at commencement to graduating seniors. Until 1877 every graduate had a speaking part.

The custom of selecting student commencement speakers through competition began in the 1880s.
Past speakers have included poet Henry Wadsworth Longfellow 1825, House Speaker Thomas Brackett Reed 1860, Arctic explorer Robert E. Peary 1877, and biologist and researcher Alfred Kinsey '16.
This year's Commencement speakers are Ruby Ahaiwe '21, Sarisha Kurup '21, and David Zhou '21.
Other participants include Gov. Janet T. Mills, who will deliver greetings from the State of Maine in a recorded message, and Eduardo Pazos, Bowdoin's director of religious and spiritual life, who will deliver the invocation, and class president Wayne Harding '21.
During Commencement, Bowdoin will award honorary doctorates to National Institute of Allergy and Infectious Diseases director Anthony Fauci, renowned civil rights activist and Freedom Rider William Harbour (to be presented posthumously), civil rights activist and Campaign Zero cofounder DeRay Mckesson, and NASA astronaut Jessica Meir.

Commencement History
Bowdoin College was chartered in 1794, and held its first commencement ceremony in 1806 in the second meetinghouse of First Parish Church across the street from the College. There were seven graduates in the Class of 1806. The following year saw the smallest graduating class in the College's history, with just three members in the Class of 1807.
The best-known class was the Class of 1825. In addition to Longfellow, the class included writer Nathaniel Hawthorne. In 1875, on the day before commencement at the 50th reunion of the class, Longfellow recited his poem "Morituri Salutamus," an elegiac reflection on youth and age.