Published April 23, 2021 by Tom Porter
Eileen Johnson Helps Maine Communities Prepare for Severe Weather-Related Challenges
These are busy times for environmental studies lecturer Eileen Johnson. Apart from her teaching duties, she's involved in a number of grant-funded projects aimed at assisting local communities.
"A lot of my work focuses on how rural municipalities can build their capacity for addressing climate change-related issues at the local level," said Johnson. Two of the projects she is currently working on are aimed at helping coastal Maine towns prepare for exactly these types of challenges: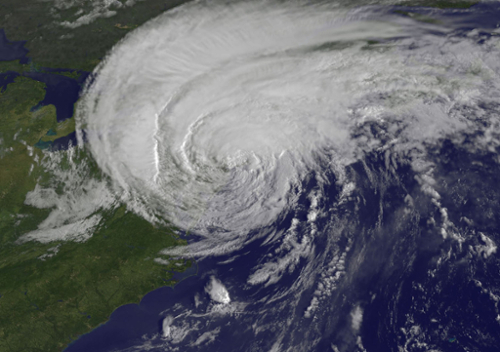 1. Linking Ecological and Social Resilience in Coastal Communities 
"For this initiative, we're looking at the challenges associated with storm events, whether it's windstorms or winter storms. With those events come power outages, blackouts, flooding, and a resulting impact on the transportation infrastructure," Johnson explained. "As we anticipate these sorts of events increasing, we want to identify good planning procedures that incorporate social aspects, specifically with considering who is most vulnerable during these events." 
Johnson stressed that the project is less about devising new strategies and more about "connecting various community groups, such as emergency management agencies, social service agencies, and conservation groups, that are working to build resilience and ways we could facilitate strengthening connections across these sectors." By bringing these groups together to conduct a tabletop exercise that will allow them to plan collaboratively for storm event scenarios, Johnson hopes to build awareness and support collaborative approaches toward addressing social vulnerability.
This project is done in collaboration with The Nature Conservancy, Casco Bay Estuary Partnership, Wells National Estuarine Research Reserve, Blue Sky Consulting, and Maine Sea Grant—a partnership between the University of Maine and the National Oceanic and Atmospheric Administration (NOAA). The grant was awarded by Maine Coastal Community Grant Program, funded by NOAA, to the Kennebec Estuary Project and the Town of Phippsburg. There is also funding from the Island Institute, a Maine-based nonprofit supporting coastal communities, said Johnson.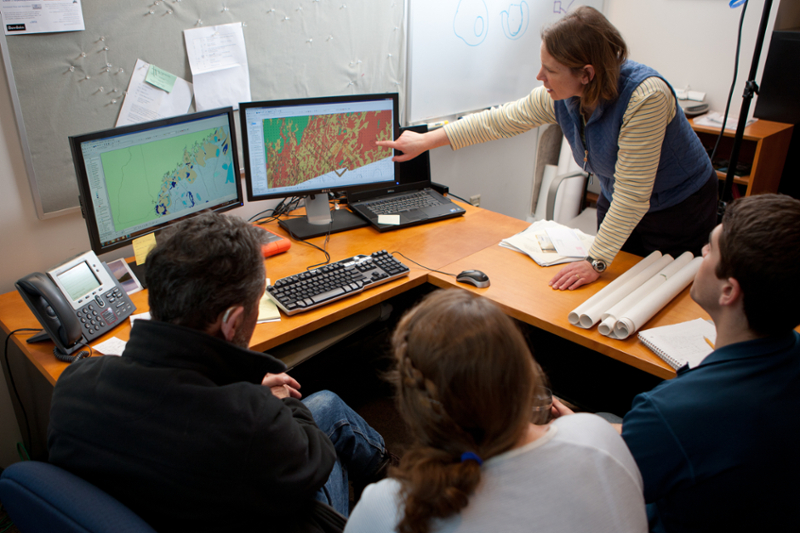 2. Collaborating Toward Climate Solutions
This is funded by a grant from the US Department of the Interior through the University of Maine Mitchell Sustainability Program. While the first grant is focused more on helping socially vulnerable populations, this project looks more broadly at the capacity of municipalities to plan for extreme weather events, said Johnson. "We're focusing on the Penobscot Bay and Passamaquoddy Bay region of Maine."
Like the social resilience project, this also explores ways to encourage communities to learn from each other and to build capacity. "There's a long-term network of professionals who have been engaged with adaptation planning work across the state called the Climate Change Adaptation Providers Network (CCAP). Many municipalities have been making progress on adaptation planning at the local level. Our goal is to bring these communities together, help them learn from each other, and provide technical support," said Johnson. "We also want to see what kind of useful, customized data we might be able to provide to communities. I have a student working on providing GIS data for these communities, as that visual dimension can be really helpful."
Also collaborating with Johnson on this are Maine Sea Grant, the Maine Department of Environmental Protection, the University of Maine–Machias, and the University of Maine.
Both of these initiatives deal with the disruption caused by extreme events, such as flooding and storms, which are becoming more common as the global climate changes, explained Johnson. "So, let's get out ahead of this and help with planning in whatever way we can."
Eileen Johnson teaches courses at the intersection of environmental studies and digital and computational studies. This semester she is teaching GIS and Remote Sensing: Understanding Place (ENVS 2004/ DCS 2335/ URBS2004). The course examines how geographical information systems (GIS) organize and store spatial information for geographical presentation and analysis. Students learn how this technology can be used in a variety of applications, including monitoring and preparing for the impacts of climate change from the Arctic to local-level systems.
Meet the Students
There are three students involved with the two projects. Samara Nassor and Julia Marks, both Class of 2022, are working on the collaboration to increase social resilience in coastal communities.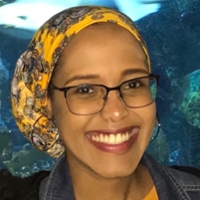 Nassor is an environmental studies and government and legal studies major. She is currently pursuing an independent study on a component of the project, analyzing gaps in service provision to address social vulnerability. Her work will inform the scenario planning exercise by identifying possible participants for the exercise. She is also a research assistant on the project, which involves conducting an inventory of all social service, conservation, and emergency management organizations in the region.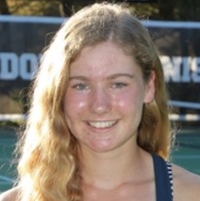 Marks, who is majoring in environmental studies and mathematics, is currently on a leave of absence but will be back in the fall. She conducted research last summer, funded by the Maine Sea Grant program, helping to lay the foundation for the scenario planning exercises. She helped put together these exercises, said Johnson, and interviewed a number of people to inform their development.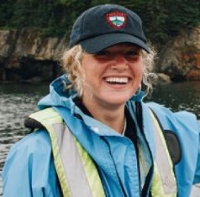 Lauren Caffe '22
is a student research assistant on the Mitchell grant to build municipal capacity to respond to climate challenges. As such, the environment studies and government major has continued to work on fine-tuning a story map for the towns of Islesboro and Camden, and has organized meetings with local officials about the need for GIS data and analyses in Penobscot Bay communities. Last summer, Caffe worked for the Town of Camden, one of the communities covered by the project, helping the town develop its comprehensive plan.