Published April 14, 2021 by Bowdoin News
Bowdoin College Safety and Security Earns Accreditation from International Association of Campus Law Enforcement Administrators
The Bowdoin College Office of Safety and Security has announced that it has achieved accreditation from the International Association of Campus Law Enforcement Administrators (IACLEA), the leading authority for campus public safety.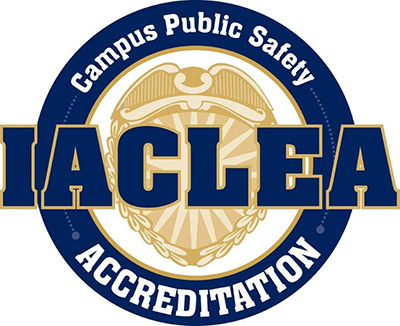 The Office of Safety and Security demonstrated to outside impartial experts its compliance with national standards that denote current best practices in the profession. Currently fewer than 100 agencies have earned this distinctive recognition.
To earn this accreditation, the Office of Safety and Security had to demonstrate compliance with more than 200 core professional standards in operations, training administration, and human resources.
Office of Safety and Security Executive Director Randy Nichols says accreditation provides greater accountability and competency in daily operations. Members know what the policies and procedures are, how to perform them, and that they are accountable to them.
"I'm grateful to all the members of our safety and security team for their work during the multiyear process it took to achieve this," Nichols said. "Once you attain this level of accreditation, the work then becomes keeping it up, and our team is committed to maintaining this standard of excellence."
Nichols also commended former Associate Director of Safety and Security Dave Profit, who has been acting as accreditation manager, and Associate Director Tim Hanson for their invaluable leadership in navigating the process. 
IACLEA accreditation signifies an agency's ongoing commitment to state-of-the-art performance in every aspect of its operations. The standards it sets forth guide the recruitment, selection, training, and professional development of agency personnel and overall agency operations.
"We congratulate Bowdoin's Office of Safety and Security for achieving IACLEA accreditation, a unique distinction among campus police and public safety agencies," said IACLEA President John Vinson, assistant vice-president for student life: campus and community safety at the University of Washington–Seattle.
"The men and women protecting your campus have proven through policy and practice the commitment to operate at the highest level of the profession."
The Office of Safety and Security prepared for accreditation by conducting an on-site mock assessment in November 2019, and due to the pandemic, the final assessment in 2020 was done completely virtually, a first for IACLEA. The agency will seek reaccreditation in four years.
IACLEA representatives say they plan to recognize the Bowdoin College Office of Safety and Security for its achievement at the organization's annual conference in June 2021.