Published September 10, 2019 by Rebecca Goldfine
Security Officer Will Bike 184 Miles to Honor 9/11 Pentagon Victims
Bowdoin Security Officer Allen Daniels will begin a 184-mile bicycle ride at midnight from the summit of Cadillac Mountain in Acadia National Park. Fourteen or so hours later, he'll ride into Bowdoin.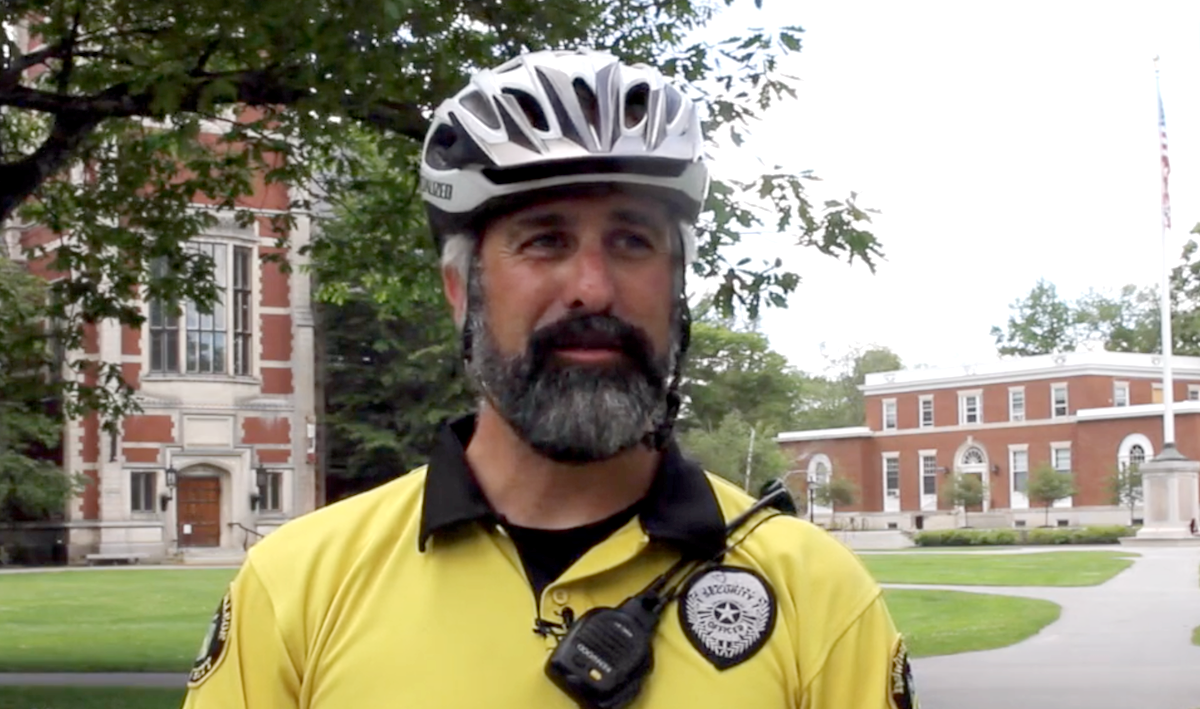 Daniels selected Cadillac Mountain as his starting point because "it's the first place the sun touches American soil this time of year." From there, he will make a loop around the park then head south on Route 1, with a side trip to Pemaquid Lighthouse. His destination is the polar bear statue in front of Smith Union, which he'll pull up to around 2:00 p.m.
Daniels is riding the 184 miles to honor the 184 people who died in the Pentagon attacks on September 11, 2001. And he is raising money for Windy Warrior's Adrenaline Therapy Program, which introduces veterans to activities and behaviors can help them recover from post-traumatic stress disorder (PTSD).
For Daniels, bicycling has been lifesaving. It is a sport he turns to again and again to help him process his pain. 
On September 11, 2001, he was stationed at Fort Myer, right outside Arlington National Cemetery and the Pentagon. He had just twelve days left in his army career. When a hijacked plane was flown into the Pentagon, killing sixty-four people on board and 125 people in the building, his unit was among the first responders to the search and rescue operation.
Soon after this intense experience, Daniels left the DC area. "The end of my service was just a week later, and I turned in all my gear," he said. While the rest of his unit stayed on another three weeks, camped outside the Pentagon to continue recovery efforts, Daniels "disconnected." He returned home to New Hampshire, attended college, and pushed the memories of those days out of his mind.
"I totally isolated myself from that whole situation, I did it without knowing, and just moved on with my life," he said. In this way, seventeen years slipped by.
Until last year, when soldiers from his unit—the Charlie Company, The Army Old Guard—decided to organize a reunion in Washington, DC, on the 2018 anniversary of 9/11. Secretary of Defense Jim Mattis invited the group to attend the 9/11 memorial service with other first responders. 
Daniels and the others from his unit visited the base and the old barracks, "traveling down memory lane," he said. Later that evening while relaxing at a bar, an enlisted senior officer pointed to Daniels and a couple others and warned them that they had not sufficiently processed what had happened seventeen years ago. 
"I laughed it off," Daniels remembers as his response to the observation. But the next day, what should have been a ten-hour drive home to Maine took him thirty-six hours as emotions and images from 9/11 came flooding back. 
Diagnosed with PTSD, Daniels took three months off from his job as a security officer at Bowdoin to invest in intensive therapy. At the same time, he was riding his bike religiously—even before he knew why. "Every time I got stressed, I would hop on my bike. At first I didn't have the language to understand what I was doing, but essentially I was practicing grounding," he said.
Biking, whether on a mountain bike or a road bike, is for Daniels like a "physical meditation." 

"It's rhythmic. Instead of sitting still and breathing, you're thinking about your breathing, your body position," he described. "The wheels are turning, and you're in tune with your heart beating and your breath."
Bicycling has been so important to his own recovery that he wants to share the strategy with other military personnel and first responders who have been exposed to violence and death. Next June, he will teach a workshop on using bicycling as part of recovery from PTSD at the International Police Mountain Bike Association's annual conference. 
After experiencing trauma, people need to decompress and process, which can be a months-long or years-long process, Daniels said. "It doesn't have to be standardized, but there needs to be something, and what that something is can be different for everybody," he added.
"It can be going for a walk, being outside, or biking, just pedaling a bike, whether it's in an interior room with no windows or biking outside. Both have mental health benefits that are measurable."