Oliver Kell '10 Wins National Investment Contest Posting Nearly Tenfold Returns
By Tom Porter
The year 2020 was a record-breaking one for financial trader Oliver Kell '10. The former government major and football quarterback aced the United States Investing Championship, posting annual gains of 941 percent in the "accounts under a million dollars category," the best ever recorded in the competition's history.
Kell is no overnight success, however, and his rise to the status of market wizard has been hard-won. "I've been trading for ten years but didn't make any money for the first six." Nevertheless, once he had found his rhythm, Kell was regularly posting annual gains of 70 to 90 percent. Then came the stellar heights of 2020. When the pandemic-induced market slump happened early in the year, he was "all cash" and therefore well placed to profit from the rebound. A lot of his success, though, is, of course, due to his ability to pick winning stocks.
This year also looks promising, with Kell's portfolio up around 40 percent by mid-March. What's his secret? Apart from the knack he's developed for reading the ups and downs of the stock market, Kell's strategy involves seeking out new, innovative companies to invest in, with strong growth numbers and a resilient share price. "I look for stocks that hold up the best during a correction, stocks that don't want to go down."
"I've been trading for ten years but didn't make any money for the first six."
Kell's best performer last year was Livongo Health, which offers data-based health coaching services to diabetics. "I took a big move in that stock coming out of the COVID lows," said Kell, "and then the company was bought out by a group called Teladoc." Tesla was another great performer, he said. He also likes to invest in companies that he sees people using every day, like Peloton ("my wife's a big fan") and Spotify. "I want to win, and trading is an extremely competitive space."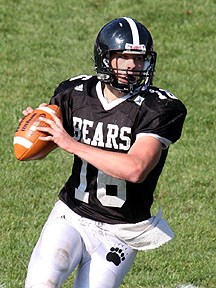 Kell's competitive streak was nurtured at Bowdoin, where he was a star quarterback for the football team, an experience which he says taught him how to be patient and learn from your mistakes. "When you're a freshman, the games seem so fast and you're just trying to keep up." By senior year, though, the pace seems slower, and you get better at making decisions. "Trading is the same," he adds. "There's no substitute for experience."
Kell was not an economics major at Bowdoin ("my job is more about psychology than economics"), although he did start out as one before changing direction because he struggled with the math-heavy theoretical side of the subject. After switching to government, Kell found a tutor he loved in DeAlva Stanwood Alexander Professor of Government Christian Potholm. "I really enjoyed his classes and signed up for more and more of them. I ended up doing an independent study project inspired by his book The Template of Mars, which looks at the characteristics of people who are successful in warfare. I took the template and applied it to the question of what it would take to create the ideal trader. I considered factors like superior discipline, technology, stuff like that. It was awesome."
With a liberal arts education under his belt, Kell felt prepared for any career ("it teaches you how to think"), but he was drawn to the financial markets after initially being reluctant. "My dad was a market maker on the Pacific Stock Exchange. He made a lot of money and he lost a lot, so I was really aware of the ups and downs of this as a job." Times were tough after Bowdoin, Kell recalled. "When I graduated, I couldn't get a job for a while, so I carried a bit of a chip on my shoulder like I had something to prove." Now, you could say, he has proven it and wants to go on proving it every day.
Useful links: 

https://www.businesswire.com/news/home/20210125005140/en/U.S.-Investing-Championship-2020-Final-Standings

https://www.businessinsider.com/investing-strategy-us-championship-oliver-kell-shares-secret-to-returns-2020-9

https://www.businessinsider.com/investing-strategy-us-championship-oliver-kell-shares-secret-to-returns-2020-9
Published March 24, 2021