Published February 03, 2021 by Rebecca Goldfine
Bowdoin Muralist Captures Younger Students' Hopes
After being asked to decorate a drab study space for Waynflete School, Mohamed Kilani '21 sent out a survey to some of its students to get a sense of what was on their minds.
In the questionnaire, Kilani asked middle and high school students what they imagined for their future. Based on their feedback, he sketched out a mural with four hands spelling out the word "love."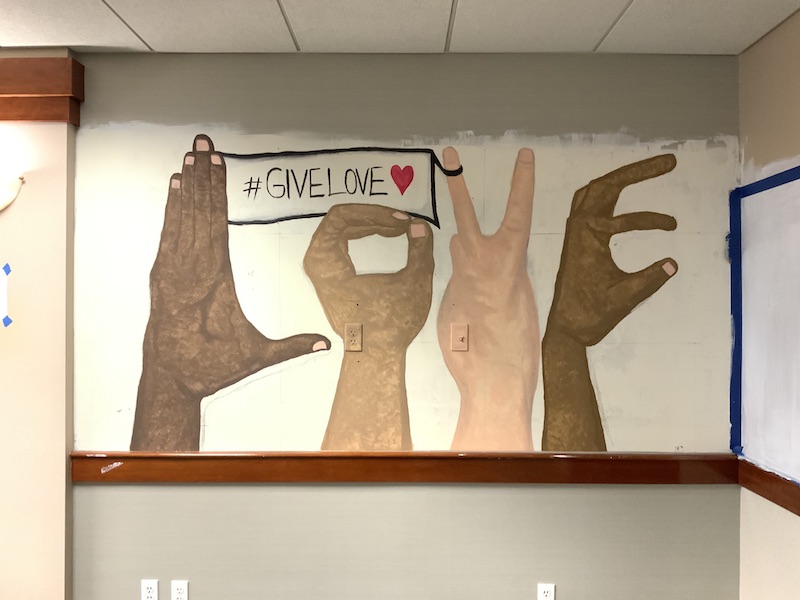 For the past few weeks, Kilani has been interning at Waynflete School, a private day school in Portland, Maine, both as a Spanish teaching assistant and as a visiting artist. He received a grant from the new Winter Break Community Engagement Fund established by the McKeen Center for the Common Good.
Half of his job is to organize students to paint the walls of a bland downtown workplace that Waynflete has converted into a temporary study space during the pandemic. Once a bank's office suite, students now congregate here—on their off-campus days—to take remote classes or do homework.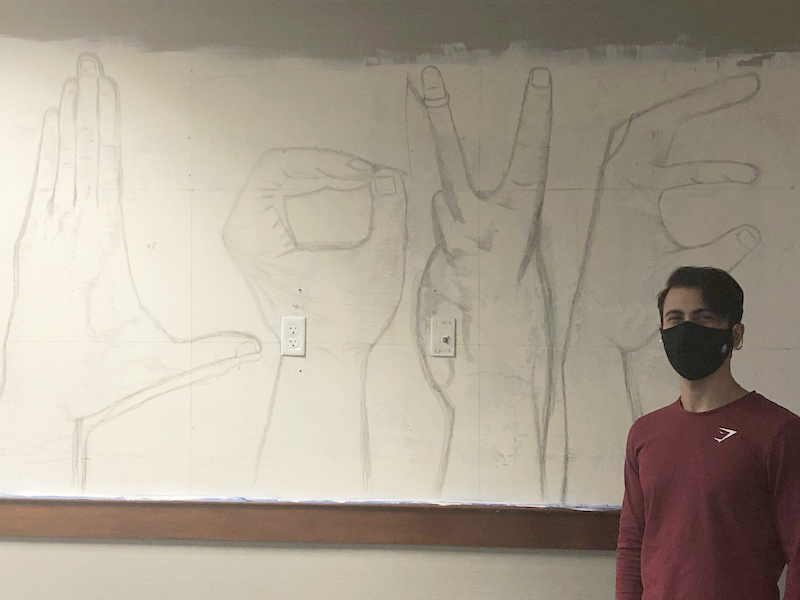 John Holdridge, the director of Waynflete's remote learning hubs, first came up with the idea to have Kilani paint the space—and he also connected Kilani to Otis Wortley, a Waynflete Spanish teacher. Holdridge met the Bowdoin senior through his wife, Meg Springer, who is an advisor for Career Exploration and Development.
"I knew Mo had been an art educator at Chewonki [an environmental school and camp in Maine], and I was being a bit selfish because we're in an old bank building, so the shared offices look very corporate," Holdridge said. "I wanted a bit of color on the walls."
At some point, the building's owner will renovate the space for the next tenant—but that has not stopped students from embracing the project. Holdridge said he and Kilani have likened the murals to Buddhist sand mandalas, which are made with painstaking attention to detail only to be swept away when completed.
"So we will revel in their temporariness and love them while we can and move on to what is next," Holdridge said.
On the days Kilani is not painting murals with students, he has been helping Wortley with his online and in-person language classes. Kilani, a double major in Hispanic studies and education, aspires to be a language teacher himself one day. (He grew up speaking French, Arabic, and English and has learned Spanish and Russian).
He has even bigger aspirations for education. "One of the questions I want to answer is why kids study a language for ten, fifteen years, and still can't speak it," he said. "One of my goals is to change that."
And art will never be far from his vocation, he added, describing a future classroom of his filled with his art and that of his students, "to show other sides of creativity."