Published February 17, 2021 by Tom Porter
Bowdoin Tops Fulbright US Student List
It's a record year for Bowdoin's Fulbright US student program. According to the latest data, the College is the top producer of Fulbright students among its peers.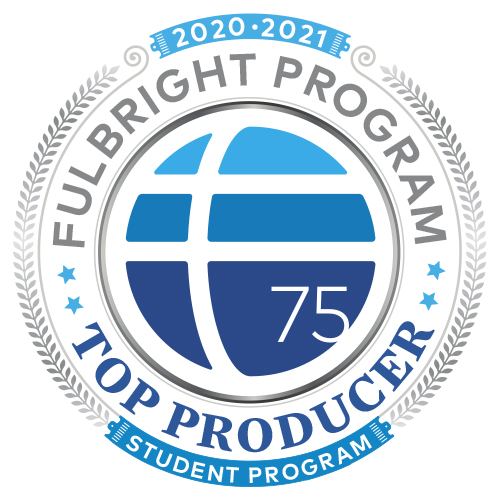 Twenty-four students were offered Fulbright grants for academic year 2020–2021 at Bowdoin, more than any other college or university offering bachelor's degrees. "This result is not only a testament to the remarkable accomplishments and qualities of our students," said President Clayton Rose, "but also to the dedication and work of our staff and faculty in preparing our students."
Each year the US Department of State's Bureau of Educational and Cultural Affairs (ECA) announces the top producing institutions for the Fulbright Program, the US government's flagship international educational exchange program.
"We are delighted to see that the colleges and universities we are honoring as 2020–2021 Fulbright Top Producing Institutions reflect the geographic and institutional diversity of higher education in the United States," said Mary Kirk, director of the Office of Academic Exchange Programs at the ECA. "In supporting their faculty advisors and administrators who guide their students through the Fulbright application process, these institutions benefit from having their students represent their campus overseas, often inspiring reciprocal exchanges from foreign Fulbrighters. Fulbright US students enrich their educations, advance their careers, and make valuable contributions abroad and at home. They also expand their networks by joining the diverse and accomplished group of Fulbright alumni and receiving the professional recognition that comes with being named a Fulbright student," added Kirk.
The Fulbright US Student Program competition is administered at Bowdoin through the Office of Student Fellowships and Research. "Fulbright's charge to young scholars to promote mutual understanding across nations, languages, and cultures draws on the best of what a Bowdoin education offers, and we are delighted to see our students' increasing interest in seeking Fulbright awards," said Janice Jaffe, the office's acting director. "Regardless of outcome," she added, "we are proud of all our applicants for the months of reflection, research, and writing they invest in this process. We especially applaud our 2020 grantees, for whom this achievement also demanded great flexibility as they navigated the enormous uncertainty, shifting timelines, and hard choices caused by a global pandemic."
Since its inception in 1946, over 400,000 people from all backgrounds—recent university graduates, teachers, scientists and researchers, artists, and more—have participated in the Fulbright Program. They include sixty Nobel Laureates, eighty-eight Pulitzer Prize winners, seventy-five MacArthur Fellows, and thousands of leaders across the private, public and nonprofit sectors.