A Smooth Operation
Published by Tom Porter
It was an emotional day for Margot Schmolka. It began with a morning drive from New Hampshire to deliver her daughter Corey back to campus, under circumstances that could scarcely be more different from the start of the spring semester last year. "The whole process went very smoothly," she said.
Corey Schmolka '23 was one of around 1,100 students welcomed back to campus on Friday and Saturday. The operation was run with impressive precision and coordination thanks to the efforts of Bowdoin staff, many of whom were volunteers.
First stop for returning Polar Bears was Farley Field House, where Melissa Quinby and Michael Pulju from the Office of the Dean of Students were among those on parking lot duty Friday afternoon. "As well as welcoming students back, we make sure they're wearing a mask and that they've completed their Campus Clear symptoms checker to confirm they're in good health," said Quinby. "We also check they have all their belongings and anything else they might need, because they're in the bubble now," added Pulju.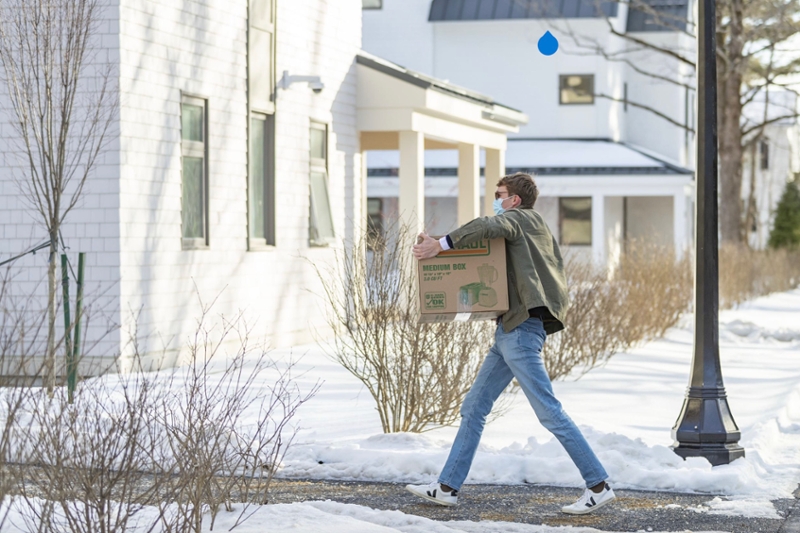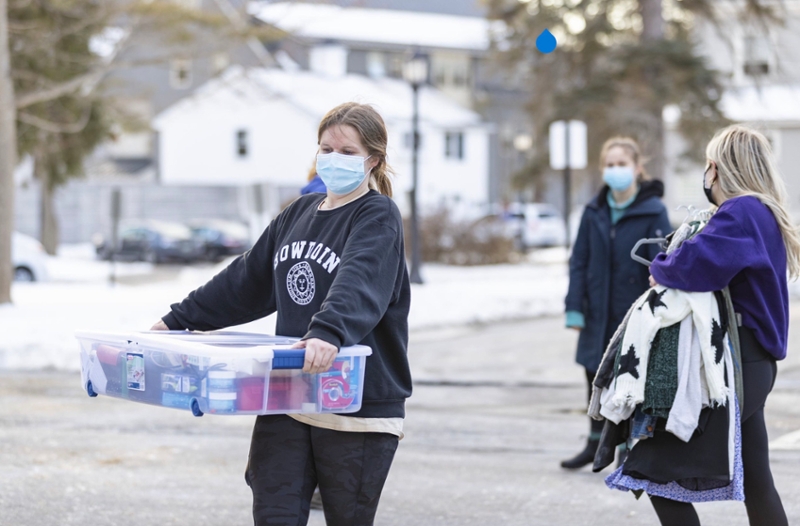 More volunteers and health service workers from Bowdoin and Mid Coast Hospital were on hand inside Farley, where new arrivals were given the first of two tests. "It's an antigen test, which detects viral proteins," explained Director of Health Services Dr. Jeffrey Maher. "If that test is positive, then the likelihood the student has active infectious COVID-19 is high, and we take them out of the testing pool and put them into isolation." Health workers were also standing by to administer flu shots to students who had not had them.
Once the antigen test is complete, students head next door to the Sidney J. Watson Arena to await results. Once given the all-clear, which typically only took a few minutes, they were given a wristband and allowed to leave the building and head to Morrell Gymnasium to receive a second test, a self-administered nasal swab known as a PCR. Sophomore Grace Kirkpatrick had just gotten her antigen results and was going to collect her wristband. Like most of the returning students, this was her first time on campus in nearly a year. "It definitely feels weird to come back amid such strange circumstances," she said.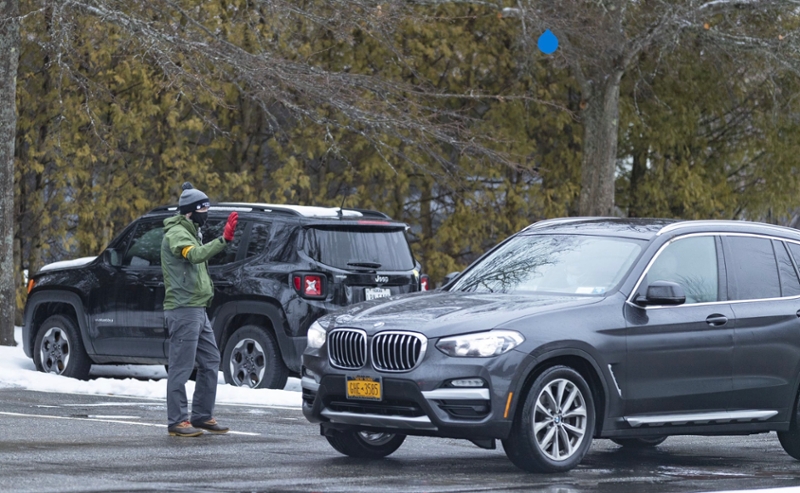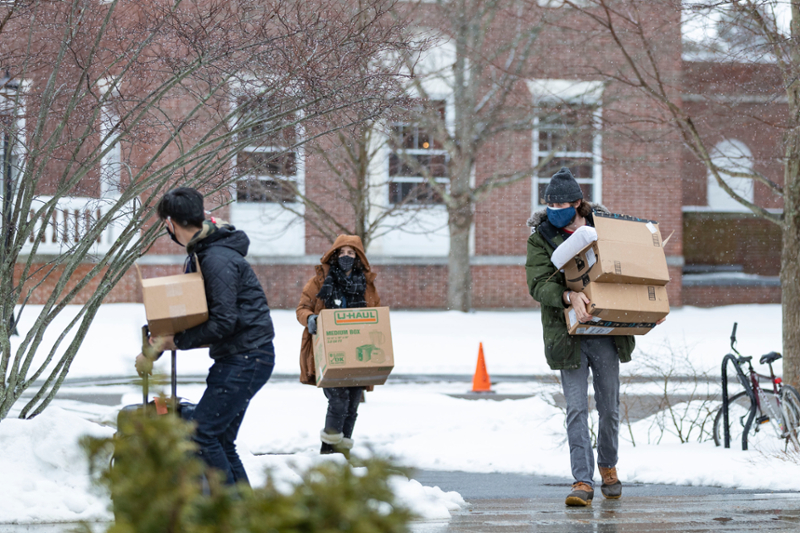 Once all testing is done, students were required to go into what's known as Hibearnation status for ten days, during which they must stay on campus. If they can stand the cold, they can spend as much time as they want outside and hang out with up to two friends, as long as they follow measures like physical distancing and mask-wearing. When inside, they are expected to isolate in their rooms, apart from essential activities like testing, dining, or visiting the library and mail center. "I've been very impressed with how cautious everyone is," said Tate Taczak'23, who drove up from Maryland with his father early Friday morning. "It's been comforting to see how seriously everyone takes this," he added, as he prepared to go into Hibearnation. George Grimbilas '22 said, "I'm excited to be back on campus and to start virtual classes on Monday," although he admitted it will be a little strange watching the Superbowl on his own. 
Check out the Bowdoin Spring COVID-19 Dashboard for the latest data.