Published December 09, 2020 by Rebecca Goldfine
Studying Social Epidemiology in the Throes of COVID-19
There's no better time to learn about infectious diseases and how they shape and reflect a society's priorities, politics, and economy than in the middle of the worst global pandemic of the century.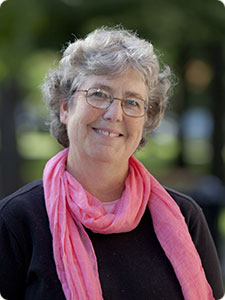 When sociology professor Nancy Riley realized last year that she would be teaching her popular social epidemiology class this fall semester and next spring semester, she redesigned her course to make the novel coronavirus a central component.
She added a tag to the class title, calling it Social Epidemiology: Lessons of COVID-19. And she said the current group of thirty-five students has been particularly adept at applying a critical sociological perspective to the virus. "They have stepped up and are thinking about disease really differently," she said.
Neuroscience major Warsameh Bulhan '22 said taking Riley's class while experiencing the effects of the pandemic (he is also working as a contact tracer for the Maine Center for Disease Control) has not only broadened his perspective on the disease, but has also deepened his empathy for the afflicted.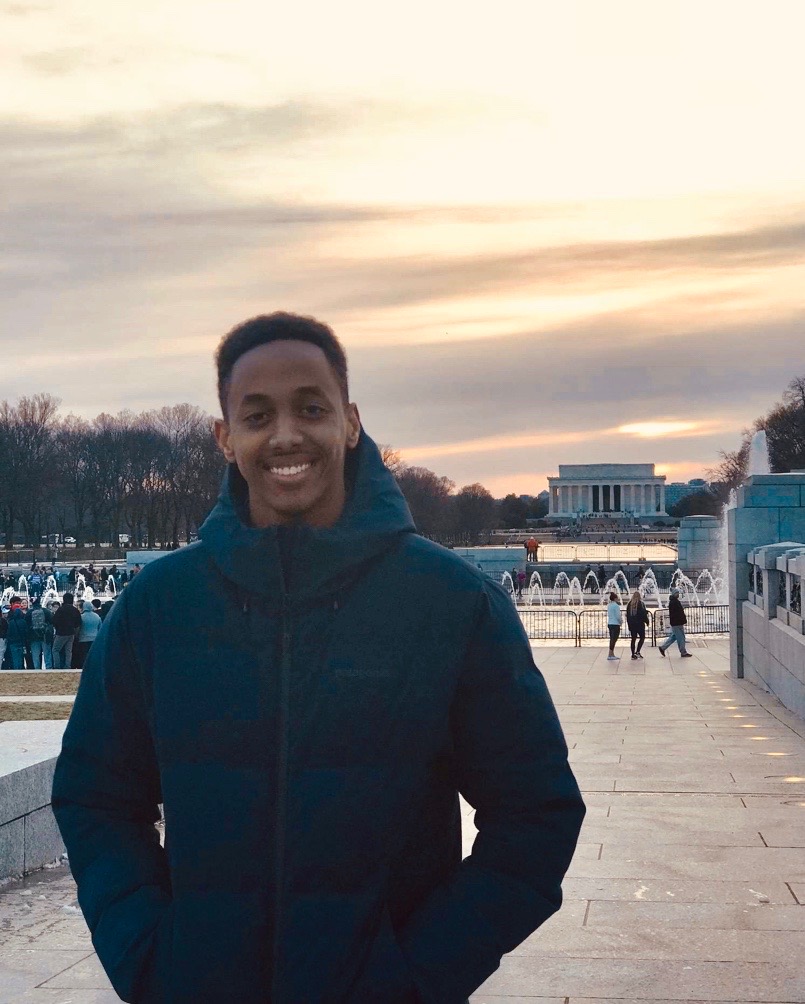 "This class has given us a platform and an opportunity to reflect on what's happening," he said. "Something we talk about a lot is how, as humans, we're so adaptive to situations, and sometimes we become numb to numbers like the rising total of cases and deaths. But this has been an amazing opportunity to reflect on the fact that every number is a person."
Elizabeth ("Biz") Sweeney '21 took Social Epidemiology her sophomore year and is the course's teaching assistant this year. She noted that being a student of Riley's during a world-upending pandemic is not just reinforcing the class's concepts and materials, but is also helping the students see "their individual roles in this current public health crisis that has a global impact."
Discussing super-spreader events and protocols like mask-wearing "amplifies salient topics within public health that are integral to establishing a safe and cooperative societal response to public health crises," she said.
Epidemiology is the science of tracking and controlling disease in a population. Social epidemiology looks at how society shapes, and is shaped by, the control and spread of disease. "Understanding the role of geopolitics, national and nationalist politics, and economics—as well as inequalities based on race, gender, nationality, and immigrant status—is central to understanding disease in the world today, in the past, and in the future," Riley writes in her class description.
But the pandemic is not the class's sole focus. The syllabus encompasses a range of diseases—tuberculosis, polio, foodborne illnesses, influenza, malaria, and diarrheal diseases. Each is chosen based on "what we can learn from it, what the disease tells us," Riley said. 
Yet because the subject matter is so pertinent, many of the discussion topics are filtered through the prism of the novel coronavirus. Two weeks ago, for example, students looked at the role of the US Centers for Disease Control (CDC) in tackling epidemics. "I had always argued that the CDC was first-rate, really the best public health agency," Riley said in a recent class. "Then March happened, and I've been horrified. Lots of public health people are saying, 'What happened to the CDC?' It's waited its whole existence for this."
"It has lost a lot of the respect that it used to have," she added. "How might it get fixed?"
To ensure that students stay on top of the rapidly changing developments of COVID-19, Riley has also asked each of them to keep a COVID journal to connect the news they're consuming to the subjects they're learning about in class.
Part of this entails wading through the misinformation that has infiltrated some of the news coverage of the pandemic. "I give my students the tools to assess the information they hear," Riley said. "I tell them that they can disagree with someone, but they better show the evidence. This class is relevant not just for this disease, but in learning how to interpret information."
As the class explores different diseases that have tormented people throughout history and around the world, Riley returns the focus frequently to the primacy of evidence: how epidemiologists collect, interpret, and—perhaps most importantly—communicate the data they amass to help seed effective public health programs.
"What is the role of data?" Riley posed this question to students in a recent class. "Whose data should we collect? What should we do with it? How do we present it to the public? Modern health systems are really about data."
One of the students' final assignments is to create a fact sheet or poster on a topic of their choice aimed at a "regular person," Riley said. "In the past, students have focused on viral reproduction rates, gun violence—anything that is public health related. And they have to make it accessible to people who don't know this information."
Science, Society, and Fixing Social Ills
To prepare her students to think about epidemiology from a sociological perspective, Riley introduces them to the underlying biological, immunological, and medical aspects of pathogens, disease, and disease spread. Students learn the basic principles and methods of epidemiology—how researchers collect and evaluate vast amounts of data about a population's health to determine if there is an outbreak or how severe it is. 
Social epidemiology applies another layer to the study of disease: how social structures and a society's organization affect illness and its trajectory. "Sociologists think of diseases as socially constructed," Riley said, adding that most diseases do not affect populations randomly, but rather strike in patterns that reflect social organization. "So it is not surprising that racial, ethnic, class, and gender inequalities have been so apparent in the COVID outbreak."
Over the years, many Bowdoin students who have taken Social Epidemiology do so because they want to go to medical school. Others are interested in careers in public health. 
"When we see differences in disease outcome, we know something has gone wrong and people don't have the same access to health and health care," Riley said. "So I think that students who are interested in social justice think public health is the pathway for them." 
Sweeney is one such student. "When I took Social Epidemiology my sophomore year, it was very illuminating and frustrating to learn how various social structures and interactions impact health outcomes of people," she said. "Understanding the sociology beneath social inequity and health inequality was a large factor in my decision in major in sociology and pursue a master's degree in public health."