Published November 17, 2020 by Bowdoin Magazine
Ingredients for Success
Bowdoin Dining maintains the magic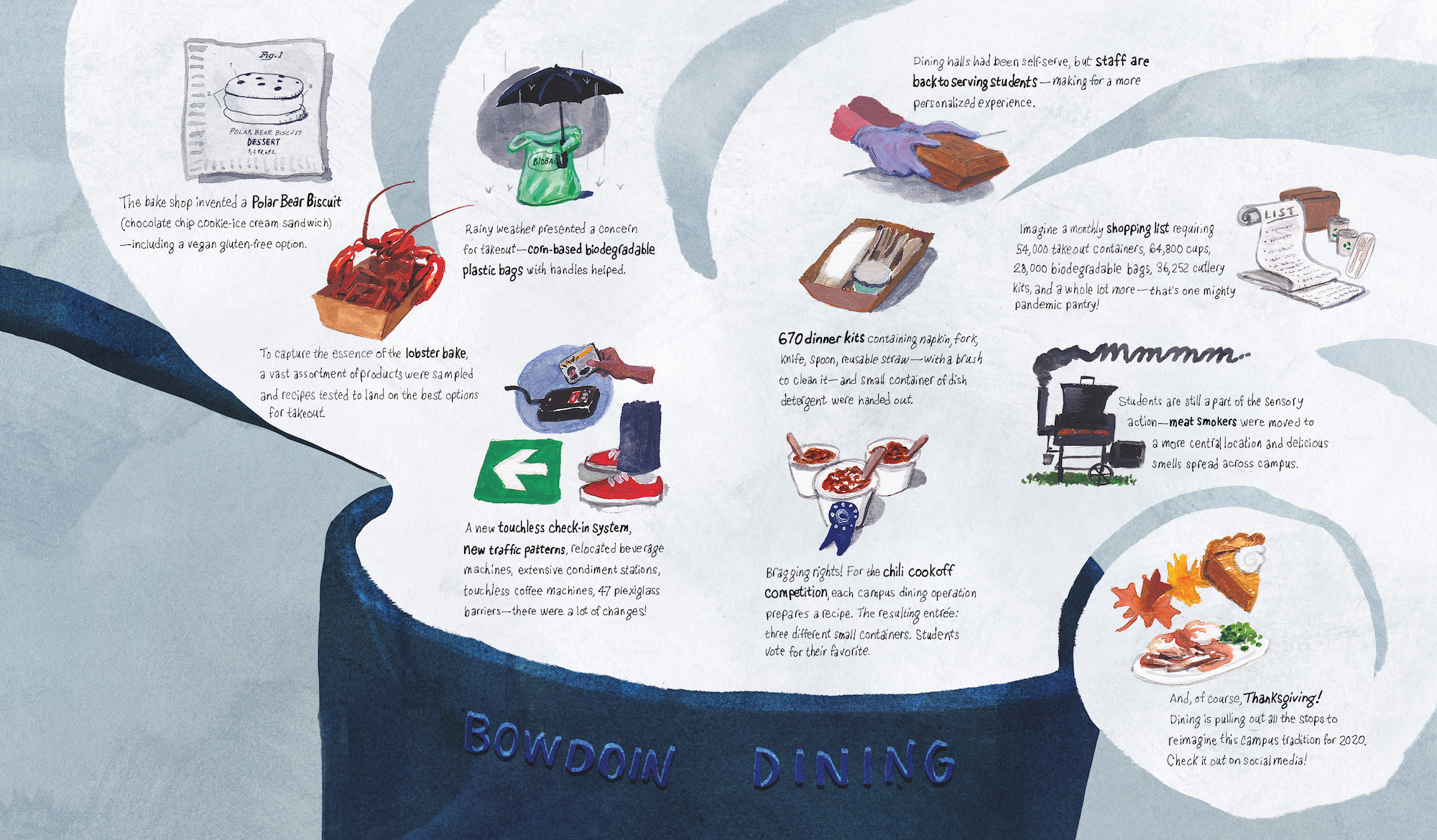 Bowdoin Dining was faced with a colossal challenge because of COVID-19: how to cautiously and safely prepare and deliver nutritious and delicious meals—twenty-one times a week—to the students on campus, while also conveying the warm, communal experience they're so famous for. "Weeks were spent figuring out how to redesign the facilities," says Ken Cardone, interim director of Dining Services. "The phrase we heard most often when planning during the pandemic: 'be ready to pivot.' It was good advice."
The bakeshop invented a Polar Bear biscuit (chocolate chip cookie/ice cream sandwich)—including a vegan gluten-free option.
Rainy weather presented a concern—corn-based biodegradable plastic bags with handles helped with the task of takeout.
To capture the essence of the lobster bake, a vast assortment of products were sampled and recipes tested to land on the best options for takeout.
A new touchless check-in system, new traffic patterns, relocated beverage machines, extensive condiment stations, touchless coffee machines, 47 plexiglass barriers—there were a lot of changes!
Dining halls had been self-service, but staff are back to serving students—making for a more personalized experience, actually!
670 dinner kits containing napkin, fork, knife, spoon, reusable straw—with a brush to clean it—and small container of dish detergent were handed out.
Imagine a shopping list requiring 54,000 takeout containers, 64,800 cups, 28,000 biodegradable bags, 36,252 cutlery kits, and a whole lot more—for just one month!
Students are still a part of the sensory action—meat smokers were recently moved outside and delicious smells spread across campus.
Bragging rights! For the chili cookoff competition, each campus dining operation prepares a recipe. The resulting entrée: three different small containers. Students vote for their favorite.
And, of course, Thanksgiving! Dining is pulling out all the stops to reimagine this campus tradition for 2020. Check it out on social media!
---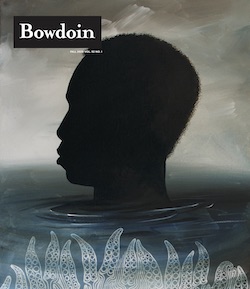 This story first appeared in the Fall 2020 issue of Bowdoin Magazine. Manage your subscription and see other stories from the magazine on the Bowdoin Magazine website.