Published November 19, 2020 by Tom Porter
English Professor Alex Marzano-Lesnevich Honored by Maine Arts Commission
Assistant Professor of English Alex Marzano-Lesnevich says living in Maine has been transformative for their work.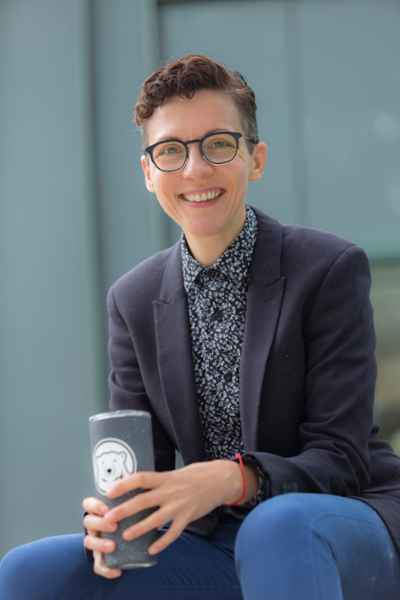 "There is such natural beauty here. The expansiveness of the sky, and the openness of many of the conversations I've had here, has opened up an expansiveness in the ideas I explore," said the acclaimed author and creative writing teacher.
Marzano-Lesnevich describes their next book, BOTH AND NEITHER, as "a gender-and-genre-bending work of memoir, history, cultural analysis, trans reimaginings, and international road trip about life beyond the binary."
In recognition of this project, Marzano-Lesnevich is among seven Maine-based artists to be awarded a 2021 fellowship by the Maine Arts Commission. The recipients, who each get a $5,000 prize, represent a variety of categories, including multimedia, visual, traditional, and performing arts.
"Congratulations to this year's fellowship winners," said Julie Richard, executive director of the Maine Arts Commission in a press release. "This year's cohort of fellows is uniquely diverse—reflecting the growing range of demographics across our state. There were many qualified applicants, and it is always difficult for our panels to choose just one. Our 2021 fellows should be especially proud of this accomplishment."
"It's very meaningful to me to receive this support from my new home state, for this project in particular," said Marzano-Lesnevich, who came to Bowdoin in 2018. "One of the things the book traces across time is the way that trans lives have always been acts of imagining—the way they require awareness and intention and the ability to re-envision. Art does, too. And I have found living here, amid all of Maine's natural beauty and the deeply engaged community at Bowdoin, to be so conducive to that."
Marzano-Lesnevich's most recent book, The Fact of a Body: A Murder and a Memoir (Flatiron, 2017), has won a number of accolades in the US and overseas, including a Lambda Literary Award, a Chautauqua Prize, and a Guardian best book of the year.