Published November 16, 2020 by Bowdoin News
Bowdoin's iPad Initiative Continues for the Class of 2025
Based on the success of the iPad program this year, Bowdoin will continue to provide the now-indispensable tablets to incoming students in the fall of 2021.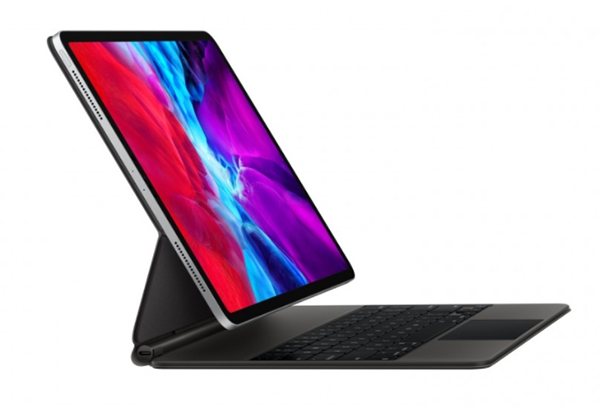 Bowdoin made the decision this summer to equip every student (and every professor who requested one) with an Apple iPad Pro, an Apple Pencil 2, and the Apple Magic Keyboard to ensure an equal learning experience for all. For those students with unreliable internet access, the College also paid to activate their iPad's cellular and Wi-Fi connectivity.
The faculty-led Continuity in Teaching and Learning Group recommended the devices after it reviewed outcomes from the unplanned experiment in remote teaching that occured when students had to be sent home in the spring of 2020. The group stressed that the technology would be particularly helpful for chemistry, math, physics, economics, and languages that don't use the Roman alphabet.
But faculty across the curriculum have made use of the device, and have been offered training and resources from Bowdoin's online learning and teaching (BOLT) group on how to incorporate the technology.
"We can see how this shared technology contributes to an equitable learning environment for our students, with some students on campus experiencing in-person teaching and some students learning remotely. It makes sense to continue supporting this shared technology experience for our students when we are fully residential."
— Whitney Soule, Dean of Admissions and Student Aid
Beyond serving as a learning device and communications channel, iPads have also likely had an environmental impact. "I have used no paper this semester, and my students aren't using any paper either," Associate Professor of Economics Erik Nelson pointed out. 
Nelson suspects that digital writing in academia will supplant writing on paper eventually, remaining in place well after the return to in-person teaching. "Bowdoin has sustainability bona fides already, but this might really reduce paper use," he said. "Even those people who two years ago said there would be no way they wouldn't use good old-fashioned paper, they might change."